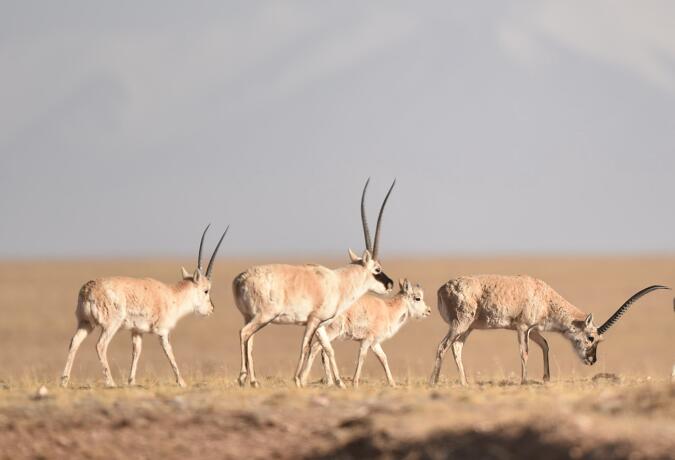 12 Days Qinghai Wildlife Safari
Date: Jun. 17 & Jul. 23, 2024, 2025,
Price: From 4100USD/PAX
Trip Focus: Wildlife + Photography
Status: Open to Booking
Route: Xining-Xiangride-Huashixia-Maduo-Qumalai-Hoh Xili-Geermu-Qinghai Lake-Xining
Trip Code: W003
Overview


As a sparsely inhabited region with a variety of different climatic zones, Qinghai province features a wide variety of beautiful natural features and diverse wildlife species. As a place surrounded by snow-covered mountains, icy peaks, the Gobi deserts, and vast pastures, there are few places as breathtaking scenic and diverse as the natural reserves in Qinghai. The prevalent Tibetan Buddhist beliefs in the region have worked in many respects to preserve the natural wealth of this wide region. The abundance, beauty and richness of wildlife in Qinghai can be said to be directly related to the harmonious balance between animals and humans. Here in Qinghai, respect for the equality of nature and animals are spiritual obligations. Over 250 kinds of wild animals including Tibetan Fox, Kiang, Tibetan Antelope, White-lipped Deer, Snow Leopard, and Wild Yak, call this ecosystem home.


Highlights:

• A wildlife safari that covers three crucial national nature reserves which are among the largest in China.

• Tracking on "the Roof of the World" for the wildlife like Wolf, Eurasian Lynx, Blue Sheep, Argali, Tibetan Woolly Hare, Himalayan Marmot, Black-lipped Pika, Wild Yak, Tibetan Wild Ass. Additionally, some endemic animals that you can only see on this highland such as Tibetan Antelope, Tibetan Gazelle, White-lipped Deer, Przewalski's Gazelle, and Goitered Gazelle.

• We will visit the abundant birding sites around Qinghai Lake in search for Black-necked Crane, Bar-headed Goose, Red-crested Pochard, Eurasian Wigeon, Ferruginous Duck, Ruddy Shelduck, Great Crested Grebe, Little Grebe, Mongolian Lark, Tibetan Lark, Rufous-necked Snowfinch, Isabelline Wheatear, Ground Tit, etc.

• Immerse yourself in the Amdo Tibetan culture of the Qinghai-Tibet Plateau.

• Experience the tranquility in one of the least populated regions on the planet.


Introduction to Trip Destinations:


Sanjiangyuan National Nature Reserve
Sanjiangyuan Nature Reserve is located in the Sanjiangyuan area, where the Yangtze River, Yellow River, and Lantsang River originate. It is the most concentrated reserve of wildlife species in a high-altitude region and the highest natural wetland in China. Established in 2000, the reserve was set up to protect its eco-system and the wetlands, provide favorable living habitats for its wild animals, and preserve its original physiognomy and unique natural scenery. The reserve nurtures many types of vegetation with three types of plants under state protection (category II) and another 34 types under special provincial protection. Besides the vegetation, 85 types of beasts, 237 types of birds and 48 types of reptiles and amphibians also dwell there including Tibetan Antelope, Snow Leopard, Wild Yak, and Himalayan Blue Sheep.

Kekexili National Nature Reserve
Kekexili Nature Reserve (Hoh Xil), located in the northeastern part of Qinghai-Tibet Plateau, is a high grassland area that sits at 4,700 m (15,416ft) above sea level. Established in 1995, Kekexili is one of the largest nature reserve in China covering 45,000 square kilometers in the joint border of southwest Tibet Autonomous Region, northwest Qinghai Province, and Xinjiang Uyghur Autonomous Region. Its main protection targets are the 202 species of wild highland plants and 16 species of endangered mammals and about 30 species of birds in Qinghai-Tibet Plateau, including Chiru, White-lipped Deer, Tibetan Wild Ass, etc., as well as their living environments. Snow Leopard, Golden Eagle, Goral, and Wild Yak are under extensive state protection.

Qinghai Lake National Nature Reserve
Qinghai Lake Nature Reserve is known for its largest inland saltwater lake in China, named Qinghai Lake. Established in 1975, Qinghai Lake Nature Reserve is located in the northeastern part of the Qinghai-Tibetan Plateau covering an area of 495,200 hectares. The Reserve was listed as "Wetland of International Importance" in 1992. The main protection targets are rare birds and plateau wetland ecosystems. Qinghai Lake as the main body is surrounded by a lakeside plain, grassy swamp, alpine grassy marshland, semi-desert and dry grassy beach with abundant wetland ecosystem and bio-resources. There are altogether 200 species of birds and beasts in Qinghai Lake and lakeside areas, including Gull, Cormorant, Swan, and Blank-necked Crane. As a plateau lake, it is the kingdom of birds. In spring and summer, around 100,000 birds mainly fly to the Reserve to go through the summer. Qinghai Lake also boasts abundant fish resources, some of which serve as good food for birds there.

Qinghai Tibetan Culture Experience
Qinghai province is the largest Tibetan region in China after Tibet, the population who believe in Tibetan Buddhism here is about a quarter of the total population. Historically, the locals have been influenced by Buddhism for a long time. Therefore, many taboos are closely related to Buddhism: for example, it is forbidden to dig medicinal herb materials, hunt, and collect wood in the mountains. That is why it is a great place to do wildlife safari in Qinghai.
The Qinghai Tibetans mainly engaged in husbandry and agricultural production. The Tibetans from the pastoral areas live in tents, take Zanba as their main food, drink yak butter tea, yogurt, beef, mutton and so on. The Tibetans from the agricultural area mostly lives in the house, and mainly eat Zanba. Like all Tibetans from Tibet, Yunnan, and Sichuan, Qinghai Tibetans are bold, good at singing and dancing. Each year they hold sports activities such as horse racing, archery, and wrestling as well as literary and artistic activities such as "Song and Dance in June" in their spare time. It is a good choice for experiencing the lifestyle of the people living in these highland prairies.


How Can We Make This Trip Special?

• A team of passionate guides specializing in photography and wildlife with rich experiences of guiding and solid knowledge about wildlife and local places.

• Can be customized to better meet your travel style.

• 20-plus years of working in the travel industry and serving travelers from all over the world enable us to know how to make great trip for travelers of different travel styles.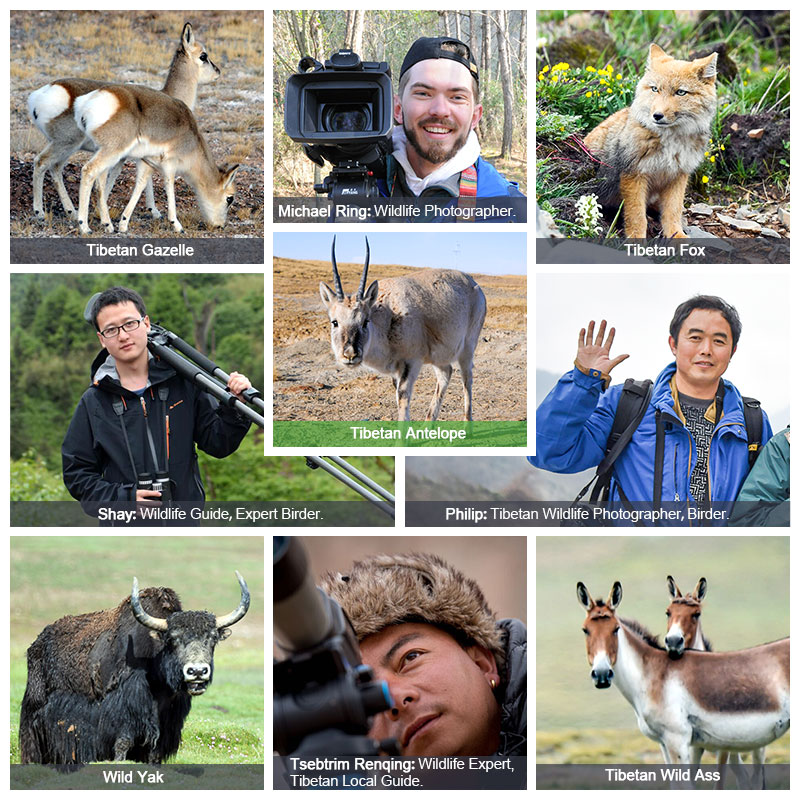 What Makes AbsolutePanda Excellent?

• We are one of the premier travel companies focusing on panda and other wildlife in China.
We use AbsolutePanda as company brand because of our deep love toward panda and our determination to create your absolutely enjoyable panda trips.
Since 2003, our professional tour leaders and wildlife experts have helped thousands of travelers gain an in-depth understanding of Giant Panda and their companion animals, enjoy stunning scenery all over China and explore the authentic local culture.
• Exclusive Quality & Value Guarantee.
We define our quality by well-designed itineraries, stunning destinations, creative interactions, small groups, professional guides, and reasonable prices.
• Explore China in comfort and your style.
We understand each traveler is different. In addition to selected accommodations, meals and vehicles, we would like to show you the real China by an authentic experience with incredible wildlife and lovely locals.
We believe the best way to help wildlife is through love and appreciation. By bringing nature lovers to enjoy the beauty of nature in China, we hope that local people can know the value of wildlife and learn how to love and appreciate those beautiful creatures living near their villages.
Map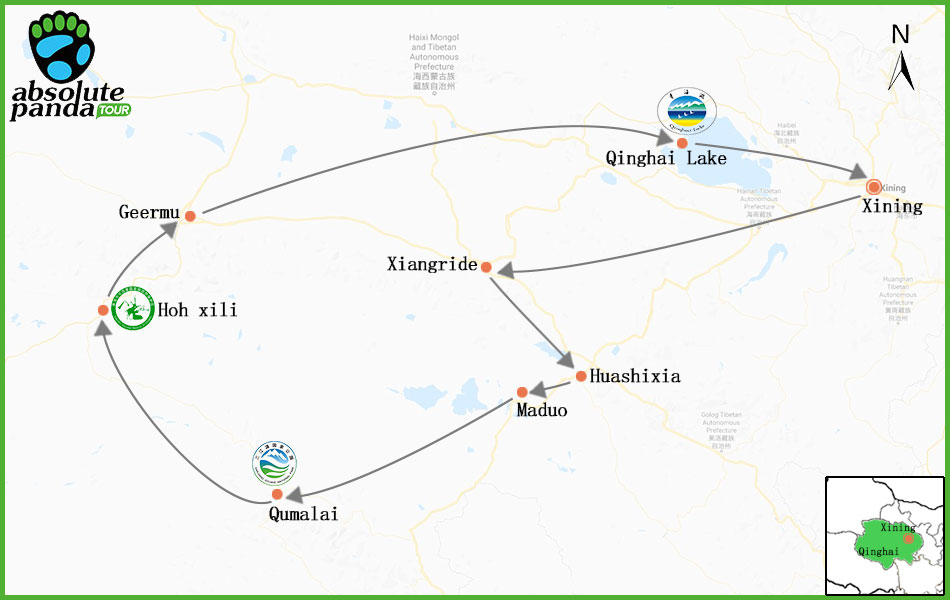 The Great Qinghai Wildlife Safari Map
Itinerary


Outline:

Day 1. Arrive Xining. (D)
Pick up from the airport in Xining. Check-in. Overnight: Xining (Attitude 2,261m)

Day 2. Xining-Xiangride. 480km 6.5h (BLD)
Head to Xiangride and start our search for local wildlife. Overnight: Xiangride (2,950m)

Day 3. Xiangride. (BLD)
Search for Blue Sheep and other endemic species. Overnight: Xiangride (2,950m)

Day 4. Xiangride-Huashixia-Maduo. 260km 3.5h (BLD)
Look for Tibetan Gazelle, Tibetan Wild Ass, Wolf, and other animals. Overnight: Maduo (4,200m)

Day 5. Maduo-Qumalai. 390km 8h (BLD)
Head to Qumalai and search for wildlife on the road. Overnight: Qumalai (4,500m)

Day 6. Qumalai-Hoh Xili. 480km 9h (BLD)
Wildlife safari on the road. Overnight: Kekexili (4,500m)

Day 7-8. Hoh Xili National Nature Reserve. (BLD)
Wildlife safari searching for Wild Yak, Tibetan Wild Ass, White-liped Deer, Brown Bear, and the endangered Tibetan Antelope, and so on. Overnight: Kekexili (4,500m)

Day 9. Hoh Xili-Geermu. 360km 6h (BLD)
Head to Geermu. Overnight: Geermu (2,780m)

Day 10. Geermu-Qinghai Lake. 720km 8h (BLD)
Head to Qinghai Lake. Overnight: Qinghai Lake (3,200m)

Day 11. Qinghai Lake National Nature Reserve. (BLD)
Birding around Qinghai Lake. Overnight: Qinghai Lake (3,200m)

Day 12. Qinghai Lake-Xining. 160km 2.5h (B)
Head back to Xining airport and depart Xining. AbsolutePanda tour services end.


Details:

Day 1. Arrive Xining. Meal: D
Pick up from the airport in Xining, Qinghai province. From the airport, go to check into our accommodation and have a good rest. If there is time, you can visit destinations around this city like Taer temple, Dongguan Mosque, South Zen Temple on your own.
Xining is a plateau city with a history of more than 2,100 years, endowed with unique natural resources and colorful folk customs with a cultural component of the Yellow River basin of China. It is the only central city on the Qinghai-Tibet plateau with a population of more than one million. Xining is a typical migrant city with multi-ethnic and multi-religious communities, which is a shining pearl on the Qinghai-Tibet plateau.
Overnight: Xining (Attitude 2,261m)
Day 2. Xining-Xiangride. 480km 6.5h Meal: BLD
Head to Xiangride and start to have the chance for wildlife searching.
There is a Xiangride River that runs through the town. With its Continental desert climate and 50% of alluvial slope plain land, Xiangride town is known as the "Desert Green State".
Overnight: Xiangride (2,950m)
Day 3. Xiangride. Meal: BLD
In the morning, we will drive to search for Blue Sheep and other wildlife.
Blue sheep (Pseudois nayaur), feed on grass and branches of all kinds of thickets. In winter, they eat on dead grass. They often drink water at a fixed place while they can also lick on snow and ice during the cold season. Blue Sheep has no fixed path or resting place. They can climb up a cliff by a single jump of 2, 3 meters; they can even jump more than 10 meters from high without falling. Blue Sheep mate in winter, give birth in June, July the next year, usually only one baby per year. Their main predators are Snow Leopard, Jackal, Wolf, Vulture, and Golden Eagle.
Overnight: Xiangride (2,950m)
Day 4. Xiangride-Huashixia-Maduo. 260km 3.5h Meal: BLD
Today we will drive to Maduo, where the altitude is much higher than yesterday. Be sure you have a good rest, keep warm, drink water frequently, and walk slowly to get used to the highland. Maduo is rich in natural resources and wild animals. We can search many endangered species, like Tibetan Gazelle, Wolf, Tibetan Wild Ass, Wild Yak, White-lipped Deer, Brown Bear, Leopard, Tibetan Fox, etc. Also, we may have the opportunity to find a lot of resident birds, like Brown-headed Gull, Bar-headed Goose, Black-necked Crane, Common Redshank. There are also varieties of migration birds come in May and leave in October.
In the Tibetan language, "Maduo" means the source of the Yellow River. It is the birthplace of the Yellow River, and there is the territory of dense rivers and a total of 4077 lakes. Maduo County has an alpine grassland climate, there are only two seasons in a year, with the difference between cold and warm, which are usually called winter and summer. The winter is long and cold, dry and windy, and the summer is short and warm, and cool, and rainy.
Overnight: Maduo (4,200m)
Day 5. Maduo-Qumalai. 390km 8h Meal: BLD
Today we will drive to Qumalai of Sanjiangyuan Nature Reserve area, which also known as the "river headwaters of the first county". Qumalai is famous for "The Original Place of Yellow River" Monument, Tibetan Buddhism Temples, and Mount Kunlun. Most importantly, there is a variety of wildlife animals inhabiting this area. We will continue tracking wildlife on the vast Qinghai-Tibet Plateau and search for the rare and precious White-lipped Deer, Brown Bear, Leopard, Tibetan Wild Ass, Wild Yak, and also rare birds, such as Black-necked Crane, Tibetan Snowcock, and Golden Eagle.
What is more, Qumalai county has a population of 32,000, and 97.6% are Tibetan, a good place to learn more about Tibetan culture.
Overnight: Qumalai (4,500m)
Day 6. Qumalai-Hoh Xili Nature Reserve. 480km 9h Meal: BLD
Today we will drive to Kekexili, a place sparsely populated by people that features an abundance of highland animal species. Despite the harsh climate, Hoh Xil Nature Reserve is home to more than 230 species of wild animals, 20 of which are under Chinese government protection, including the Wild Yak, Tibetan Wild Ass, White-lipped Deer, Brown Bear, and the endangered Tibetan Antelope or chiru. The abundant Plateau Pika, a small burrowing rodent, is the main food of the region's Brown Bear.
Overnight: Kekexili (4,500m)
Day 7-8. Hoh Xili Nature Reserve. Meals: BLD
We will spend two days in Hoh Xil National Nature Reserve searching wildlife and shooting pictures. Covering 45,000 square kilometers of high grassland, Hoh Xil is a vast ecosystem that hosts countless animal species. It is remote and barren, belonging to the traditional Tibetan province of Kham and is known as the world's third-least populated area. It is surrounded by high, snow-capped mountain peaks and is home to a few people. Our experienced local guide and photographer will take you to the best spot to shoot wildlife such as Tibetan Antelope, Wild Yak, Kiang, Brown Bear, and Black-lipped Pika.
Overnight: Kekexili (4,500m)
Day 9. Hoh Xili Nature Reserve-Geermu. 360km 6h Meal: BLD
Head to Geermu. We will cross the plateau, driving down to Geermu. We will have a few stops along the way to look for wildlife. Mammals are very conspicuous along this road, and along with large numbers of Tibetan Wild Ass and Tibetan Gazelle. We hope to encounter small groups of Tibetan Antelope along with an outside possibility of Wild Yak.
Overnight: Geermu (2,780m)
Day 10. Geermu-Qinghai Lake Nature Reserve. 720km 8h Meal: BLD
Head to Qinghai Lake. Today will be the longest driving day of the whole journey.
Overnight: Qinghai Lake (3,200m)
Day 11. Qinghai Lake National Nature Reserve. Meal: BLD
Today we will get up early and get ready for bird watching. Qinghai Lake is good for the alpine waterfowls, including Black-necked Crane, the only crane that breeds on the plateau. As well as the Bar-headed Goose, Northern Pintail, Red-crested Pochard, Eurasian Wigeon, Whooper Swan, Ferruginous Duck, Ruddy Shelduck, Great Crested Grebe, Little Grebe, Pallas's Gull, Kentish Plover, Pale Martin, Green Sandpiper, Common Redshank. We can also have the chance to see some grassland birds like Hume's Short-toed Lark, Asia Short-toed Lark, Mongolian Lark, Tibetan Lark, Rufous-necked Snowfinch, Pere David's Snowfinch, Isabelline Wheatear, Ground Tit, etc.
If you are not interested in bird watching, we will head to Haergai to searching for Przewalski's Gazelle before we head back to Xining.
Overnight: Qinghai Lake (3,200m)
Day 12. Qinghai Lake-Xining. 160km 2.5h Meal: B
Head back to Xining airport and depart Xining to conclude AbsolutePanda tour services.

Notes:
1. If you need help in arranging a flight to Xining from Beijing, Shanghai, Xi'an, Chengdu, or the trip out of Xining, please feel free to contact us.
2. This trip ventures into a remote area that features high altitude. Follow the advice from your doctor on altitude sickness before deciding to join this trip. In some events, high elevation can cause severe health complications for those with cardiovascular diseases or other poor cardiopulmonary function.


Dates & Prices
1. Dates
Jun. 17 to
Jun. 28, 2023,2024
Jul. 23 to
Aug. 3, 2023,2024

Email us for tailor-making a tour according to your time.


2. Prices

The AbsolutePanda team works hard to provide the highest quality tour experiences at a fair price. However, after working in the travel industry for more than 20 years, our team knows that no two travelers are alike in terms of their travel style, personal interests, choice of guides and preferences in restaurants and hotels. For AbsolutePanda, our client's satisfaction is a top priority. To meet the needs of different clients and ensure they enjoy a trip suited to their preferences, you are welcome to email with specific requests ranging from trip themes, guides, the quality of vehicles, accommodations, and restaurants. Our group trip price has the following includes and excludes below.

This standard price is made based on a minimum of five travelers. That means the trip size is at least five persons per group.

The cost for five pax group:
4100USD/PAX

Single supplement:
420USD/PAX

The cost includes:
1. Vehicles list on the trip. A private vehicle including the cost of fuel and tolls; airport picks up and drops off;
2. An English-speaking wildlife guide for the whole trip;
3. Meals as listed above as BLD;
4. Bottled water and snacks;
5. Entrance charges list in the trip;
6. China Domestic Travel Insurance;
7. Hotel listed above.

The cost excludes:
1. Drinks during your meals;
2. Extra charges due to change of itinerary from client-side or factors beyond the control of AbsolutePanda such as natural disaster and governmental policy change;
3. Discretionary tips to the guide and driver;
4. All personal expenses, such as laundry service or for personal shopping;
5. Train ticket or Airfare to and out of Xining;
6. Any program not listed in the itineraries;
7. Entrance fee, car rental, or meals during your free time trip;
8. Single supplement.

Notes:
Two clients occupy one twin-bed room on sharing basis at 3-star standard hotels in the city and local best guesthouses in the mountainous area. If the client prefers to use a private room or someone fails to have a roommate, he would need to pay the Single supplement.


3. Experienced Wildlife Guides

• Tsebtrim Renqing: Tsebtrim is a local Tibetan from Qinghai Province. He worked in an international NGO for almost ten years before he transferred to the tourism industry. Renqing has been working as a local guide in Yushu for more than five years. His mother's language is Tibetan, but he is also proficient in Mandarin and English, as well as a bit of French. He believes each time he is guiding a tour is a chance of sharing and learning. Renqing is an illustrious guide in Qinghai. He worked with BBC for the documentary of Mekong River and was also invited by a world Top-3 film studio for their movie about Snow Leopard. He took a year to study Snow Leopard in the wild and helped to capture the precious moments of this rare creature successfully.

• Philip: A local guide born in the Sichuan Tibetan area with fluent English and basic Japanese, Philip is an exceptional photographer and had guided many Snow Leopard safari trips since 2017. As a wildlife guide, Philip also has a keen interest in Buddhism, birding, and Chinese cuisine.

• Shay: Shay is among the first group of professional bird guides with an academic background of ornithology. By now, he has successfully guided many avid birders and wildlife photographers from different countries including Norway, Britain, the US, Sweden, Israel, and Thailand.

• Michael: An American born and raised in the Sonoran desert of Arizona, Michael is a passionate wildlife enthusiast who has two years of guiding experience in Southwestern China and has been learning mandarin for eight years. Michael's passions are photography, culture, and conservation, and he feels happiest when he has the opportunity to help others get the most out of any travel experience.

Notes:
To AbsolutePanda team, our clients' overall satisfaction with their trip is the top priority. We can create a different option to make it easier for you to choose a tour that fits your style and budget. We feel it is difficult for our clients to enjoy this trip without the help of a guide. If you prefer to travel in a different style than the option we've provided here, please feel free to contact us.

For travelers who hope to tailor-make the day programs with their specific travel preferences in mind (transportation, hotels, exclusive privileges, and famous local experts), tailor-making a tour is the best way to ensure your desires are met. Please contact us with your specific needs, and we will make an itinerary based on your expectations. Once you confirm, we work out the cost and send it to you. Please feel free to ask any questions to learn more.

Please note that guides with specialized knowledge are not always available, especially during our busy season from April to October. If you have an on-planning trip, please contact us as early as possible so that we will block the date of our expert guide for you.

When you put your trust in our team, we are certain to help you enjoy an unforgettable travel experience in China!
Accommodations


AbsolutePanda firmly believes travel is an art. To ensure every trip with us is a great travel art for our clients, the AbsolutePanda team does all we can to consider every possible detail. The choice of hotels is an essential part of making a great trip. After many years of running a travel business, we have built up our network of cooperative hotels at different levels. We understand people are different in the choice of hotels when they travel. If you hope to use some specific hotels, please feel free to let us know, we are delighted to book it for you at a competitive price for you to make the hotel choice better meet your taste, budget and travel style. We can either reserve a hotel with competitive price for you or simply include the hotel into your trip cost if possible. You are welcome to contact us and tell us your requests; we will do our best to create the best travel itinerary for your private use.

If you need help with hotel booking in other big cities of China at different styles and luxury levels (International-brand Hotels, Local Brand Hotels, Economical Hotels), please feel free to email our team at info@absolutepanda.com.



FAQs


1. What means of transportation will we use on this trip?
For our tour, you will travel in comfort with a chartered van driven by a professional driver.

2. What level of accommodation will we have on this trip?
As we are traveling in a more remote area of China, the accommodation throughout this trip will vary. We make it our priority to provide our clients with the highest quality accommodation that is available.

3. What cultures will we interact with on this trip?
Qinghai is home to a regionally specific group of Tibetans known as the Amdo. These Tibetan communities are known for their colorful and vibrant dance and apparel, as well as their traditional Buddhist custom and lifestyle.

4. What is the likelihood of spotting the animals specified in the itinerary?
The Qinghai-Tibetan Plateau is an exceptionally healthy habitat, teeming with a wide variety of different animal species. As it is the truth with every animal safari, we can not guarantee we will see any of the animals on the itinerary; however, we are confident that you will experience success in our search. All the wildlife photos here you see are taken by our team or shared by our clients.

5. Will altitude become an issue on this trip?
While it is true that the Tibetan Plateau is quite high in altitude, our team is experienced at guiding foreign clients in this region. We are confident that our plan to acclimate your group to the elevation gradually will help you avoid any symptoms of altitude sickness.

6. What is the weather condition in December in Qinghai?
The temperature at the elevation of 4000-5000 in December is around -20°C to -10°C.
Other weather attributes:
-Strong sunshine;
-Cold and dry;
-Large day/night temperature difference;
-Thin air;
-Less oxygen content;
-Lower boiling point.

7. If I have dietary restrictions, will that be a problem for your team to accommodate?
Our team is experienced at making sure all of our client's needs are met. If you or anyone in your group has specific requirements for food, we are happy to accommodate your needs.

8. What certifications does your team have in the event of an emergency?
Our staff has been trained with the necessary skills of the Red Cross for an emergency.

9. Does the AbsolutePanda team offer transportation to and from the airport?
With AbsolutePanda, convenience is a top priority when serving our clients. This tour itinerary includes pick-up and drop-off services.

10. What kind of food will be provided?
In the remote areas, there won't be any western breakfast in the hotel. But we will prepare a simple western breakfast for you if you request. For lunch and dinner, you have the opportunity to try Chinese cuisine and Tibetan cuisine with local flavor in the good local restaurant which meets our hygienic standard. We will try our best to let you try as many types of dishes as possible to help you refresh from the cold climate.

11. What kind of gears shall I prepare?
Except for the photography equipment which you will prepare for yourself, you should prepare the following staff you will possibly need during the trip:
-Sunglasses to protect your eyes from the strong sunlight on the plateau;
-Sunscreen ( SPF 30+), thermal mug, hat, Warm clothes.

Email us if you have any questions. Read our FAQ
Testimonials


The Only Choice for Travel in China!
I must confess, I write this review because it's ultra-personal to me. I've only known about AbsolutePanda for a couple of months but have worked with them very closely with our tour company from the U.S.
AbsolutPanda represents China, like Americans, would want a tour company in the U.S. to represent America- with professionalism, pride, and respect while their actions speak in a way that oozes with historical consciousness, both culturally and ecologically.
They take care of their clients and bend over backward to make sure they are given the trip they paid good money for.
Whether you hire AbsolutPanda for a cultural, sightseeing tour or to see the Tibetan Plateau where you will feel like the only tourist for a hundred miles, you'll leave knowing more about China than you started with, that's for sure. But it's more than that. You will understand what China was and what it wants to become now... and it's a lot more optimistic for the world than people might think.
--Justin G from the US
Welcome to email us and be our guests to write the feedback for us. Testimonial of AbsolutePanda


Videos & Photos



Qinghai Wildlife Safari Tour Video
Above the roof of the world, enjoy a wildlife photo safari on Qinghai plateau.
Welcome to email us and share your trip video with us.
Video Album of AbsolutePanda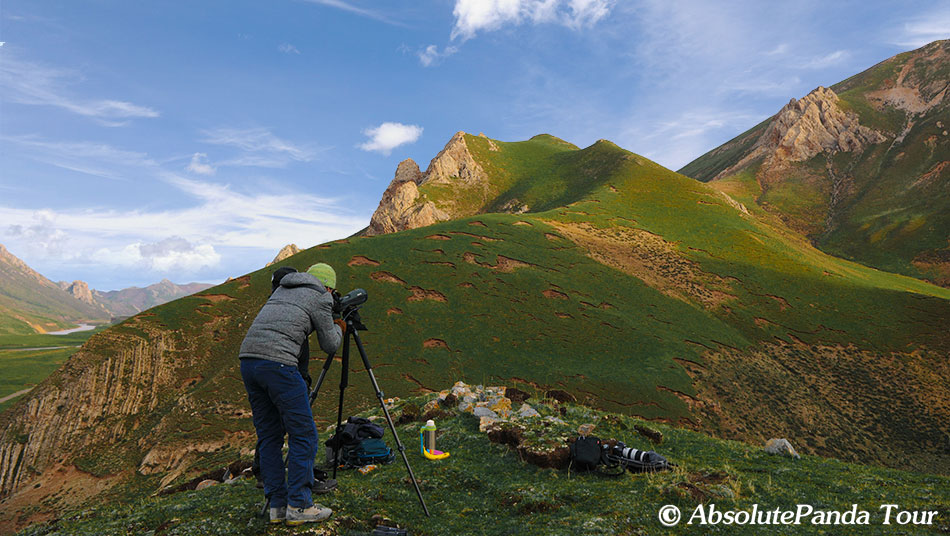 Searching for Wildlife.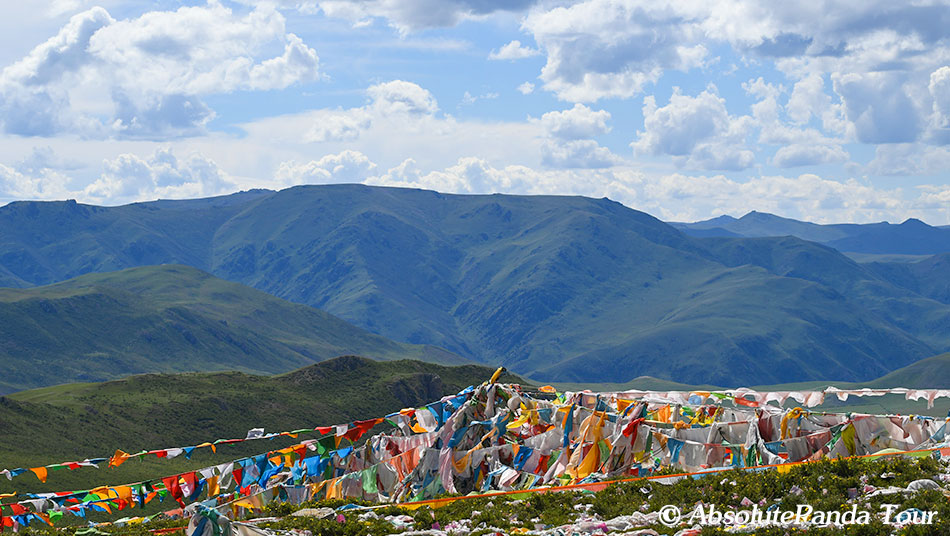 Prayer flags in the Qinghai Tibetan area.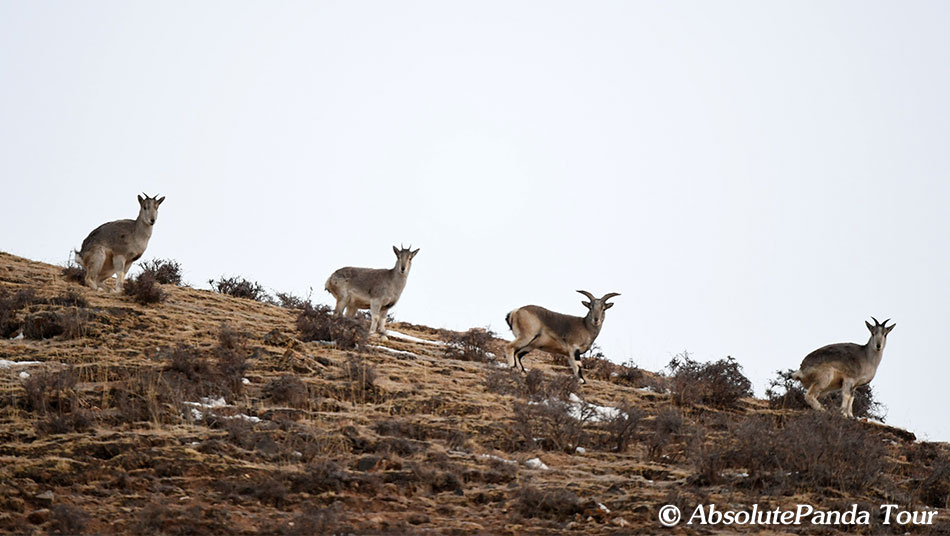 Blue Sheep




Brown Bear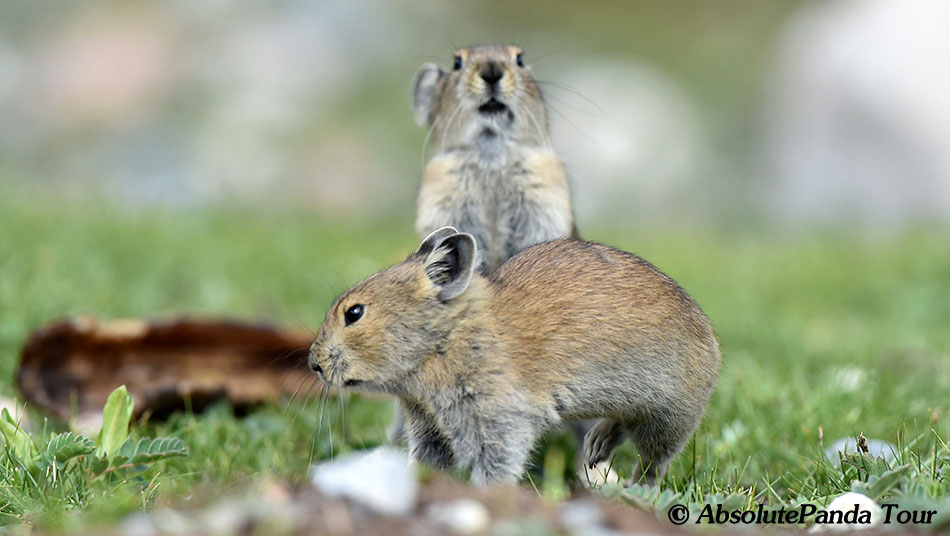 Black-lipped Pika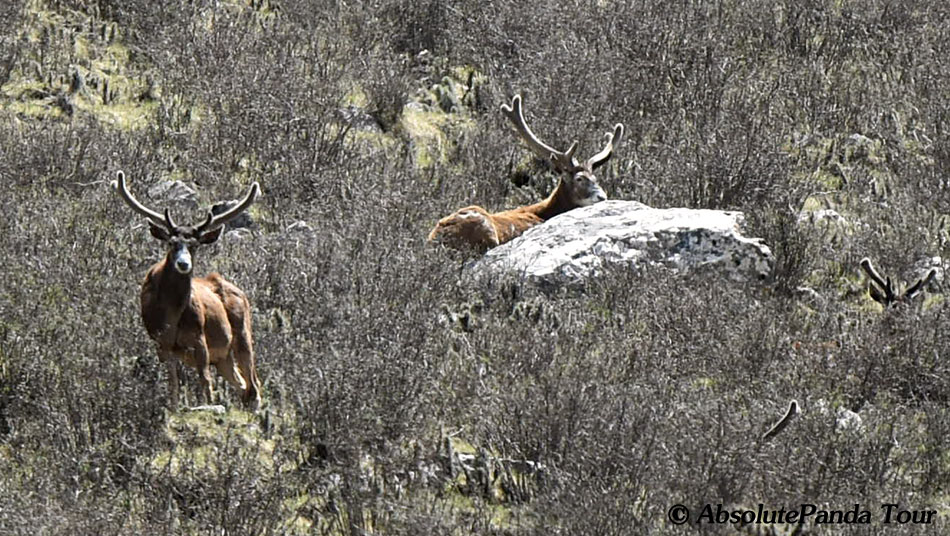 White-lipped Deer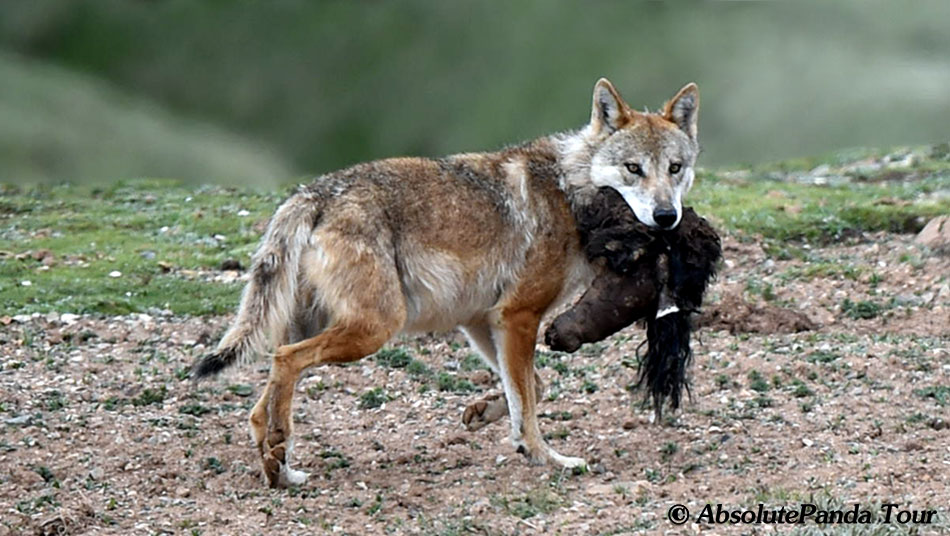 Wolf (Canis lupus)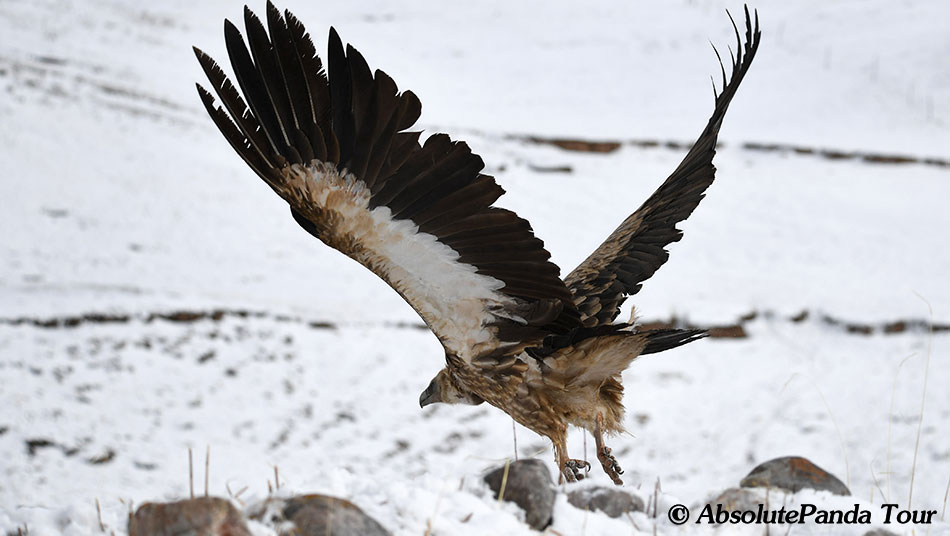 Himalayan Griffon (Gyps himalayensis)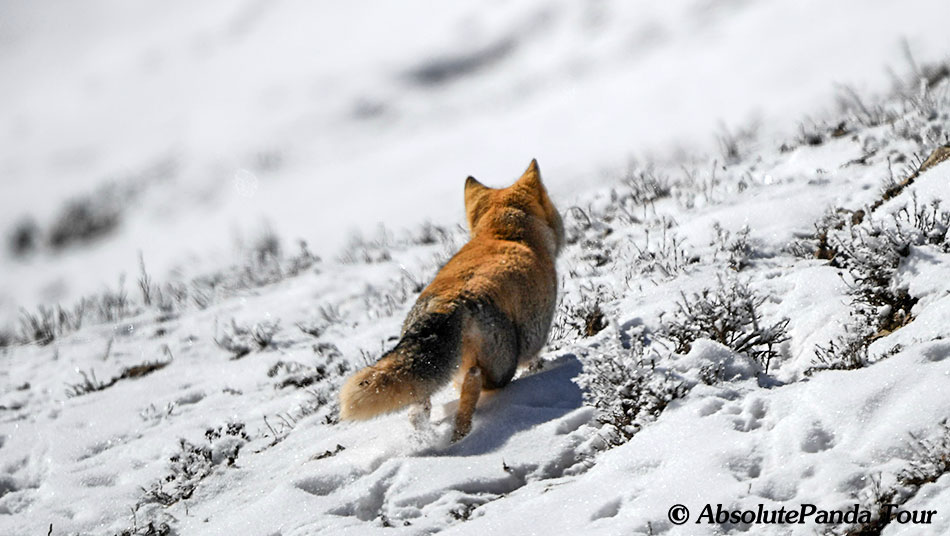 Tibetan Fox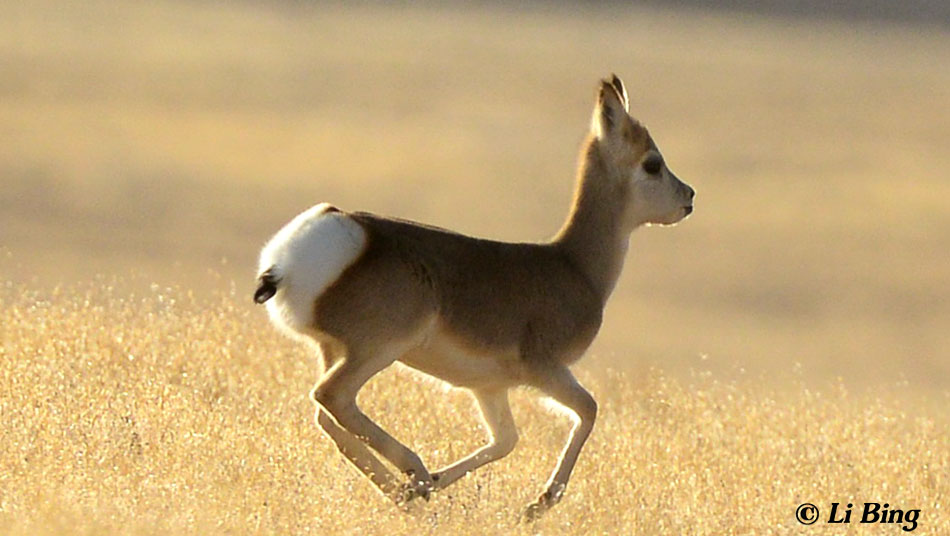 Tibetan Gazelle (Procapra picticaudata)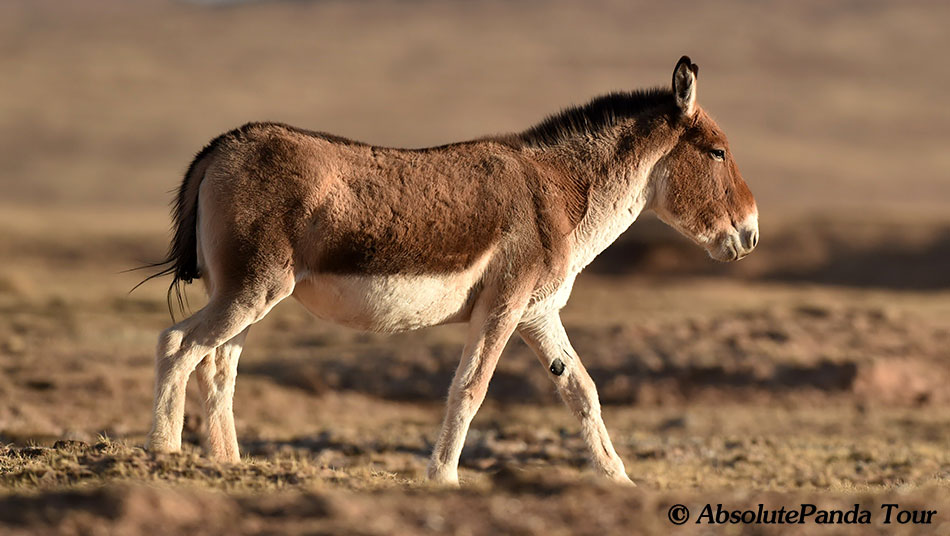 Tibetan Wild Ass (Equus kiang)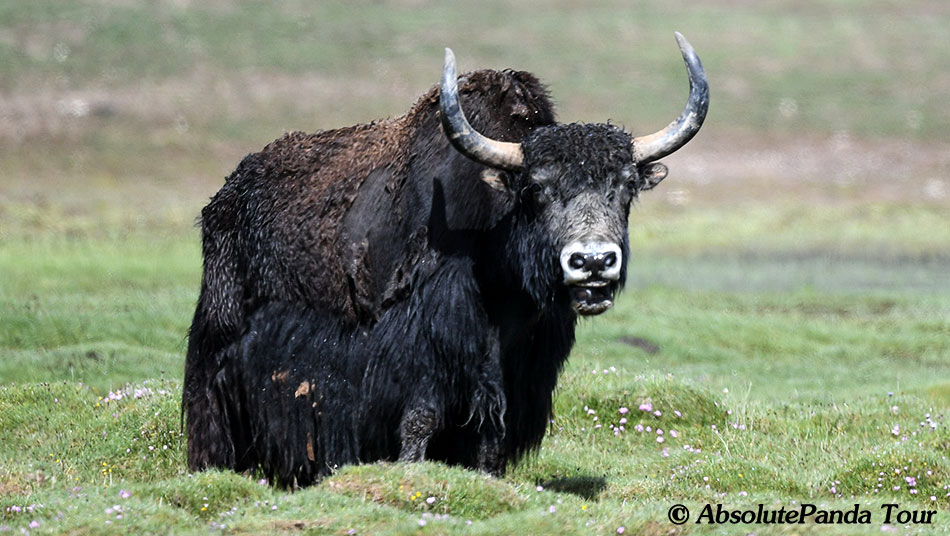 Wild Yak (Bos mutus)

Welcome to email us and share your trip photo with us. Photo Album of AbsolutePanda