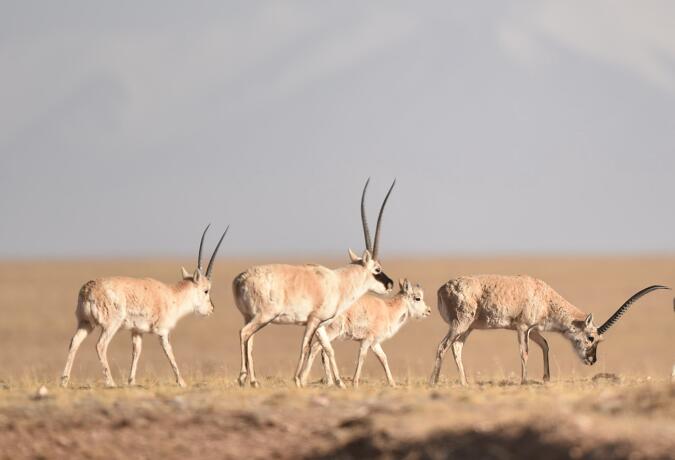 12 day The Great Qinghai Wildlife Safari
Date: May to Oct
Price: Upon Request
Trip Focus: Wildlife+Photography
Status: Open to Booking
Route: Xi'ning-Qinghai Lake-Geermu-Hoh xili-Qumalai-Mado-Gonghe-Xi'ning
Trip Code: W003
Overview

As a traditionally sparsely inhabited region with a variety of different climatic zones, Qinghai province is a broad nature reserve, surrounded by snow-covered mountains, icy peaks, the Gobi deserts, and vast pastures. Qinghai is home to a profound variety and abundance of wildlife. Tibetan Buddhist beliefs prevalent in the region have worked in many respects to preserve the natural wealth of the wider region. The wildlife abundance of Qinghai and the beauty, richness were directly linked to a harmonious balance between animals and human. Here in Qinghai, respect for nature and animals equal to respect for God. Over 250 wild animals inhabit here including wild camel, wild ass, Chiru (Tibetan Antelope), white-lipped deer, snow leopard, black stork and wild yak.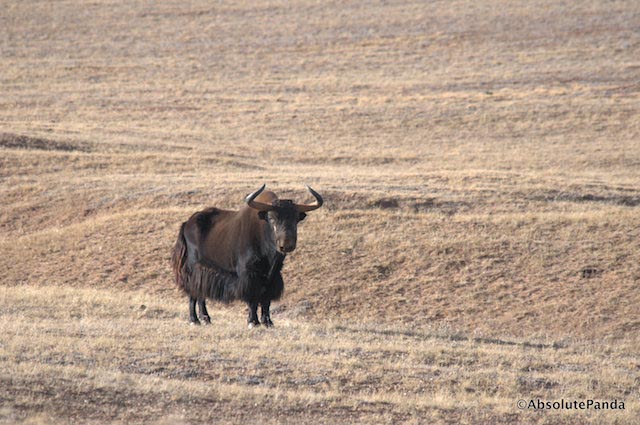 Wild Yak

Our Great Qinghai wildlife safari will cover three very important national nature reserves which are among the biggest national reserves in China---Qinghai Lake National Nature Reserve, Kekexili National Nature Reserve and Sanjiangyuan National Nature Reserve. Depart from Xi'ning, we will first visit the kingdom of birds---Qinghai Lake and then heading south to least populated area in China--- Kekexili in Geermu. We will venture east to the biggest wetland reserve in China ---Sanjiangyuan and head back to Xi'ning in the end.

Highlights:
• Tracking endangered wildlife on "the Roof of the World";
• Birding at "Kingdom of bird"---Qinghai lake;
• Exlpore the biggest nature reserve in China on Qinghai-Tibet Plateau.

Qinghai Lake national nature reserve is known for its largest inland saltwater lake in China--- Qinghai Lake. Established in 1975,Qinghai Lake Nature Reserve is located in the northeastern part of the Qinghai-Tibetan Plateau covering an area of 495,200 hectares. The Reserve was listed as "Wetland of International Importance" in 1992. The main protection targets are rare birds and plateau wetland ecosystem. Qinghai Lake as a main body is surrounded by lakeside plain, grassy swamp, alpine grassy marshland, semi-desert and dry grassy beach with abundant wetland ecosystem and bio-resources. There are altogether 200 species of birds and beasts in Qinghai Lake and lakeside area including gulls, cormorants, swans and blank-necked cranes. As a plateau lake, it is the kingdom of birds. In spring and summer, around 100,000 birds mainly fly to the Reserve to go through the summer. Qinghai Lake also boasts abundant fish resources, some of which serve as good food for birds there.

Kekexili Nature Reserve, located in the northsestern part of Qinghai-Tibet Plateau, is a high grassland area that sits at 4700 m (15,416ft) above sea level. Established in 1995, Kekexili is the largest nature reserve in China covering 45,000 square kilometers in the joint border of southwest Tibet Autonomous Region, northwest Qinghai Province and Xinjiang Uyghur Autonomous Region. Its main protection targets are the 202 species of highland wild plants and 16 species of endangered mammals and about 30 species of birds in Qinghai-Tibet Plateau including Chiru, white-lipped deer, wild ass etc, as well as their living environments. Snow leopards, golden eagles, gorals and yaks are put under the state protection.

Sanjiangyuan National Nature Reserve is located in the Sanjiangyuan area where the Yangtze River, Yellow River and Lantsang River originate. It the most concentrated reserve of living creatures in high altitude localities and the highest natural wetland in China. Established in 2000, the reserve was set up to protect its eco-system and the wetlands, provide favorable living habitats for its wild animals, and preserve its original physiognomy and unique natural scenery. The reserve nurtures many types of vegetation with 3 types of plants under state protection (category II) and another 34 types under special provincial protection. Besides the vegetation, 85 types of beasts, 237 types of birds and 48 types of reptiles and amphibians also dwell there including Tibetan antelope (Chiru), snow leopard, wild yak and Himalayan blue sheep.
Dates & Price
Upon Request



Itinerary
Day 1 .Arrive Xi'ning
Day 2. Xi'ning-Qinghai Lake
Day 3. Qinghai Lake National nature reserve
Day 4. Qinghai Lake-Geermu
Day 5. Geermu-Hoh xili
Day 6-7. Hoh xili National nature reserve
Day 8. Hoh xili-Qumalai
Day 9. Qumalai
Day 10. Qumalai- Mado
Day 11. Maduo-Gonghe
Day 12. Gonghe-Xi'ning

Day 1 .Arrive Xi'ning
Airport pick up. Gathering in Xi'ning, the capital of Qinghai province.

Day 2. Xi'ning-Qinghai Lake
This morning, we directly venture west to Qinghai Lake via the rolling grassland. On the 4-5 hours' drive, our local tour guides will give an introduction about this wildlife safari program. If time permits, we will drive to the Bird Island for sunset.
Overnight: Gangcha County

Day 3. Qinghai Lake National nature reserve
Today we will get up early and get ready for bird watching. The amount and varieties of birds enabled Birds Island the world's densest "Kingdom of Birds". After the breath-taking bird watching, we will pay a visit to Sun and Moon Mountains, Daotang River and Qinghai Lake to discover the mammals.
Overnight:

Day 4. Qinghai Lake-Geermu 10-14h
Today will be longest driving day in the whole journey. We will across the plateau driving all the way down to Geermu. We will have a few stops along the way to discover Tibetan Sandgrouse. Mammals are very conspicuous along this road, and along with large numbers of Kiang and Tibetan Gazelle. We hope to encounter small groups of Tibetan Antelope along with an outside possibility of wild Yak.
Overnight: Geermu

Day 5. Geermu-Hoh xili 3.5h
Geermu is not far away from Hoh xili. A 3-4 hours' drive will take us to the least populated area in China but with abundant wildlife of highland.
Overnight: Hoh xili

Day 6-7. Hoh xili National nature reserve

Despite the harsh climate, Hoh Xil is home to more than 230 species of wild animals, 20 of which are under Chinese government protection, including the wild yak, wild donkey, white-lip deer, brown bear and the endangered Tibetan antelope or chiru. The abundant plateau pika, a small burrowing rodent, is the main food of the region's brown bears. Today we will explore this area for these amazing wildlife.
Overnight: Hoh xili

Day 8. Hoh xili-Qumalai
Leaving Hoh xili, we depart to Sanjiangyuan Area. Today we will cross half of the plateau and stop by Qumalai. Qu Ma Lai is famous for "The Original Place of Yellow River" Monument, Tibetan Buddhism Temples, and Mount. Kunlun. Most importantly, there are variety of wildlife animals inhabiting in this area. We will definitely enjoy the wildlife trip here.
Overnight: Qumalai

Day 9. Qumalai
Today we continue tracking wildlife on the vast Qinghai-Tibet Plateau. We will search for the rare and precious white lipped deer, wild bear, leopard, kiang and wild yak, and also rare birds, such as black-necked crane, snow cock, golden eagle.
Overnight: Qumalai

Day 10. Qumalai- Mado
With completing the cross of the Plateau, we are heading Mado. Mado is rich in nature resources and wild animals. Many endangered species, like wild donkey, wild yak, white lipped deer, brown bear, leopard, red fox etc. A lot of resident birds, like brown-headed gull, bar-headed goose, black-necked crane, common redshank live here. There are also varieties of migration birds come in May and leave in October.
Overnight: Mado

Day 11. Maduo-Gonghe
We will drive to the splendid Gonghe plateau. The high altitude plateau scenery, mysterious Tibetan Buddhism and profound Tibetan culture make this place to be one of the most attractive spots in China. It is well-worth to driving long way in the fabulous views. What's more, we can see the rare Chinese Oryx, if we are lucky.
Overnight: Gonghe

Day 12. Gonghe-Xi'ning 4-5hrs
Heading back to Xi'ning, then depart Xi'ning in late evening.

Map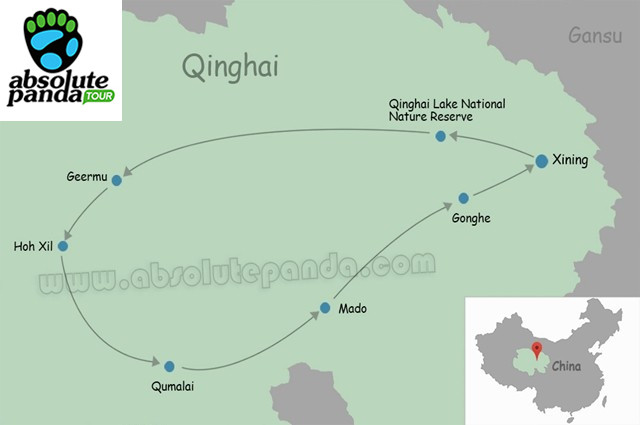 Great Qinghai Wildlife Safari Map
Accommodation

Xi'ning
Qinghai Lake
Geermu
Hoh xili
Qumalai
Mado
Gonghe


FAQ
Email us if you have some questions.
Testimonial

"The Only Choice for Travel in China"

I must confess, I write this review because it's ultra personal to me. I've only known about AbsolutePanda for a couple of months but have worked with them very closely with our tour company from the U.S.

AbsolutPanda represents China, like Americans would want a tour company in the U.S. to represent America- with professionalism, pride and respect while their actions speak in a way to that oozes with historical consciousness, both culturally and ecologically.

They take care of their clients and bend over backwards to make sure they are given the trip they paid good money for.

Whether you hire AbsolutPanda for a cultural, sightseeing tour or to see the Tibetan Plateau where you will feel like the only tourist for a hundred miles, you'll leave knowing more about China than you started with, that's for sure. But it's more than that. You will understand what China was and what it wants to become now... and it's a lot more optimistic for the world than people might think.
---Justin G from US
Welcome to email us and be our guests to write the feedback for us.
In pictures
Welcome to email us and share your trip photo with us.
Videos
Welcome to email us and share your trip video with us.