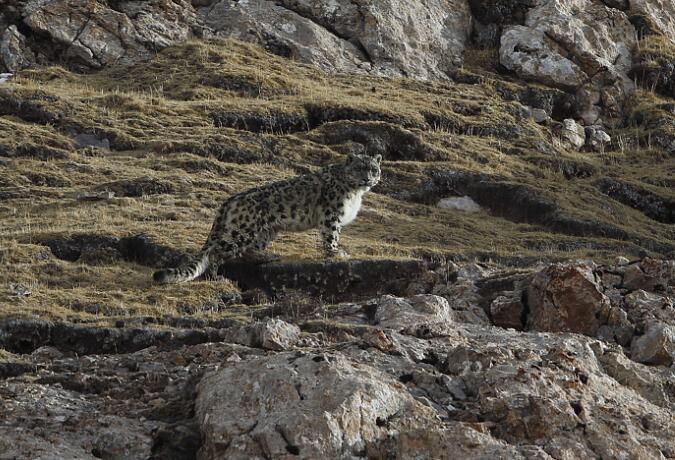 8 Day Snow Leopard Safari
Date: May to Oct
Price: Upon Request
Trip Focus: Wildlife+Snow Leopard
Status: Open to Booking
Route: Yushu-Sanjiangyuan-Yushu
Trip Code: W002
Overview

China is home to the largest snow leopard habitat in the world which spanning 1,100,000 square kilometers and featuring the more of these animals than anywhere else (around 2,000–2,500.) In this exciting tour from AbsolutePanda, you will have the once in a lifetime opportunity to search for these rare and elusive big cats in the heart of their alpine habitat. Come with us as we track and photograph these captivating animals with the help of researchers working towards their preservation.

About Snow Leopard:
The pelage ground color is a uniformly light gray scattered with black rings or spots. The venter is white. Tail is very long and quite thick, and legs seem disproportionately short. Found in high mountains, generally between 3000 and 4500m and occasionally as high as 5500m.

Highlight:
1. Travel through the heartland of the snow leopard's natural habitat.
2. Witness the natural splendor of China's largest natural reserve.
2. Experience the local culture of the Amdo Tibetans living in Qinghai.
3. Search for other endemic species native to the plateau, including yaks, Pallas cats, blood vultures, Tibetan wolves and more!
4. Explore under the guidance of our team's experienced local guides.

Introduction to trip destinations and activities:

Sanjiangyuan Nature Reserve
Located in the hinterland of the Qinghai-Tibet Plateau and the south of Qinghai province, Sanjiangyuan is a habitat unlike any other. The total 363,000 square kilometers of this reserve makes up roughly 50.4% of Qinghai province and is the birthplace of China's Yangtze, Yellow and Lancang rivers. It has the typical alpine characteristics of the ecosystem and biodiversity found throughout the Qinghai-Tibet Plateau. The flora , fauna and wetland ecosystem in this region are distinctly unique while its natural ecosystem remains in its original state.

In total, Sanjiangyuan is home to 85 species of mammals, 237 species of birds, and 48 species of amphibians. There are 16 nationally protected (class I) animals including Tibetan antelopes, wild yaks, Tibetan wild donkeys, snow leopards, golden leopards, white-lipped deer, black-necked cranes, golden eagles, jade belt sea eagles and bearded vultures. Additionally, there are 53 nationally protected (class II) species such as the argali, gazelle, serow, Rhesus monkey, black bear, horse musk deer, red deer, brown bear, lynx, falcon, kestrel, alpine crane, vulture, giant salamander and so on. There are 32 provincial protection species like polecat, sand fox, weasel, wild goose and red duck. For naturalists looking to find a plethora of China's most coveted animal species, Sanjiangyuan is the ideal destination.

Tibetan Culture in Yushu
Our itinerary mainly covers Yushu and Sanjiangyuan, which are not only famous for their natural landscapes, but also for the unique culture of the area's indigenous Tibetan communities. There are colorful tradition of the people here attracts visitors looking to experience the lifestyle of the people living in these highland prairies. Visitors have the chance to watch and listen to traditional music and dance and visit ancient monuments such as the famous Wencheng Princess temple or the world's largest Xinzhai Kanah Stone Pile.
Dates & Price

Upon Request

Quotation: for Adult's private tour
USD per group.
Single supplement: USD per person.

The land cost includes the following items:
1. A nice SUV or 4x4 list in the trip.
2. An English-speaking guide for the whole trip.
3. Meals as listed above as BLD.
4. Bottled water.
5. Entrance charges list in the trip.
6. China Domestic Travel Insurance.
7. Hotel listed above.
8. Local ranger to some area of the nature reserve.

The cost doesn't include the following:
a. Drinks during the meal.
b. Extra charges due to change of itinerary from client side or factors beyond the control of AbsolutePanda such as natural disaster and governmental policy change.
c. Discretionary tips to the guide and driver.
d. All personal expense such as laundry service or personal shopping.
e. Train ticket or Airfare to and out Yushu.
f. Any program not listed in the itineraries.
g. Entrance fee, car rental or meals during your free time trip.
h. Single supplement
Itinerary
Day

City / Place of Interest

Overnight (Attitude)

Day 1

Arrive Yushu(D)
Airport pick up.Check in.

Yushu(4200m)

Day 2-3

Yushu(BLD)
Visit around Yushu

Yushu or Nearby County(above 4200M)

Day 4-7

Yushu-Sanjiangyuan Nature reserve (BLD)
Searching Snow Leopard.

Camping or local Tibetan households.

Day 8

Depart Yushu(B)
Airport see off

/

Day 1.Arrive Yushu.Meals: D

To begin this tour, your group will fly into Yushu in Qinghai province. Once you've arrived, our team will escort you from the airport to check into your local hotel accommodation where you may prepare for the week of activities.
Overnight: Yushu


Day2-3.Around Yushu.Meals: BLD

After waking up at your leisure, we will begin the day adjusting to the change in time and acclimating to the altitude. Some photography excursions will be arranged nearby Yushu. Specifically, we will start our photo safari with carnivores living in the lower altitude such as Tibetan fox, wolves, lynx and vultures as well as small mammals like the black-lipped pika and Himalayan marmot.
Overnight: Yushu and nearby county


Day4-7.Sanjiangyuan area. Meals: BLD

On the fourth day of this tour, our team will drive to Sanjiangyuan nature reserve; the largest nature reserve in China. Once we arrive, we will begin our search for snow leopards with help from our snow leopard expert and local Tibetan guides. After settling down at our camp site, we'll trek to nearby valleys looking for traces of snow leopard activity and the presence of their favorite prey, blue sheep. The everyday program for snow leopard photography is not fixed and will depend largely on weather conditions and snow leopard movement. The idea is to provide you with the best possibility to track these elusive "ghost cats".
During this length of the tour, we will camp or stay in local Tibetan households and spend the evenings enjoying Tibetan hospitality with the local families.

We will camp or stay in local Tibetan households and spend the evening enjoying Tibetan hospitality with the locals. At the end of the first part of the trip, we are going to stay in a big county to refresh from the tough days in the valley.
Overnight: Camping or local Tibetan households.


D8.Yushu and departure. Meals: B

On the morning of the last day of this tour, we will drive back to Yushu airport so your group can catch your flight in a timely manner. This will conclude the scheduled activities for this itinerary.

Note:
1.If you need help in arranging a flight to Yushu from Beijing, Shanghai, Xian, or Chengdu, or the flight out of Yushu, please feel free to contact us.
2.We recommend you bring your own sleeping bags for the camping nights.
3. If you perfer better chance for searching Wild yak, Tibetan antelope, Tibetan wild donkey.
Here is a 4 day Extention tour for your reference:
Day 1 Yushu-Qumalai 230km 3.5h
Day 2 Qumalai-Wudaoliang 400km 6.5h
Day 3. Wudaoliang -Qumalai 400km 6.5h
Day 4:Qumalai-Yushu 230km 3.5h
Map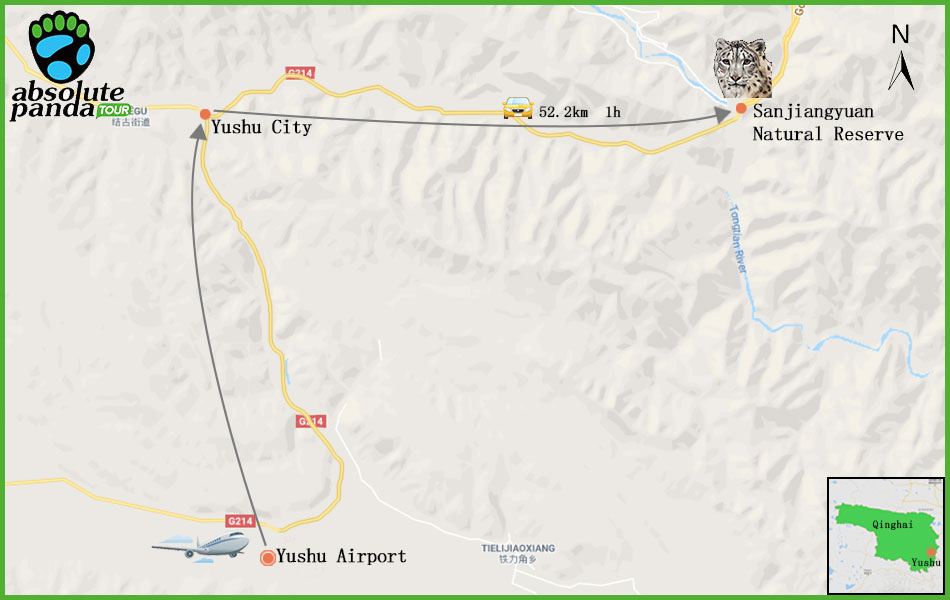 Snow leopard Safari Trip Map
Accommodation

Yushu
Camping
Local Tibetan homestay

FAQ
1.When is the best season for snow leopard safari?
Usually, winter and spring are the best seasons to watch the wildlife in China. November is one of the good seasons because it's early winter and it's still not too cold, about -10℃ while December and January are colder (about -20℃) .Local people will be very busy for the coming Spring Festival and Tibetan New Year in Feb.
2.Is summer still good for finding the snow leopard?
Our top guides, Philip and Tsebtrim took photos of two leopards for three times in Qinghai in July of 2017.
3.How challenging is this tour?
A trip to find snow leopard is one of the more challenging tours available in China. Our team will go to a remote area over 4500 meters in elevation, where no restaurants or hotels are available. We will use camping gear, including tents and sleeping bags. Because of the tough road condition and possible heavy snow in winter or even spring.
4.What are the odds that I will see a wild snow leopard?
As with any wild animal, you can never guarantee that you can see a snow leopard. However, our skilled team of professional guides have experience and local resources that will give you a much better chance. Around 80%.
5. What has been the most snow leopards seen on one tour?
We saw two snow Leopards.
6. What certifications does your team have in the event of an emergency?
Our staff have been trained with basic skills by Red Cross for emergency.
7. Are there any optional extensions or additional activities for this trip?
Extension:For better chance for searching Wild yak, Tibetan antelope, Tibetan wild donkey.
Day 1 Yushu-Qumalai 230km 3.5h
Day 2 Qumalai-Wudaoliang 400km 6.5h
Day 3. Wudaoliang -Qumalai 400km 6.5h
Day 4:Qumalai-Yushu 230km 3.5h

Email us if you have some questions.
Testimonial
Welcome to email us and be our guests to write the feedback for us.
In pictures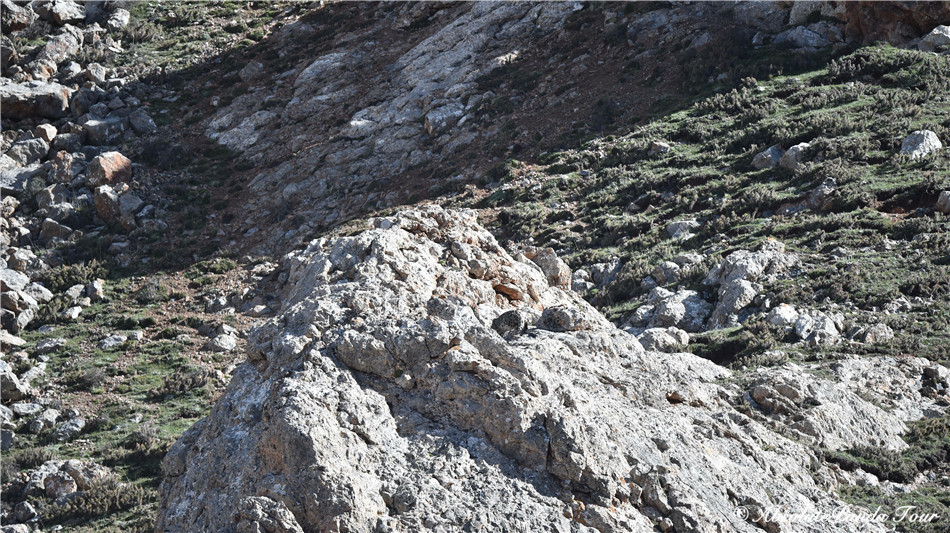 Can you find the Leopard in this photo?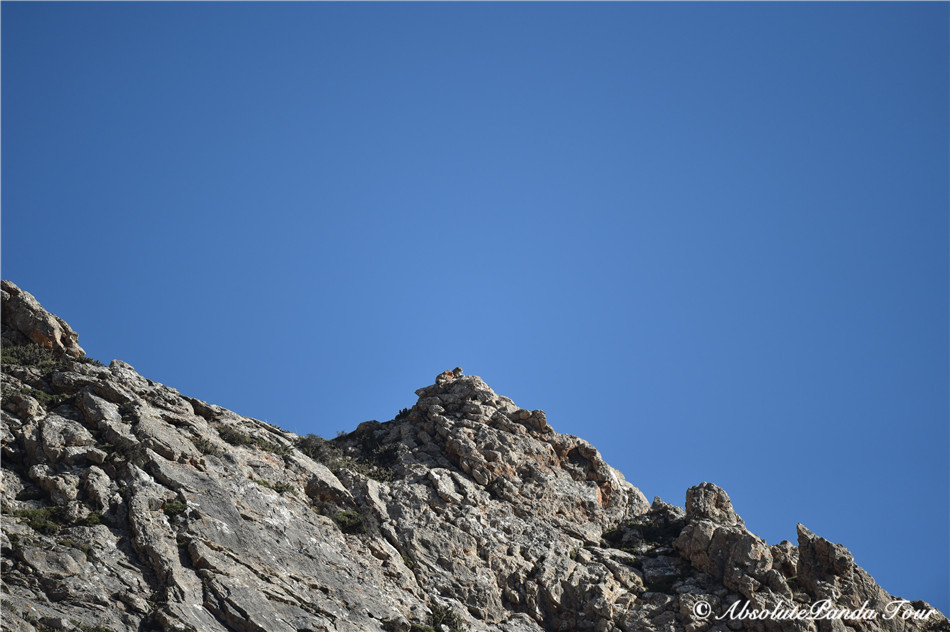 King of the Mountain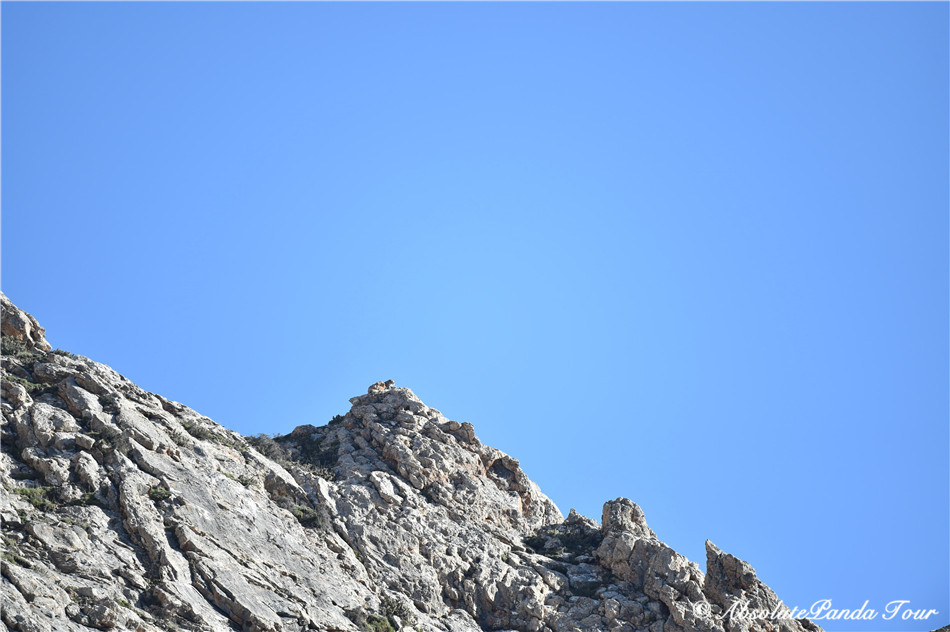 Overview the whole world.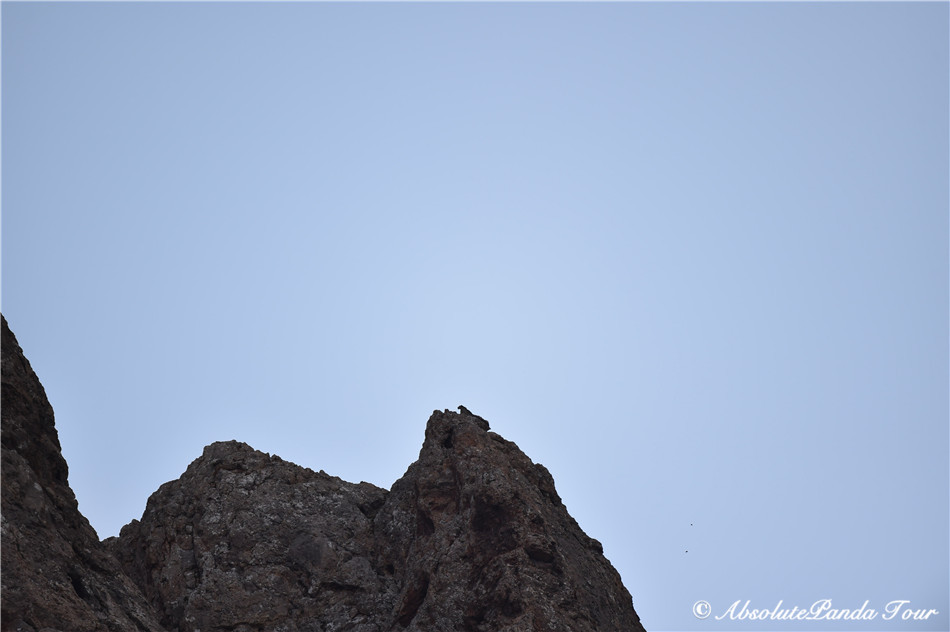 The evening is coming.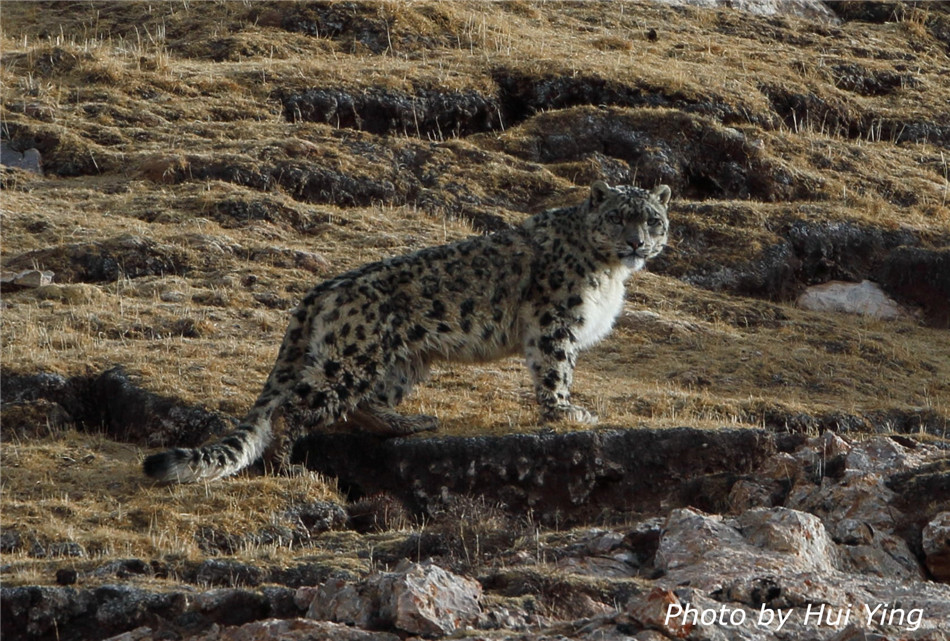 Hi,time to go home after the whole day work in my land.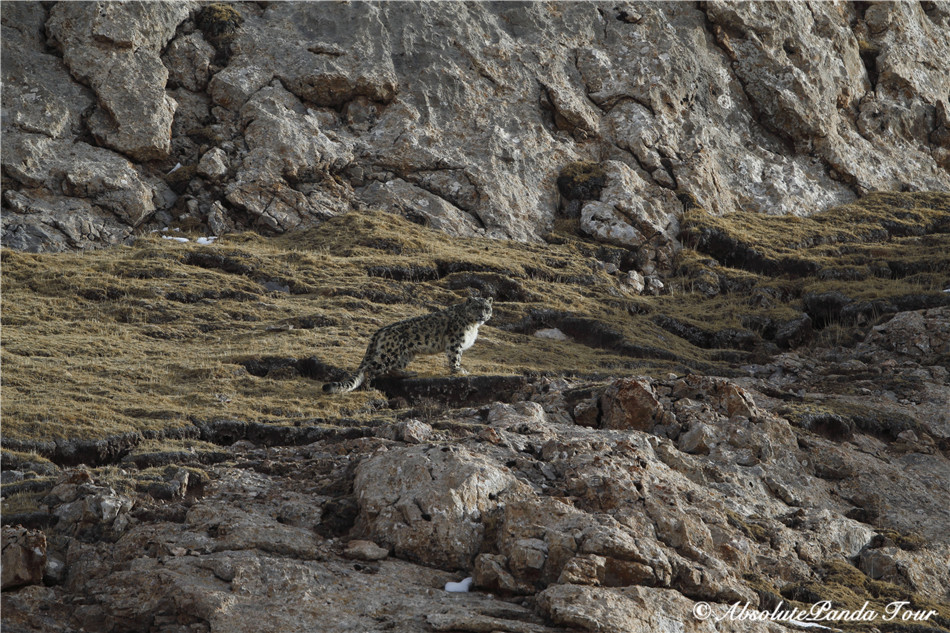 Bye~
Welcome to email us and share your trip photo with us.
Videos
Welcome to email us and share your trip video with us.