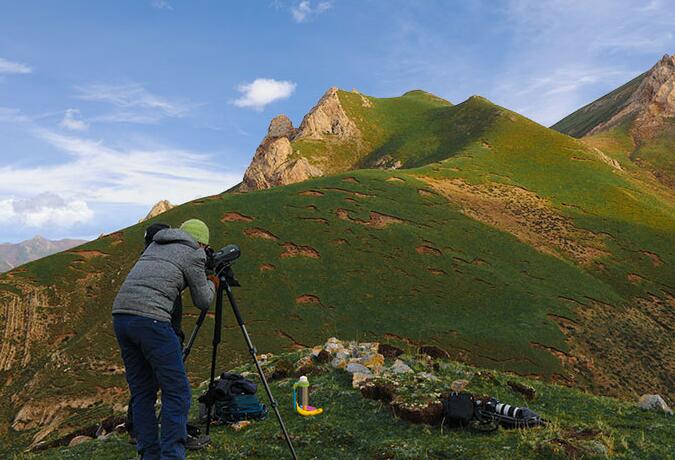 8 Days Snow Leopard Safari
Date: Feb. 20 & Jul. 1, 2023, 2024
Price: From 3085USD/PAX
Trip Focus: Wildlife + Snow Leopard
Status: Open to Booking
Route: Yushu-Sanjiangyuan-Yushu
Trip Code: W002
Overview


China is home to the most Snow Leopard in the world. Its habitat spans 1,100,000 square kilometers and features the largest number of the Snow Leopard than anywhere else (around 2,000–2,500). In this exciting tour from AbsolutePanda, you will have the once in a lifetime opportunity to search for these rare and elusive big cats in the heart of their alpine habitat. Come with us as we track and photograph these captivating animals with the help of locals near their habitat.

About Snow Leopard
The pelage ground color is a uniformly light gray scattered with black rings or spots. The venter is white. The tail is very long and quite thick, and legs seem disproportionately short. Found in high mountains, generally between 3,000m and 4,500m and occasionally as high as 5,500m. Snow Leopard is listed as Vulnerable on the IUCN Red List. The generation length of the Snow Leopard is eight years.

Snow Leopards are solitary animals, but they usually share a shared space. They mainly overnight and rest near cliffs and ridges that provide vantage points and shade. Females with her cubs typically live together. The mother gives birth in a rocky den, and its litter sizes vary from one to five cubs, but the average is 2.2.

The Snow Leopard is a carnivore and actively hunts its prey. It prefers to prey species like Himalayan Blue Sheep, Siberian Ibex, Wild Yak, Himalayan Marmot, Plateau Pika and so on in China. Interestingly, Snow Leopard also eats vegetation, including grass and twigs.


Highlights:

• Travel through the heartland of the Snow Leopard's Habitat.

• Witness the natural splendor of China's largest natural reserve.

• Experience the local culture of the Amdo Tibetans living in Qinghai.

• Search for other endemic species native to the plateau, including Wild Yak, Pallas's Cats, Himalayan Vulture, Wolf, and more!

• Explore under the guidance of our team's Experienced Wildlife Guides.


Introduction to Trip Destinations: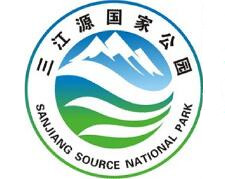 Sanjiangyuan Nature Reserve
Located in the hinterland of the Qinghai-Tibet Plateau and the south of Qinghai province, Sanjiangyuan is a habitat unlike any other. It is China's largest natural reserve which the total 363,000 square kilometers of this reserve makes up roughly 50.4% of Qinghai province, and it is the birthplace of China's Yangtze, Yellow and Lancang rivers. It has the typical alpine characteristics of the ecosystem and biodiversity found throughout the Qinghai-Tibet Plateau. The flora, fauna and wetland ecosystem in this region are distinctly unique while its natural ecosystem remains in its original state.

In total, Sanjiangyuan is home to 85 species of mammals, 237 species of birds, and 48 species of amphibians. There are 16 nationally protected (class I) animals including Tibetan Antelope (Pantholops hodgsonii), Wild Yak (Bos mutus), Tibetan Wild Ass (Equus kiang), Snow Leopard (Panthera uncia, Uncia uncia), Leopard (Panthera pardus), White-lipped Deer (Cervus albirostris), Black-necked Crane (Grus nigricollis), Golden Eagle (Aquila chrysaetos), Pallas's Fish Eagle (Haliaeetus leucoryphus), and Bearded Vulture (Gypaetus barbatus). Additionally, there are 53 nationally protected (class II) species such as Argali (Ovis ammon), Tibetan Gazelle (Procapra picticaudata), Sumatran Serow (Capricornis sumatraensis), Rhesus Macaque (Macaca mulatta), Asiatic Black Bear (Ursus thibetanus), Himalayan Musk Deer (Moschus chrysogaster), Red Deer (Cervus elaphus), Himalayan Brown Bear (Ursus arctos), Lynx (Lynx lynx), Saker Falcon (Falco cherrug), Cinereous Vulture (Aegypius monachus), and so on. There are 32 provincial protection species like Steppe Polecat (Mustela eversmanii), Corsac Fox (Vulpes corsac), Yellow Weasel (Mustela sibirica), Bar-headed Goose (Anser indicus), Ruddy Shelduck (Tadorna ferruginea). For naturalists looking to find a plethora of China's most coveted animal species, Sanjiangyuan is the ideal destination.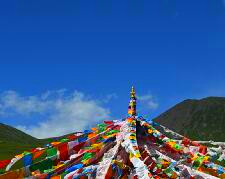 Tibetan Culture in Yushu
Our itinerary mainly covers Yushu and Sanjiangyuan, which are not only famous for their natural landscapes but also the unique culture of the area's indigenous Tibetan communities. There is a colorful tradition of the people here that attracts visitors looking to experience the lifestyle of the people living in these highland prairies. Visitors have the chance to watch and listen to traditional music and dance as well as visiting ancient monuments such as the famous Wencheng Princess temple or the world's largest Xinzhai Kanah Marnyi Stones.
How Can We Make This Trip Special?

• A team of passionate guides specializing in photography and wildlife with rich experiences of guiding and solid knowledge about wildlife and local places.

• Can be customized to better meet your travel style.

• 20-plus years of working in the travel industry and serving travelers from all over the world enable us to know how to make great trip for travelers of different travel styles.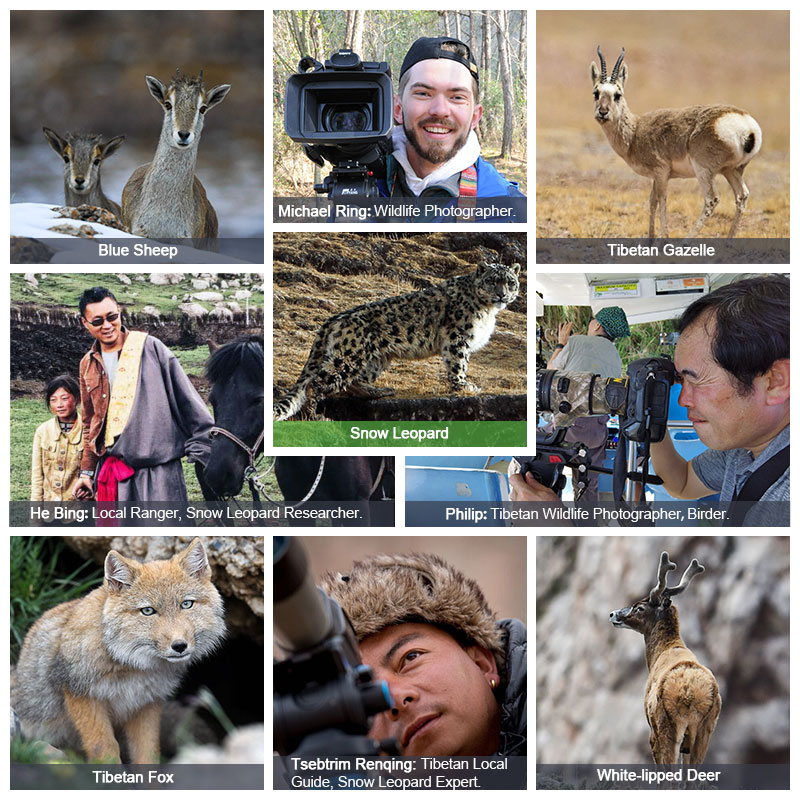 What Makes AbsolutePanda Excellent?

• We are one of the premier travel companies focusing on panda and other wildlife in China.
We use AbsolutePanda as company brand because of our deep love toward panda and our determination to create your absolutely enjoyable panda trips.
Since 2003, our professional tour leaders and wildlife experts have helped thousands of travelers gain an in-depth understanding of Giant Panda and their companion animals, enjoy stunning scenery all over China and explore the authentic local culture.
• Exclusive Quality & Value Guarantee.
We define our quality by well-designed itineraries, stunning destinations, creative interactions, small groups, professional guides, and reasonable prices.
• Explore China in comfort and your style.
We understand each traveler is different. In addition to selected accommodations, meals and vehicles, we would like to show you the real China by an authentic experience with incredible wildlife and lovely locals.
We believe the best way to help wildlife is through love and appreciation. By bringing nature lovers to enjoy the beauty of nature in China, we hope that local people can know the value of wildlife and learn how to love and appreciate those beautiful creatures living near their villages.
Map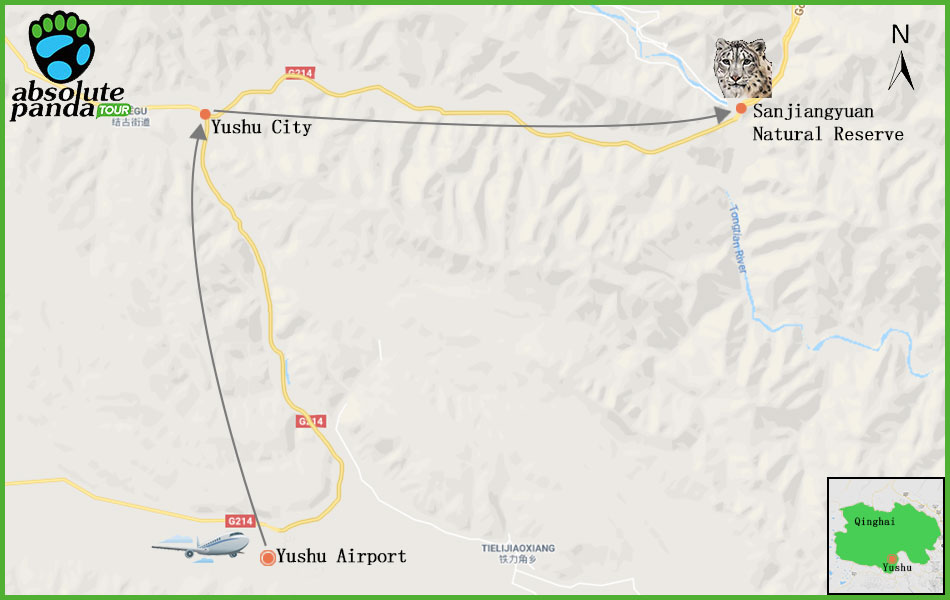 Snow Leopard Safari Trip Map


Itinerary


Outline:

Day 1. Arrive Yushu. (D)
Pick up from the airport in Yushu. Check-in. Overnight: Yushu (Attitude 4,200m)

Day 2. Yushu. (BLD)
Visit the area around Yushu. Overnight: Yushu or Nearby County (Above 4,200M)

Day 3. Yushu- Sanjiangyuan Nature Reserve. (BLD)
Arrive in Sanjiangyuan Nature Reserve and begin our search for Snow Leopard. Overnight: Camping

Day 4-7. Sanjiangyuan Nature Reserve. (BLD)
Continue our search for Snow Leopard. Overnight: Camping

Day 8. Depart Yushu. (B)
Depart from the airport in Yushu.


Details:

Day 1. Arrive Yushu. Meals: D
To begin this tour, your group will fly into Yushu in Qinghai province. Once you've arrived, our team will escort you from the airport to check into your local hotel accommodation where you may prepare for the week of activities.
Overnight: Yushu (Altitude 4,200m)
Day 2. Around Yushu. Meals: BLD
After waking up at your leisure, we will begin the day adjusting to the change in time and acclimating to the altitude. Some photography excursions will be arranged near Yushu. We will start our photo safari with carnivores living in the lower elevation such as Tibetan Fox, Wolf, Lynx, and Vulture as well as small mammals like the Black-lipped Pika and Himalayan Marmot.
Overnight: Yushu or nearby county (Above 4,200m)
Day 3. Yushu-Sanjiangyuan Nature Reserve. Meals: BLD
Today we will head to the Sanjiangyuan Nature Reserve, the largest nature reserve in China. On the way, we can enjoy the wildlife safari on this highland.
Overnight: Camping
Day 4-7. Sanjiangyuan Area. Meals: BLD
Enjoy the wildlife safari around Sanjiangyuan. These days we will focus on our search for Snow Leopard with help from our Snow Leopard expert and local Tibetan guides. After settling down at our campsite, we'll trek to nearby valleys looking for traces of Snow Leopard activity and the presence of their favorite prey, Blue Sheep. The everyday program for Snow Leopard photography is not fixed and will mainly depend on weather conditions and Snow Leopard movement. The idea is to provide you with the best possibility to track these elusive "ghost cats".
We will camp or stay in local Tibetan households and spend the evening enjoying Tibetan hospitality with the locals.
Overnight: Camping
Day 8. Yushu Departure. Meals: B
On the morning of the last day of this tour, we will drive back to Yushu airport so your group can catch your flight promptly. This will conclude the scheduled activities for this itinerary.

Notes:
1. If you need help in arranging a flight to Yushu from Beijing, Shanghai, Xi'an, Chengdu, or the trip out of Yushu, please feel free to contact us.
2. We recommend you bring your sleeping bags for the camping nights.
3. If you prefer a better chance for searching Wild yak, Tibetan Antelope, Kiang.
Here is a Four-Day Extention Tour for your reference:
Day 1 Yushu-Qumalai 230km 3.5h;
Day 2 Qumalai-Wudaoliang 400km 6.5h;
Day 3. Wudaoliang -Qumalai 400km 6.5h;
Day 4. Qumalai-Yushu 230km 3.5h.
4. This trip ventures into a remote area that features high altitude. Follow the advice from your doctor on altitude sickness before deciding to join this trip. In some events, high elevation can cause severe health complications for those with cardiovascular diseases or other poor cardiopulmonary function.


Dates & Prices


1. Dates

Feb. 20 to Feb. 27, 2024,2025
Jul. 1 to Jul. 8, 2024,2025

Email us for tailor-making a tour according to your time.


2. Prices

The AbsolutePanda team works hard to provide the highest quality tour experiences at a fair price. However, after working in the travel industry for more than 20 years, our team knows that no two travelers are alike in terms of their travel style, personal interests, choice of guides and preferences in restaurants and hotels. For AbsolutePanda, our client's satisfaction is a top priority. To meet the needs of different clients and ensure they enjoy a trip suited to their preferences, you are welcome to email with specific requests ranging from trip themes, guides, the quality of vehicles, accommodations, and restaurants. Our group trip price has the following includes and excludes below.

This standard price is made based on a minimum of five travelers. That means the trip size is at least five persons per group.

The cost for five pax group:
3085USD/PAX

Single supplement:
280USD/PAX

The cost includes:
1. Vehicles list on the trip. Two private Suvs or off-road vehicles for Snow Leopard safari; a nice private vehicle(14-17 seats) for the rest of the trip, including the cost of fuel and tolls; airport picks up and drop off;
2. An English-speaking wildlife guide for the whole trip;
3. A local ranger or Snow Leopard safari tracking expert;
4. Meals as listed above as BLD. Meals at local popular restaurants or picnic at kitchen tent in Snow Leopard habitat;
5. Bottled water and snacks;
6. Entrance charges list in the trip;
7. China Domestic Travel Insurance;
8. Hotel or camping listed above. Service of all logistic support.

The cost excludes:
1. Drinks during the meal;
2. Extra charges due to change of itinerary from client-side or factors beyond the control of AbsolutePanda such as natural disaster and governmental policy change;
3. Discretionary tips to the guide and driver;
4. All personal expenses, such as laundry service or for personal shopping;
5. Train ticket or Airfare to and out Yushu;
6. Any program not listed in the itineraries;
7. Entrance fee, car rental, or meals during your free time trip;
8. Single supplement;
9. Sleeping bag.

Notes:
Two or three clients occupy one big tent in Snow Leopard habitat; two clients occupy one twin-bed room on sharing basis at 3-star standard hotels in the city and local best guesthouses in the mountainous area. If the client prefers to use a private room or someone fails to have a roommate, he would need to pay the Single supplement.


3. Experienced Wildlife Guides

• Philip: A local guide born in the Sichuan Tibetan area with fluent English and basic Japanese, Philip is an exceptional photographer and had guided many Snow Leopard safari trips since 2017. As a wildlife guide, Philip also has a keen interest in Buddhism, birding, and Chinese cuisine.

• Tsebtrim Renqing: Tsebtrim is a local Tibetan from Yushu Tibet Autonomous Prefecture, Qinghai Province. He worked in an international NGO for almost ten years before he transferred to the tourism industry. Renqing has been working as a local guide in Yushu for more than 5 years. His mother's language is Tibetan. He speaks good Mandarin and English, as well as a bit of French. He believes each time guiding a tour is a chance of sharing and learning. Renqing is an illustrious guide in Qinghai. He worked with BBC for the documentary of Mekong River and was also invited by a world Top-3 film studio for their movie about Snow Leopard. He took a year to study Snow Leopard in the wild and helped to capture the precious moments of this rare creature successfully.

• He Bing: For more than ten years, He Bing has been working for wildlife research and conservation in Southern China and Qinghai-Tibetan Plateau. During the last six years, he worked for the Shan Shui Conservation Center, one of the most prominent environmental NGOs in China, mainly focusing on Snow Leopard and the alpine ecosystem conservation on the plateau. He participated in several Snow Leopard surveys in Qinghai and Sichuan with world-renowned zoologist and naturalist Dr. George Schaller, and other Chinese Snow Leopard scientists. In his project sites, he helped local communities to build monitoring teams consisted of herders, farmers, and monks, who had been trained to record the absence of Snow Leopard and to use camera-trap to capture wildlife photographs. He also tried several approaches to build local capacity to resist the loss of predation of livestock by Snow Leopards to prevent the retaliatory killing. Now he is still working on the plateau, as an independent researcher, to promote the coexistence of large carnivores and human beings.

Notes:
To AbsolutePanda team, our clients' overall satisfaction with their trip is the top priority. We can create a different option to make it easier for you to choose a tour that fits your style and budget. We feel it is difficult for our clients to enjoy this trip without the help of a guide. If you prefer to travel in a different style than the option we've provided here, please feel free to contact us.

For travelers who hope to tailor-make the day programs with their specific travel preferences in mind (transportation, hotels, exclusive privileges, and famous local experts), tailor-making a tour is the best way to ensure your desires are met. Please contact us with your specific needs and we will make an itinerary based on your expectations. Once you confirm, we will work out the cost and send it to you. Please feel free to ask any questions to learn more.

Please note that guides with specialized knowledge are not always available, especially during our busy season from April to October. If you have an on-planning trip, please contact us as early as possible so that we will block the date of our expert guide for you.

When you put your trust in our team, we are certain to help you enjoy an unforgettable travel experience in China!


Accommodations
AbsolutePanda firmly believes travel is an art. To ensure every trip with us is a great travel art for our clients, the AbsolutePanda team does all we can to consider every possible detail. The choice of hotels is an essential part of making a great trip. After many years of running a travel business, we have built up our network of cooperative hotels at different levels. We understand people are different in the choice of hotels when they travel. If you hope to use some specific hotels, please feel free to let us know, we are delighted to book it for you at a competitive price for you to make the hotel choice better meet your taste, budget and travel style. We can either reserve a hotel with competitive price for you or simply include the hotel into your trip cost if possible. You are welcome to contact us and tell us your requests, we will do our best to create the best travel itinerary for your private use.

If you need help with hotel booking in other big cities of China at different styles and luxury levels (International-brand Hotels, Local Brand Hotels, Economical Hotels), please feel free to email our team at info@absolutepanda.com.


FAQs
1. When is the best season for Snow Leopard safari?
Usually, winter and spring are the best seasons to watch wildlife in China. November is one of the good seasons because it's early winter, and it's still not too cold, about -10℃, while December and January are colder (about -20℃). Local people will be very busy for the coming Spring Festival and Tibetan New Year in Feb.

2. Is summer still useful for finding the Snow Leopard?
Our top guides, Philip and Tsebtrim, took photos of two Snow Leopards for three times in Qinghai in July of 2017.

3. How challenging is this tour?
A trip to find a snow leopard is one of the more challenging tours available in China. Our team will go to a remote area over 4,500 meters in elevation, where no restaurants or hotels are open. We will use camping gear, including tents and sleeping bags, because of the harsh road condition and possibly heavy snow in winter or even spring.

4. What are the odds that I will see a wild Snow Leopard?
As with any wild animal, you can never guarantee that you can see a Snow Leopard. However, our skilled team of professional guides has the experience and local resources that will give you a much better chance. We would say there is an approximately 80% chance.

5. What has been the most Snow Leopards seen on one tour?
We saw two Snow Leopards in both 2017 and 2018.

6. What certifications does your team have in the event of an emergency?
Our staff has been trained with the necessary skills of the Red Cross for an emergency.

7. Are there any optional extensions or additional activities for this trip?
There is an optional extension that will cover some of the Tibetan Plateau's other iconic animal species, such as Wild Yak, Tibetan Antelope, and Tibetan Wild Ass.
Day 1. Yushu-Qumalai 230km 3.5h;
Day 2. Qumalai-Wudaoliang 400km 6.5h;
Day 3. Wudaoliang-Qumalai 400km 6.5h;
Day 4. Qumalai-Yushu 230km 3.5h.

8. What means of transportation will we use on this trip?
For our tour, you will travel in comfort with a chartered van or Suv driven by a professional driver.

9. What level of accommodation will we have on this trip?
As we are traveling in a more remote area of China, the accommodation throughout this trip will vary. We make it our priority to provide our clients with the highest quality accommodation that is available.

10. What cultures will we interact with on this trip?
Qinghai is home to a regionally specific group of Tibetans known as the Amdo. These Tibetan communities are known for their colorful and vibrant dance and apparel, as well as their traditional Buddhist custom and lifestyle.

Email us if you have any questions via info@absolutepanda.com. Read our FAQ.


Testimonials
The best travel company I have ever worked with.
Where to begin? I am an international tour leader. This team is our partner company, and for the last 5 years they have proved time and time again to be by far the best, most meticulous, detail oriented, experienced, and honest company I have ever encountered. These guys get it- travel is an art. They are focused on the experience, not the profit, and this is very rare in china. The founder, Philip, is one of the top birders and nature experts in sichuan, and is well respected throughout the province and beyond for al of his efforts to support local culture and conservation of wildlife. He is from remote Tibetan region and understands how to operate in the wild, unexplored regions of china- the real china. He is an excellent teacher and judge of character and has built an amazing team of loyal guides who cannot be topped. If you travel with these guys, you have made a wise decision.
--Brad
Date of experience: May 2017
Wildlife of Tranquility.
We really had a nice Safari trip in Qinghai and Yushu. Our itinerary included beautiful landscape, stunning scenery and animals in Qinghai plateau. We enjoyed and learnt a lot from our professional guide Philip and his driver. They are both very reliable and trustworthy. We only need to let Philip noticed about our special points of interest, and he would did his best for us. The journey was absolutely wonderful! The scenery is fabulous and the wildlife is amazing. We are lucky enough to meet different species of animals, such as Tibetan Antelope and Tibetan Gazelle as well as various kind of birds throughout this trip.
We would like to take this opportunity to thank Philip and Lily again for the their expertee and value add-in to this special trip. Philip has even gladly share some photography tips and his beautifully taken pictures with us. These pictures definitely highlighted our valuable happy memory.
--Greygreyswonderful
Date of experience: August 2016
Welcome to email us and be our guests to write the feedback for us. Testimonial of AbsolutePanda


Videos & Photos

Our 8 days safari tour will bring you into the world of Snow Leopard and its companion animals like Blue Sheep.
Welcome to email us and share your trip video with us. Video Album of AbsolutePanda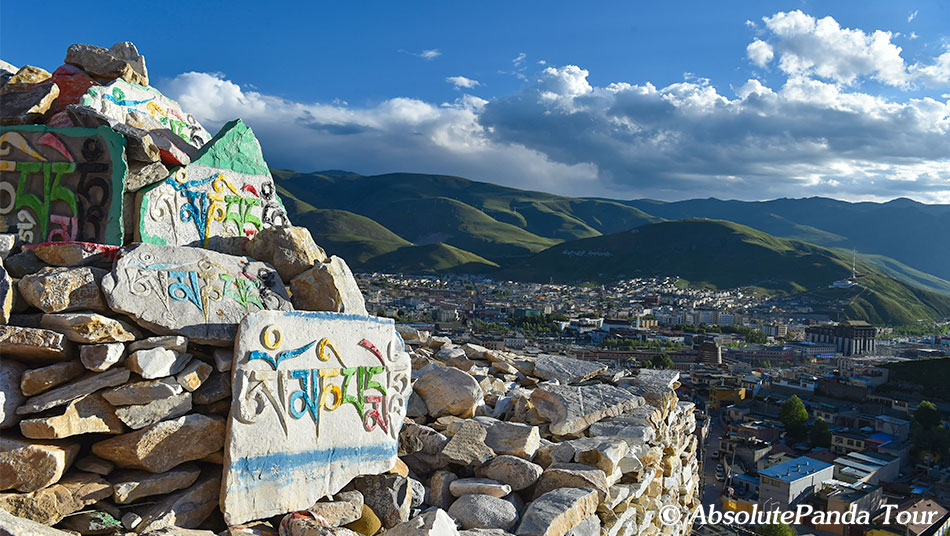 Arrive Yushu and get a bird view of the city with Amdo Tibetan Culture.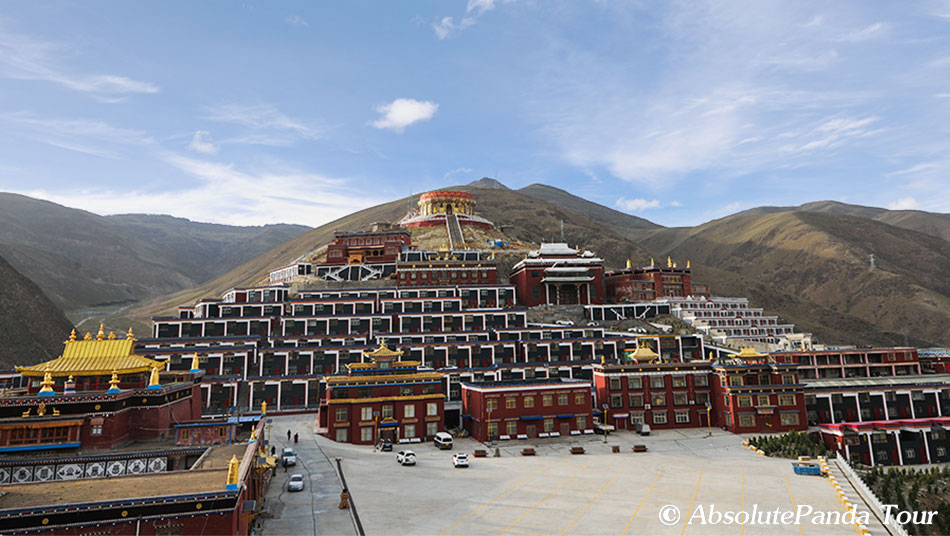 Visit the Tibetan Monastery of Jiegusi near Yushu.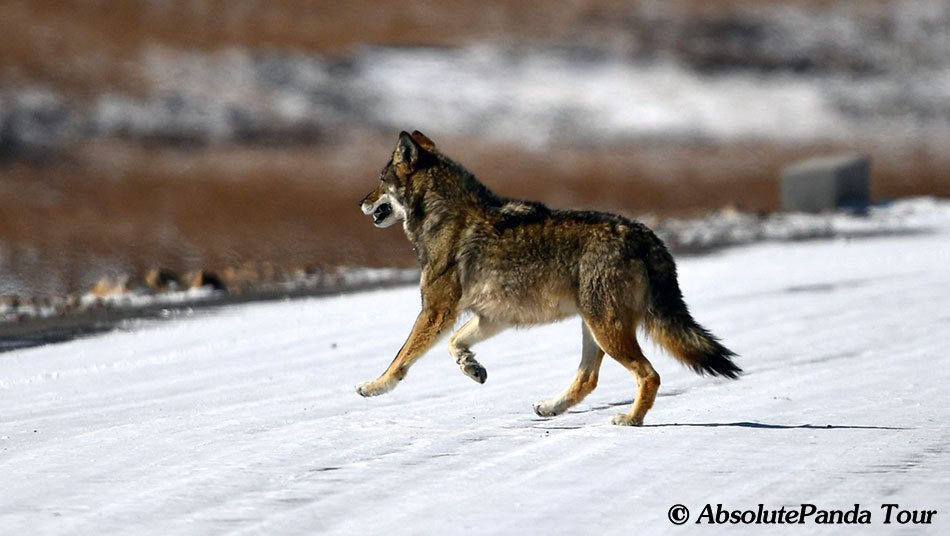 Head to Sanjiangyuan and meet a wolf on the road.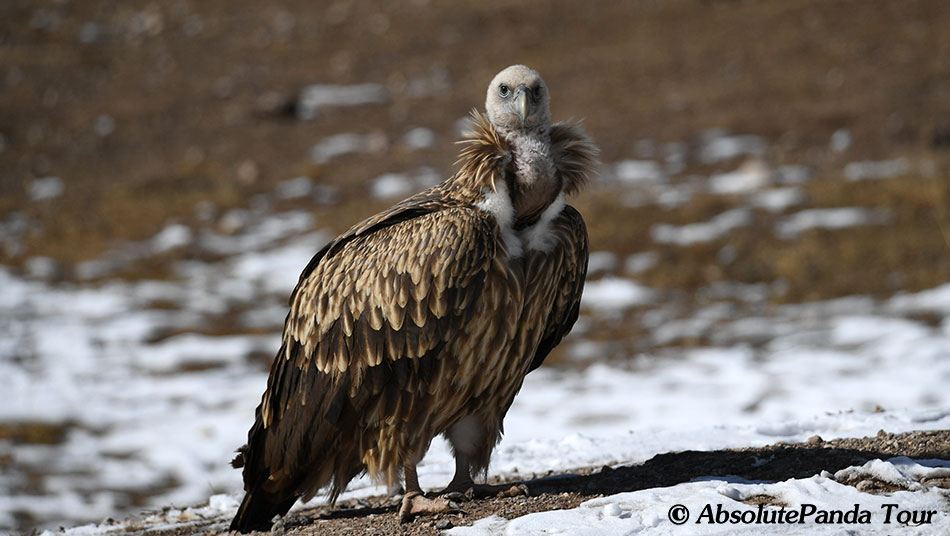 Enjoy the wildlife safari on the road.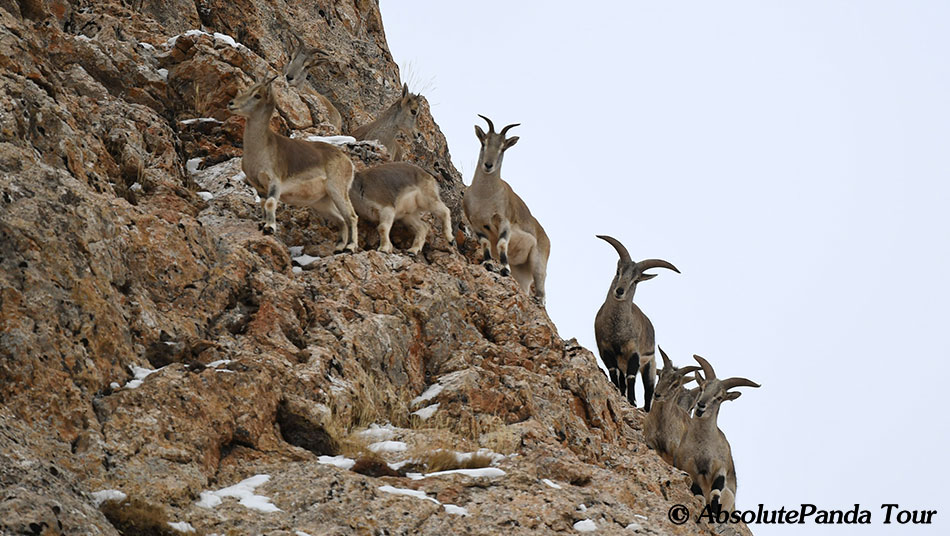 Blue Sheeps are hunted by Snow Leopard.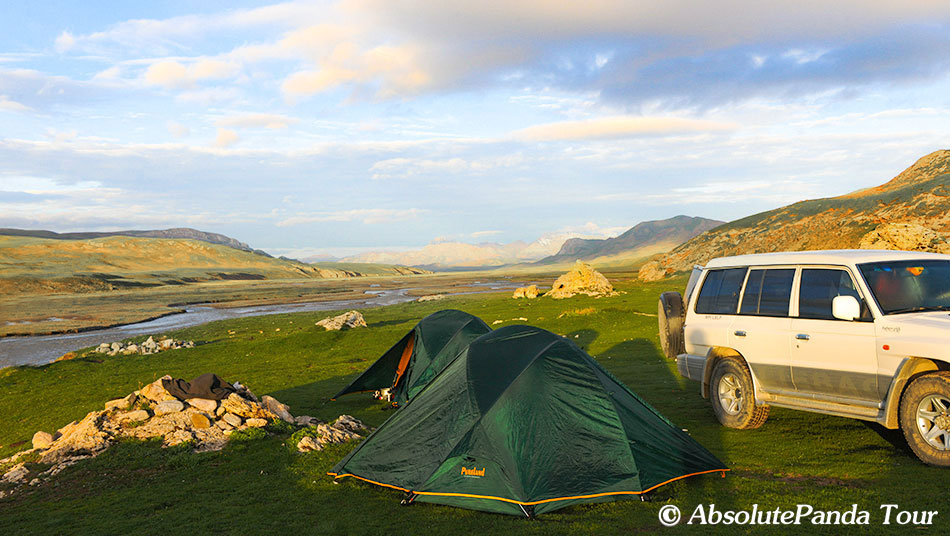 We will settle down by camping in some remote area.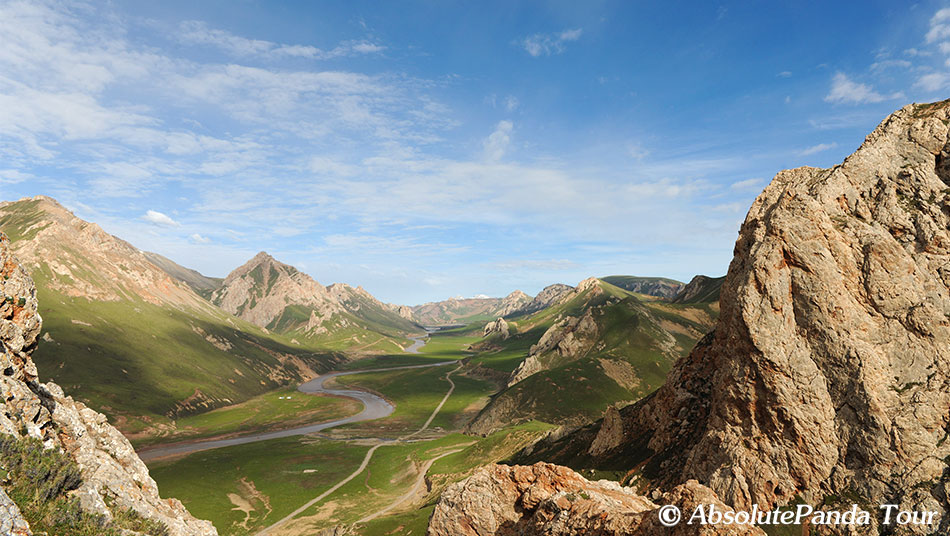 Beautiful valley to search for wildlife.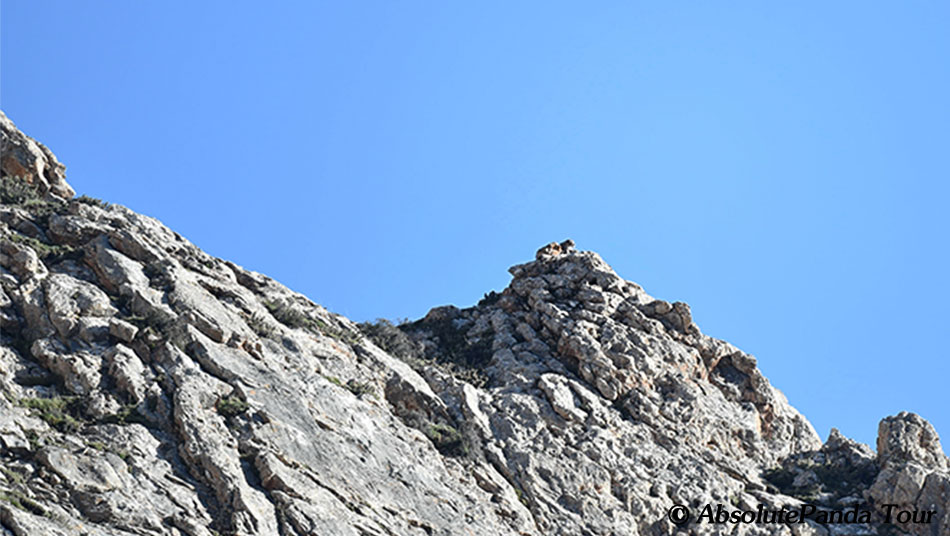 Can you find the Snow Leopard in this picture?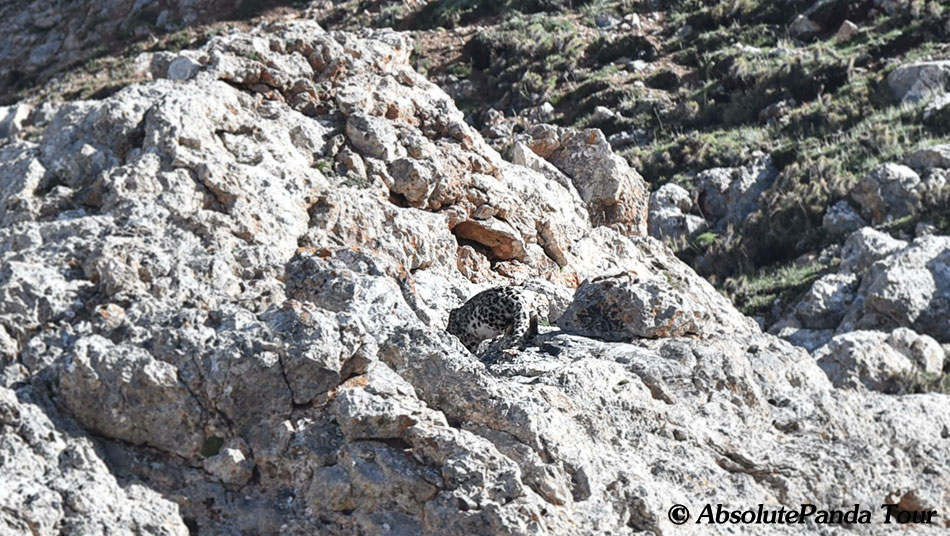 Can you see the Snow Leopard?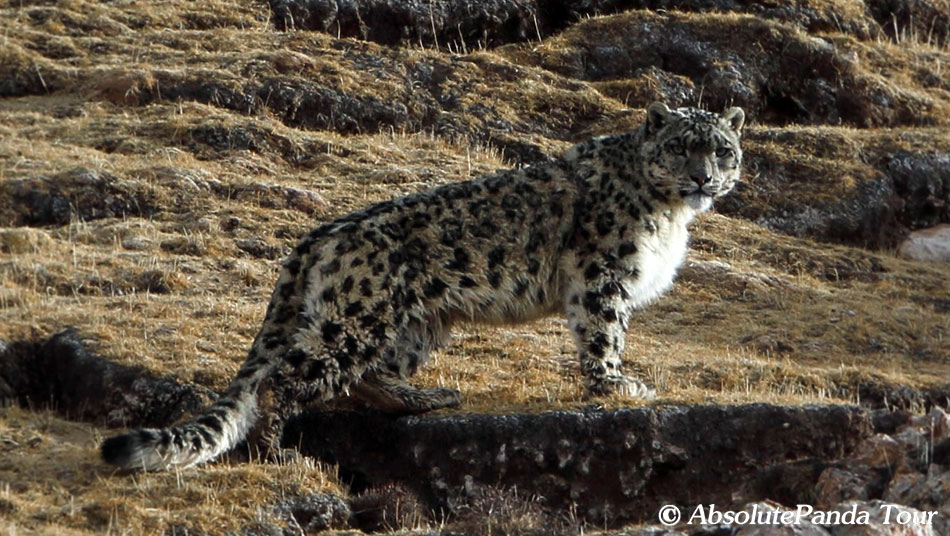 Hi, welcome to Snow Leopard's kingdom.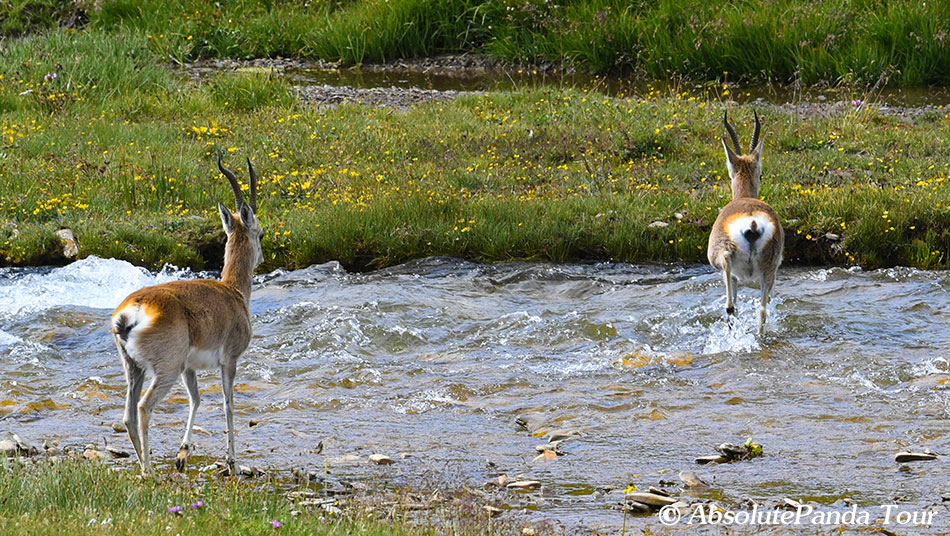 Besides Snow Leopard, Tibetan Gazelle is a bonus.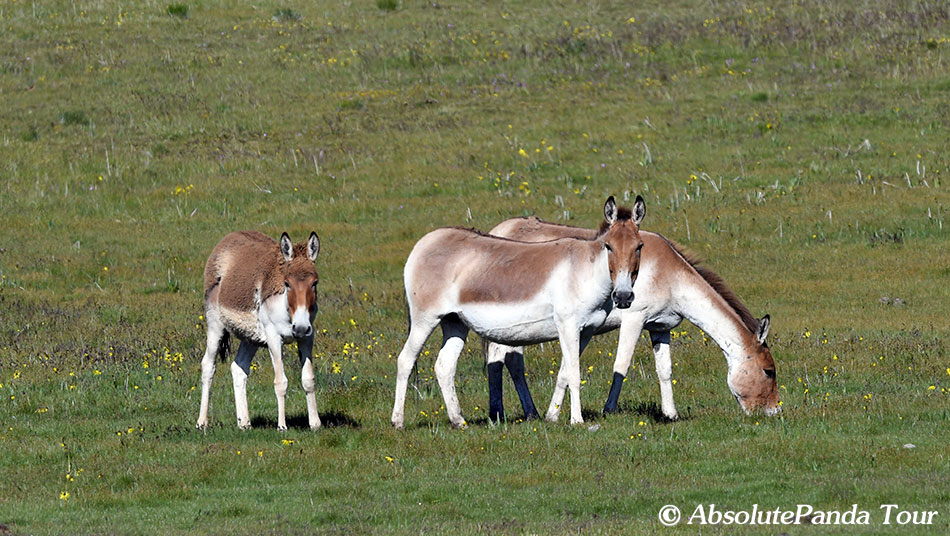 Also Tibetan Wild Ass (Kiang)and more.