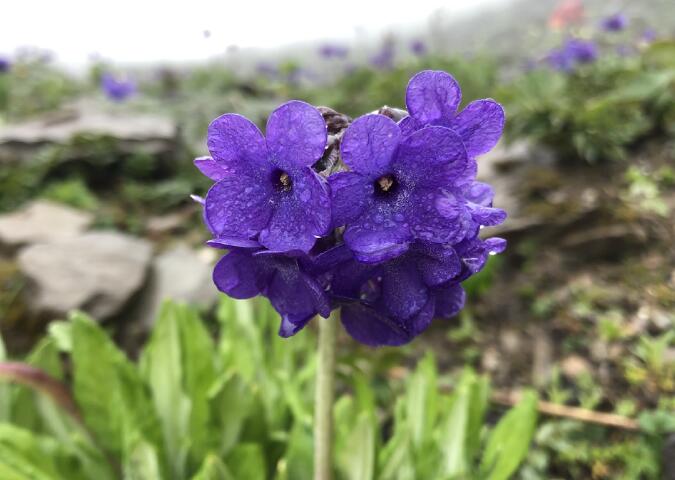 11 Day Find the Highland Beauty through the Lens
Date: May to Oct
Price: Upon Request
Trip Focus: Photo+Flora
Status: Open to Booking
Route: Chengdu-Wolong-Rilong-Maerkang-Hongyuan-Ruoergai-Jiuzhaigou-Fairy Pool-Chengdu
Trip Code: PH006
Overview

The east edge of Tibet Plateau, is the home to a group of Tibetan, giant panda and many endangered wildlife. Up on the grassland and wetland of the Plateau or in the primeval forests hidden in the mountains, hundreds of alpine bird species inhabit in the breathtaking nature scenery. The highland is paradise for wildlife. In respect of the Tibetan Buddhism religion, local people appreciate the gift of nature and never hurt wildlife. It is a mysterious place where we are going to unveil and discover.

In this photography tour, we are going to experience the unique ecosystem on the highland, such as the life of wildlife and local Tibetan, and its unique geographic feature. We will start from being a panda volunteer to get closer to this amazing creature before visiting their hometown in Wolong. In the panda habitat, we are going to discover panda traces with our nature experts and explore alpine flowers and birds in the Balang Mountain on the top of the panda kingdom. Giving yourself a physical challenge by hiking in Mt. Siguniang is another chance to photograph the snow cap of "Oriental Alps". Visiting Tibetan community will be a great way to interact with the local people and learn about their culture. We will finish this expenditure with the final highlights of this trip in the stunning scenery of Jiuzhaigou which boast itself to be the most beautiful water in China. You will obtain some knowledge about the highland unique karst landform formed dating back to the fourth glacial period and be definitely amazed by the beauty of nature.

Highlights

1. Photograph giant panda of different ages in the best known Chengdu panda base.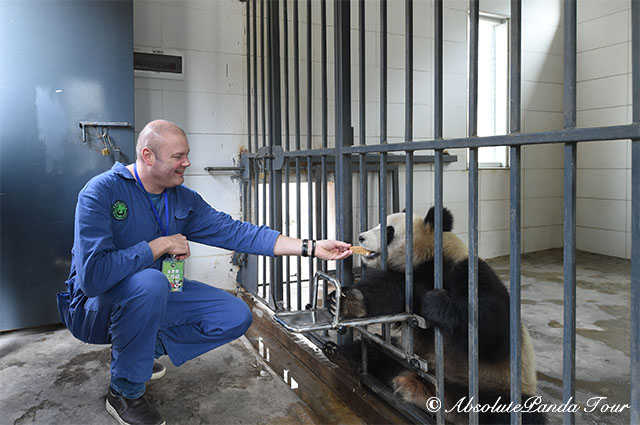 2. Bird & flower watching at the top of giant panda kingdom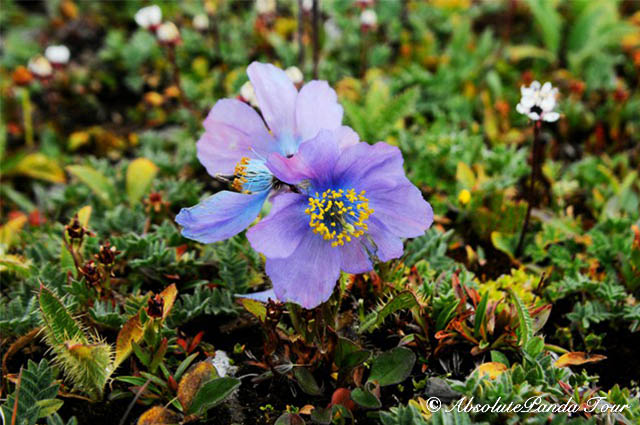 3. Hiking in Mt. Siguniang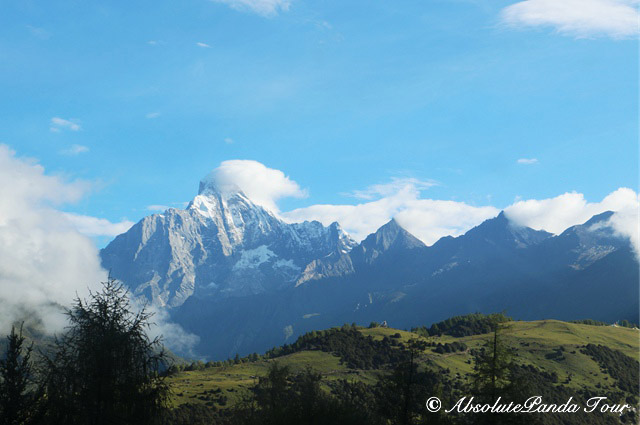 4. Wildlife safari on the Tibetan grassland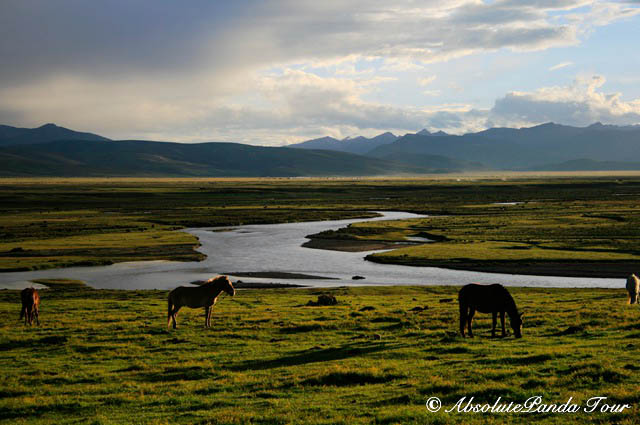 5. Visiting nomadic Tibetan family and community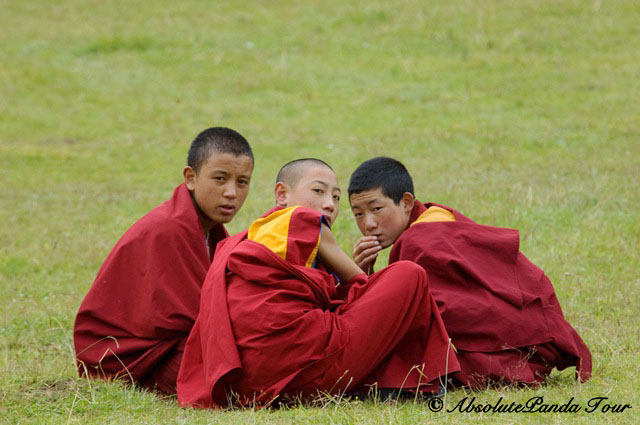 6. Photographing in China's most beautiful national park ---Jiuzhaigou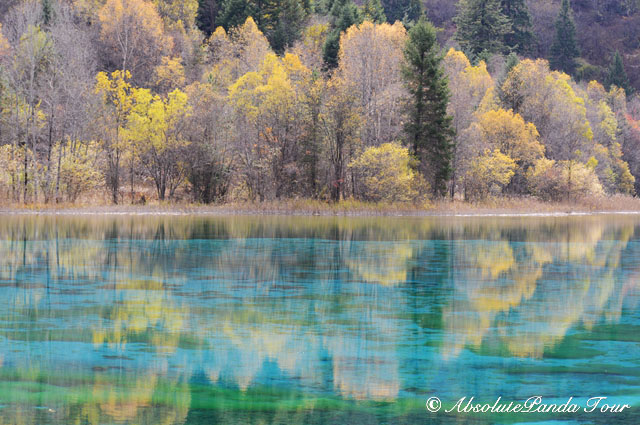 Map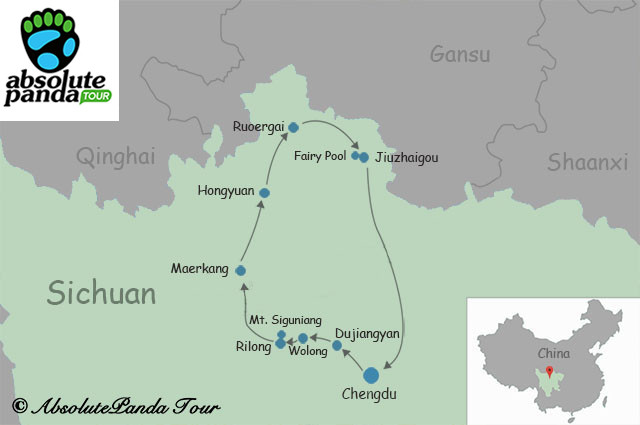 Itinerary
Day 1 Chengdu/Wolong
Day 2 Wolong/ Rilong
Day 3 Mt. Siguniang
Day 4 Rilong/Maerkang
Day 5 Maerkang/ Hongyuan
Day 6 Hongyuan/Ruoergai
Day 7 Ruoergai/ Jiuzhaigou
Day 8 Jiuzhaigou national park
Day 9 Fairy Pool
Day 10 Drive back to Chengdu
Day 11 Depart Chengdu

Day 1 Chengdu/Wolong
- Visit Chengddu Panda base in the morning
- Drive to Wolong
Overnight: Wolong

Day 2 Wolong/ Rilong
-Drive to Mt. Balang to explore alpine flowers and birds
-Drive to Rilong in the afternoon
Balang Mountain, as a part of the Wolong Nature Reserve, is a great birding spot with amazing diversity of alpine birds. While driving up to Mt. Balang Mountian and scanning birds along the way, you will have a big chance to see quite number of game birds, such as Chinese Monal, Blood Pheasant, Koklass, White Eared Pheasant, and Tibetan Partridge.
Overnight: Rilong

Day 3 Mt. Siguniang
-Hiking at Mt. Siguniang
-Environmental games and competition along the way
Mount Siguniang is the highest peak of Qionglai Mountains in Western China. It is famous for its beautiful scenery. The area is reputed to be the "Oriental Alps". Mount Siguniang National Park was identified as a UNESCO Heritage Site as part of Sichuan Giant Panda Sanctuaries in 2006.
Overnight: Rilong

Day 4 Rilong/Maerkang
-Drive from Rilong to Marerkang to visit Zuokeji mansion, reputed as the "Pearl in Oriental Architectural History" in local Jiarong Tibetan community
-Learn about local tradition and architecture
Overnight: Maerkang

Day 5 Maerkang/ Hongyuan
-Drive to Hongyuan grassland
-Bird watching in wetland
-Visit nomadic Tibetan family and experience Amdo Tibetan culture
Overnight: Hongyuan

Day 6 Hongyuan/Ruoergai
-Drive to Ruoergai via Flower Lake and learn about wild flower
-Learn about wildlife on wetland and grass
-Nature educational games and activities
Overnight: Ruoergai

Day 7 Ruoergai/ Jiuzhaigou
-Visit Tibetan ancient town in Ruoergai
-Drive to Jiuzhaigou
Overnight: Jiuzhaigou

Day 8 Jiuzhaigou national park
-Explore Jiuzhaigou
-Watching birds
-Learn about local geology eg. Karst landform
As a UNESCO site, Jiuzhaigou is one of the most beautiful national park in China where lives about 220 bird species as well as a number of endangered animal and plant species, including the giant panda, Sichuan golden monkey, the Sichuan takin and numerous orchids and rhododendrons. Its superb landscapes are particularly interesting for their series of narrow conic karst land forms and spectacular waterfalls.
Overnight: Jiuzhaigou

Day 9 Fairy Pool
-Day-tour to Fairy Pool which lies 42 km (26 mi) west of Jiuzhaigou and features travertine pools.
-Learn about local geology and water photographing
Overnight: Chuanzhusi

Day 10 Drive back to Chengdu
-Visit Songpan ancient town and Taoping Qiang village.
-Learn about culture and history of Qiang---the oldest minority group in China
-Drive back to Chengdu

Day11 Depart Chengdu
learn Mahjong and Kongfu in the bamboo park. Followed lunch, we head to airport and fly home in the afternoon.

Or:
Day 10 Fly back to Chengdu
Day 11 Depart Chengdu

We can customize this trip so as to better meet your timing, budget and interests or arrange a private extension to explore China as you wish. Please contact us for more information.

Dates & Prices
Upon Request
Accommodations
Chengdu
Wolong
Rilong
Maerkang
Hongyuan
Ruoergai
Jiuzhaigou
Fairy Pool
Chengdu
FAQs

What make AbsolutePanda's Flora photo program excellent?

•Accomplished Local Photographer guide
Our China Photography Tours are led by famous local photographers who are specialized in nature and wildlife photography, with plenty of patience and enthusiasm to answer all your questions and provide technical supports.

•Relationship with the locals.
AbsolutePanda have extensive on-the-ground network of experts and local people, it helps us to organize stunning trips based on fresh information updated all the time.

•Appropriate group size.
A group of 12 people are the maximum to optimize your unique experiences so that we could give enough attentions to each individual.


1.What is the physical level required for wildlife safari ?
The participants are required to be able to walk unassisted for a minimum of two miles over uneven terrain, as well as be active at altitudes exceeding 8,000 feet(about 2,400m) above sea level. In the mountain areas, wildlife safari involves daily walks or hikes of varied lengths over pavement, boardwalks and dirt forest trails that can be muddy, slippery and uneven with roots and rocks (note that all walks can be more difficult to navigate during inclement weather). Some walking activities take place at altitudes over 8,000 feet (about 2,400m), and drive across and stop on top of mountain passes that exceed 12,000 feet (about 3,600m) in elevation.
2. What's a chance to spot them in the wild?
According to statistic from Chinese government, by 2014 there are 1,864 wild giant pandas living in central China's Sichuan, Shaanxi, and Gansu Provinces. That's up from 1,596 estimated animals in a 2003 report, the last time giant pandas were surveyed.Giant pandas are solitary animals. Wild panda is very sensitive to human beings' traces. They have poor eyesight but good sense of smell. They are very alert of the environment when feasting with bamboo. Pandas take in hundreds of pounds every day to use just 2 or 3% of it as nutrition. Hence, pandas need a wide area of roaming and are well spread out in the wild. They do not always stay at the same place for long. Together with the few numbers of wild panda, it is extremely hard to see giant panda in the wild.Though it is very difficult to see wild pandas, it is still possible to find them in the right place and at the appropriate time. Winter is great season to see giant panda and also good for other wildlife safari in the deep mountains for there is less vegetation for animals to hide. Wild animals also need to find food at the lower elevation which makes it more accessible.

Email us if you have some questions.
Testimonials
"The Only Choice for Travel in China"
I must confess, I write this review because it's ultra personal to me. I've only known about AbsolutePanda for a couple of months but have worked with them very closely with our tour company from the U.S.
AbsolutPanda represents China, like Americans would want a tour company in the U.S. to represent America- with professionalism, pride and respect while their actions speak in a way to that oozes with historical consciousness, both culturally and ecologically.
They take care of their clients and bend over backwards to make sure they are given the trip they paid good money for.
Whether you hire AbsolutPanda for a cultural, sightseeing tour or to see the Tibetan Plateau where you will feel like the only tourist for a hundred miles, you'll leave knowing more about China than you started with, that's for sure. But it's more than that. You will understand what China was and what it wants to become now... and it's a lot more optimistic for the world than people might think.
--- Justin G from US
I have taken two trips with Absolute Panda. Philip He and his guides are excellent, and Philip will work with you to tailor a trip to meet your needs and desires. For both trips, one in the Sichuan Tibetan Plateau, and the other in Yunnan Province, we hired a driver, and had a guide who knew both the area and the people.We went places and saw things that most tourists never see, and had the flexibility to change directions when the opportunities presented themselves. Philip lead our second trip, and as photographers, it was great to have another photographer with us since we planned our travels around getting great pictures, whether landscape or people. We are planning on going back to China again and will be working with Philip to put together another great itinerary.
---Steve Z From US
"The best of a very long list"
We are a couple in late 50s who have traveled extensively. This guide company made it to the top of our very long list, with the professional and truly caring assistance of the boss Philip He. Collection from the airport was timely and courteous, the most valuable information flowed at a very digestible rate. His general and specific knowledge as well as his spoken English were of a very high standard. A case in point was our visit to the Chengdu Panda Breeding centre; his arrival at our hotel was prompt at 7.30, drive to centre and we were the 1st in a queue of 3, me my wife and Philip our guide. The centre did not open for another 10 mins, but as soon as it did, with his encouragement, we walked briskly to the far end of the centre. Where we were the only people to view and photograph the youngest pandas. We saw them in their crib, and being carried outside to wake up and play. Philip, sent us on a specific route around the centre while he, with almost 2 hours to spare took up his position, at an unmarked door to be first in the queue to cuddle a panda. What was all the fuss about, we are the only ones here? But, his knowledge was worth his weight in gold. The tour busses arrived, and we were then amidst, groups of 30 and 40 most who had similar intentions to our own. He stood firm, and defended his position against all suggestions from guides and tourists that they might go in front of him. At 10am the unmarked door opened an accepted RMB 1000 donation for each person. He had previously bought these tickets, others paid cash and received an official receipt. My wife, was 1st in, only by his diligence, and 5 people later they shut the door, leaving countless disappointed. Only one person per donation, the staff take your camera, and Philip offered his also, which he had preset to multiple shots per shutter button depression, another good move. The five were taken to a separate room and a juvenile panda, who knew the ropes was lead in and sat on tree looking bench. My wife sat next to him and encouraged by the staff, cuddled up while Panda munched on his apples. Photo shoot over in a very few minutes, off with the protective poncho and back out in to the real world. It was explained to us that they only use one panda at a time and if he or she gets fed up, all bets are off. Those who have had the picture and cuddle great, those who had not, basically tough, they are animals and not machines. The staff, quite rightly, care more about their few precious bears, than all the tourists put together.
Lessons learned: get the best Chinese speaking guide, and do exactly as they say to get the very best from your trip. He also gave us the photos on his camera at no cost and a lot more. This was only our first day, the trip just got better and better under his caring and watchful eye. He is truly devoted to his clients, I can not recommend his company enough.
In writing this I have used part of a previous report, merely to save re inventing the wheel.
---Arcon K From UK
Welcome to email us and be our guests to write the feedback for us.
Videos & Photos
Welcome to email us and share your trip photo with us.