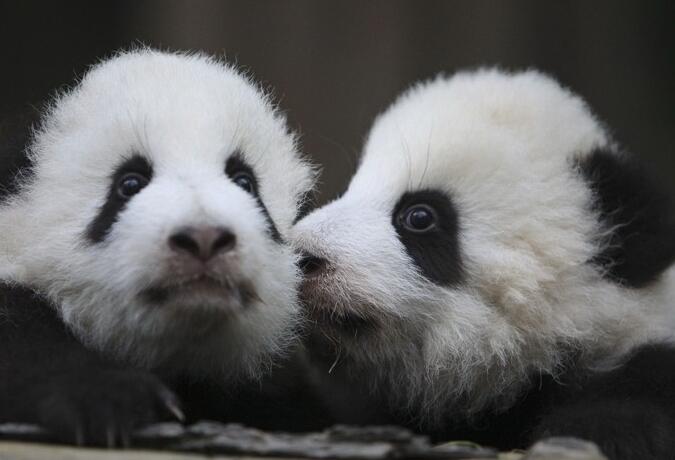 10 Day Panda & Tibetan Plateau Wildlife Photo Safari
Date: May to Oct
Price: Upon Request
Trip Focus: Photo+Panda and Wildlife
Status: Open to Booking
Route: Chengdu-Dujiangyan-Ya'an-Chengdu-Xining-Gelmu-Hoh Xil-Golmud-Xining
Trip Code: PH005
Overview

This in-depth 10 day itinerary is specially designed for photographers looking for the best opportunities to photograph some of China's most elusive and coveted animals. Over the course of this tour, our team will take you to find animals inhabiting habitats ranging from temperate bamboo forests in the Sichuan basin to highland prairies on the Tibetan plateau. Species that can be found in these regions include Tibetan antelopes, pheasants, wild yaks, pandas and potentially even a snow leopard!

Highlights:

1.The Panda Volunteer Program and Panda Habitat
Based in Chengdu, the "Hometown of the giant panda", our team is especially skilled in leading clients to seeing as many of these animals as possible. Sichuan has several research centers dedicated to the panda's conversation that we can visit for a volunteer program. Additionally, we can also arrange trips into the panda natural habitat for the chance to spot wild pandas as well as the variety of other animals that call these ecosystems their home.

2.Wildlife safari on the Tibetan plateau
Hoh Xil reserve is an isolated region in the northwestern part of the Qinghai-Tibet Plateau in China. It is China's least and the world's third-least populated area. Hoh Xil is also home to more than 230 species of wild animals, 20 of which are under Chinese state protection, including the wild yak, wild donkey, white-lip deer, brown bear and the endangered Tibetan antelope or chiru.


Map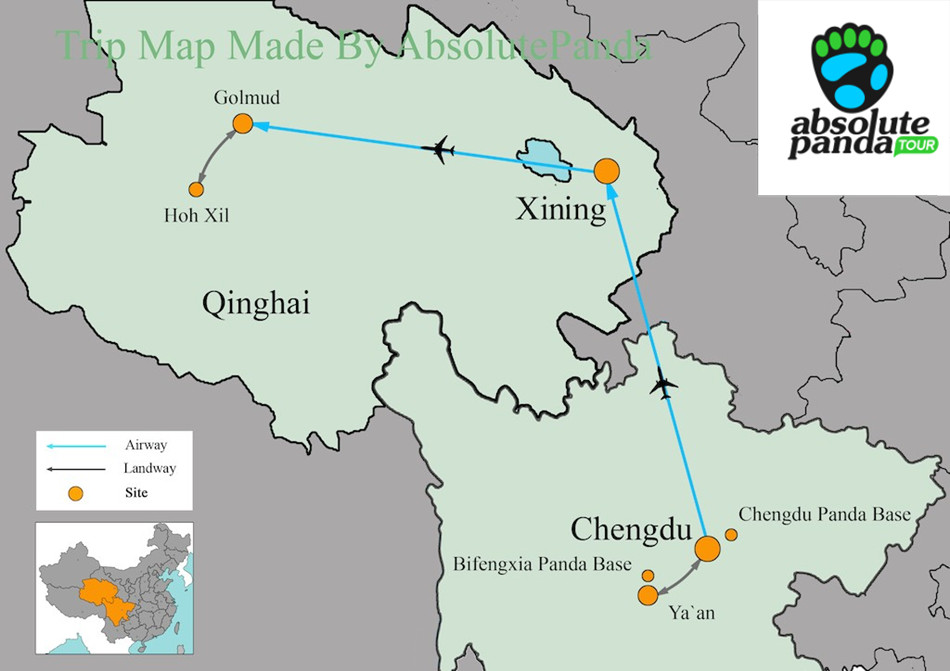 Itinerary

Day 1 Chengdu-Dujiangyan
Day 2 Dujiangyanq-Yaan
Day 3 Ya'an
Day 4 Ya'an-Chengdu-Xining-Gelmu-Hoh Xil
Day 5-7 Hoh Xil
Day 8 Hoh xil-Golmud
Day 9 Golmud-Xining
Day 10 Depart Xining
Day 1 Chengdu-Dujianyan
Upon arrival at Chengdu International Airport, you will be picked up by a guide from our team. Your group will board a private chartered bus and will head to the nearby city of Dujiangyan. Upon arrival in Dujiangyan, we will have a welcome dinner at a popular local restaurant.
Overnight: Dujiangyan
Day 2 Dujiangyan-Yaan
In the morning, our group will drive to the Dujiangyan panda base. During our visit, your group will have a once in a lifetime opportunity to be a panda volunteer for the day. As a part of this activity you will led through cleaning panda enclosures and preparing food to be fed to captive pandas. Afterwards, we will return to the transportation to head to Ya'an.
Overnight: Ya'an
Day 3 Ya'an
During our stay in Ya'an, we will explore the city's panda base. This facility will give your group the ideal chance to photograph pandas at different stages of their life cycle. The pandas here are especially photogenic and can be seen sitting in the tops of trees against natural backdrops.
Overnight: Ya'an
Day 4 Ya'an-Chengdu-Xining-Gelmu-Hoh Xil
Departing from Ya'an in the morning, we will return to Chengdu to board a flight to Golmud. Upon arrival, we will board a charter bus to our hotel accommodation to rest for the night and begin the process of acclimating to the local altitude.
Overnight: Hoh Xil
Day 5-7 Hoh Xil
After waking up, our group will proceed into the reserve in Hoh Xil. During our stay, we will search for the variety of the animals living in this area such as wild Tibetan yak, Tibetan donkeys, Tibetan gazelle, Tibetan antelope among other species. After a meal in our guesthouse, our search will continue to different parts of the reserve that will provide the best chance to photograph animals under the guidance of the reserve's staff. The surrounding panorama of snow-capped mountains will provide an excellent backdrop for your photos.
Overnight: Hoh Xil
Day 8 Hoh xil-Golmud
On our final day in Hoh Xil, we will make a last effort to search for animals to photograph. Afterwards, we will depart to return to Golmud to rest in our hotel accommodation for the night.
Overnight: Golmud
Day 9 Golmud-Xining
After eating breakfast at our accommodation in Golmud, we will board our transportation and drive to Xining. Upon arrival, we will stay at a local accommodation for the night.
Overnight: Xining
Day 10 Depart Xining
After waking up in Xining, we will escort your group to the local airport for you to catch your flight out of China or on to your next destination. This concludes your tour with AbsolutePanda.
We are more than capable to tailor make this trip to better accommodate your timing, budget and interests. Additionally, we can arrange a private extension to explore other destinations in China as you wish. Please contact us for more information.
Dates & Prices
Upon Request
Accommodations

Chengdu
Dujiangyan
Ya'an
Xining
Gelmu
Hoh Xil
Xining
FAQs

What make AbsolutePanda's panda and wildlife photo tour excellent?

Intimate group size
For our trips, we ensure that group sizes never exceed 12 people. It is quite common for our tour groups to accommodate less than 6 people as to create an intimate travel experience that maximize your unique experience. Additionally, we want to give enough attention to each individual.

Exceptional guides
AbsolutePanda's team is comprise of experienced guides and nature enthusiasts. In their free time, our guides explore the natural world and photograph animals in the wild. Many of our guides have also been published in numerous well-known magazines.

Network with local partners
AbsolutePanda prides itself on its deep-rooted network with local communities and partners. These resources make it especially easy for us to offer ammenties and experiences that diverge from the "beaten trail".
Email us if you have some questions.
Email us if you have some questions.
Testimonials
Welcome to email us and be our guests to write the feedback for us.
Videos & Photos
Welcome to email us and share your trip photo with us.