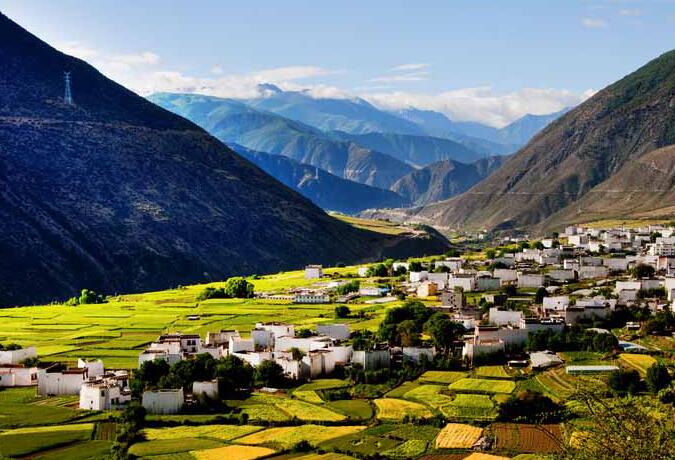 10 Day Photograph across Grand Shangri-La
Date: May to Oct
Price: Upon Request
Trip Focus: Photo+Shangri-La
Status: Open to Booking
Route: Chengdu-Hailuogou-Kangding-Xinduqiao-Litang-Xiangcheng-Deqin-Lijiang
Trip Code: PH003
Overview
Join expert photographer and Tibetan guide Philip on an adventure into mysterious hinterlands of China's southwestern regions. On this comprehensive expedition into Shangri-La, your group will be surrounded by holy mountains, vast grasslands, glaciers, and the ageless traditions of the people who call this paradise home. This photography tour offers complete immersion into this landscape's natural majesty and captivating culture. You can join this tour knowing that you are being led by experienced guides who know this landscape like the back of their hand. For those who find excitement in deviating from the beaten path, this tour has it all.
Highlights:
1.Mount Gongga
Towering above the highland hinterlands of the Tibetan plateau's easternmost edge, Mount Gongga is the "King of Sichuanese mountains." With a summit of 7,556 meters (about 24,790 feet) above sea level, it is indisputably Sichuan's highest peak. As one of the places where maritime glaciers originate, Mount Gongga is best known for its 159 glaciers which cover more than 390 square kilometers (about 151 square miles). The largest is Hailuogou Glacier No.1 at 6 kilometers (about 4 miles) long and 0.4 to 0.7 kilometers (0.25 to 0.43 miles) wide, which is believed to have formed 1,600 years ago. Glaciers in Hailuogou are typical modern marine glaciers, which are rarely found either in low-latitude places or at low altitude. The ice-clad waterfall in Mount Gongga is active all year round, and you will not feel cold walking on the glaciers in summer or autumn.
In the scenic area, there are more than ten plateau lakes some of which are at the foot of glaciers and some are surrounded by forests and all keep their original natural features. Covered by thick forest, it supports 4,880 species of plants and over 400 species of plateau and forest animals, most of which are under special state protection. It is also a wonderful place for wildlife safari.
In addition to its glaciers and wildlife, the eastern slope of Gongga features another phenomenal wonder called "Red Stone Stream." The red color of the stones is a result of an algae called trentepohlia. This algae thrives in the area's humid environment and is sustained by the abundance of manganese in the earth. According to the locals, when it rains in the mountain, the stream will be as red as blood.
2.Xinduqiao
Surrounded by a serene grassland landscape, Xinduqiao is known as a photographer's paradise. It is a picturesque small Tibetan town in the Ganzi Tibetan autonomous prefecture of western Sichuan. Its scenery is highlighted with an abundance of lush green prairies, streams, mountains, and Tibetan settlements surrounding it.
The best time to photograph Xinduqiao is during autumn. The prairies are especially lush during this season, and the weather is quite agreeable for travel.
We feel this destination will provide our clients with a plethora of subject matter to capture with their cameras. Whether you are interested in focusing on the herds of yaks, snowcapped holy mountains or the local Tibetan culture, we are confident there will be countless sights worth photographing
3. Litang
At an elevation of 4000 meters, Litang is one of the world's highest settlements (even Lhasa is only 3700m.) Litang County is nestled in the mountains of the Tibetan Plateau with only about 70,000 residents. it is a great place to experience breathtaking scenery and exotic cultural traditions. Though the elevation is very high, the glassy area is ideal for long-distance horse races and tent camping. Every August, the local Tibetans will hold a horse racing festival which attracts participants from around the Tibetan world. Situated high on a grassy plateau, Litang has the feel of a rough and tumble 'Wild West' town. Watching horse racing and camping in the warm weather on the grassland proves to be one of the most exciting experiences we offer.
4. Mount Meili
A photography tour in western China would incomplete with visiting Yunnan Province. Meili Snow Mountain, also known as "Prince Snow mountain", is located 10 kilometers (6.2 miles) northeast of Deqin County of Yunnan Province. It sits on the border of Yunnan Province and Tibet, where the three famous rivers, namely the Jinsha, Mekong and Salween flow.
Known for its grandeur, Meili Snow mountain boasts numerous snow-clad ridges and peaks, thirteen of which exceed 6,000 meters (19.685 feet) above the sea level. The greatest views can be found at Kawagebo Peak, the highest point in Yunnan Province rising about 6,740 meters (22,112.86 feet). It is still a 'virgin peak' as no one has ever reached the summit. Visitors are treated to spectacular view from all vantage points. The continuous mountain ridges feature snowy peaks and low-floating clouds which make opportunities for photography limitless. The panoramic view of the thirteen towering peaks is easily spotted from the Feilai Temple which is in the west of Deqin County.
As a result of its high altitude, Meili hosts a variety of climatic zones teeming with a diversity of plants, vast expanses of grassland and rich fungi species that are vertically distributed. The types of vegetation here range from the Torrid Zone to Frigid Zone vertically. From the altitude of 2,000 meters (6562 feet) to 4,000 (13123 feet) meters, forests flourish with varieties of spruce trees. The depth of the forest is an exotic world of rare birds and animals. The meadows surrounding the forests are embellished by countless flowers which add more vitality and charm. Moreover, Meili Snow Mountain is one of the most sacred mountains of Tibetan Buddhism. 'Kang Karpo Peak' means the "God of snow mountains" in Tibetan and is a destination for Tibetan Buddhist pilgrimages and worship. Pilgrims from Tibet, Qinghai Province, Sichuan Province and Gansu Province come here at the beginning of each winter to worship. Thousands of devout pilgrims worship together and encircle the holy mountain, adding even more mystery and loftiness to it.
5. Lijiang
Lijiang is widely regarded as an otherworldly destination, blessed with fresh air, clear streams, breathtaking snowy mountains and an undisturbed landscape inhabited by friendly people. This is the main region inhabited by the Naxi People, one of China's 55 minority ethnic groups. The Old Town District has the well preserved Lijiang Old Town. This ancient town has been listed a World Cultural Heritages site by UNESCO since 1997. The old town was once the center of the city and continues to maintain the original flavor of the local lifestyle, the typical local architecture and the profound cultural heritage of the region.
Graced by well-preserved ancient buildings, Lijiang is so enchanting due to the 1,000-year small bridges, swift canals, cobbled streets and grey tiled roofs as well as the ancient legacy of the Naxi ethnic group. While trying to reserve the authenticity, the town is turning very touristy with hundred thousand of tourists visiting every year after announced as the UNESCO site. But it can never veil the charm of Lijiang to photographers who are interested in the architecture and minority culture shooting.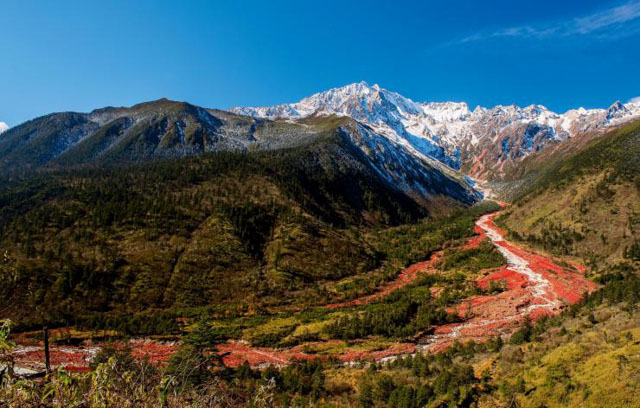 Red Stone Stream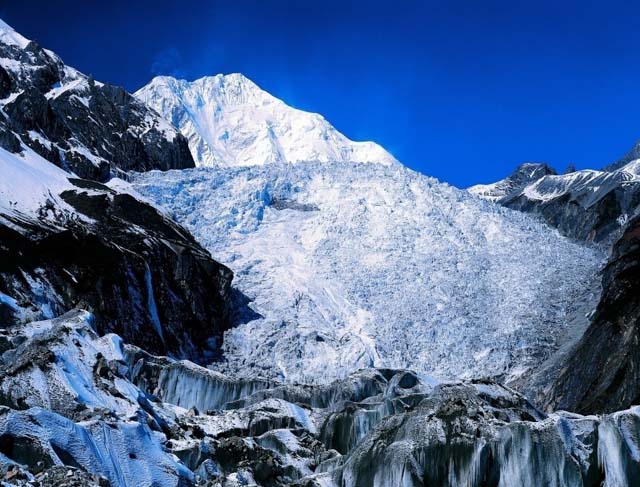 Hailuogou Glacier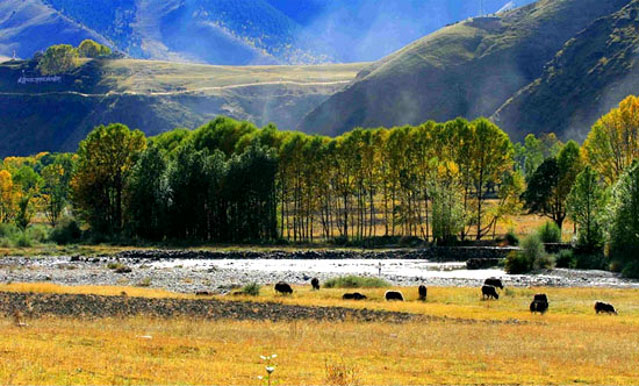 Xinduqiao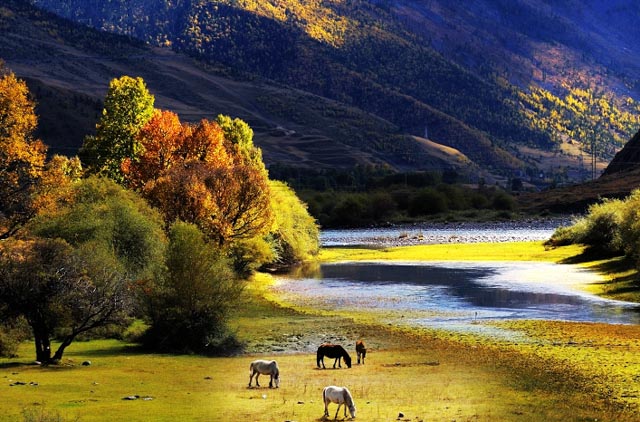 Xinduqiao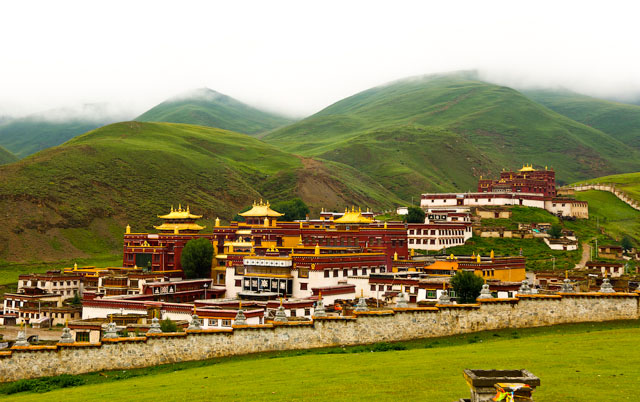 Litang Monastery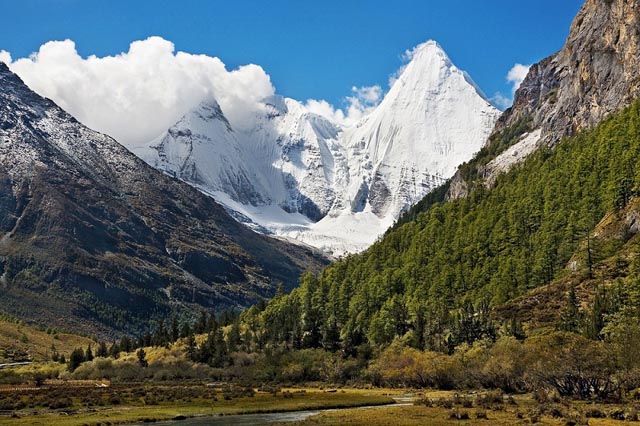 Mount Meili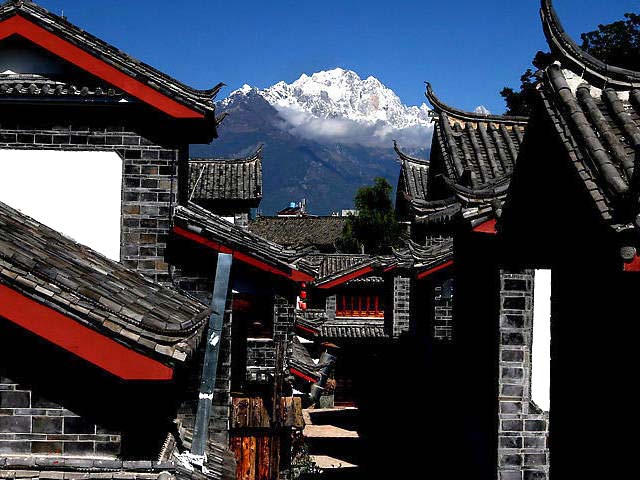 Lijiang
Dates and Prices
Upon Request
Itinerary

Day 1 Arrive Chengdu
Day 2 Chengdu panda base /Hailuogou
Day 3 Hailuogou/Kangding
Day 4 Kangding/Xinduqiao
Day 5 Xinduqiao/Litang
Day 6 Litang/ Xiangcheng
Day7 Xiangcheng/Deqin
Day 8 Deqin
Day 9 Deqin/Lijiang
Day 10 Depart Lijiang
Day 1 Arrive Chengdu ;Meal: D
Upon your arrival in Chengdu, our local guide will meet you at the airport and escort you to your hotel to check-in. If you arrive before 2 pm, we will show you some old parts of Chengdu. There are many additional options for the sightseeing in Chengdu. We could visit the historical streets and sites of Chengdu, the capital of Ancient Shu kingdom for thousands of years. Sichuan cuisine is among the top four Chinese cuisines, so a food tour will be definitely a highlight. Sichuan opera and the face changing show is also a must see that you don't want to miss. The itinerary of the city tour will be arranged according to your arriving time and interest. In the evening, we will prepare a welcoming dinner in the popular local Sichuanese restaurant.
Overnight: Chengdu

Day 2 Chengdu panda base /Hailuogou ;Meal: BLD
We will get up early to capture the spectacular golden sunrise at mount Gongga if weather conditions permit. As one of the places where maritime glaciers originate, Mount Gongga is best well-known for its 159 glaciers. We are visiting the largest glacier Hailuogou No.1 which is only glacier found at the lowest latitude in the world. Another wonder in Gongga we won't miss is the Red Stone Stream at Yajiageng in Swallow Valley. The rocks are red because of the parasitic algae that grows on them. In the evening we will drive to "the love song city" of Kangding for the overnight stay.
Overnight: Moxi

Day 3 Hailuogou/Kangding ;Meal: BLD
We will get up early to capture the spectacular golden sunrise at mount Gongga if weather conditions permit. As one of the places where maritime glaciers originate, Mount Gongga is best well-known for its 159 glaciers. We are visiting the largest glacier Hailuogou No.1 base camp which is only glacier found at the lowest latitude in the world. Another wonder in Gongga we won't miss is the Red Stone Stream at Yajiageng in Swallow Valley. The rocks are red because of the parasitic algae that grows on them. In the evening we will drive to "the love song city" of Kangding for the overnight stay.
Overnight: Kangding

Day 4 Kangding/Xinduqiao ;Meal: BLD
Leaving Kangding in the morning, we will continue on to the scenic prairies of Xinduqiao, a photographer's paradise. We will spend the day here taking photos of landscapes and architecture as to benefit from the different sunlight throughout the day.
Overnight: Xinduqiao

Day 5 Xinduqiao/Litang ;Meal: BLD
After a full day of photographing Xinduqiao, we will depart and delve farther west to Litang. As we climb in elevation, we will spot local homes and wildlife bathed in the bright sunlight of the plateau prairie. These idyllic pastoral landscape and lifestyle offers an inherently peaceful setting to explore and take pictures.
Overnight: Litang

Day 6 Litang/ Xiangcheng;Meal: BLD
On the way to Xiangcheng, we will spot the beautiful villages scattered amongst wheat-field-paddies. The large, cubicle houses resemble little castles with chalky white exterior walls; giving the entire area an otherworldly aesthetic. Xiangcheng belongs to the ancient Tibetan province of Kham. Being a necessary overnight-stop on the 'Backdoor'-route to Yunnan, the town is ideal to visit and use as staging point for further excursions into the surrounding mountainous areas. After the overnight in Xiangcheng, we continue venturing south to Yunnan Province.
Overnight: Xiangcheng

Day7 Xiangcheng/Deqin;Meal: BLD
After departing Xiangcheng, we begin our ascent towards Deqin to view mount Meili. It will be a long driving day with winding mountain roads and shifts in elevation. Our local guides will share captivating stories and explanations to all of your questions.
Overnight: Deqin

Day 8 Deqin;Meal: BLD
Following our drive, our group will be greeted by the natural majesty of mount Meili. During our stay, our guides will escort you to all of the best spots for getting the perfect photo. After we are content with our pictures, your group will be treated to some local Yunnan cuisine in a nearby restaurant.
Overnight: Deqin

Day 9 Deqin/Lijiang;Meal: BLD
After the experiencing your first impression of Yunnan, we will continue on to our final destination, Lijiang. Known as a land of indigenous groups, Lijiang is well developed tourist destination; especially for those interested in cultural exploration. The town also boasts some of the finest lodging and dining, featuring a unique Yunnan twist. Lijiang is certain to be a highlight for your photography and will undoubtedly provide countless opportunities to capture a variety of captivating subject matter.
Overnight: Lijiang

Day 10 Depart Lijiang
To conclude your trip, our guide team will escort you to the airport in Lijiang for a timely departure from China.


We can customize this trip so as to better meet your timing, budget and interests or arrange a private extension for additional exploration in China. Please contact us for more information.

Map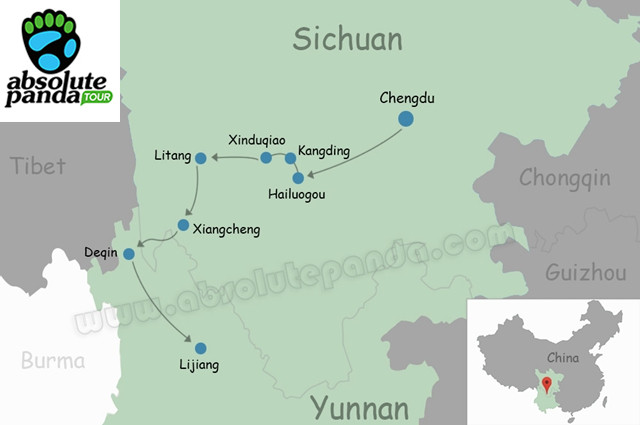 Accommodations

Chengdu
Hailuogou
Kangding
Xinduqiao
Litang
Xiangcheng
Deqin
Lijiang
FAQs
What make AbsolutePanda China photo tours so special?
1. Professional credentials.
Our China Photography Tours are led by notable local photographers who are not only proficient in photography, but also have an in-depth understanding of the regions we visit. Our photographers are dedicated to photographing destinations across China, and their pictures have been published in numerous well-known magazines. While leading our China Photography Tours, they know the best times of the day and locations to get the best shot. They are excited to help you with the camera settings and share their photography experience. In this way, when you join our China Photography Tours, you will enjoy a totally hassle-free trip.
2. Relationship with the locals.
AbsolutePanda have extensive on-the-ground network of experts and local people, it helps us to organize stunning trips based on fresh information updated all the time.
3. Intimate group size
For our trips, we ensure that group sizes never exceed 12 people. It is quite common for our tour groups to accommodate less than 6 people as to create an intimate travel experience that maximize your unique experience. Additionally, we want to give enough attention to each individual
Email us if you have some questions.
Testimonials
"Absolute Panda-great service and knowledge leads to great trips"
I have taken two trips with Absolute Panda. Philip He and his guides are excellent, and Philip will work with you to tailor a trip to meet your needs and desires. For both trips, one in the Sichuan Tibetan Plateau, and the other in Yunnan Province, we hired a driver, and had a guide who knew both the area and the people.We went places and saw things that most tourists never see, and had the flexibility to change directions when the opportunities presented themselves. Philip lead our second trip, and as photographers, it was great to have another photographer with us since we planned our travels around getting great pictures, whether landscape or people. We are planning on going back to China again and will be working with Philip to put together another great itinerary.
---Steve Z From US
"The best of a very long list"
We are a couple in late 50s who have traveled extensively. This guide company made it to the top of our very long list, with the professional and truly caring assistance of the boss Philip He. Collection from the airport was timely and courteous, the most valuable information flowed at a very digestible rate. His general and specific knowledge as well as his spoken English were of a very high standard. A case in point was our visit to the Chengdu Panda Breeding centre; his arrival at our hotel was prompt at 7.30, drive to centre and we were the 1st in a queue of 3, me my wife and Philip our guide. The centre did not open for another 10 mins, but as soon as it did, with his encouragement, we walked briskly to the far end of the centre. Where we were the only people to view and photograph the youngest pandas. We saw them in their crib, and being carried outside to wake up and play. Philip, sent us on a specific route around the centre while he, with almost 2 hours to spare took up his position, at an unmarked door to be first in the queue to cuddle a panda. What was all the fuss about, we are the only ones here? But, his knowledge was worth his weight in gold. The tour busses arrived, and we were then amidst, groups of 30 and 40 most who had similar intentions to our own. He stood firm, and defended his position against all suggestions from guides and tourists that they might go in front of him. At 10am the unmarked door opened an accepted RMB 1000 donation for each person. He had previously bought these tickets, others paid cash and received an official receipt. My wife, was 1st in, only by his diligence, and 5 people later they shut the door, leaving countless disappointed. Only one person per donation, the staff take your camera, and Philip offered his also, which he had preset to multiple shots per shutter button depression, another good move. The five were taken to a separate room and a juvenile panda, who knew the ropes was lead in and sat on tree looking bench. My wife sat next to him and encouraged by the staff, cuddled up while Panda munched on his apples. Photo shoot over in a very few minutes, off with the protective poncho and back out in to the real world. It was explained to us that they only use one panda at a time and if he or she gets fed up, all bets are off. Those who have had the picture and cuddle great, those who had not, basically tough, they are animals and not machines. The staff, quite rightly, care more about their few precious bears, than all the tourists put together.
Lessons learned: get the best Chinese speaking guide, and do exactly as they say to get the very best from your trip. He also gave us the photos on his camera at no cost and a lot more. This was only our first day, the trip just got better and better under his caring and watchful eye. He is truly devoted to his clients, I can not recommend his company enough.
In writing this I have used part of a previous report, merely to save re inventing the wheel.
---Arcon K From UK
Welcome to email us and be our guests to write the feedback for us.
Trip Photos
Welcome to email us and share your trip photo with us.
Videos
Welcome to email us and share your trip video with us.