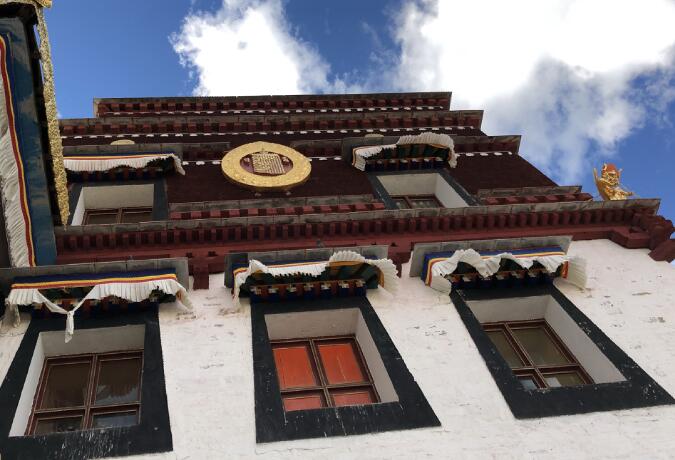 12 Day Photo Safari to Unknown Tibetan Area
Date: All Year Round
Price: Upon Request
Trip Focus: Photo+Tibetan Area
Status: Open to Booking
Route: Chengdu-Lixian-Jiuzhaigou-Ruoergai-Langmusi-Xiahe-Xining-Qinghai-Xining
Trip Code: PH001
Overview
The majority of the 6.3 million of the Tibetan population live in the Tibet Autonomous Region which is known world widely as Tibet. However, Tibet is divided by the dialects into three regions: Weizang, Kham and Amdo. There are also Tibetan communities in Qinghai, Gansu, Sichuan and Yunnan provinces and many branches of Tibetan minority groups live in these areas. This Tibetan area is still a virgin land for most of the tourists but withhold countless nature and culture treasure. There are many excellent Tibetan bilingual local guides in our team who can provide you an absolutely authentic Tibetan Culture experience. Together with our naturalist photographer, you will have an original photography adventure in western China.
Highlights:
• In-depth Tibetan and Buddhism culture immersion;
• Shooting with some of the best local nature photographers;
• Excellent Tibetan bilingual local guides all along the way.
•Accomplished Local Photographer guide
Our China Photography Tours are led by famous local photographers who are specialized in nature and wildlife photography, with plenty of patience and enthusiasm to answer all your questions and provide technical supports.
•Relationship with the locals
AbsolutePanda have extensive on-the-ground network of experts and local people, it helps us to organize stunning trips based on fresh information updated all the time.
•Appropriate group size
A group of 12 people are the maximum to optimize your unique experiences so that we could give enough attentions to each individual.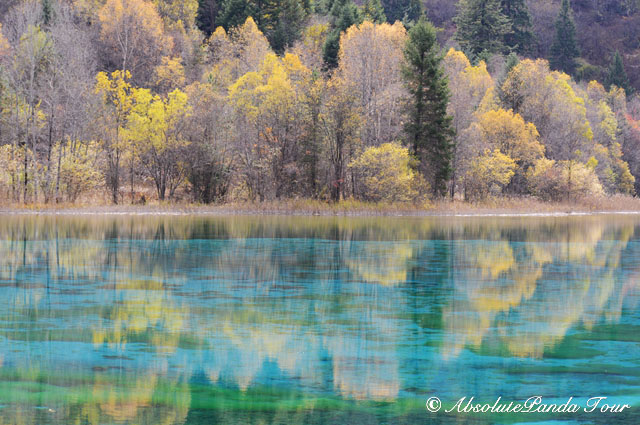 Jiuzhai Valley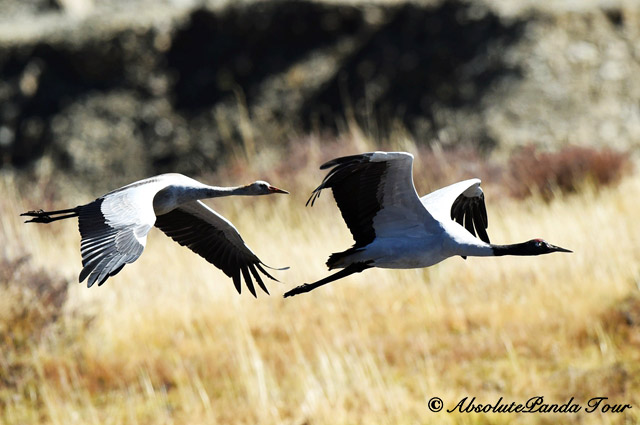 Black-necked Crane in Ruoergai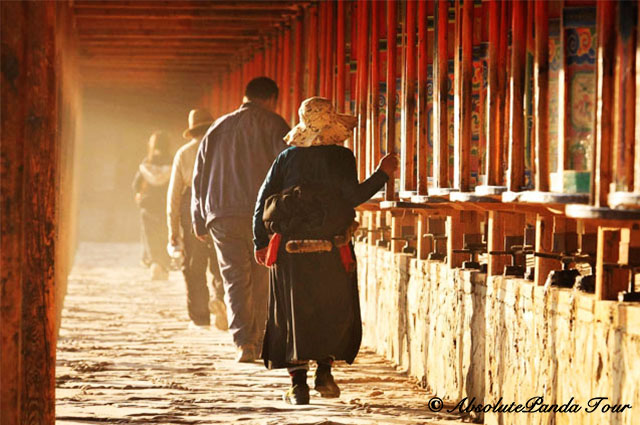 Tibetan Monastery in Xiahe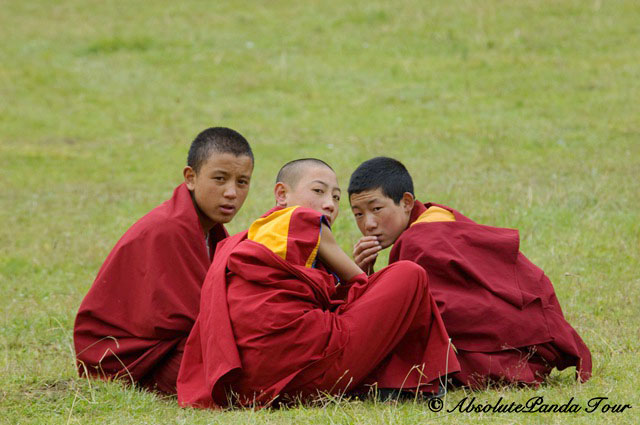 Dates and Prices
Up Request



Itinerary
Day 1 Arrive Chengdu, city tour
Day 2 Chengdu panda base/Taoping Qiang Village
Day 3 Taoping Qiang Village/Jiuzhai Valley
Day 4 Jiuzhai Valley
Day 5 Fairy Pond-Jiuzhai Valley /Ruoergai
Day 6 Ruoergai/Langmusi
Day 7 Langmusi/ Xiahe
Day 8 Xiahe
Day 9 Xiahe / Xining
Day 10 Xining/Kumbum Monastery /Qinghai Lake
Day 11 Qinghai Lake
Day 12 Qinghai Lake / Xining


Day 1 Arrive Chengdu;Meal: BLD
Upon your arrival in Chengdu, our local guide will meet you at the airport and help you with hotel check-in. Then a Chengdu city day tour begins. There are so many options of the sightseeing in Chengdu. We could visit the historical streets and sites of Chengdu---the capital of Ancient Shu for thousands of years. Sichuan cuisine is among the top four Chinese cuisines, so a food tour will be definitely a highlight. Sichuan opera and the face changing show is also a must see that you don't want to miss. The itinerary of the city tour will be arranged according to your arriving time.
Overnight: Chengdu

Day 2 Chengdu panda base/Taoping Qiang Village;Meal: BLD
Leaving Chengdu, we are visiting the Chengdu Panda base in the morning. It is the best time to see panda in the morning when they are very active. Chengdu panda base is the breeding center that has the most giant panda in the world. In 2015, there are 13 panda cubs born including 6 pairs of twins. Here you can see panda in different ages. Our panda expert will also tell you many stories of panda you may not know. You will definitely have absolute panda experience! After the panda base, we will drive to Taoping. Taoping is known for its mysterious ancient fortress which has protected Qiang people for thousand years. These are the only buildings in the area that was not affected by the "5.12 Great Sichuan Earthquake" in 2008. We will stay in the village tonight and experience the culture of Qiang people.
Overnight: Taoping

Day 3 Taoping Qiang Village/Jiuzhai Valley;Meal: BLD
We depart from Taoping early in the morning and head to Jiuzhai Valley. "Jiuzhai" means nine Tibetan villages living in the valley. There goes a saying: no mountain is worth seeing after Mt. Huangshan and no other water will be of interest after Jiuzhai Valley. If there are 'fairylands' in the world, Jiuzhai Valley must be one of them. Stretching over 72,000 hectares in the northern part of Sichuan Province, the Jiuzhaigou valley reaches a height of more than 4,800 m, thus comprising a series of diverse forest ecosystems. Its superb landscapes are particularly interesting for their series of narrow conic karst land forms and spectacular waterfalls. It was declared a UNESCO World Heritage Site in 1992; the park joined the Man and Biosphere Conservation Network in 1997 and has also received IUCN and ISO 14,001 accreditations. It is the most beautiful nature reserve in China. The magical colors of water will make fantastic photos.
Overnight: Jiuzhai Valley

Day 4 Jiuzhai Valley ;Meal: BLD
Today we will enjoy the wonders of nature. We will explore a number of birding sites both inside and just outside this wonderful sanctuary. It is not allowed to take our own vehicles inside the park. We'll use the reserve's frequent shuttle bus services to explore a number of excellent birding sites. Rufous-headed Robin is virtually unknown away from here, so we'll spend time searching an area of mixed forest for this fabulous songster. Other species include Chinese Nuthatch, Rusty-breasted and Sooty Tits, and the noisy Spotted Laughingthrush.
Overnight: Jiuzhai Valley

Day 5 Fairy Pond-Jiuzhai Valley /Ruoergai;Meal: BLD
Today we leave Jiuzhai and venture north. First we will stop by a site that you don't want to miss before leaving Jiuzhai. Located in Dalu Township, the Fairy Pool Scenic Area is a renowned attraction in the Jiuzhaigou Paradise. It is situated about 49 kilometers (30 miles) from the entrance to the Jiuzhai Valley National Park.In Tibetan, the Fairy Pool Scenic Area is called Nen'en Sangcuo. It means a place where fairies bathe. The Fairy Pool Scenic Area comprises about 2,000 alpine lakes and travertine pools. Pools of various shapes and sizes are scattered throughout the lush forest. The most celebrated attractions are the Golden and Silver Beach, the Double-Dragon Pool, the Divine Frog Sea, the Blue Dragon Sea, the Kermes Brooklet and the travertine waterfalls. These are the artistic treasures fashioned by nature without any artificial elements.
After Fairy Pond, we will drive all the way north to Ruoergai. We will drive along the high way and twisted mountain road in Minshan Mountain range. Our wildlife expert will give you a small lecture about the wildlife and their habitat.
Overnight: Ruoergai

Day 6 Ruoergai/Langmusi ;Meal: BLD
Ruoergai owns a vast piece of grassland at an elevation of just under 4,000 meters with thousands of birds living there. It is a fairyland for birding. Here in Ruoergai, it also lives another Tibetan minority groups—Amdo. Amdo Tibetan minority is a nomadic group who pasture yak and horse on the large grassland for generations. We have chance to visit some Amdo nomadic tents and talk to the locals to learn about their stories. We continue the journey driving to Langmusi in southern Gansu.
Overnight: Langmusi

Day 7 Langmusi/ Xiahe ;Meal: BLD
Langmusi, known in Tibetan as Taktsang Lhamo, or just Lhamo, is a small village straddling the border of Gansu and Sichuan in the amdo region of the Tibetan Plateau. Sitting at an elevation of 3325m, Lhamo lies in a beautiful valley surrounded by alpine forests and amazing mountains. The town only has a population of around 3500 to 4500, with more than 1100 of the people belonging to the two monasteries found in the village. It is a perfect place to immerse in the Tibetan Buddhism. Leaving Langmusi, we drive north to Xiahe and continue our Tibetan culture experience.
Overnight: Xiahe

Day 8 Xiahe;Meal: BLD
Xiahe is home to the famed Labrang Tibetan Buddhist monastery, one of the largest Tibetan Buddhist monasteries outside of the Tibet Autonomous Region. The town is populated largely by ethnic Tibetans, as well as some Hui and Han Chinese. The Buddhism festive between January and February is spectacular.
Overnight: Xiahe

Day 9 Xiahe / Xining ;Meal: BLD
Leaving Xiahe in the morning, we are heading north to Qinghai Tibetan Autonomous Region. Xining is the capital of Qinghai province in western China, and the largest city on the Tibetan Plateau. The city was a commercial hub along the Northern Silk Road's Hexi Corridor for over 2000 years, and was a stronghold of the Han, Sui, Tang, and Song dynasties' resistance against nomadic attacks from the west.
Overnight: Xining

Day 10 Xining/Kumbum Monastery /Qinghai Lake;Meal: BLD
After the overnight in Xining, we will stop by a famous Tibetan Buddhism monastery on the way to Qinghai Lake. Kumbum was founded in 1583 in a narrow valley close to the village of Lusar in the Tibetan cultural region of Amdo. Its superior monastery is Drepung Monastery, immediately to the west of Lhasa. It was ranked in importance as second only to Lhasa. The Kumbum monastery is very much a repository of Tibetan culture and art, including various sculptures, statues and religious artifacts.
Overnight: Qinghai Lake

Day 11 Qinghai Lake ;Meal: BLD
We will watch birds and track wildlife around the lake. Qinghai Lake is the largest inland saltwater lake in China. It is like a glittering and translucent sapphire mounted in the vast expanse of the plateau. Qinghai Lake as a main body is surrounded by lakeside plain, grassy swamp, alpine grassy marshland, semi-desert and dry grassy beach with abundant wetland ecosystem and bio-resources. There are altogether 200 species of birds and beasts in Qinghai Lake and lakeside area including gulls, cormorants, swans and blank-necked cranes.
Overnight: Qinghai Lake

Day 12 Qinghai Lake / Xining ;Meal: BLD
On the last day of the trip, we drive back to Xining and the "The Unknown Tibetan" Photography Tour ends.We can customize this trip so as to better meet your timing, budget and interests or arrange a private extension to explore China as you wish. Please contact us for more information.


Map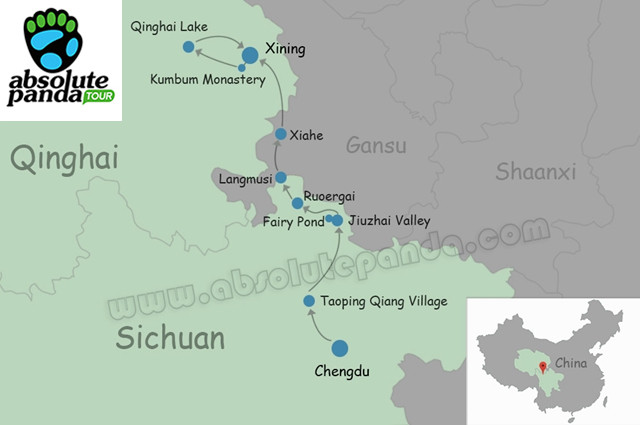 Accommodations

Chengdu
Taoping Qiang Village
Jiuzhai Valley
Ruoergai
Langmusi
Xiahe
Xining
Qinghai Lake
Xining
FAQs


1.What kind of cuisine is popular in Sichuan?

Sichuan cuisine is indisputably one of China's most celebrated cooking styles. Featuring bold and spicy flavor, Chengdu's many delicacies are something that any visitor must try when coming to Sichuan. Some notable dishes include hot pot, Homestyle Tofu, Kung Pao Chicken, and Double-boiled Beef.


2. Can you tell us more about the Sichuan Opera Show?

A cherished, traditional theater-style, Sichuanese opera has a long history in Chengdu and the neighboring municipality of Chongqing. This performance style features acts such as face-changing actors, fire-breathers, shadow puppetry, and balancing acts. We suggest visiting a show during your time in Chengdu as it is a perfect opportunity to learn more about traditional Sichuanese culture while getting some extraordinary photos.


3. Can you tell us more about the Taoping Qiang Village?

Taoping village, home to Qiang people. Located in northern Sichuan, Taoping village is often referred to as the "Oriental Castle." Taoping Village is the best-preserved village exclusively inhabited by Qiang ethnic group. Built-in 111 BC, this ancient village has survived 2,000 years of erosion and stands well today. Comprised of ancient stone towers and intricate fortress-like architecture, this community has withstood countless earthquakes. The village has eight gates and 31 interconnecting lanes leading to each household in a maze-like manner. As one senior villager recalled, "As long as there were sufficient food reserves, we could defend our village for years."
It is similar to an ancient town in the sense that there are plenty of vendors selling local trinkets and handmade keepsakes for you to buy. It is a highlight for taking the photo of Qiang house, Qiang people, Qiang dress, and ornamentation.


4. Will Jiuzhai valley have opportunities for wildlife photography?

The pristine natural setting of Jiuzhai Valley is coveted as one of Sichuan's greatest outdoor destinations. During our stay here in the park, we plan to visit the famous water features that draw tourists from around the world. For visitors that are interested in searching for animals during our time here, please contact our team during the booking process, and we will make sure to accommodate your request. Jiuzhai Valley is an excellent birding destination and is sure to give guests ample opportunity to photograph some of Sichuan's beautiful endemic bird species.


5. Which Chinese provinces will we visit during this tour?

Throughout this trip, we will pass through the Chinese provinces of Sichuan, Gansu, and Qinghai.


6. Which indigenous communities will we encounter on this trip?

During this trip, we plan to encounter both the Qiang and Tibetan communities. In particular, the Tibetans we will meet are considered Amdo Tibetan and have many cultural distinctions from Tibetans found elsewhere on the Tibetan Plateau.


7. Do you expect altitude sickness to be an issue during this tour?

While the Tibetan Plateau is considered one of the highest regions on the planet and altitude sickness is a reasonable concern, there is no need to worry. Our guides are skilled at taking foreign clients to these regions and have a strategy to mitigate the risks of altitude sickness greatly.


8. Don't foreign tourists need special permits to visit Tibet?

Foreign clients indeed need special clearance to visit the Tibetan Autonomous Region (T.A.R.); however, no permits are required to visit regions of the Tibetan Plateau in other Chinese provinces.


9. Does your team have tripods and binoculars that guests can use during the tour?

Yes, our team has various equipment that we can arrange to bring to assist you in getting the perfect photograph on this tour. Feel free to contact us ahead of the time if you need some equipment.


10. Is it acceptable to photograph people on this tour?

The different cultures we will encounter on this tour give our guests the ideal opportunity to take some breathtaking photos that showcase the unique and vibrant communities in southwest China. We do ask that if you wish to photograph any people on this tour, that you ask for permission first if possible.


11. How is the comfort level?

From big cities to remote villages, AbsolutePanda makes sure that your time in China is safe and comfortable. In most local places, we stay in local best hotel whenever it is possible. But in some places the condition might be very basic. Also we will travel in very high elevation areas, we may come across some difficulties brought by altitudes.


12. Does food and drinks included?

All food is included as stated in the itinerary. We strive to dine in places that highlight authentic local cuisine. AbsolutePanda provides bottled water throughout the trip.


13. What is the weather like?

Since we will travel mostly in high elevation areas where the whether is very hard to predict. Generally, the temperature difference between daytime and night time is quite big (more than 10 centigrade). It will be very cold if it snows or when we climb over some mountain passes.


14. What to do I need to bring?

A flexible system of layered clothing is recommended: cotton shirts, some warm jacket, pullover, thermal underwear or long underwear and some rain-gear, as well as a sun-hat and a scarf or face mask to ward off dust. Strong but lightweight and waterproof walking shoes are useful. A lightweight fleece for cooler evenings is convenient.


15. Recommended clothing?

Cotton undershirts or long-sleeve shirtsWarm and sturdy shoes.Khakis or lightweight trekking pants (preferably those that can be unzipped to become shorts)Water proof jacketSufficient changes of underwearCotton socks/sun hat


16. Other recommended items?

Camera (recharger and sufficient batteries and memory cards)SunglassesBooks, journals Snack foods (e.g. chocolate, peanuts, raisins, dried food). It will be hard to find in small counties. We will prepare some. You can either prepare some or tell us your preferences.


17. How should I pack?

Since we will travel for about 12 days on road we can't have laundry on the way so big bag or soft suitcase is needed for our stuff.


18. Should I buy Insurance?

We strongly recommend you to buy evacuation insurance from SOS. Though we will buy China domestic travel insurance for every participants of a trip.


19. Some Possible Difficulties?

-Our itinerary may be changed due to traffic control or some unpredictable factors.
-We may not be able to visit some monasteries listed in the itinerary due to various reasons. AsbolutePanda will definite work their best to safeguard the interests of our clients and make it possible whenever there is a chance.
-Never take photos of police or soldiers.
-Strictly follow the Chinese law and local tradition. Anything unclear, consult your guide. Being cooperative for any security check.
Email us if you have some questions.
Testimonials

"Back to China and another excellent trip with Absolute Panda"

This just reconfirms the great job that Lily does with planning, and Philip does with guiding. This time we went to southeastern Sichuan to see the Bamboo Sea and the historic carvings in the mountains near Dazu, both well worth seeing. With a stop in Chongqing, including a evening boat tour on the Yangzte, we then went to Hubei Province to see some of the historic and natural sites there, including Shennongjiajie Park. We then went to the highlights of the trip, Zhangjiajie and Langshan parks in Hunan Province. In all, we had three very knowledgeable guides for the first two thirds of the trip, and then met Philip for the Hunan portion. As before, we saw lots of new things, had the flexibility to make changes since it was just two of us, and enjoyed this most recent adventure.
---Steve Z from US


"Phillip and Absolute Panda = Spectacular"
Phillip, Lilly and Evan are awesome! Professional, knowledgeable and dedicated. Phillip provided me with a highly customized experience I could not have gotten anywhere else. I highly recommend these guys and will be going back with them again in the near future.
---Chris S from US


Welcome to email us and be our guests to write the feedback for us.
Trip Photos
Welcome to email us and share your trip photo with us.
Videos
Welcome to email us and share your trip video with us.