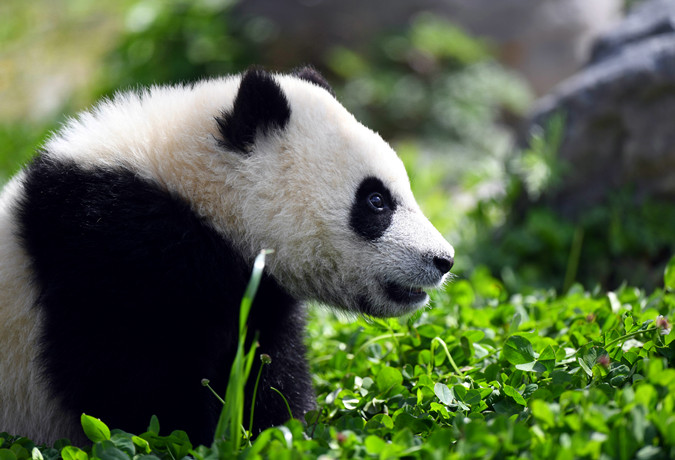 12 Days Panda Habitats and World Heritages
Date: May 10 & Nov. 1, 2024, 2025
Price: From 2970USD/PAX
Trip Focus: Panda + World Heritages
Status: Open to Booking
Route: Chengdu-Dujiangyan-Wolong-Jiuzhaigou-Fairy Ponds-Huanglong-Panda Habitat-Chengdu
Trip Code: P008
Overview
Giant pandas are loved by people around the world. Sichuan Province is the hometown of these iconic creatures with more than 85% of the world's captive giant pandas and 74.4% of total wild pandas. In this itinerary, our expert guide will take you to some of Sichuan's most beautiful natural places and reserves of giant pandas. First, we will have up-close encounters with pandas at two of China's best panda bases, then we enter into their wild habitats. Lots of conservation efforts have been put into panda protection and several wild panda reserves have been built in Sichuan during the last 50 years. These panda habitats have wilderness teeming with an abundance of different animal species, including the Giant Panda, Golden Snub-nosed Monkey, Sichuan Takin, Snow Leopard, Red Panda, Golden Pheasant, Chinese Monal, etc. This side of China is with little known to the outside world and will give you an unforgettable experience and touching moment.
Nevertheless, we have something more to offer. Sichuan is also a land that has unique and irreplaceable World Cultural and Natural Heritage Sites. Built in the 3rd century BC, Dujiangyan Irrigation System is a world-famous irrigation project reflecting the high wisdom of the ancient Chinese people. Mount Qingcheng is a major Taoist site in China and contributed to the very early progress of Taoism. Jiuzhaigou National Park and Huanglong National Park are on the edge of the Qinghai-Tibet plateau, described as "the Heaven on Earth" with phenomenal landscapes. Seldom an itinerary will take you to the remote panda habitats and the renowned world heritages together. You will leave no regret after spending 12 valuable days with AbsolutePanda.
Highlights:
●
See giant pandas at two most prestigious panda bases
, namely
Chengdu Panda Base
and
Wolong Panda Base
, and participate in the
Panda Volunteer Program
in Wolong.
●
Search for wildlife in Tangjiahe Nature Reserve, one of the best-protected nature reserves in China.
●
Visit the only functioning ancient irrigation project—Dujiangyan Irrigation System, which was built more than 2,200 years ago with the Chinese concept of diverting river water without a dam.
Explore Mt. Qingcheng
,
one of the most important Taoist mountains
in China where Taoism was nurtured and prospered. Dujiangyan Irrigation System and Mt. Qingcheng are in the list of the World Cultural Heritage Sites.
●
Enjoy stunning scenery in two UNESCO World Natural Heritage Sites called Jiuzhaigou National Park
and
Huanglong National Park, known as the "Fairyland on Earth" due to their extreme beauty.
●
Drive through different ethnic minority areas including Qiang, Muslim and Tibetan. Discover the outstanding culture of minority groups.
Introduction to
Trip Destinations:

Chengdu Research Base of Giant Panda Breeding
Holding the distinction as one of the world's largest panda base, Chengdu Research Base of Giant Panda Breeding (Chengdu Panda Base) attracts tourists and wildlife enthusiasts worldwide. Conveniently located a short drive away from downtown, this state of the art research facility comfortably houses more pandas than anywhere else at home and abroad. During your visit, you will see pandas ranging from young cubs to lumbering adults as well as the elusive and adorable red panda. Additionally, the scenic, garden-like atmosphere of the panda base is especially ideal for urban birding like Red-billed Leiothrix, Ruddy Shelduck, Chinese Blackbird, Spotted Dove, etc.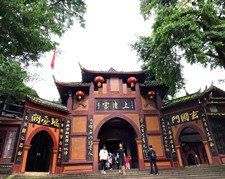 Mount Qingcheng
Located near the scenic city of Dujiangyan, Mount Qingcheng is one of the best places to visit to gain a deeper perspective on China's indigenous religion of Taoism. With a history spanning hundreds of years, Qingcheng is the host to a variety of temples showcasing the elegant architecture of Taoist tradition. Visitors to the mountain can navigate a series of staircases winding up through peaceful forests in search of practitioners and shrines dedicated to notable Taoist deities and figures. The peaceful atmosphere and cultural significance of Mount Qingcheng have even earned it global recognition as a UNESCO World Heritage Site.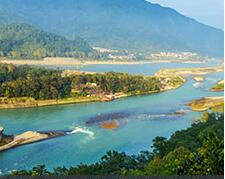 Dujiangyan Irrigation System
With over 2,200 years of history, the ancient irrigation system in Dujiangyan is known as the only ancient irrigation project of its kind still at work till now. Built in the 3rd century BC, Dujiangyan Irrigation System is a world-famous irrigation project reflecting the high wisdom of the ancient Chinese people. This project is credited with having turn the vast fertile land in Chengdu Plain into a breadbasket and made it known as a Land of Abundance in China. In 2000, the irrigation system was included in the UNESCO World Cultural Heritage List together with the neighboring Taoist Qingcheng Mountain.


Wolong Panda Base
Wolong Panda Base is a new panda base built with the charity donation from Hong Kong Government after the 2008 earthquake during which the old Wolong Panda Base was damaged. It takes about a 2.5-hour drive from Chengdu to the base. This base is located inside the panda habitat and has the best natural temperature for the pandas. It is an excellent place for people who want to see active panda cubs with fewer crowds. Besides the pandas, it is possible to photograph Eurasian Hoopoe, Red-billed Blue Magpie, and so on. The Wolong Giant Panda Habitat Reserve around this area is one of the most important giant panda habitats in China.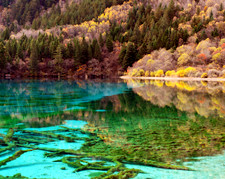 Jiuzhaigou National Park (Jiuzhaigou Valley)
Jiuzhaigou National Park was included as a UNESCO World Heritage Site in 1992. If there are "fairylands" in the world, Jiuzhaigou must be one of them. Stretching over 72,000 hectares in the northern part of Sichuan Province, the Jiuzhaigou reaches a height of 2,200m to more than 4,800m, thus comprising a series of diverse forest ecosystems. Here lives about 220 bird species as well as some endangered animals and plant species, including the Giant Panda, Golden Snub-nosed Monkey, Sichuan Takin, and numerous orchids and rhododendrons. Its superb landscapes are particularly interesting for its series of narrow conic karst landforms and spectacular waterfalls.


Huanglong National Park
Huanglong National Park sets within Minshan mountains in Songpan County, with lush green forests surrounding the unique limestone rock formations which are internationally renowned as being one of the world's largest, undamaged karst landscapes. Huanglong means "Yellow Dragon" which got its name for its special geographical features. With a bird-eye view, the Huanglong National Park looks like a big golden dragon arching across the valley, winding its way between the snow-capped mountain peaks. Huanglong is famous for its "Four Wonders", the colorful pool, snow mountain, canyon, and forest. In 1992, it was listed on the World Natural Heritage List.

Pingwu Bao'en Temple
Known as
the
s

mall
"Forbidden City",
Bao
'
en Temple
was built by a local landlord as his palace that could have the similar beauty and grandeur of the Forbidden City.
He turned it into a temple in a hurry when he heard the investigation officer sent by the emperor was on the way.
All buildings are in the axis-symmetric arrangement and completely imitates the layout design of the Beijing one. The temple is built with all precious Phoebe trees, with a grand scale, harmonious layout, and exquisite architectural design with strong characteristics. It is the only one in China and is praised as a "rare relic structure in the early Ming Dynasty" by Chinese and foreign architecture experts.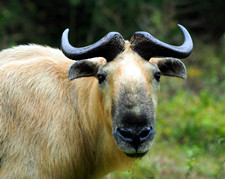 Tangjiahe Nature Reserve
Located in Minshan Mountains, Tangjiahe Nature Reserve is one of the first reserves set up to protect giant pandas, their companion animals and the whole habitat where they live. In the depth of those rugged mountains, we can find world-class attractions, colorful indigenous people, elusive endemic birds, a great variety of mammals, insects, amphibians, and plants. Though it is not easy to spot a giant panda in the wild, the rewards from paying a visit to this panda habitat are extremely high. With the umbrella protection of Giant Panda, its companion animals like Asiatic Black Bear, Golden Pheasant, Chinese Goral, Sichuan Takin, Temminck's Tragopan, etc. are all striving here.
How Can We Make This Trip Special?
• Many times of running this itinerary for western panda funs, nature and culture lovers enables us to ensure your trip is enjoyable and comfortable in the hidden area.
• A team of passionate guides specializing in panda and wildlife with rich experiences of guiding and solid knowledge about local cultures and places.
• This trip can be customized to better meet your travel style by centering on a different focus.
• 20-plus years of working in the travel industry and serving travelers from all over the world enable us to know how to make great trips for travelers of different travel styles.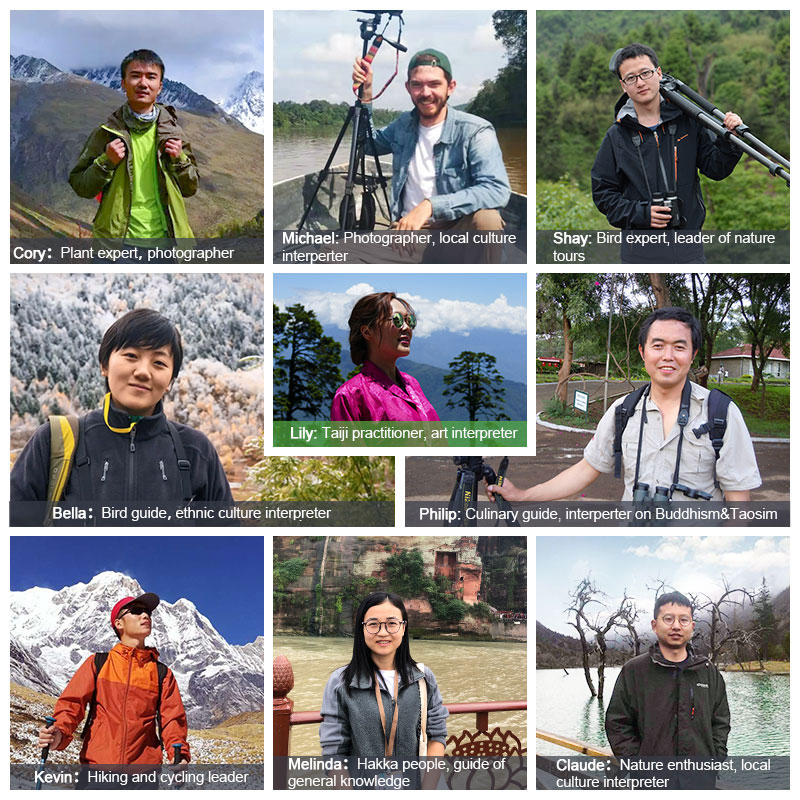 What makes AbsolutePanda excellent?

• We are one of the premier travel companies focusing on panda and other wildlife in China.
We use AbsolutePanda as company brand because of our deep love toward panda and our determination to create your absolutely enjoyable panda trips.
Since 2003, our professional tour leaders and wildlife experts have helped thousands of travelers gain an in-depth understanding of Giant Panda and their companion animals, enjoy stunning scenery all over China and explore the authentic local culture.
• Exclusive Quality & Value Guarantee.
We define our quality by well-designed itineraries, stunning destinations, creative interactions, small groups, professional guides, and reasonable prices.
• Explore China in comfort and your style.
We understand each traveler is different. In addition to selected accommodations, meals and vehicles, we would like to show you the real China by an authentic experience with incredible wildlife and lovely locals.
We believe the best way to help wildlife is through love and appreciation. By bringing nature lovers to enjoy the beauty of nature in China, we hope that local people can know the value of wildlife and learn how to love and appreciate those beautiful creatures living near their villages.
Map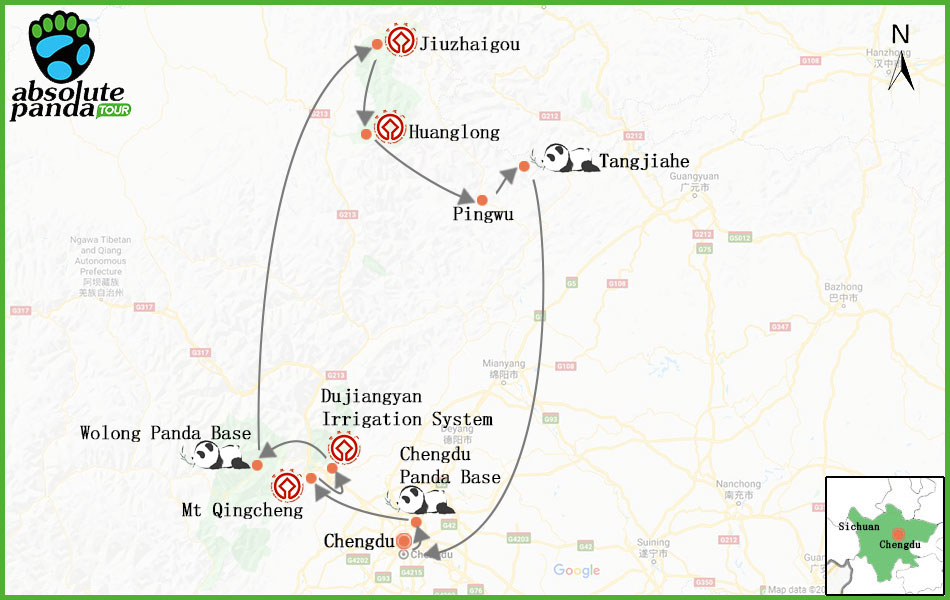 Panda Habitats and World Heritages Tour Map
Itinerary
Outline:

Day 1. Arrive in Chengdu. (D)
Airport pick-up. Overnight: Chengdu (500m)

Day 2. Chengdu-Dujiangyan. 64km 2h (BLD)
Visit Chengdu Panda Base and Jinsha Site Museum (closed on Monday), then head to Dujiangyan. Overnight: Dujiangyan (700m)

Day 3. Dujiangyan-Wolong Panda Habitat. 66km 1.5h (BLD)
Explore Qingcheng Mountain and Dujiangyan Irrigation System, then drive to Wolong. Overnight: Wolong (2,000m)

Day 4. Wolong Panda Habitat. (BLD)
Panda Volunteer Program at Wolong Panda Base and hiking in natural Panda Habitat. Overnight: Wolong (2,000m)

Day 5. Wolong-Jiuzhaigou. 369km 8h (BLD)
Drive to Jiuzhaigou, enjoy the scenery along Minjiang Valley and the ethnic culture along the way. Overnight: Jiuzhaigou (2,000m)

Day 6. Jiuzhaigou. (BLD)
Wonder in the valleys of scenic Jiuzhaigou. Overnight: Jiuzhaigou (2,000m)

Day 7. Jiuzhaigou-Fairy Ponds-Huanglong. 114km 3h (BLD)
Drive to Huanglong via Fairy Ponds. Overnight: Huanglong (3,200m)

Day 8. Huanglong. (BLD)
Spend most of the day visiting Huanglong National Park. Overnight: Huanglong (3,200m)

Day 9. Huanglong-Bao'en Temple-Tangjiahe Nature Reserve. 193km 5h (BLD)
Head to Tangjiahe Nature Reserve via Bao'en Temple. Overnight: Tangjiahe (1,400m)

Day 10. Tangjiahe Nature Reserve. (BLD)
Spend a whole day searching for wildlife in this panda habitat. Overnight: Tangjiahe (1,400m)

Day 11. Tangjiahe-Chengdu. 350km 6h (BLD)
Drive back to Chengdu. Overnight: Chengdu (500m)

Day 12. Chengdu departure. (B)
Airport drop-off.


Details:

Day 1. Arrive in Chengdu. Meals: D
The airport pick-up. Based on the time you arrive, we can plan some free city tour programs such as visiting People's Park to experience the typical laid-back lifestyles of Chengdu or visiting Jinli Street to feel the bustling shopping street with all types of shops selling unique local souvenirs and an array of food stands offering different delicious local take-away food.
Overnight: Chengdu (500m)
Day 2. Chengdu-Dujiangyan. 64km 2h Meals: BLD
After enjoying an early breakfast at your hotel, we will take you to the Chengdu Research Base of Giant Panda Breeding. This innovative facility is home to the largest captive panda population in the world. During our stay at the center, you can watch these delightful animals relaxing in naturalistic enclosures. After lunch, we will pay a visit to the Jinsha Site Museum (closed on Monday) to discover a unique civilization created by Shu people more than 3,000 years ago. Then we will head to Dujiangyan.
Overnight: Dujiangyan (700m)
Day 3. Dujianyan-Wolong Panda Habitat. 66km 1.5h Meals: BLD
In the morning, we will visit the Taoist Qingcheng Mountain. This mountain holds a special distinction of being one of the holy mountains of Taoism and is populated with ornate Taoist temples. After lunch, we will visit the world-famous Dujiangyan Irrigation System. This premodern irrigation system was constructed in 265 BC and still functions to this day. Both Mount Qingcheng and Dujiangyan Irrigation System are registered as UNESCO World Heritage Sites. Then we head to Wolong.
Overnight: Wolong (2,000m)
Day 4. Wolong Panda Habitat. Meals: BLD
In the morning, we will depart from our hotel to venture into the heart of the panda's natural habitat. We will visit the Wolong Panda Base of CCRCGP(China Conservation and Research Center for Giant Pandas) with the option of participating in a Panda Volunteer Program. This base gives guests a perfect opportunity to watch these animals quietly against the backdrop of their natural habitat. In the afternoon, we will drive to Balang Mountain to see the beautiful scenery or hike in Dengshengou Valley based on the weather conditions.
Overnight: Wolong (2,000m)
Day 5. Wolong-Jiuzhaigou. 369km 8h Meals: BLD
After breakfast at our hotel, we will hava a long drive along the scenic Minjiang Gorge which will be a rewarding journey for us since we are going to drive through a corridor of ethnic minorities represented by Qiang, Hui, Han and Tibetan people. We can also visit the ancient city wall in Songpan built in 1,300 years ago that keep the productive agriculture area from harassment of nomadic tribes. Qiang people used to live in the further western part of China, they migrated here hundreds of years ago because of wars among different tribes and settled down here under the protection of steep mountains. As one of the oldest ethnic minorities in China, Qiang is extremely famous for architecture and unique costume. A balance of living and defense can be easily detected in traditional Qiang architectures.
Overnight: Jiuzhaigou (2,000m)
Day 6. Jiuzhaigou National Park. Meals: BLD
Our exploration of Jiuzhaigou National Park (Jiuzhaigou Valley) will begin after enjoying breakfast at our hotel. We will spend the day touring the natural splendor of this coveted heritage site. The main attractions of the valley are the colorful mirror-like lakes and splendid waterfalls. At the end of the valley, water from melting snow mixes with limestone water from underground, flowing down the mountain terraces, depositing the calcium carbonate from the limestone water on the rocks, stones, and fallen branches in its path. This natural phenomenon is the cause of vibrantly colored waters of the park.
Overnight: Jiuzhaigou (2,000m)
Day 7. Jiuzhaigou-Fairy Ponds-Huanglong. 114km 3h Meals: BLD
In the morning, we will drive to another wonderful site called Fairy Ponds. On the way, we will be greeted by yak herds grazing on the small grasslands by the side of the road, hospitable Tibetan people waving toward us with their smiling faces. If we are lucky, we can even encounter flocks of blood pheasants running across the road or hear the loud calls of Blue Eared Pheasant. Fairy Ponds is the miniature of Jiuzhaigou and Huanglong with the beauty of exquisite. These pools feature a variety of beautiful colors ranging from white to pale yellow that result from natural processes of calcification. When the sun shines, brilliant light will be reflected and fresh air will rush to your face, straight into the heart. Then, we will head to Huanglong for a good rest.
Overnight: Huanglong (3,200m)
Day 8. Huanglong National Park. Meals: BLD
Today, we will spend most of the day exploring Huanglong National Park. After breakfast, we walk to take the cable car to see ponds of different shapes and colors in the best morning ray and with fewer crowds. We will walk on a wooden walkway made through the virgin forest. Occasional some cute squirrels may hop up in front of us. With some luck, we can also encounter some birds like blood pheasants and eloquent laughingthrushes. From the top, we will enjoy the most beautiful group of ponds named Multicoloured Ponds. A Taoist temple sitting by the side of the ponds shows a blend of culture between Tibetan and Han in the past time. From Multicoloured Ponds, a huge calcified carpet stretches all the way to the bottom like a dragon. That is how Huanglong (literally means yellow dragon in Chinese) got its name. Surrounded by picturesque snow-capped mountain peaks, and with virgin forests on both sides, we will get lots of chances to photograph the golden ponds filled with gem-like water from your preferred angel. The whole park is just like a paradise on earth. And both Jiuzhaigou and Huanglong are panda habitats. As we slowly descend, the scenery changes as if we look through a kaleidoscope. We will prepare a picnic lunch for the day so that we can maximize our time inside this beautiful park.
Overnight: Huanglong (3,200m)
Day 9. Huanglong-Bao'en Temple-Tangjiahe Nature Reserve. 193km 5h Meals: BLD
Today, we will continue our journey to the Tangjiahe Nature Reserve. Along the way, we will have a brief stop at the Bao'en Temple in Pingwu. The temple is a unique miniature replica of the Forbidden City located in the capital of this country. Bao'en Temple covers an area of more than 27,800 square meters and has three main halls. It has nearly 10,000 dragon totems which are in different style and delightful to watch. Then, we will drive straight to Tangjiahe.
Overnight: Tangjiahe (1,400m)
Day 10. Tangjiahe Nature Reserve. Meals: BLD
This entire day will be dedicated to exploring Tangjiahe Nature Reserve in search of native animal species. This reserve is home to wild pandas as well as a slew of other species that also benefit from panda conservation efforts. As we set our foot on this wild panda habitat, the animal species we may come across based on our knowledge from past trips include Sichuan Takin, Golden Snub-nosed Monkey, Asiatic Black Bear, Tibetan Macaque, Golden Pheasant, Wild Boar, Chinese Goral, Reeve's Muntjac, Chinese Serow, Masked Palm Civet, Eurasian Otter, Tufted Deer, Yellow-throated Marten, and Rhesus Macaque. It's a precious experience to be here and know the present conservation status of wild pandas and the efforts for protecting them.
Overnight: Tangjiahe (1,400m)
Day 11. Tangjiahe Nature Reserve-Chengdu. 350km 6h Meals: BLD
After preparing our bags and eating breakfast, we will board our transportation back to Chengdu. Upon arrival, you have the option to join in a Sichuan Opera (Face-changing Show). The art of Sichuan Opera is a theater-style showcasing attractions like fire breathing performers and actors with face-changing masks. As an audience member, you can relax and drink tea as costumed actors breathing fire and quickly swap between ornate masks in a blink of an eye. These shows host a variety of acts ranging from life-like puppets and comedy to traditional music instruments and singing. For anyone visiting Chengdu, the visit is not complete until you've witnessed Sichuan Opera.
Overnight: Chengdu (500m)
Day 12. Chengdu departure. Meals: B
On the final day of the itinerary, our team will escort you to the airport or train station to depart from Chengdu on time.


Notes:
1. If you need help in arranging a flight to Chengdu from other major cities of China such as Beijing, Shanghai, Xian, or a departure flight from Chengdu, please feel free to contact us, we are more than happy to provide any support we can to facilitate your trip planning.
2. This trip ventures into an area that features high altitude. Follow the advice from your doctor on altitude sickness before deciding to join this trip. In some events, high elevation can cause severe health complications for those with cardiovascular diseases or other poor cardiopulmonary function.
3. The overnight altitudes and driving hours listed in the itinerary are just for your rough reference.
4. Jinsha Site Museum do not open on Monday. So be sure to skip a Monday trip to Jinsha Site Museum.



Dates & Prices


1. Dates

10th to 21st May, 2023,2024
1st to 11th Nov., 2023,2024

AbsolutePanda can tailor-make this trip according to your time and interest.


2. Prices

The AbsolutePanda team works hard to provide the highest quality tour experiences at a fair price. However, after working in the travel industry for more than 20 years, our team knows that no two travelers are alike in terms of their travel style, personal interest, choice of guides and preferences in restaurants and hotels. For AbsolutePanda, our client's satisfaction is a top priority. To meet the needs of different clients and ensure they enjoy a trip suited to their preferences, you are welcome to email with specific requests ranging from trip themes, guides, the quality of vehicles, accommodations, and restaurants. Our group trip price has the following includes and excludes below.

To ensure our guest the best trip, we set our minimum departure number at two and the maximum departure number at ten. That means the group size is 2 to 10 participants.

The cost for a group of 2 to 10 people:
2970USD/PAX

Single supplement:
375USD/PAX

An extra night in Chengdu:
70USD/per room

The cost includes:
1. Well-chosen vehicles based on the size of the group for the trip with fuel, tolls, airport pick-up and drop-off included in the price;
2. An English-speaking guide for the whole trip;
3. A local ranger in Tangjiehe Nature Reserve;
4. Meals listed above as BLD;
5. Bottled water and snacks;
6. Entrance charges and shuttles listed in the itinerary;
7. China Domestic Travel Insurance;
8. Hotels arranged during this trip;
9. Panda Volunteer Program in Wolong;
10. Sichuan Opera Face-changing Show.

The cost excludes:
1. Alcoholic drinks during the meal;
2. Extra charges due to change of itinerary from client-side or factors beyond the control of AbsolutePanda such as natural disaster and governmental policy change;
3. Discretionary tips to the guide and driver;
4. All personal expenses, such as laundry service or for personal shopping;
5. Train ticket or airfare to or out of Chengdu;
6. Any items not listed in the itinerary as included;
7. Entrance fee, car rental, or meals during your free time trip;
8. Single supplement;
9. Extra nights in Chengdu.

Notes:
1. For guests arrive Chengdu earlier or want to stay Chengdu for more days, we take extra night charges listed above.
2. The prices above are not applicable during any Chinese festivals and holidays. We recommend you to avoid travelling during Chinese festivals and holidays for a better experience.
3. For travelers who hope to tailor-make the day programs with their specific travel preferences in mind (transportation, hotels, special privileges, and famous local experts), tailor-making a tour is the best way to ensure your desires are met. Please contact us with your specific needs and we will make an itinerary based on your expectations. Once you confirm, we work out the cost and send it to you. Please feel free to ask any questions to learn more.
4. Please note that guides with specialized knowledge are not always available, especially during our peak tour season (April to October). If you are in the process of planning a trip, please contact us as early as possible so that we will block the date of our expert guide for you.

When you put your trust in our team, we are certain to help you enjoy an unforgettable travel experience!



Accommodations
AbsolutePanda firmly believes travel is an art. To ensure every trip with us is a great travel art for our clients, the AbsolutePanda team does all we can to consider every possible detail. The choice of hotels is an essential part of making a great trip. After many years of running a travel business, we have built up our network of cooperative hotels at different levels. We understand people are different in the choice of hotels when they travel. If you want to use some specific hotels, please feel free to let us know, we are delighted to book it for you at a competitive price to make the hotel choice better meet your taste, budget and travel style. We can either reserve a hotel with competitive price for you or simply include the hotel into your trip cost if possible. You are welcome to contact us and tell us your requests, we will do our best to create the best travel itinerary for your private use.
If you need help with hotel booking in other big cities of China at different styles and luxury levels (International-brand Hotels, Local Brand Hotels, Economical Hotels), please feel free to email our team at info@absolutepanda.com.
FAQs
1. Where do wild pandas live? What are the current situation of panda habitats?
Giant pandas live in temperate bamboo forests in high mountains of the wild panda habitats. These panda habitats are distributed in 3 provinces, Sichuan, Shaanxi, and Gansu. They are found in five major areas in China, namely Minshan Mountains, Qionglai Mountains, Xiangling Mountains, Liangshan Mountains, and Qinling Mountains. Giant panda used to live in a much bigger area than it is now. Because of the ice age in the Quaternary period and human activities, now panda habitat has shrunk into much narrower areas, mostly the high mountains and deep valleys in the eastern edge of the Qinghai-Tibet plateau as shown in the map below.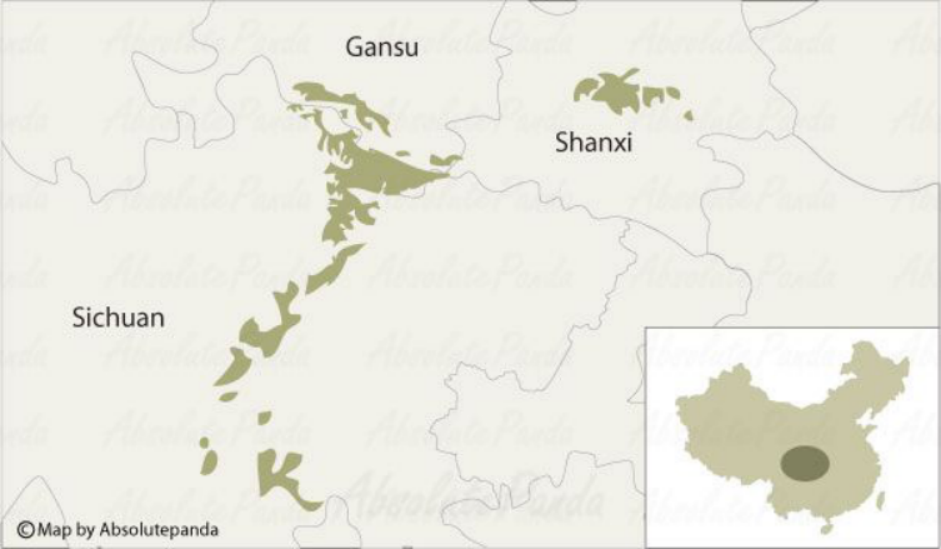 2. Will we have a chance to see wild pandas on this tour?
While Sichuan is famed as a province accommodating the most substantial portion of the wild panda population (74.4%), it should be noted that spotting a wild panda is quite slim due to the small population and unique lifestyle of pandas mostly living inside the bamboo forest. While panda viewings in Tangjiahe Nature Reserve have been reported almost every year by both visitors and rangers, it is really hard to predict for a particular trip. For us, we will do our best to show you all the possible attractions we see inside this panda habitat and make your trip full of wonderful memories. Pandas live in the place we are going to visit, and we just enjoy everything we have blessed to see there.

3. What are the cultures can we expect to encounter on this tour?
As we move into the western and northern reaches of Sichuan, we are certain to be surprised by the sudden shift in the local cultural aesthetic. The Tibetan people in Jiuzhaigou and Huanglong regions maintain their unique cultural traditions, the mysterious primitive religion, the complicated architectural style, the costumes style, and the enthusiastic festivals. Besides, we will have a chance to appreciate different cultures of Qiang people, Hui Muslim, and Han.
4. If we want to arrive Chengdu in advance or spend more days here after the tour, can AbsolutePanda arrange that for us?
Yes, absolutely. We are more than happy to help our guest to book services and arrange day tours of Chengdu. Please check our website for more day tour options and send us your requirements. We can tailor-make a suitable tour plan for you.
Email us if you have any questions.
Read our FAQ
Testimonials


What an amazing experience!
We just returned from a trip to China. Our time with Absolute Panda was the highlight of our trip! We were nervous about finding a company online, and paying for services out of the country. AbsolutePanda was completely honest with us. They were affordable.We had pretty specific interests. The staff at AbsolutePanda helped us through the planning process. They created something perfect for our family! They spent months offering free advice, suggestions, and help. They were flexible with the itinerary. Once in the country, we were treated well. They asked for and supported dietary requests. We got to try a great variety of healthy and delicious food. We had as much bottled water and snacks as we liked. All meals were included in the price. We received small gifts. The company owner checked in, to make sure we were doing ok. We felt like royalty! We stayed at beautiful, and clean accommodations, "off the beaten path." We went to small mountain towns. They were gorgeous.Our guide, Bella, was exceptional! She was kind, friendly, interesting, reliable, and lots of fun. She spoke very good English. She had an extensive knowledge of local wildlife, as well as history, culture, and everything else we asked. Bella was able to identify any bird or creature she saw, by Chinese and English name. She has great eyes. She could spot wildlife in the distance, that were hard to see even with binoculars. She took us on hikes that matched our skill levels. We saw wild monkeys, gorals, muntjacs, and tons of beautiful birds. We were in highly competent hands. While we were in China, Sichuan had (unprecedented) heavy rains. Some roads were closed, due to mudslides and flooding. Despite this, we were able to travel the areas we wished. AbsolutePanda kept a close eye on conditions. They changed the travel plan/method multiple times, so we could be safe. They got us there still. The drivers were amazing, and I felt comfortable. We changed our own plans in China. This was due to unexpected medical issues we had there. AbsolutePanda worked with us, even with last minute adjustments. They were supportive, helpful, and flexible. They made sure each member of our family was well cared for. Our safety and well-being mattered to them. I can't recommend AbsolutePanda highly enough! They gave us the trip of a lifetime!
--Suzucchini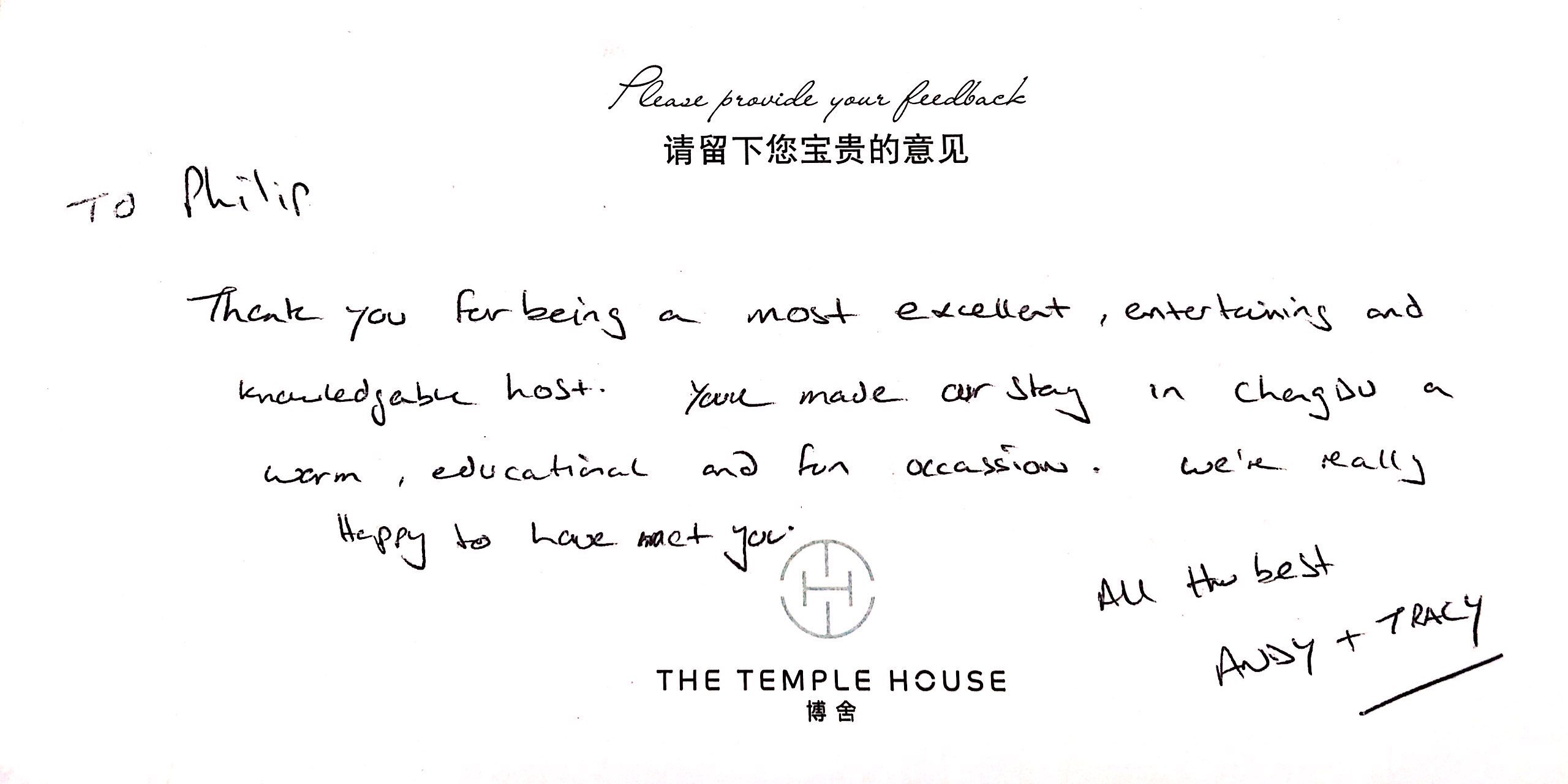 Welcome to email us and be our guests to write the feedback for us. Testimonial of AbsolutePanda
Videos & Photos
Rolling pandas in Wolong Panda Base.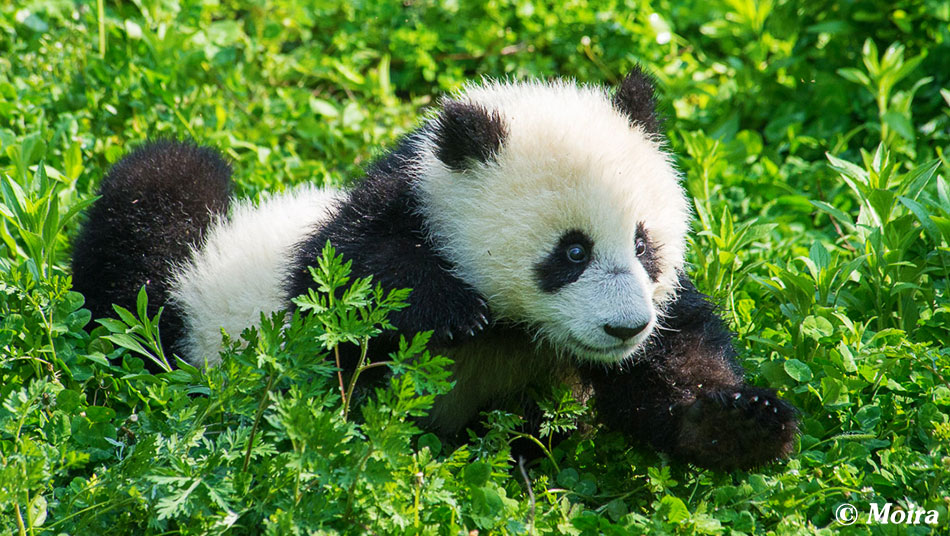 Sichuan is the "Kingdom of Giant Panda".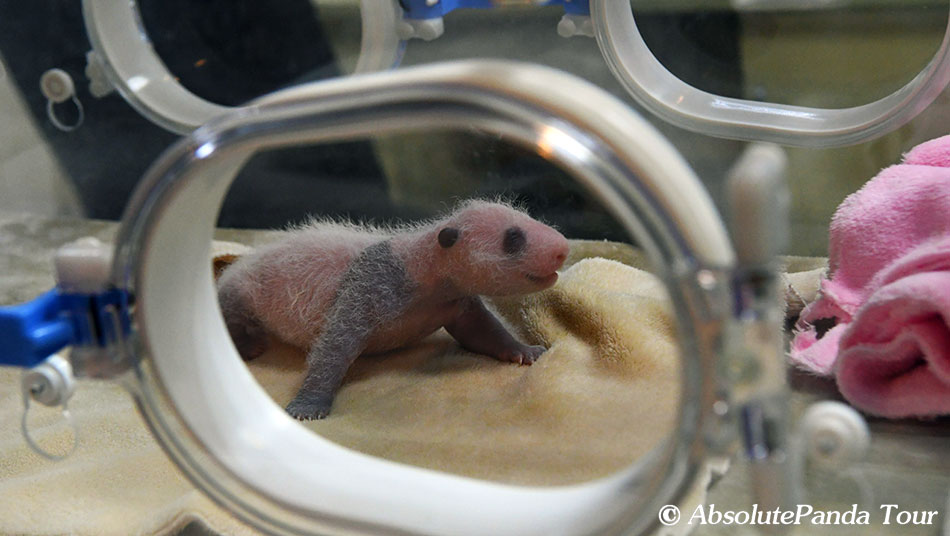 Baby panda in Chengdu Panda Base.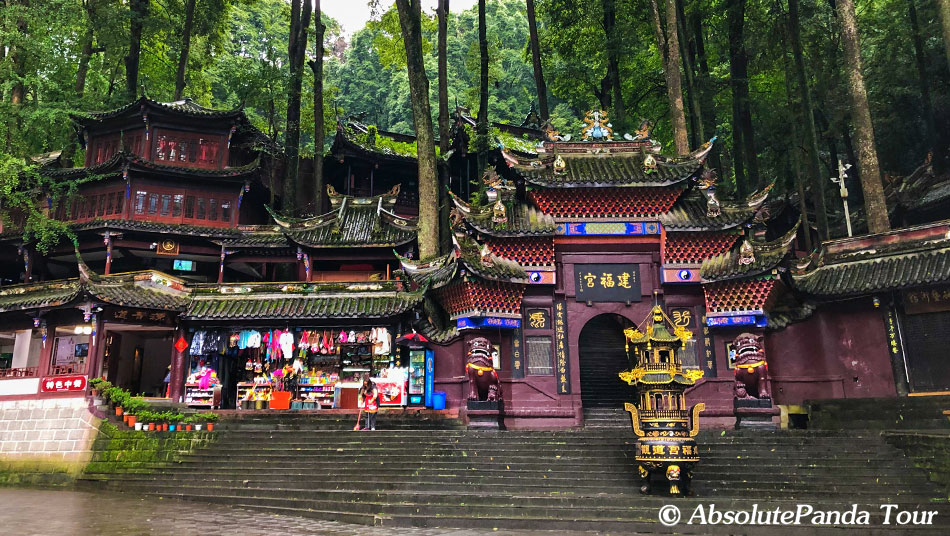 Jianfu Temple of Qingcheng Mountain.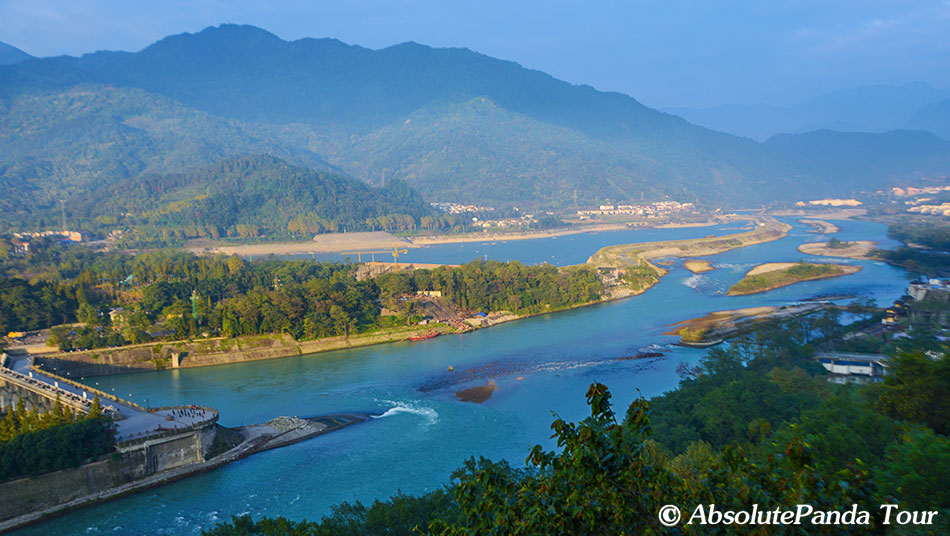 Dujiangyan Irrigation System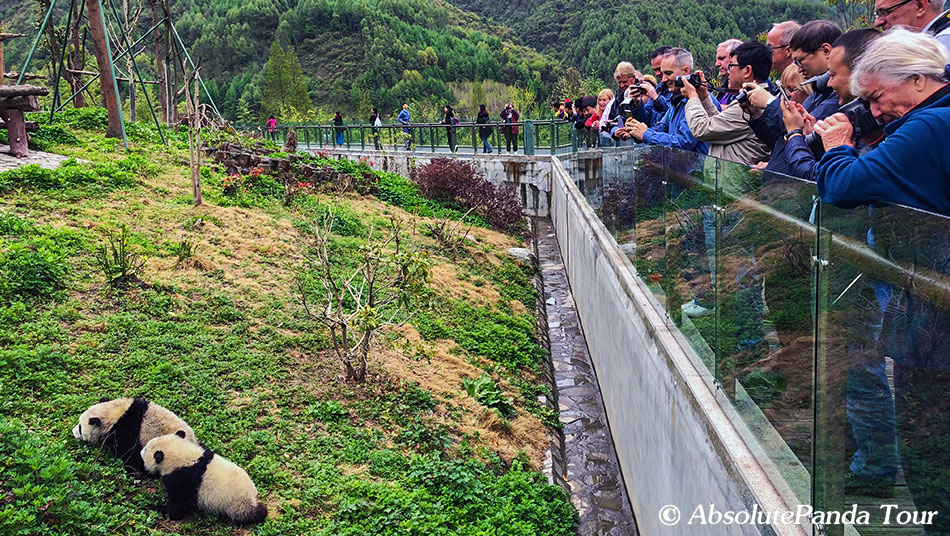 Wolong Panda Base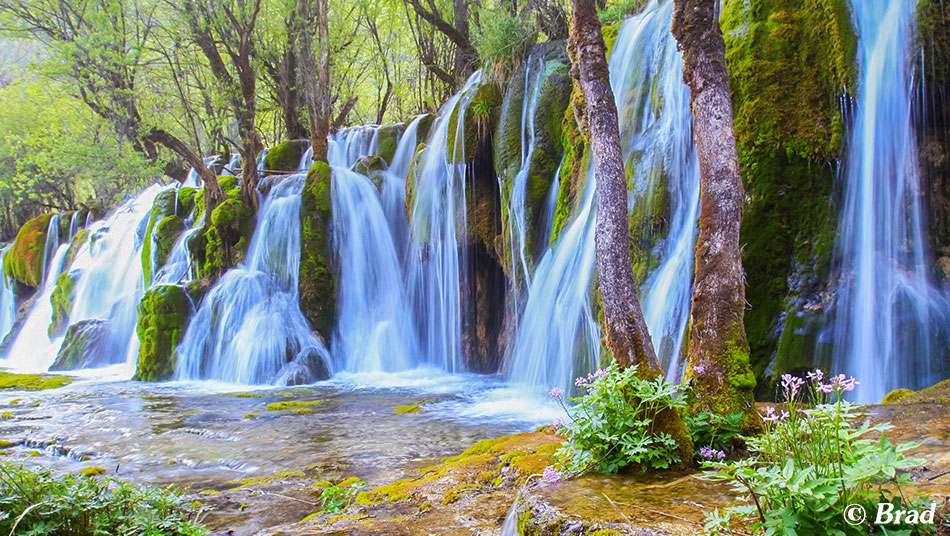 A waterfall at Jiuzhaigou.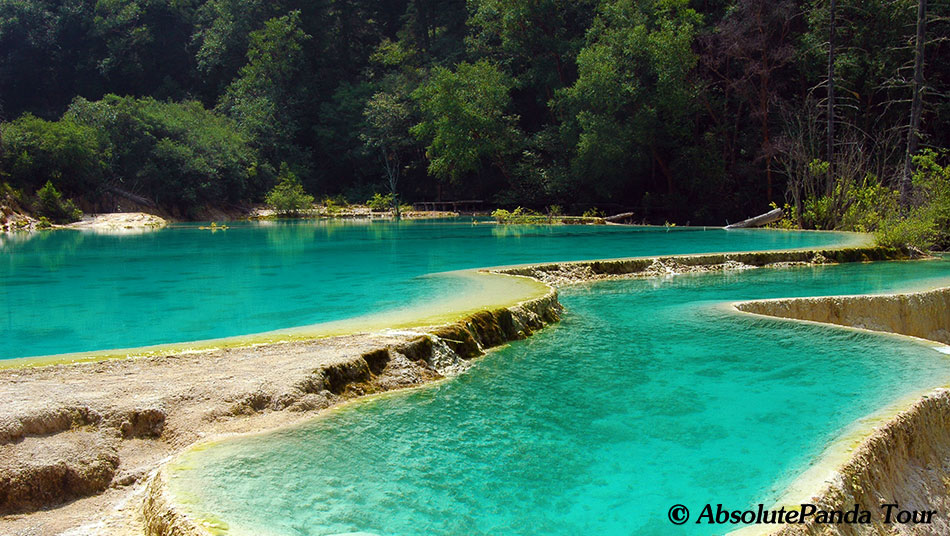 Fair Ponds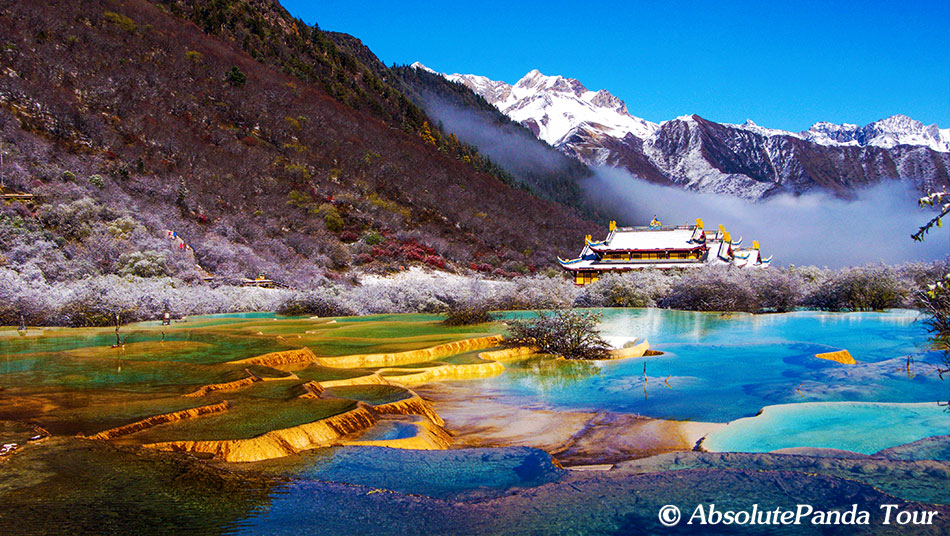 Colorful ponds at Huanglong.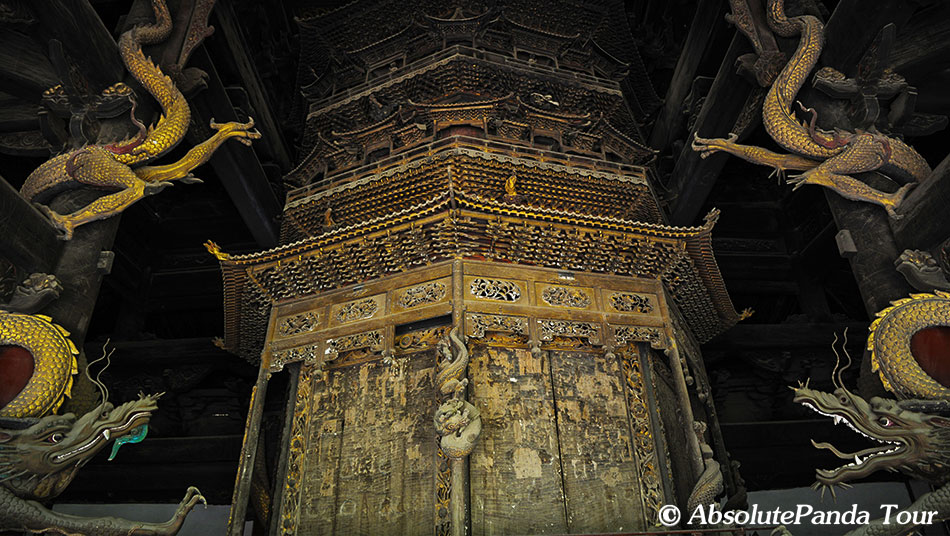 Exquisite carving at Bao'en Temple.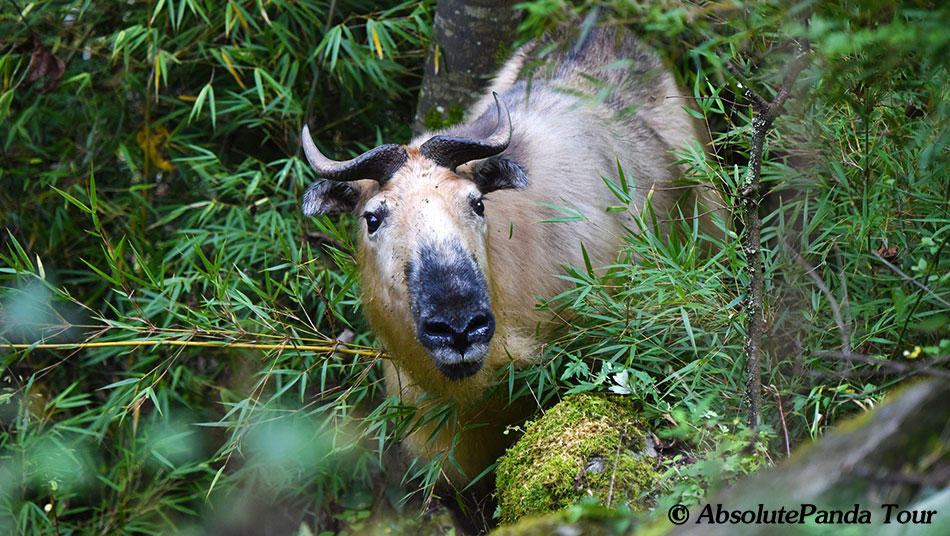 A takin in Tangjiahe, the panda habitat.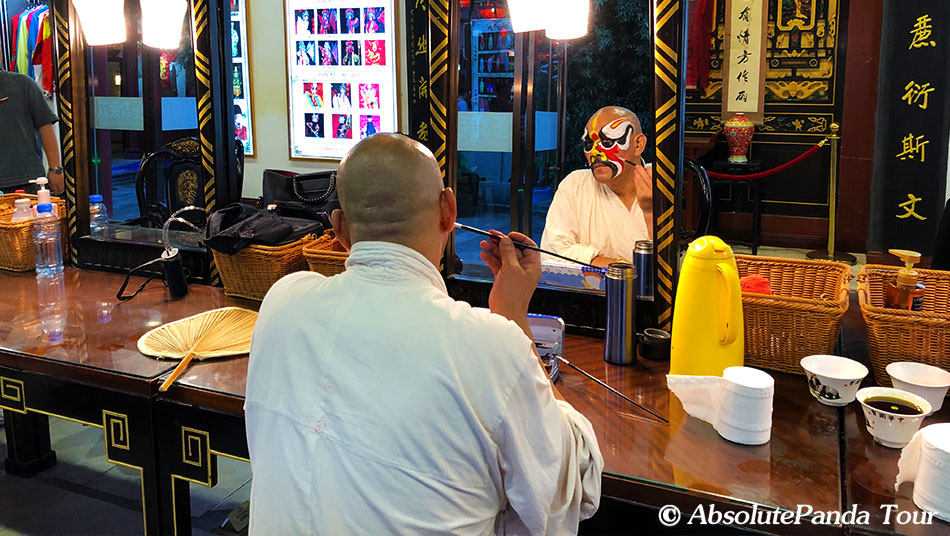 Sichuan Opera


Welcome to email us and share your trip photo with us. Photo Album of AbsolutePanda