a) Cure her of this obsession forever or
b) Be a really good holiday!
It worked out as b. AbsolutePanda were amazing in this process; we actually spent two years planing it, and at no point did they become frustrated with us as we changed and rechanged our requirements over and over.
Lily, Philip and Grant showed incredible patience with us, until finally they had formed the perfect itinerary, formed as an adorable PDF with paintings of pandas. We used some airmiles to make our own way to Shanghai for a few days at either end of the holiday, and flew to Chengdu in the middle. For everything else, we were totally in AbsolutePanda's hands, and they proved to be absolutely trustworthy and to take this responsibility very seriously.
First, Lareina (our guide) and Mr E (our driver) met us at the airport. Lareina was great fun, and super helpful - always happy to answer any of our ridiculous questions. Mr E did not speak much English, but was also lovely. They both had impeccable manners and were eager to cater to our every need. They took us immediately for dinner in Chengdu and ordered on our behalf. They paid attention to what we liked and didn't like, and tailored all of our meals around this throughout the trip. Then we went to the Shangri-La hotel, which was incredible - we were on the 34th floor, with stunning views of the city.
The next day, we went to the Dujiangyan panda base, where we explored and saw some pandas - and then each got to hug a baby panda and get a photo! This is not cheap, but a valuable source of income for the panda bases. An amazing experience. We had a lovely lunch and then explored a nearby ancient city and got some great photos. Finally, we drove all the way to the Bifengxia panda base, where we would be volunteering for the next few days. The hotel here was not as impressive since it was in the middle of nowhere (and cold!) but the team went to great efforts to accommodate us. They ordered food for us ahead of time, and provided a series of "breakfast boxes" with all kinds of Western style food and drink that we could eat during our time in Bifengxia. Other hotel guests were very jealous of this!
Over the next few days we volunteered in the panda base, and learned how to clean out the enclosures, prepare bamboo, and fed the pandas bamboo, carrot and special panda-cake. It was surprisingly hard work, but such a wonderful experience to be close to the pandas but away from the crowds of Chengdu. It was really personal and special. When we weren't working, we could explore the panda base as staff and access areas the general public could not. We stayed here for five days, and the staff were all wonderful.
Then Lareina and Mr E returned to pick us up, and we headed to Leshan where we explored the local area, tried the hot pot (amazing, but very spicy!), and took a moonlight stroll along the river. They'd arranged us another amazing hotel, the Ayard Of Ch'an Leshan which felt very authentic. We drank tea, and slept in Chinese PJs.
The next day we took a hike alongside the largest sitting Buddha statue in the world, and explored some of the local temples. We also wandered some of the shopping streets and bought some amazing local craft items, and saw a local flower show. And in the evening, we went to a Sichuan Opera, which I enjoyed much more than I thought I would! The face-changing magic and puppetry is especially impressive.
On the last day, we visited the final panda base in Chengdu, which is much bigger but also much busier! At this point we were experts in all things panda, and scored highly on the quiz in the museum
At the very end, we were sad to go! We formed some really beautiful memories, and the people were wonderful. We had an incredible experience. I can't recommend it enough.
—Booshtukka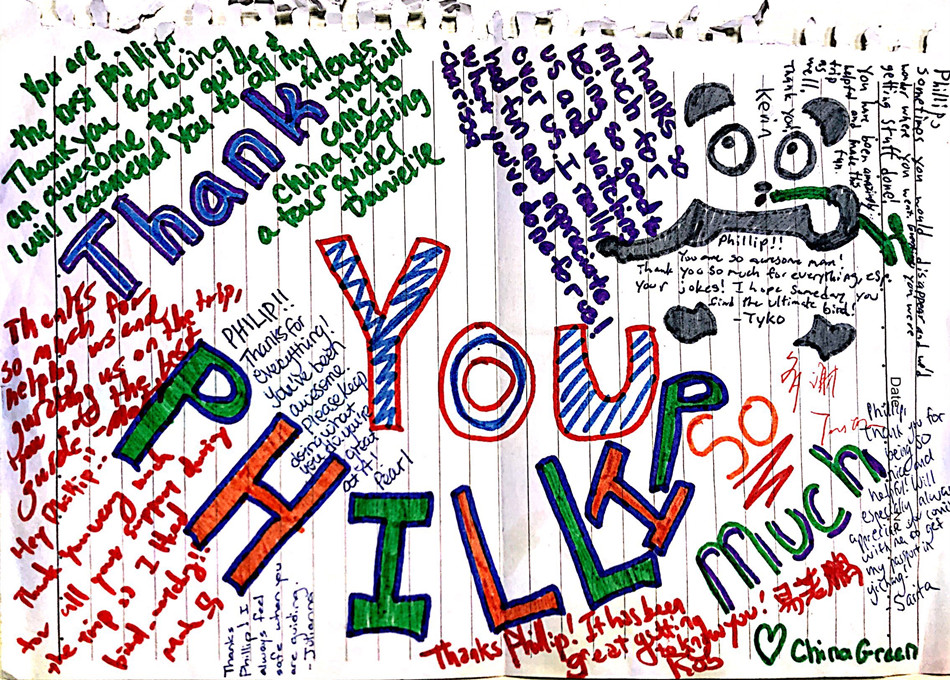 Welcome to email us and be our guests to write the feedback for us. Testimonial of AbsolutePanda