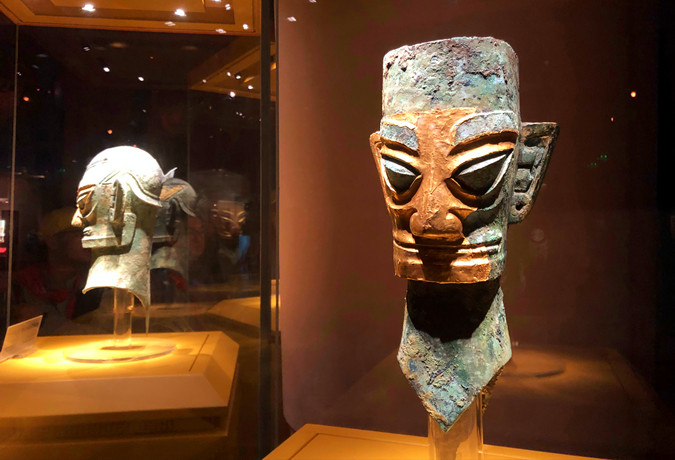 1 Day Chengdu Panda Base & Sanxingdui Site
Date: All Year Round
Price: From 180USD/PAX
Trip Focus: Panda + Chengdu History
Status: Open to Booking
Route: Chengdu Research Base of Giant Panda Breeding-Guanghan-Sanxingdui Museum-Sichuan Hot Pot.
Trip Code: P002
Overview
In the southwest of China, there is a traveler's paradise - Sichuan Province and its capital city, Chengdu. It is within the city limits of this bustling metropolis that tourists can discover the comfortable lifestyle, vibrant culture and exciting attractions that make Chengdu a world-class tourism destination. Known for its extensive history, distinct tradition, flavorful cuisine and abundance of giant pandas, it is impossible to find anywhere else in the world like Chengdu.
During this one day tour from AbsolutePanda, our skilled local guides will show you the best this city has to offer. As we explore Chengdu, you will see adorable panda cubs, explore the city's captivating history, and taste the food that has made Chengdu famous world-wide. Then we will go to the Sanxingdui Museum. The exhibitions in this marvellous museum which represent the highest achievements of Ancient Shu dating back to the Bronze Age. It has various relics such as bronze masks, jade articles, and some gold and pottery artifacts. It is said to be one of the best ancient museums in Yangtze River Region. For guests who want to do it all in one day, this is the tour for you!


Highlights:

• See the largest captive population of pandas in the world at the Chengdu Panda Base and enjoy its garden environment.

• Savor the spice and flavor of authentic Sichuan Cuisine in one of Chengdu's popular local restaurants.

• Explore the captivating history of Sichuan's Ancient Shu (4,500 years ago) at the Sanxingdui Museum.

• Try the Sichuan Hotpot in a local restaurant and experience our special food culture.

• In this world-class tourism city, observe the harmonious mixture of innovation and tradition distinct to Chengdu.


Introductions to Trip's Destinations: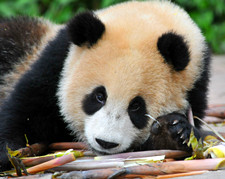 Chengdu Research Base of Giant Panda Breeding
Holding the distinction one of the world's largest panda bases, Chengdu Research Base of Giant Panda Breeding (Chengdu Panda Base) attracts tourists and wildlife enthusiasts worldwide. Conveniently located a short drive away from downtown, this state of the art research facility comfortably houses more pandas than anywhere else at home and abroad. During your visit, you will see pandas ranging from young cubs to lumbering adults as well as the elusive and adorable Red Panda. Additionally, the scenic, garden-like atmosphere of the panda base is especially ideal for urban birding like Red-billed Leiothrix, Ruddy Shelduck, Chinese Blackbird, Spotted Dove and so on.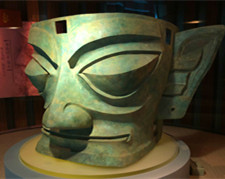 Sanxingdui Museum
Located about 50km from Chengdu in the nearby city of Guanghan the Sanxingdui Museum features a vast collection of artifacts dating as far back as the Neolithic era. The culture responsible for these artifacts, the Ancient Shu, established the foundation of their magnificent culture in the Sichuan basin over 3,000 years ago. During your visit to the museum, you will have every opportunity to learn about the Ancient Shu's mysterious past through an extensive variety of engaging exhibits. Among the vast collections of priceless relics are ceramic artwork, jade, gold, and unique bronze masks.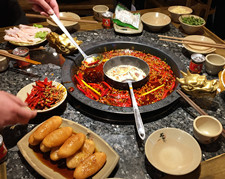 Sichuan Hotpot
Indisputably the most famous Sichuanese dish, Sichuan Hotpot is a world-famous culinary experience that is native to Chengdu. Sitting around a boiling pot of spicy broth, you are welcome to cook a variety of different meats and vegetables to your liking. For those who don't eat spicy food or meat, there are also non-spicy and vegetarian options available.





How Can We Make This Trip Special?

• Many times of running this itinerary for western panda funs, nature and culture lovers enables us to ensure your trip is enjoyable and comfortable in the hidden area.

• A team of passionate guides specializing in panda and wildlife with rich experiences of guiding and solid knowledge about local cultures and places.

• This trip can be customized to better meet your travel style by centering on a different focus.

• 20-plus years of working in the travel industry and serving travelers from all over the world enable us to know how to make great trips for travelers of different travel styles.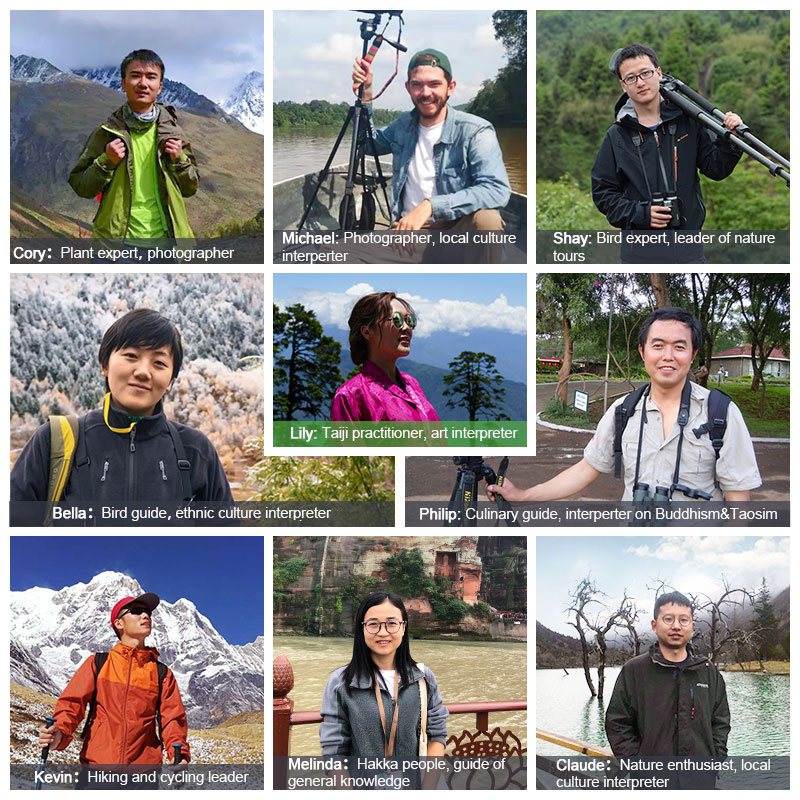 What makes AbsolutePanda excellent?
• We are one of the premier travel companies focusing on panda and other wildlife in China.
We use AbsolutePanda as company brand because of our deep love toward panda and our determination to create your absolutely enjoyable panda trips.
Since 2003, our professional tour leaders and wildlife experts have helped thousands of travelers gain an in-depth understanding of Giant Panda and their companion animals, enjoy stunning scenery all over China and explore the authentic local culture.
• Exclusive Quality & Value Guarantee.
We define our quality by well-designed itineraries, stunning destinations, creative interactions, small groups, professional guides, and reasonable prices.
• Explore China in comfort and your style.
We understand each traveler is different. In addition to selected accommodations, meals and vehicles, we would like to show you the real China by an authentic experience with incredible wildlife and lovely locals.
We believe the best way to help wildlife is through love and appreciation. By bringing nature lovers to enjoy the beauty of nature in China, we hope that local people can know the value of wildlife and learn how to love and appreciate those beautiful creatures living near their villages.
Map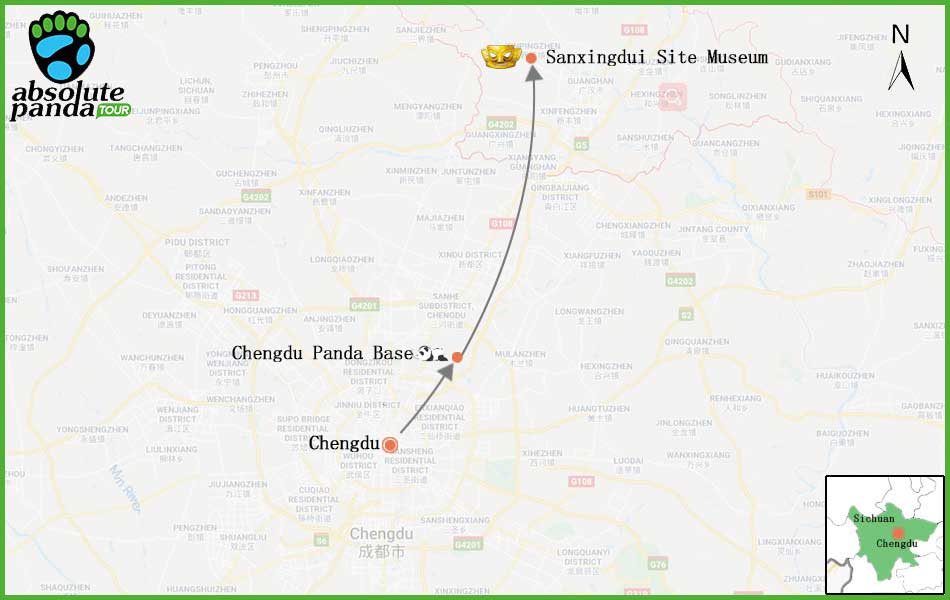 Chengdu Panda Base and Sanxingdui Museum Trip Map


Itinerary


Outline:

Chengdu Research Base of Giant Panda Breeding-Guanghan Sanxingdui Museum-Sichuan Hot Pot


Details:

7:00-7:40 Drive from your hotel to the Chengdu Panda Base which is one of the largest panda bases in the world. Home to more than 100 pandas with different ages.
7:40-12:00 Visit the panda base, enjoy a beautiful time with pandas. By the way, this is the only place that you have the chance to see newborn baby pandas.
12:00-12:10 Head to a local Sichuan Restaurant. Enjoy the authentic local Sichuan cuisines featuring various flavors and nicely cooking. Many famous Chinese dishes like Mapo Tofu, Kung-pao Chicken, Twice-cooked Pork all belong to the Sichuan cuisine family.
13:10-14:00 Drive our way to the Sanxingdui Site Museum, the best representative for Ancient Shu Civilization, featuring astonishing huge bronze crafts with eye-opening designs that you can not find anywhere else in the world.
14:00-16:00 Visit Sanxingdui Site Museum.
16:00-17:30 Drive back to Chengdu.
18:00-19:30 Sichuan Hotpot. Sichuan Hotpot is famous for its variety of materials which gives you wide freedom to choose what you like and experience the local hotpot restaurant culture.
19:30-20:10 Chengdu City Night Walk. We will take an after-dinner walk to watch the local people's nightlife and rest ourselves in the laid-back lifestyle of this panda city.
20:10-20:30 Drive back to the hotel.

Notes:
1.The itinerary above is the most in-depth one-day experience in Chengdu. We can also tailor-make your own travel plan according to your request. As a modern metropolis with 3000 years of history and countless tourist destinations, Chengdu has far more than what we could ever include in one day. This itinerary is a sample(classic and highly recommend) according to our knowledge about this wonderful city.
2. If you want to add or cut some sites or activities to satisfy your needs, please feel free to tell us, we will modify the itinerary at your request. Our goal is to provide an itinerary that most suits you with the best performance.
.


Dates & Prices


1. Dates

This trip is available all year round.


2. Prices

The AbsolutePanda team works hard to provide the highest quality tour experiences at a fair price. However, after working in the travel industry for more than 20 years, our team knows that no two travelers are alike in terms of their travel style, personal interests, choice of guides and preferences in restaurants and hotels. For AbsolutePanda, our client's satisfaction is a top priority. To meet the needs of different clients and ensure they enjoy a trip suited to their preferences, we have created a variety of different price options for our trips. These options vary from the guides they use, the quality of vehicles, accommodations, and restaurants. Our trip price has the following options, please read the explanations above and the includes and excludes for each price option below:

These standard prices are made based on a minimum of two travelers. The trip size is 2~10 persons per group.
| | | | |
| --- | --- | --- | --- |
| Price Categories | Copper Panda | Silver Panda | Gold Panda |
| Price Quotation | 180USD/PAX | 212USD/PAX | 255USD/PAX |


Option 1: Copper Panda

For travelers who are looking for a skilled guide who speaks English and show them around. You can choose this price option.
In this tour, the Copper Panda Price Service includes:
1. A guide with fluent English from AbsolutePanda Tour Team;
2. A private car serving the full duration of this tour;
3. The entrance and shuttle tickets listed in this itinerary;
4. Meals as listed in the itinerary;
5. China domestic travel insurance.

Example Guides:
1) Claude: A Sichuan local who is fluent in English, passionate, and is well-versed in general knowledge about popular destinations. He can work as a driver and guide for small groups.
2) Melinda: A detail-oriented guide who is fluent in English. Melinda is knowledgeable about general information about our popular tour locations.
3) Michael: An American living in Chengdu, Michael is a passionate guide and is adept at interpreting Chengdu from the perspective of a westerner.


Option 2: Silver Panda

For travelers who hope to have a guide who knows certain specialized fields very well and can share the knowledge in-depth in a certain field like birding, flower-watching, Buddhism, food, photography, etc. so that they can make the best use of their travel time and meet their personal taste best.
In this tour, the Silver Panda Price Service includes:
1. A guide who has excellent knowledge pertaining to a certain field from Absolutepanda team;
2. A private car serving the full duration of this tour;
3. The entrance and shuttle tickets listed in this itinerary;
4. Meals as listed in the itinerary;
5. China domestic travel insurance.
The price does not include your discretionary tips to the serving crew (driver and guide) and any other entrance tickets.

Example Guides:
1) Shay: One of AbsolutePanda's resident birding experts, Shay speaks English and is a detail-driven guide.
2) Cory: A botany expert and photographer who speaks English, Cory is a passionate guide who excels at leading clients.
3) Lily: An English speaking guide, Lily is especially skilled at leading clients on tours that involve Yoga and Taiji.


Option 3: Gold Panda

For travelers who want to travel in luxury, the gold panda option is the right choice for you. With this level of service, your group will enjoy the best restaurant and transportation options available. We will provide the details concerning your trip. Please feel free to ask us any questions concerning this package option.
In this tour, the Gold Panda Price Service includes:
1. An expert guide from AbsolutePanda Tour Team;
2. A nice private car with serving the full duration of this tour;
3. The entrance and shuttle tickets listed in this itinerary;
4. Meals in popular restaurants as listed in the itinerary;
5. China domestic travel insurance.
The price does not include your discretionary tips to the serving crew (driver and guide) and any other entrance tickets.

Example Guides:
1) Bella: A fluent English speaker, Bella is a knowledgeable birding expert and is well versed in Chinese food and local culture.
2) Philip: A local guide with fluent English and basic Japanese, Philip is an exceptional photographer and birding guide who has keen interests in Buddhism, Taoism, Confucianism, and Chinese cuisine.

Notes:
1.To AbsolutePanda team, our clients' overall satisfaction with their trip is the top priority. We've created different price options to make it easier for you to choose a tour that fits your style and budget. The basic option is not available for this trip as we feel it is difficult for our clients to enjoy this trip without the help of a guide. If you prefer to travel in a different style than the options we've provided here, please feel free to contact us.
2. For travelers who hope to tailor-make the day programs with their specific travel preferences in mind (transportation, hotels, special privileges, and famous local experts), tailor-making a tour is the best way to ensure your desires are met. Please contact us with your specific needs and we will make an itinerary based on your expectations. Once you confirm, we work out the cost and send it to you. Please feel free to ask any questions to learn more.
3. Please note that guides with specialized knowledge are not always available, especially during our busy season from April to October. If you have an on-planning trip, please contact us as early as possible so that we will block the date of our expert guide for you.
When you put your trust in our team, we are certain to help you enjoy an unforgettable travel experience in Chengdu!

Accommodations
AbsolutePanda firmly believes travel is an art. To ensure every trip with us is a great travel art for our clients, the AbsolutePanda team does all we can to consider every possible detail. The choice of hotels is an essential part of making a great trip. After many years of running a travel business, we have built up our network of cooperative hotels at different levels. We understand people are different in the choice of hotels when they travel. If you want to use some specific hotels, please feel free to let us know, we are delighted to book it for you at a competitive price to make the hotel choice better meet your taste, budget and travel style. We can either reserve a hotel with competitive price for you or simply include the hotel into your trip cost if possible. You are welcome to contact us and tell us your requests, we will do our best to create the best travel itinerary for your private use.
If you need help with hotel booking in other big cities of China at different styles and luxury levels (International-brand Hotels, Local Brand Hotels, Economical Hotels), please feel free to email our team at info@absolutepanda.com.
The followings are a list of hotels at different styles and luxury levels we often use for our trips.
1. Three International-brand Hotels in Chengdu:
• Shangri-la Hotel Chengdu
• The Ritz-Carlton Chengdu
2.Three Local Brand Hotels:
• Tibet Hotel
• Buddha Zen Hotel
• Chengdu Huanhuahongtai Hotel
3. Three Economic Hotels:
• The Hotel Zen Urban Resort
• Minshan Anyi Hotel
• Tianfu Sunshine Hotel
FAQs
1. Do we really have to get up so early?


​We recommend arriving at the panda base as early as possible to beat the crowds. Pandas are typically the most active early in the day and will spend the afternoon sleeping. Additionally, pandas will sleep more often during the summer when the temperature is warmer.
2. Is the Chengdu Panda Base usually crowded?
As one of the most frequently visited tourist destinations in Chengdu, there is typically high traffic at the panda base. This is why we suggest arriving at the entrance as early as possible.
3. Are the pandas at the base wild?
The layout Chengdu Panda base is similar to a park with walls and the animals at this facility are all living in specialty enclosures specifically designed to provide them with a natural environment in a captive setting.
4. Are guests able to hold pandas at this base?
For the last few years, all panda bases in Sichuan have stopped the practice of allowing guests to pay to hold pandas. This is for the safety and welfare of these animals. For those interested in interacting with a panda, we suggest the panda volunteer programs offered on our website under "Panda trips".
5. How far are the different trip activities from each other?
It takes 30-min drive from Chengdu City Center to Chengdu Panda Base and nearly a one-hour drive to Sanxingdui from Chengdu Panda Base.
6. What are the highlights in the Sanxingdui?
The artifacts were radiocarbon dated to the 12th-11th centuries BC. They had been created using remarkably advanced bronze casting technology, which was acquired by adding lead to a combination of copper and tin, creating a stronger substance that could create substantially larger and heavier objects, such as the life-size human statue and the 4-meter tall tree.
Email us if you have any questions.
Read our FAQ
Testimonials


Excellent two days of tours- pandas, cooking, fab food, opera, and more!
My chef husband and I recently spent a month traveling thru China, and Absolute Panda Tours created two excellent & full days of touring for us in Chengdu and nearby! We got to see the darling pandas at play, and red pandas, as well, (early, before the crowds!), and then took an excellent, professional cooking class at the Cuisine Museum in Chengdu, where they make the famed aged Chili & Soy Sauces, and went to the market with the chef, and in the evening we went to the Opera (and the fab tea house next door), which was truly a wonderful evening. The next day they arranged for us to ride the steam train and see some of rural China, to take a boat to see the amazing LeShan Buddha, and then to have a totally delicious and fun Hot Pot Dinner! We enjoyed every minute! I planned the tour with them via email, and their English is excellent; their guides and customer service were tops, as were their vehicles and drivers. The meals they took us for were absolutely delicious- and as my husband is a chef, I don't say that lightly! We highly recommend them, and will definitely use them again if we're lucky enough to get back to Chengdu! --Elissejo
1 Day Chengdu Dujiangyan Panda Base and Sanxingdui Museum Tour
This is my second time using Absolute Panda and they never disappoint. The trip was customized so we could maximize our one day in Chengdu. Highly recommend!
--Patriciao406
--Christine
Videos & Photos

Welcome to email us and share your trip video with us. Video Album of AbsolutePanda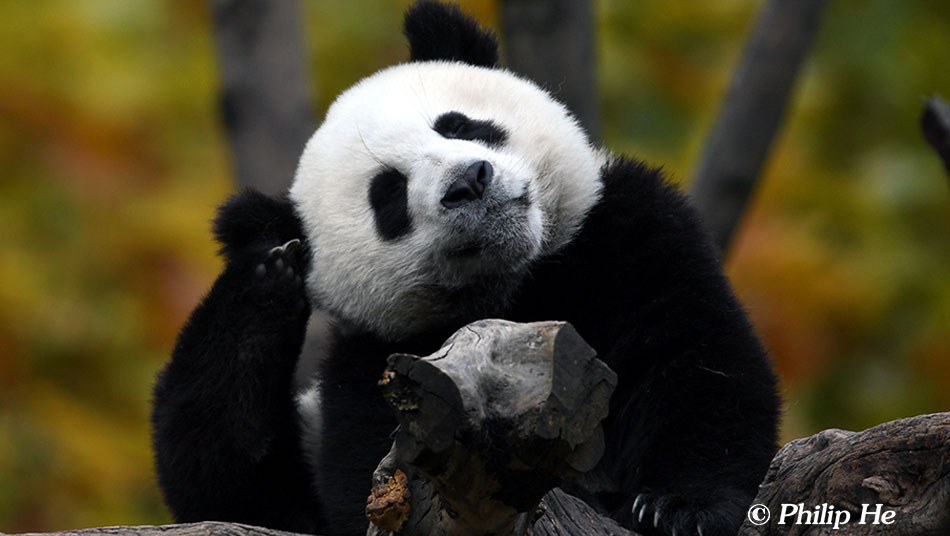 A young panda in the Chengdu Panda Base.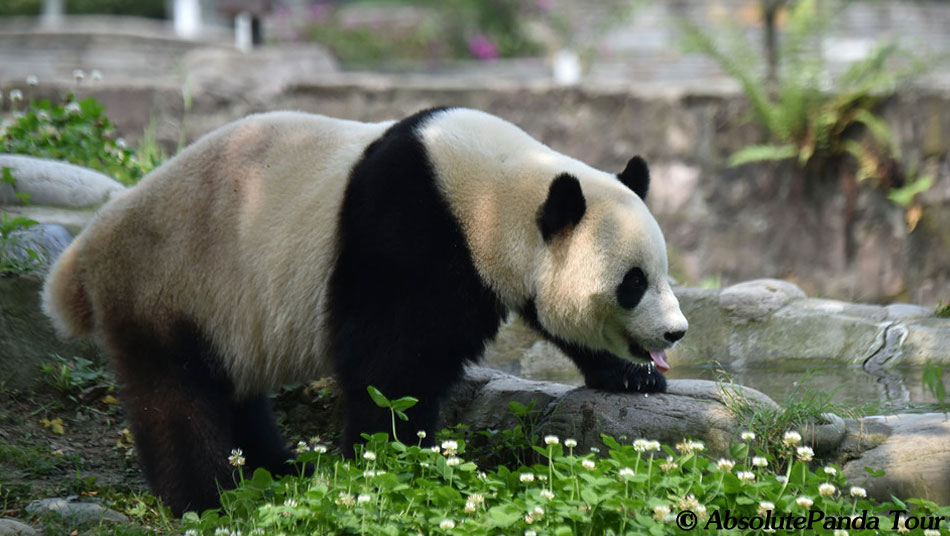 An adult panda in the Chengdu Research Center of Giant Panda Breeding(Chengdu Panda Base).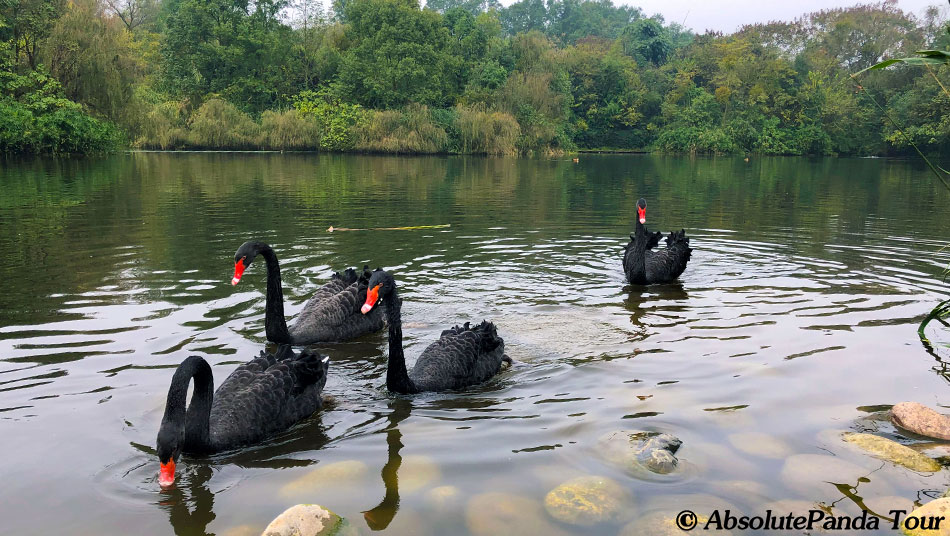 Elegant Black Swans in the Swan Lake of the Chengdu Panda Base.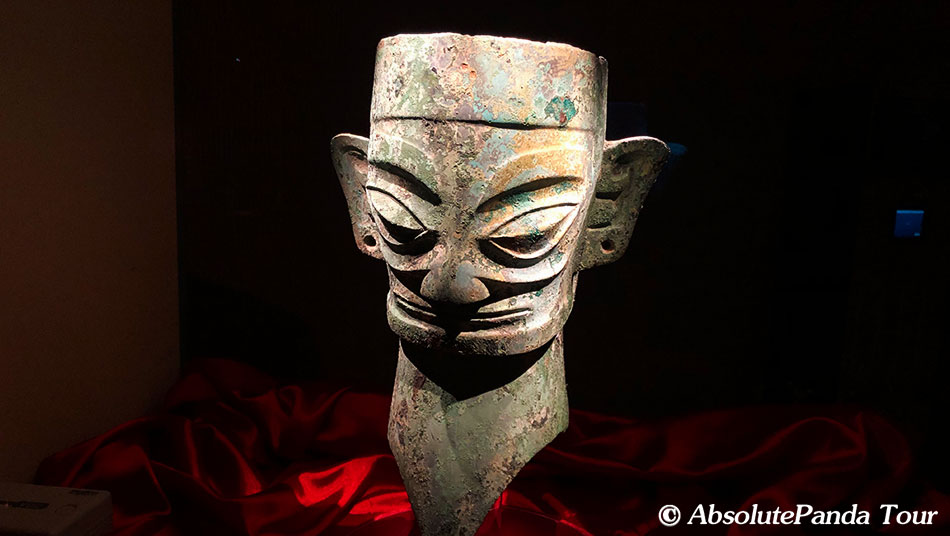 The Mask on Bronze Face in the Sanxingdui Site Museum.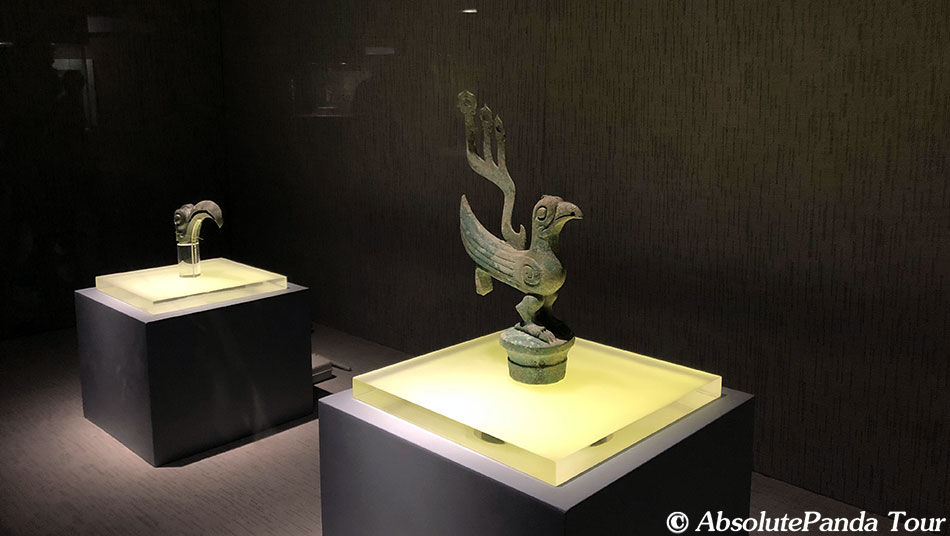 Ancient Shu has the worship for the Sun Bird.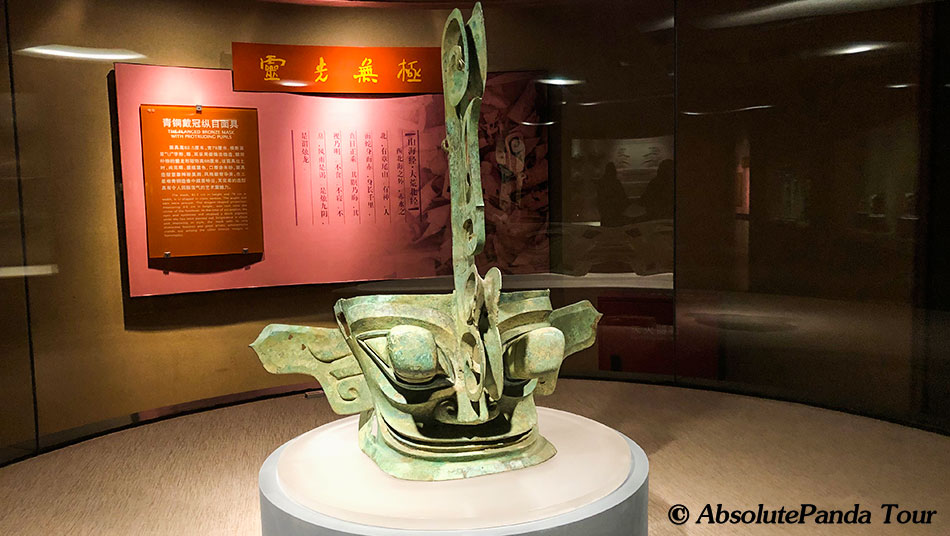 It is said the King of Ancient Shu has the protruding eyes.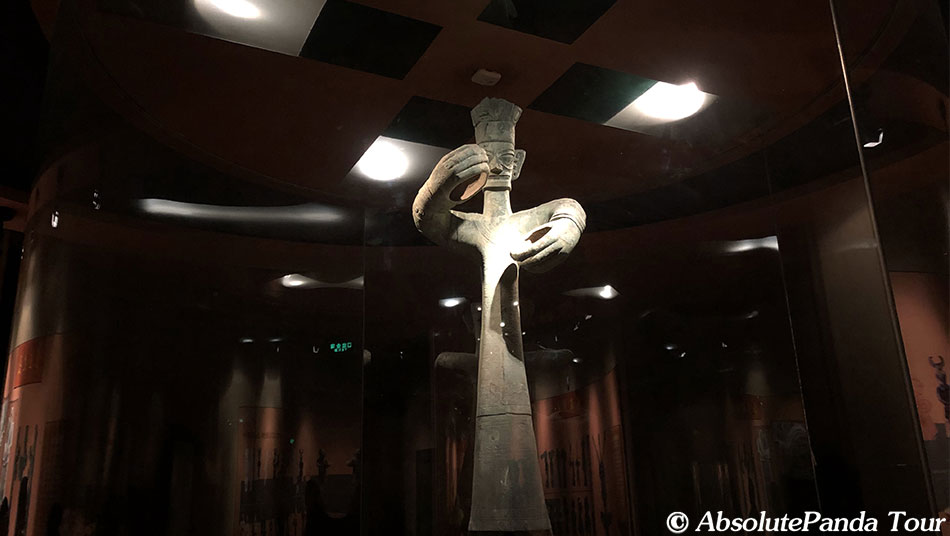 "The King of bronze statues in the world".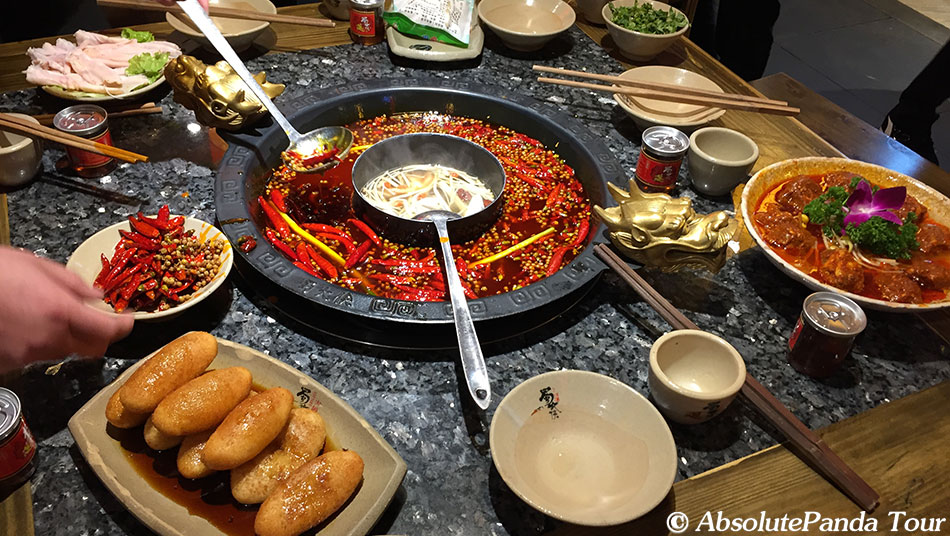 "There is nothing that a Sichuan Hotpot can not solve".