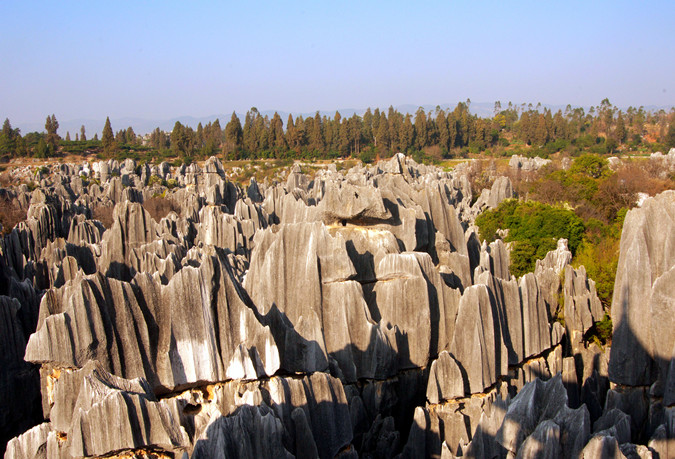 16 Days Highlights of Southwest China
Date: Feb. 19 to Mar. 6, 2024, 2025
Price: From 4190USD/PAX
Trip Focus: Nature + Karst
Status: Open to Booking
Route: Guilin-Chengdu-Chongqing-Wulong-Chongqing-Guiyang-Libo-Guiyang-Anshun-Kunming-Yuanyang-Kunming
Trip Code: N005
Overview


In a broad sense, Southwest China consists of Sichuan, Yunnan, Guizhou, Guangxi provinces and Chongqing Municipality. It covers about a quarter of China's total land area and has the richest and the most diverse resources attracting travelers from all over the world.

First is the landscape represented by the karst named South China Karst, covering a series of provinces in Southwestern China and featuring various and distinctive karst landforms such as natural bridges, gorges, and large cave systems. They are excellent subjects to photograph, hike in, and admire. The creator of karst landforms is water which miraculously made those unparalleled natural wonders in even millions of years. The power of water can be felt during this trip through visiting the picturesque Li River, the serene blue pools in Xiaoqikong, the spectacular Huangguoshu Waterfall, and the pleasant Yuanyang Rice Terraces.

In addition to its natural scenery, Southwest China is home to the largest concentration of ethnic minorities in this country. It is such an interesting part to know the diversity of different languages and dialects, religious rituals, festivals, arts, crafts, and most conspicuously, the various traditional forms of colorful dressings. For those who love food, Southwest China is also a paradise where people are cooking in diverse ways with delicious taste.

During this journey, we will unveil you the charms of Southwest China through our carefully-picked destinations. With our expertise built up from working in the travel industry for more than 20 years, we will do our utmost to make this trip one of your most enjoyable and memorable travel experiences.


Highlights:

• Visit World Heritages Site "South China Karst" in different provinces or municipality—Guangxi Guilin Karst, Chongqing Wulong Karst, Guizhou Libo Karst, Yunnan Shilin Karst.

• Gain the best memory of China by serving the adorable pandas, viewing spectacular Huangguoshu Waterfall, and photographing dreamy Yuanyang Rice Terraces.

• Meet the colorful ethnic minorities in Southwest China, including Yi, Miao, Hani, and Zhuang. Sampling a variety of local foods in Guilin, Chengdu, Chongqing, Guiyang, and Kunming.


Introduction to Trip's Destination:


Guilin
For avid travelers world-wide, the landscape of Guilin is the most vivid expression of oriental charm that makes it the most popular destination and the top pick for their travel plans. With the iconic karst landscapes, Guilin is famed as one of the most beautiful places on earth. Though there are tons of great photos of Guilin on the internet, this journey will enable you to feel paradise with your sense of beauty and admire the beauty from your perspective.




Chengdu
Few cities in the world can enjoy such unique resources as Chengdu. Located in the western part of the rich Sichuan Basin and to the east of the Qinghai-Tibet Plateau, the vertical maximum elevation difference of Chengdu is close to 5,000m, creating a unique landscape that allows many kinds of ecosystems, flora, and fauna to flourish. Most notably, Chengdu is famed for being the "Panda City" and hosts the largest captive panda population in its panda bases.




Dujiangyan Panda Volunteer Program
Dujiangyan Panda Base provides guests with the special opportunity to participate in the daily care of the park's captive pandas, including cleaning the panda enclosure, preparing bamboo, and feeding to the pandas. This activity provides the perfect chance for pandas fans to gain an in-depth understanding of the daily lives of pandas and thrilling experiences of observing pandas at close distance in areas not open to the general public.




Chongqing
As a major port city of the upper Yangtze River and gateway to the famous "Three Gorges," Chongqing has a very important strategical location. In recent years, it has become a hot travel destination as many people are drawn by its delicious food, rich local culture, and natural scenery. It also has been a rising internet sensation for its fancy and futuristic buildings and becoming a hot destination for photographing the city landscape. It is said to have one of the best night views in the country.



Wulong
Wulong has one of the world's most spectacular examples containing the most significant types of karst landforms. Karst landscapes here are featured with giant sinkholes, natural bridges, and caves, providing the evidence for the history of one of the world's great river systems, the Yangtze and its tributaries. With about 190 kilometers away from Chongqing, Wulong Karst landscape exploration is mainly composed of four parts—the Three Natural Bridges, Longshuixia Gap, Fairy Mountain, and Furong Cave.



Guiyang
Guiyang is the capital of Guizhou Province, China. While not the most spectacular of Chinese cities, it has much to offer as an introduction to the history, culture, and natural splendor of Guizhou Province and China's southwest. Moreover, it is drastically cheaper and less commercial than the most touristed and developed provinces. It makes an excellent base for exploring mountains, caves, rivers, and minority cultures (including traditional Han Chinese culture lost in many areas) of the province.



Libo
Libo County, characterized by unique karst landscape, mysterious dense forests, various living species, splendid overlapping mountains, and clear rivers and lakes. Because of the well-preserved ecological environment, the area is honored by both Chinese and overseas experts, as "an unparalleled, well-preserved green gem unmatched by any other karst sites in the world". As a famous tourist attraction, there are many scenic areas to visit like Xiaoqikong, Maolan Nature Reserve.



Huangguoshu Waterfall
The Huangguoshu Waterfall (Yellow Fruit Tree Waterfall) is perhaps the most famous in China. Its dimension is of 77.8m in height and 101m in width with a very classic and satisfying rectangular shape. Huangguoshu Waterfall appears to be one of the country's most impressive waterfalls and one of the biggest in Asia. Near Huangguoshu, there are many other waterfalls, forming one of the biggest stages of waterfalls in the world, making this area a paradise for waterfall lovers and nature photographers.



Kunming
Known as the "the city of eternal spring", Kunming is the capital of Yunnan Province and the most important transition hub for tourists who want to visit this region. Its climate is pleasant all year round and various plant species from temperate coniferous trees to tropical flowers grow very well here. While in Kunming, one should also try to catch a glimpse of the various costumes of the many ethnic groups in Yunnan. Moreover, the whole Yunnan is famous for its delightful and distinctive food and snacks, such as crossing-the-bridge noodles and flower cakes.



Yunnan Shilin (Yunnan Stone Forest)
Located 73 miles from the provincial capital Kunming, Yunnan Shilin (Yunnan Stone Forest) is among the most stunning formations of land created by nature. Millions of Years ago, this place was submerged under the sea level. After the countless geographical movement of the Earth, it stood out of the sea and became a tableland. The following constant rainwater dissolved the rock, shaping them to what they are like today. Seen from a distance, the stones are like pine tree forest. Getting closer, they have many enchanting forms and can be like humans, animals, architectures, weapons, and many.


Yuanyang Rice Terraces
Yuanyang Rice Terraces are about 320 kilometers from Kunming. Over the past 1,300 years, the local Hani people had been continuously transforming and carving this hilly land by developing a complex system of water channels and barriers to bring and reserve water to their terraces. They are ingenious architects and making the terraces vast and esthetic. Yuanyang Rice Terraces become well-known not for too long and already attracted numerous travelers and photographers to come each year and have been added to the World Heritage List.



How Can We Make This Trip Special?

• Many times of running this itinerary for western nature lovers enables us to ensure your experience to get close to the essence of nature in Southwest China.

• A team of passionate guides specializing in flowers and birds with rich experiences of guiding and solid knowledge about wildlife and local places.

• Trips can be customized to better meet your travel style by centering on birding, flora searching, or other interests you like.

• 20-plus years of working in the travel industry and serving travelers from all over the world enable us to know how to make great trips for travelers of different travel styles.


What Makes AbsolutePanda Excellent?
• We are one of the premier travel companies focusing on panda and other wildlife in China.
We use AbsolutePanda as company brand because of our deep love toward panda and our determination to create your absolutely enjoyable panda trips.
Since 2003, our professional tour leaders and wildlife experts have helped thousands of travelers gain an in-depth understanding of Giant Panda and their companion animals, enjoy stunning scenery all over China and explore the authentic local culture.
• Exclusive Quality & Value Guarantee.
We define our quality by well-designed itineraries, stunning destinations, creative interactions, small groups, professional guides, and reasonable prices.
• Explore China in comfort and your style.
We understand each traveler is different. In addition to selected accommodations, meals and vehicles, we would like to show you the real China by an authentic experience with incredible wildlife and lovely locals.
We believe the best way to help wildlife is through love and appreciation. By bringing nature lovers to enjoy the beauty of nature in China, we hope that local people can know the value of wildlife and learn how to love and appreciate those beautiful creatures living near their villages.
Map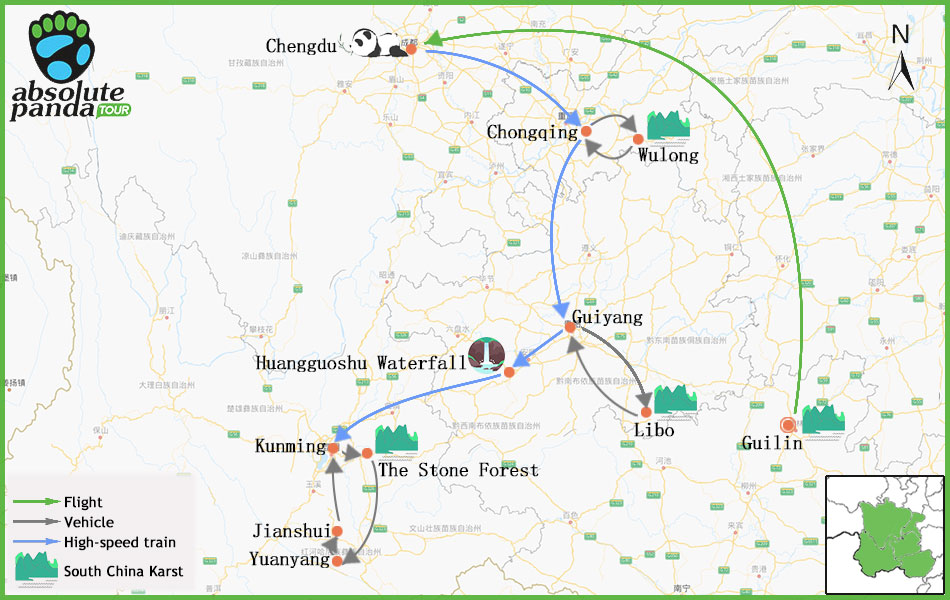 Map of 16 Days Highlights of Southwest China
Itinerary


Outline:

Day 1. Guilin Arrival. (D)
Upon your arrival, the AbsolutePanda team member will pick you up and escort you to the hotel. You are free to explore the nearby city landscape. Overnight: Guilin

Day 2. Guilin-Yangshuo. 70km 1.5h (BLD)
In the morning we drive from Guilin to Yangshuo. Take a bamboo raft cruise and explore Yangshuo. Overnight: Yangshuo

Day 3. Yangshuo-Guilin. 70km 1.5h (BLD)
Today we do a light hike around Yangshuo and back to Guilin to visit its landmark. Overnight: Guilin

Day 4. Guilin-Chengdu (By Air). (BLD)
We depart Guilin for Chengdu today and enjoy an authentic Sichuan meal. Overnight: Chengdu

Day 5. Dujiangyan Panda Volunteer Program. (BLD)
Spend a whole day doing Panda Volunteer Work in Dujiangyan. Overnight: Chengdu

Day 6. Chengdu-Chongqing (By High-speed Train)-Wulong. 170km, 2.5h (BLD)
After arriving at Chongqing, see the city landmarks, then drive to Wulong. Overnight: Wulong

Day 7. Wulong. (BLD)
Visit the incredible karst scenic area in Wulong. Overnight: Wulong

Day 8. Wulong-Chongqing 170km 2.5h-Guiyang (By High-speed Train). (BLD)
Visit Furong Cave in Wulong and head to Guiyang via Chongqing Train Station. Overnight: Guiyang.

Day 9. Guiyang-Libo. 250km 3.5h (BLD)
Drive from Guiyang to Libo and spend the afternoon visiting Xiaoqikong. Overnight: Libo

Day 10. Libo. (BLD)
Visit several natural attractions in Libo. Overnight: Libo

Day 11. Libo-Guiyang 250km 3.5h-Anshun (By High-speed Train). (BLD)
Drive back to Guiyang and spend some leisure time in Guiyang city, then take a train to Anshun. Overnight: Anshun

Day 12. Anshun-Kunming (By High-speed Train)-Yunnan Shilin. (BLD)
Visit Huangguoshu Waterfall then continue to take a train going to Kunming and rest nearby Yunnan Shilin (Yunnan Stone Forest). Overnight: Yunnan Shilin

Day 13. Yunnan Shilin-Yuanyang. 350km 5h (BLD)
Visit Yunnan Shilin in the morning, then head south to Yuanyang. Overnight: Yuanyang.

Day 14. Yuanyang. (BLD)
Enjoy and photograph Yuanyang Rice Terraces. Overnight: Yuanyang

Day 15. Yuanyang-Jianshui-Kunming. 270km 5h (BLD)
Drive back to Kunming via Jianshui County. Overnight: Kunming

Day 16. Kunming Departure. (B)
Escort you to the airport and the service ends.


Details:

Day 1. Guilin Arrival. Meals: D
Upon your arrival, the AbsolutePanda team member will pick you up and escort you to the hotel. You are free to explore the nearby city landscape.
Overnight: Guilin
Day 2. Guilin-Yangshuo. 70km 1.5h Meals: BLD
In the morning we drive from Guilin to Yangshuo. Be ready to be immersed in the scenery of vast groups of pinnacles that are belted by the jade-like Li River. The best part of Li River lies in one of its tributaries, the Yulong River. We will spend hours enjoying the Yulong River Cruise. Sitting on a comfortable bamboo chair of a non-motorized bamboo raft and slowly floating downstream, watching green-covered limestone mountains of different shapes passing by, you will realize that it is an ultimate grand view of the oriental countryside and only can be found in Yangshuo. Then we will discover the bustling streets of Yangshuo and taste the local food there.
Overnight: Yangshuo
Day 3. Yangshuo-Guilin. 70km 1.5h Meals: BLD
After waking up in the morning, we will be transferred to Xianggongshan to start an easy walk in the countryside for around 2 hours to the bank of the Li River, then we take a ferry boat to Xingping Town. Xianggongshan Hill is standing at the bank of Li River where it made a gentle turn. After climbing to the top, you will be face to face with a stunning whole picture of spectacular karst landscape. It is a perfect natural platform to take some great panoramic photos. Some said the journey to Guilin & Yangshuo is incomplete if you have not been there. We head back to Guilin and visit the famous landmark of Guilin, Xiangbi Hill (Elephant Trunk Hill) which resembles a giant elephant sipping water by its trunk.
Overnight: Guilin
Day 4. Guilin-Chengdu (By Air). Meals: BLD.
We say goodbye to Guilin today and fly to Chengdu, a city famous for its lifestyle, gastronomy, and pandas. After settled in, we will go to the city downtown and visit some signature places of Chengdu—People's Park, Kuanzhai Alley and Jinli Street. They are nice places to get a cup of tea and chat with locals, experience the "slow life" of Chengdu, taste local snacks and immerse in the local culture.
Overnight: Chengdu
Day 5. Dujiangyan Panda Volunteer Program. Meals: BLD
Today we will do the following schedule of the Dujiangyan Panda Volunteer Program. It will be once in a lifetime experience.
7:00-8:30 Meet your guide and driver at your hotel, then drive directly to Dujiangyan Panda Base.
8:30-9:00 Volunteer check-in, presenting document, briefing, signing papers, and changing clothes.
9:00-10:00 Cleaning the enclosure and preparing bamboo.
10:00-11:00 Free time to visit other enclosures for giant pandas, red pandas, and Asiatic Black Bear.
11:00-12:00 Feeding time.
12:00-13:00 Lunchtime.
13:00-15:00 Watch panda documentary movie and second feeding.
15:00-16:00 Repeat of morning work, much less work compared with morning.
16:00-17:30 Drive back to your hotel and rest while waiting for the dinner.
Overnight: Chengdu

Day 6. Chengdu-Chongqing (By High-speed Train)-Wulong. 170km 2.5h Meals: BLD
We take a train towards Chongqing and it will just take around 1.5 hours to reach the destination. Chongqing once belonged to Sichuan and was separated to be a provincial municipality. It is a mountainous metropolis with mountains, skyscrapers intersect with highway and metro. When walking in Chongqing, we will find ourselves in scenes which usually only be seen in futuristic films or artworks. It is also the most important port in the upper Yangtze River as we will visit its Chaotianmen port and the nearby Three Gorge Museum at the city center to see the culture and history of this great city. Then we head to our second karst site—Wulong.
Overnight: Wulong
Day 7. Wulong. Meals: BLD
Also being on the list of World Natural Heritage, Wulong Karst is featuring natural bridges, sinkholes (Tiankengs) and caves on a large scale. Today we will visit the site called "Three Natural Bridge" and "Longshuixia Fissure". "Three Natural Bridges" (Tianshengsanqiao) is a precious geographical system famous for magnificent natural stone arch bridges and the sinkholes below them. They are called Tianlong (Sky Dragon) Bridge, Qinglong (Green Dragon) Bridge, and Heilong (Black Dragon) Bridge. They form the largest natural stone bridges group in Asia, connecting mountains between valleys, forming into a marvelous spectacle. Very interestingly, a quaint courtyard is located in the Tainlong Bridge. It maintains a typical Chinese traditional architectural style of blue tile and gray walls. It was once an official post which was started in Tang Dynasty and called Tianfu Official Post. Longshuixia Gap, which was formed millions of years ago, has five kilometers long and five hundred meters depth, making it an adventurous and fantastic valley. Hiking along the fissure, you can see cliffs, original vegetation, and stream waterfalls everywhere.
Overnight: Wulong
Day 8. Wulong-Chongqing 170km, 2.5h-Guiyang (By High-speed Train). Meals: BLD
Today we will visit Furong Cave before going back to Chongqing. Furong Cave is a karst limestone cave and also an underground palace of arts. Its huge size, rich cave sediments not only attract cave experts around the world but also welcomed by many visitors home and overseas. Dizzying and different formations of limestone are found in this cave. The main attractions are Golden Halls, Leifeng pagoda, Fang's Crystal Flower, Animal Kingdom, Underwater Dragon Temple, Large Waterfall, and Coral Jade Pool, etc. It is named "The most beautiful cave in China" by China National Geographic magazine. In the late afternoon, we will board the high-speed train from Chongqing to Guiyang.
Overnight: Guiyang
Day 9. Guiyang-Libo. 250km 3.5h Meals: BLD
This morning after breakfast in Guiyang, we will drive to Libo. Libo Karst features with ancient remnant dense forest sitting on the karst formation like, which is hardly seen in China and even in the world. So in Libo, you can see more green in its karst sites. This afternoon we will visit Xiaoqikong Scenic Area. "Xiaoqikong" means seven holes. The name is after an ancient bridge with seven holes built during the Qing Dynasty across the beautiful Xiangshui River. This site contains green mountains, water, forests, caves, lakes, and waterfalls. Its natural setting is relatively "small" compared to Guilin and Wulong but with gentle and quiet green pools and culverts, delicate waterfalls, and thick forest cover on clusters of peaks. Working leisurely inside along the enchanting as charming Xiangshui River running through, your mind will be as refined as water, like a dragon out to sea.
Overnight: Libo
Day 10. Libo. Meals: BLD
Today we will continue our trip to Libo. Libo is a treasure pool of karst landscape, biodiversity, and ethnic culture. Exploring in the Maolan Nature Reserve, we will be immersed in endless clusters of small limestone hills all covered with green coats. There are more than 500 species of arbor species growing here. Among them are rare species such as Taxus chinensis and Kmeria septentrionalis. In addition to rare plants, many wild animals such as musk deer, macaques, wild boars are also can be seen. Besides the beautiful scenery of mountains and forests, villages of Yao ethnic are scattered among them, where pure ethnic minority customs and performances can be experienced. The reserve itself has a low degree of commercialization, making it a good place to appreciate the original nature.
Overnight: Libo
Day 11. Libo-Guiyang 250km, 3.5h-Anshun (By High-speed Train). Meals: BLD
Today we will depart from Libo to Guiyang. We will stay for a couple of hours in Guiyang while waiting for the train schedule. We will visit a local landmark and streets to see life here. Jiaxiu Pavilion is a beautifully designed traditional architecture. Sitting by the Nanming River, it had gone through numerous times and witnessed many stories and big changes. Now it has many cultural collections inside, especially outstanding Chinese calligraphy. Then we will take the train to Anshun, a famous tourist city for its big waterfalls.
Overnight: Anshun
Day 12. Anshun-Kunming (By High-speed Train)-Yunnan Shilin. 85km 1.5h Meals: BLD
Today we will visit Huangguoshu Waterfall which is among the biggest waterfalls in Asia and Guizhou's most famous tourist destinations. There are many waterfalls in this section of Baishui River due to the karst erosion and Huangguoshu stands out with its sheer size and beauty. With 77.8m high and 101m wide, the waterfall is stunning to watch and photograph on its well-equipped viewing platforms. Besides, we can have a light hike around to see other waterfalls and breath the fresh smelled air bringing by the huge water flows. After lunch, we will prepare ourselves to go to Kunming. Our accommodation will be near the Yunnan Shilin (Yunnan Stone Forest) as we will visit it tomorrow.
Overnight: Yunnan Shilin
Day 13. Yunnan Shilin-Yuanyang. 350km 5h Meals: BLD
It is an other-worldly world of Yunnan Shilin (Yunnan Stone Forest). Nature here becomes a sculptor, shaping stones into every shape you can imagine. The stone forest preserves and displays the most diverse karst forms. The tall limestone pillars, like sword, pillar, mushroom, and tower, are typical representatives of the stone forest. Besides, there are karst caves, camphor, karst lake, natural bridge, cliffs, cone peaks, etc. Almost all karst forms in the world are concentrated here, forming a panoramic map of karst geological and geomorphologic features. After visiting this natural miracle, we will head to Yuanyang to see another miracle. This time, it is created by humans.
Overnight: Yuanyang
Day 14. Yuanyang. Meals: BLD
Yuanyang Rice Terraces is one of the most famous rice terraces in the world. With a history of more than 1,200 years, it is a masterpiece left by the Hani people from generation to generation and praised as "The most beautiful mountain carving in China". It is composed of four parts: Bada Terraces, Tiger Mouth Terraces, Doyishu Terraces, and Qingkou Terraces. In the morning, we will go to Duoyishu to see the incomparable sunrise. You can not miss seeing the magnificent sunrise and sunset in Yuanyang Terraces. The Duoyishu Terraces is most special because of the golden clouds and misty fogs. The clouds reflected in the terraced fields, making them the photographers' favorite. The other thing to do here is to see the unique customs of the Hani village. Their culture is as colorful as their terraces.
Overnight: Yuanyang
Day 15. Yuanyang-Jianshui-Kunming. 270km 5h Meals: BLD
After saying goodbye to the beautiful terraces and the Hani people, we will be on the road back to Kunming. Taking a short stop at Jianshui County, you will feel fortunate to be there because it has many local snacks you may not have a chance to taste elsewhere, especially the ones made from Tofu. With fewer tourists visiting this county, it remains the original colorful folk culture created by many ethnics like Han, Yi, Dai and Miao together.
Overnight: Kunming
Day 16. Kunming Departure. Meals: B
AbsolutePanda Team will escort to the airport or train station. Thank you for choosing AbsolutePanda.

Notes:
1. If you need help in arranging a flight to Guilin from other major cities of China such as Beijing, Shanghai, Xian, or a departure flight from Kunming, please feel free to contact us, we are more than happy to provide any support we can to facilitate your trip planning.
2. The driving hours listed in the itinerary are just for your rough reference.
Dates & Prices


1. Dates

Feb. 19 to Mar. 6, 2024,2025
Feb. 19 to Mar. 6, 2024,2025

Email us to tailor-make a tour that can meet your taste, budget, and schedule best.


2. Prices

The AbsolutePanda team works hard to provide the highest-possible quality tour experiences at a fair price. However, after working in the travel industry for more than 20 years, our team knows that no two travelers are alike in terms of their travel styles, personal interests, choice of guides, and preferences in restaurants and hotels. For AbsolutePanda, our client's satisfaction is a top priority. To meet the needs of different clients and ensure you enjoy a trip suited to your preferences, you are welcome to email us with specific requests ranging from trip themes, guides, the grade and brand of vehicles, accommodations, restaurants, etc. We will try our best.

To ensure our guest the best trip, we set our minimum departure number at four travelers and the maximum departure number at ten travelers. That means the trip size is 4 to 10 participants.

The cost for a group of 4 to 10 people:
4190USD/PAX

Single supplement:
320USD/PAX

The cost includes:
1. Vehicles listed on the trip. Fuel, tolls, airport pick-up, and drop-off are included in the price. The size of the vehicle is based on the number of participants for this itinerary;
2. Air ticket from Guilin to Chengdu and train tickets listed in the itinerary;
3. An English-speaking senior guide for the whole trip;
4. Meals listed in the itinerary as BLD;
5. Bottled water and snacks;
6. Entrance charges listed in the itinerary;
7. China Domestic Travel Insurance;
8. Hotels and hostels listed in the itinerary.

The land cost excludes:
1. Alcoholic drinks during the meal;
2. Extra charges due to change of itinerary from client-side or factors beyond the control of AbsolutePanda such as natural disaster and governmental policy change;
3. Discretionary tips to the guide and driver;
4. All personal expenses, such as laundry service or for personal shopping;
5. Train tickets or airfare to Guilin and out of Kunming;
6. Any items not listed in the itinerary as included;
7. Entrance fee, car rental, or meals during your free time trip;
8. Single supplement.

Notes:
This trip price is based on two clients sharing one twin-bed room in 4-star standard hotels in big cities and local best guesthouses in a remote area. If you prefer to use a private room or we cannot find a roommate for you, then a single supplement will be added to your trip price.


3. Experienced Nature Guides

• Philip: A local guide born in the Sichuan Tibetan area with fluent English and basic Japanese, Philip is an exceptional photographer and had guided many trips all over China since 2004. As a nature lover himself, Philip also has a deep understanding of the relationship between the local community and nature.

• Bella: Born in Dali of Yunnan Province, from Bai ethnic family, Bella was brought up in a small county famous for ethnic Bai culture, abundant natural resources, and rich tourism resources. Bella is an expert in multiple fields, including birding, photography, food and ethnic culture. Bella is a big fan and great spotter of wildlife, a passionate bird guide, and an in-depth cultural interpreter. She loves sharing news and her pictures or videos of wildlife on social media. Though Bella is still very young, her passion, knowledge in nature and culture, fluent English and guiding expertise will make your trip truly enjoyable.

Notes:
1. Please note that our guides with specialized knowledge are not always available, especially during our busy season from April to October. If you have an on-planning trip, please contact us as early as possible so that we will block the date of our expert guide for you.
2. To our AbsolutePanda team, our clients' overall satisfaction with their trip is the top priority. We can create a different option to make it easier for you to choose a tour that fits your style and budget. If you prefer to travel in a different style than the option we've provided here, please feel free to contact us.
3. For travelers who hope to tailor-make the programs with their specific travel preferences in mind (transportations, hotels, exclusive privileges, and famous local experts), tailor-making a tour is the best way to ensure your desires are met. Please contact us with your specific needs and we will prepare an itinerary based on your expectations. Once you are satisfied, we will work out the cost and send it to you. Please feel free to ask any questions to learn more.
When you put your trust in our team, we are certain to help you enjoy an unforgettable travel experience in China!


Accommodations
AbsolutePanda firmly believes travel is an art. To ensure every trip with us is a great travel art for our clients, the AbsolutePanda team does all we can to consider every possible detail. The choice of hotels is an essential part of making a great trip. After many years of running a travel business, we have built up our network of cooperative hotels at different levels. We understand people are different in the choice of hotels when they travel. If you want to use some specific hotels, please feel free to let us know, we are delighted to book it for you at a competitive price to make the hotel choice better meet your taste, budget and travel style. We can either reserve a hotel with competitive price for you or simply include the hotel into your trip cost if possible. You are welcome to contact us and tell us your requests, we will do our best to create the best travel itinerary for your private use.
If you need help with hotel booking in other big cities of China at different styles and luxury levels (International-brand Hotels, Local Brand Hotels, Economical Hotels), please feel free to email our team at info@absolutepanda.com.
FAQs


1. When is the best time to tour Guilin?
Guilin is suitable for travelling all year round. Weather is warm and mild in Guilin and early spring in Guilin is comfortable for tourists because its pleasant temperature and moderate humidity.

2. What kind of special activities can we do in Chengdu?
Chengdu specialty features with traditional tea houses, Giant Panda, and Sichuan Opera. Besides, enjoying Sichuan cuisines in local authentic restaurants is very recommended.

3. What is the local favorite cuisine of Kunming?
Cross-the-bridge noodles, varieties of wild mushrooms, Steam Pot Chicken (herb-infused chicken cooked in a steam pot) are the local favorite dishes in Kunming.

4. Is there rock climbing in Yangshuo?
Yes, there is. Yangshuo is considered as the biggest rock climbing base in China. The unique karst formations have formed many hills of different shapes. The hard and clear crack, hole, and rock walls make it an ideal rock climbing destination. Lots of hills in height from a few dozen meters to hundreds of meters can satisfy your challenging need of different levels.

5. When is the best time to photograph Yuanyang Rice Terraces?
Yuanyang Rice Terraces give their best when they are filled with water. Due to the altitude, even though Yuanyang is on the Tropics, the rice it's harvested only once a year and this means that the fields are filled with water only from November until the beginning of March and this tour will start in February when the terraces are at best conditions to photograph.

Email us if you have any questions. Read our FAQ


Testimonials


The best travel company I have ever worked with
Where to begin? I am an international tour leader for natural habitat adventures. This team is our partner company, and for the last 5 years they have proved time and time again to be by far the best, most meticulous, detail oriented, experienced, and honest company I have ever encountered. These guys get it- travel is an art. They are focused on the experience, not the profit, and this is very rare in china. The founder, Philip, is one of the top birders and nature experts in sichuan, and is well respected throughout the province and beyond for al of his efforts to support local culture and conservation of wildlife. He is from remote Tibetan region and understands how to operate in the wild, unexplored regions of china- the real china. He is an excellent teacher and judge of character and has built an amazing team of loyal guides who cannot be topped. If you travel with these guys, you have made a wise decision.
--Brad
Date of experience
:
May 2017
Videos & Photos


Welcome to email us and share your trip video with us. Video Album of AbsolutePanda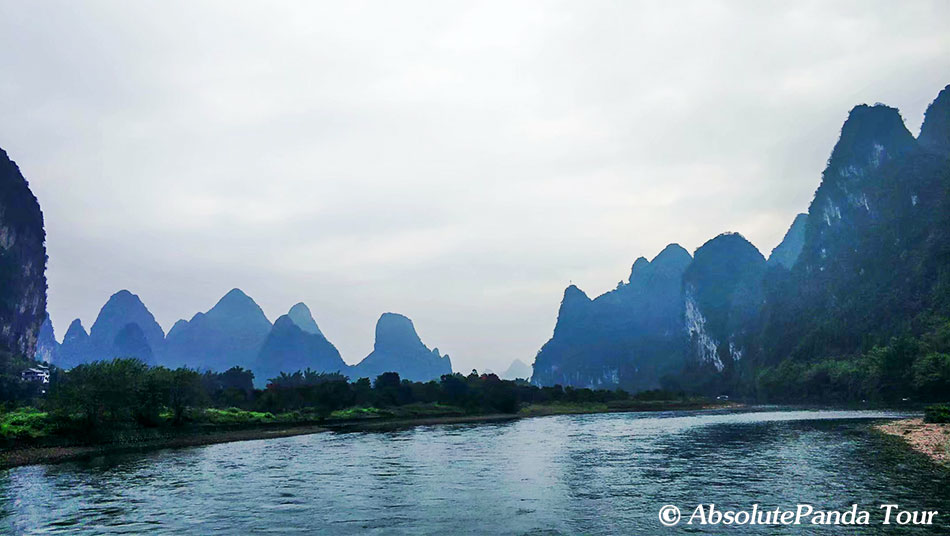 Other-worldly Guilin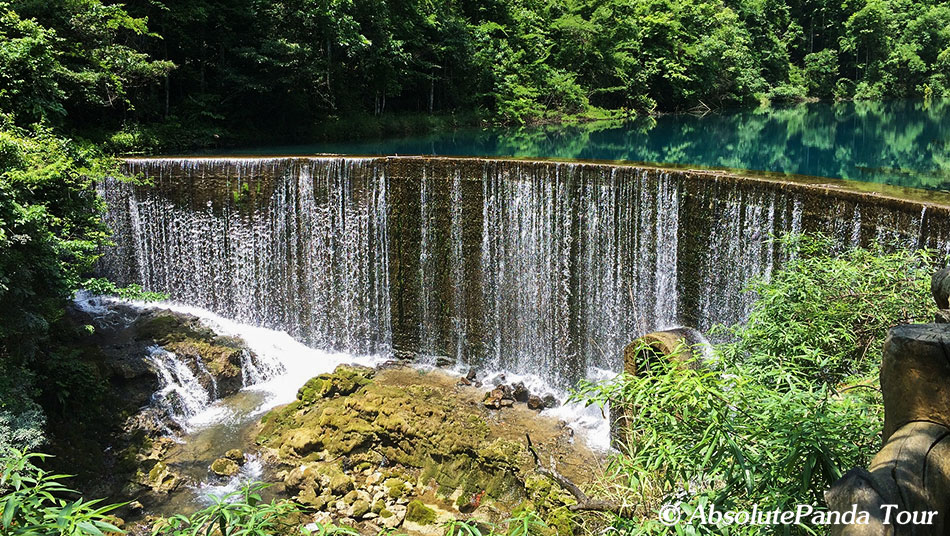 Xiaoqikong Scenic Area in Libo.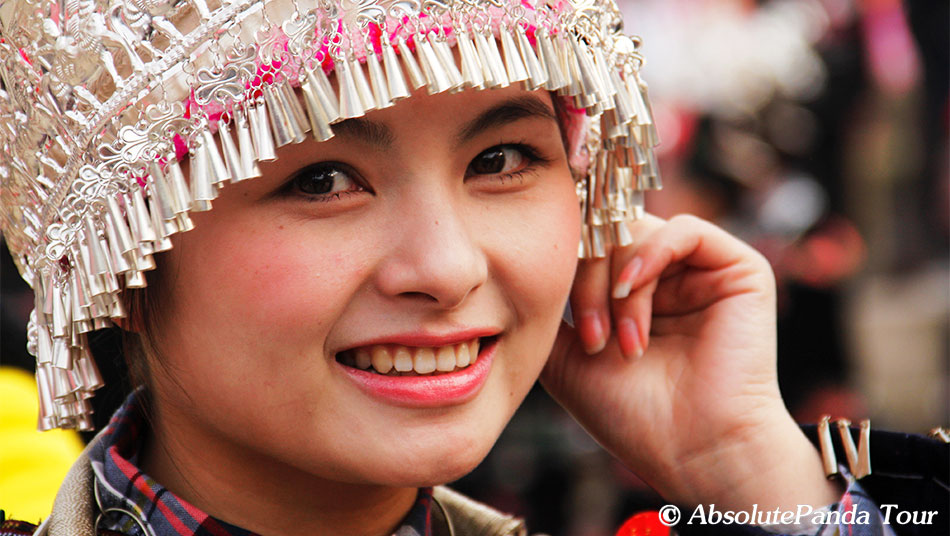 Beautiful Ethic Minority in Guizhou Province.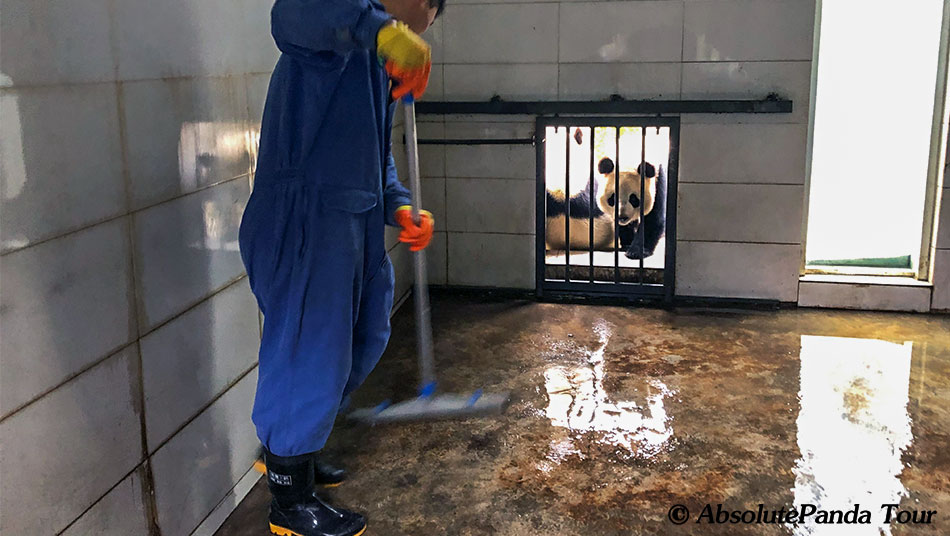 Learn to take care of Panda in Dujiangyan Panda Volunteer Program.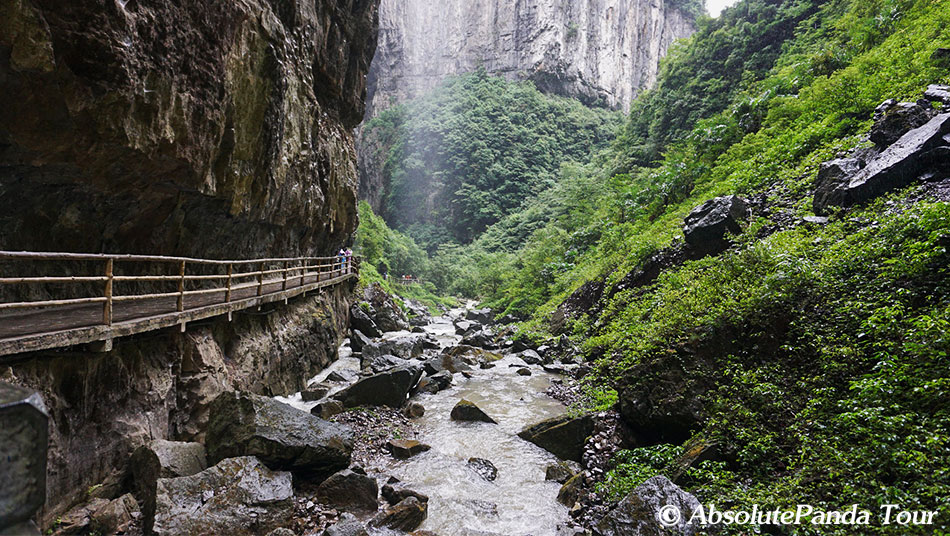 Scenery in Wulong.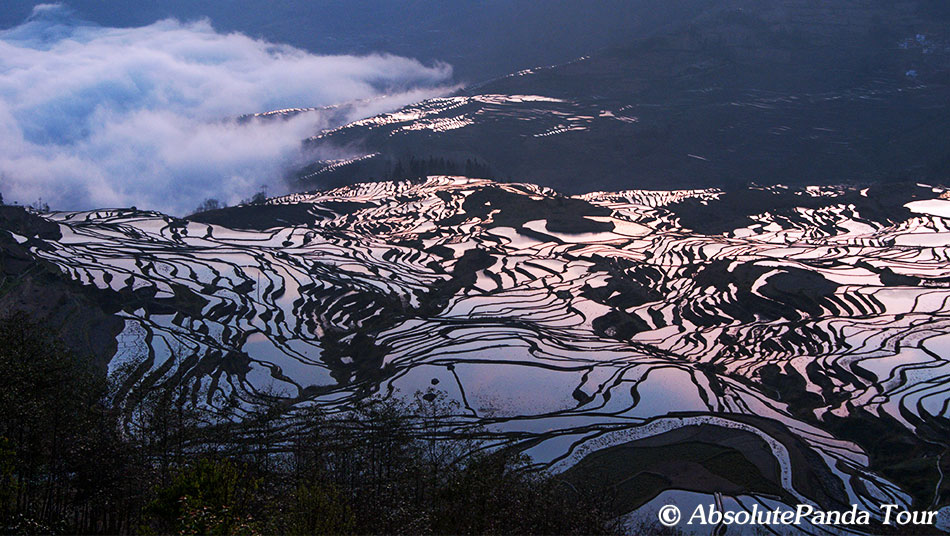 Yuanyang Rice Terraces
Welcome to email us and share your trip photo with us. Photo Album of AbsolutePanda