11 Days Exploring the Best of Sichuan
Date: Mar. 8 & Sept. 13, 2023, 2024
Price: From 2590USD/PAX
Trip Focus: Nature + Sichuan Province
Status: Open to Booking
Route: Chengdu-Leshan-Mt.Emei-Bifengxia-Anren-Wenchuan-Jiuzhaigou-Huanglong-Wenchuan-Chengdu.
Trip Code: N006
Overview


Famed as the "Land of Abundance" for nearly 2,000 years, Sichuan Province is blessed with a vast territory, varied climate conditions, and numerous tourist attractions—the misty Mount Emei, the enchanting fairyland of Jiuzhaigou, crystal clear ponds in Huanglong, the world largest stone Buddha in Leshan and beautiful giant panda habitats, just name a few. Nearly 80% of the world giant pandas live and breed in Sichuan, giving this province the title "Home of the Giant Panda". Sichuan also boasts of long history and rich culture. The ancient art crafts unearthed from the Chengdu Plain were produced in the earliest stage of Chinese civilization (2000-650 BC). Leshan Giant Buddha, built at 8th Century AD of the Tang Dynasty, is one of the most iconic figures for Buddhism statues in China. What's more, Sichuan cuisine is famous throughout the world and adds to the charm and individuality of this land. This 11-day trip is designed for travelers who hope to explore the best of Sichuan from both natural and cultural perspectives and will be guided by our senior guide who has great knowledge of both natural and cultural resources in Sichuan Province.


Highlights:

• Touring the essence of Sichuan's natural beauty by visiting UNESCO Heritage Sites—Mount Emei & Leshan Giant Buddha, Jiuzhaigou Valley, and Huanglong Scenic Area.

• Stepping into the Kingdom of Pandas by seeing and meeting pandas at Chengdu Panda Base and Ya'an Bifengxia Panda Base.

• Discovering the mysterious ancient and modern history, folk culture and life-style of Sichuan by lingering in Jinsha Site Museum, Anren Ancient Town.


Introduction to Trip's Destinations:


Chengdu Panda Base
Located 10km from downtown Chengdu, the breeding center is a surprising natural shelter amid in a big city. It is easy to forget that minutes-away the hustle and bustle of the urbanization. Pandas here thrive in their big enclosures, munching contentedly on bamboo, oblivious to the delighted visitors who come to see them. The base is very naturally connected with small bamboo tunnels forming paths that weave their way around the sprawling grounds. Captive red pandas also can be seen playing on the trees as well as swans and peacocks. Many birds have made this oasis their home in the city.


Jinsha Site Museum
First discovered by the construction workers in 2001, the Jinsha Archaeological Site soon becomes known nationwide for its unearthed treasures. Made from gold, jade, copper, bronze, ivory, etc., the articles found in Jinsha proved the continuing presence of Ancient Shu in the upper Yangtze River region. Jinsha Site Museum itself is a cutting-edge facility that showcases the art, culture, and lifestyle of the Ancient Shu in a sprawling complex as well as an open-air dig site.




Leshan Giant Buddha
Famed as being one of the world's biggest stone statues of Buddha, the Leshan Giant Buddha has to be seen to grasp its sheer enormity. Rising 71m from his feet to the tip of his head, the Giant Buddha stands to guard over the tempestuous confluence of the rivers that meet below him has become one of China's most iconic world heritage sites.





Mount Emei
About 160km southwest of Chengdu, towering over the nearby Emeishan City, lies the majestic Mount Emei. Being one of the Four Sacred Buddhist Mountains of China (the others are Mount Putuo, Mount Wutai, and Mount Jiuhua), Mount Emei is one of Sichuan's largest and most famous attractions. Listed as a UNESCO World Heritage Site, it is a wonderful place to visit if you seek for a dose of Chinese Buddhism culture and the chance to see the real fantastic natural scenery.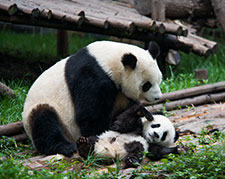 Bifengxia Panda Base
Located just a short drive from the city of Ya'an and a 2-hours drive from Chengdu, the Bifengxia Panda Base is widely considered one of the best of panda bases in Sichuan to visit because of its natural setting. The pandas here enjoy naturalistic enclosures placed against a tranquil temperate environment. It is very common to spot some pandas hanging on the branches of the parks' many trees.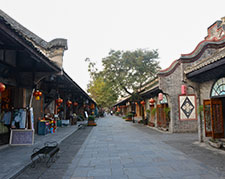 Anren Ancient Town
Favored by an influential family that dominated the political stage of Sichuan Province in the first half of the 20th century, It is a classic and well-preserved ancient town with special highlights of its architectural style and museums. Some mansions inherited the legacy of Chinese traditional designs and absorbed the special features of the western castle and churches. In recent years, Anren Ancient Town stands out as a big museum of architectures with 27 official mansions left by the family members. Here you can see one of the biggest collections of museums in China and most of them are quite interesting.


Jiuzhaigou Valley
The UNESCO Site of Jiuzhaigou Valley is unarguably one of the most stunningly beautiful natural gems in Sichuan. Covering a vast 720 square kilometers, it is a true natural splendor of vibrantly colored lakes, sweeping reed valleys, ferocious waterfalls, pine forests, and jagged snow-capped peaks. Even the park receives the intense attention of copious amounts of tour groups and buses sweep up and down the valley, its sheer size means you are never far from solitude and tranquility.




Huanglong
Huanglong sets within the Songpan County's mountains, with lush green forests surrounding the unique limestone rock formations which are internationally renowned as being one of the world's largest, undamaged karst landscapes. Huanglong is famous for its "Four Wonders," the colorful pool, snow mountain, canyon, and forest. In 1992, it was listed on the World's Natural Heritage List.





How Can We Make This Trip Special?

• Many times of running this itinerary for western nature lovers enables us to ensure your experience to get close to the essence of nature in Sichuan Province.

• A team of passionate guides specializing in flowers and birds with rich experiences of guiding and solid knowledge about wildlife and local places.

• Trips can be customized to better meet your travel style by centering on birding, flora searching, or other interests you like.

• 20-plus years of working in the travel industry and serving travelers from all over the world enable us to know how to make great trips for travelers of different travel styles.


What Makes AbsolutePanda Excellent?

• We are one of the premier travel companies focusing on panda and other wildlife in China.
We use AbsolutePanda as company brand because of our deep love toward panda and our determination to create your absolutely enjoyable panda trips.
Since 2003, our professional tour leaders and wildlife experts have helped thousands of travelers gain an in-depth understanding of Giant Panda and their companion animals, enjoy stunning scenery all over China and explore the authentic local culture.
• Exclusive Quality & Value Guarantee.
We define our quality by well-designed itineraries, stunning destinations, creative interactions, small groups, professional guides, and reasonable prices.
• Explore China in comfort and your style.
We understand each traveler is different. In addition to selected accommodations, meals and vehicles, we would like to show you the real China by an authentic experience with incredible wildlife and lovely locals.
We believe the best way to help wildlife is through love and appreciation. By bringing nature lovers to enjoy the beauty of nature in China, we hope that local people can know the value of wildlife and learn how to love and appreciate those beautiful creatures living near their villages.
Map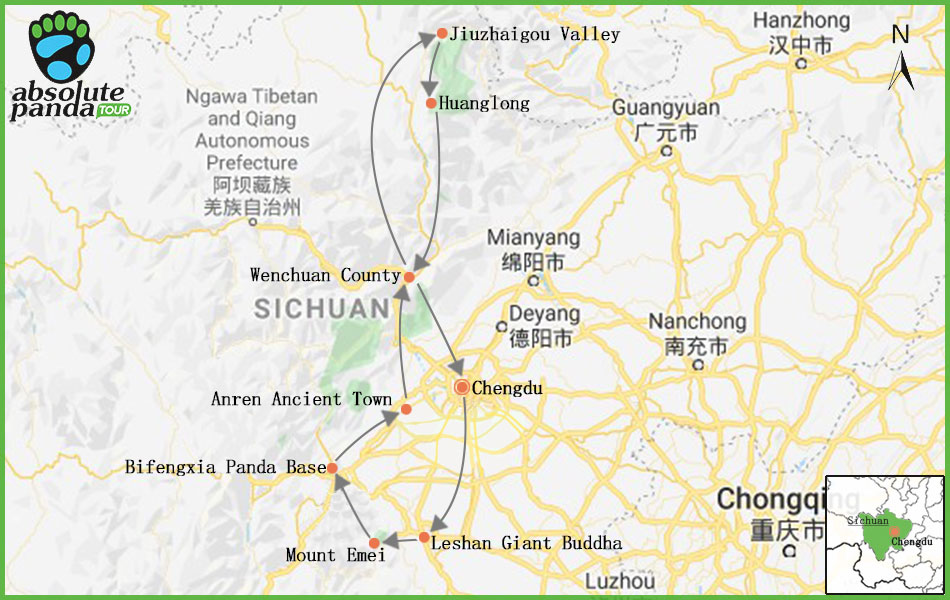 Map of 11 Days of Exploring the Best of Sichuan
Itinerary


Outline:

Day 1. Chengdu Arrival. (D)
Upon your arrival, AbsolutePanda Team will escort you to the designated hotel to rest. Overnight: Chengdu (500m)

Day 2. Chengdu City-Leshan. 140km 2h (BLD)
Visit Chengdu Panda Base in the morning, then explore Jinsha Site Museum before going to Leshan. Overnight: Leshan (400m)

Day 3. Leshan-Emei. 40km 1h (BLD)
See the Leshan Giant Buddha in the morning and head to Mount Emei. Overnight: Mount Emei (2,400m)

Day 4. Emei-Bifengxia. 120km 2.5h (BLD)
After touring Emei Mountain, we drive our way to Bifengxia, Ya'an. Overnight: Bifengxia (1,100m)

Day 5. Bifengxia-Anren. 120km 2h (BLD)
Have a good time in Bifengxia Panda Base and Bifengxia Gorge. Then drive to Anren Ancient Town. Overnight: Anren (500m)

Day 6. Anren-Wenchuan. 130km 2.5h (BLD)
Discover Anren Ancient Town before we drive to Wenchuan County. Overnight: Wenchuan (1,250m)

Day 7. Wenchuan-Jiuzhaigou Valley. 300km 6.5h (BLD)
Drive a long distance from Wenchuan to Jiuzhaigou with beautiful scenery alongside. Overnight: Jiuzhaigou Valley (2,200m)

Day 8. Jiuzhaigou Valley-Huanglong. 110km 2.5h (BLD)
After taking in the magnificent view of Jiuzhaigou Valley, we will head to Huanglong. Overnight: Huanglong (3,200m)

Day 9. Huanglong-Wenchuan. 240km 5h (BLD)
Visit Huanglong Scenic Area and head back to Wenchuan. Overnight: Wenchuan (1,250m)

Day 10. Wenchuan-Chengdu. 120km 2h (BLD)
Continue to drive back to Chengdu via Dujiangyan Panda Valley. Overnight: Chengdu (500m)

Day 11. Chengdu Departure. (B)
Escort you to the airport or train station timely and AbsolutePanda service ends.


Details:

Day 1. Chengdu Arrival. Meals: D
Upon your arrival, AbsolutePanda Team will escort you to the hotel. If you have some free time and energy, the AbsolutePanda team will more than glad to help you to explore some city landmarks.
Overnight: Chengdu (500m)
Day 2. Chengdu City-Leshan. 140km 2h Meals: BLD
A half-hour drive will take us from downtown to Chengdu Panda Base (Chengdu Research Base of Giant Panda Breeding). This early morning visit will give you a good chance to see most of the pandas' activities like climbing trees, rolling on the grass, and transforming to the lovely balls. The enclosures imitate the natural habitat of the giant panda and give them much space to play and rest. As we make our way to the at panda nursery, where the little ones sleep in incubators, our panda expert guide will share his/her knowledge about interesting things pandas and their conservation status. The base also offers up-close looks at red pandas, peacocks, many kinds of birds as well. After an authentic Sichuan Cuisine meal at a local popular restaurant, we head to the Jinsha Site Museum which is built on an archaeological site that was discovered within the city district of Chengdu. The museum is well a modern facility with brilliantly arranged exhibits and open archaeological pits. After seeing the museum, we will drive to Leshan.
Overnight: Leshan (400m)
Day 3. Leshan-Emei. 40km 1h Meals: BLD
In the morning we will visit the world-famous Leshan Giant Buddha before the coming of big crowds. It sits calmly on the confluence of three raging rivers and we take a short walk from the entrance to the top to see the sheer size of Buddha. The Buddha was constructed in the Tang Dynasty (618-907 AD) and has been preserved until today. Rising 71m from his feet to the head, with 3m long eyes and table-sized toes, Leshan Buddha is definitely among the biggest statues on planet earth. The head of the Buddha was covered with 1,021 neat buns while the huge ears were carved out of wood and linked to the statue with great precision and difficulty. The buns and the water channel on the ears are parts of a complex and highly efficient drainage system to direct water away from the statue's body. After saying goodbye to the Buddha, we will go to another place where nature goes perfectly with Buddhism. It's the Mount Emei, the UNESCO World Natural and Cultural Heritage Site.
Overnight: Mt. Emei (2,400m)
Day 4. Emei-Bifengxia. 120km 2.5h Meals: BLD
After waking up at the hotel on the mountainside, we will walk our way to the cable car station that leads to the top—the Golden Summit (3,099m). Along the way, we will be interested in the diversified subtropical flora and the well-integrated Buddism or traditional Chinese architectures. By seeing the natural beauty of this place, we can better understand why it was chosen as the anchor point of Chinese Buddhism. We may encounter some special hosts of this mountain, Tibetan macaques. They are wild groups but completely at home around tourists and formed a harmonious cohabitation with visitors though many tourists have been surprised by the monkeys' tricks of stealing things. After enjoying fantastic views and excitement on the cable car, we will set our feet on the Golden Summit. There are phenomenal attractions represented by the vast sea of clouds and the giant golden Samantabhadra Bodhisattva Statue. After a couple of hours, we start to climb down and drive to Bifengxia, Ya'an.
Overnight: Bifengxia (1,100m)
Day 5. Bifengxia-Anren. 120km 2h Meals: BLD
Bifengxia Panda Base is less crowded with people and in a more natural setting. It is only around a 2-minute walk away from our accommodation, saving much time and energy from us. We will spend leisure and peaceful half-day time with pandas here. Concluded our visit to the base, we take a comfortable hike in the Bifengxia Gorge. Located nearby the Bifengxia Panda Base, the Bifengxia Gorge has a breathtaking natural setting featuring panoramic views of the rugged temperate forests of Sichuan. This area is an ideal place for a leisurely hike in nature. We will continue our journey to Anren Ancient Town.
Overnight: Anren (500m)
Day 6. Anren-Wenchuan. 130km 2.5h Meals: BLD
As "the Exquisite Architectural Example of Western Sichuan", Anren Ancient Town is culturally rich and full of historical stories. Across the way into the town, we will find the old mansion complex of Liu Wencai, who was a big landlord and merchant 100 years ago. The Liu's Mansions are combined styles of the west and east, carved and painted with heavy black bricks and tiles, reflecting the drastic social change at that time. Behind every building is a wonderful story, and every corner hides the unspeakable mystery of history. We leisurely walk in the houses, commercial streets, schools, and teahouses built by the Liu family and watch local people trade, wander, drink tea. Nothing seems changed much since the 1930s. Another attraction of Anren is its museums. It has a total of 36 modern museums and 16 cultural and conservation units. The value and scale of existing cultural relics and the number of museums are among the best in small towns of China. There is a special one dedicated to the famous Flying Tigers during World War II, a group of American volunteer pilots who came to China and fought against Japanese invaders side by side with local Chinese soldiers. Before we drive to Wenchuan, we can have an authentic western Sichuan meal and taste some delicious local snacks.
Overnight: Wenchuan (1,150m)
Day 7. Wenchuan-Jiuzhaigou Valley. 300km 6.5h Meals: BLD
Today we start early and drive a long distance to Jiuzhaigou Valley. Songpan Ancient Town will be our resting point and place to have lunch. The town is located in a beautiful, verdant valley cut by the Min River which now flows through the middle of the town. Songpan grew to prominence during the Tang Dynasty, where its location made it a wonderful defensive strong point against raiders from the north and west. Today, the town is a hodgepodge of Muslim and Tibetan culture.
Overnight: Jiuzhaigou (2,200m)
Day 8. Jiuzhaigou Valley-Huanglong. 110km 2.5h Meals: BLD
In Jiuzhaigou, our main focus is on its natural beauty of mirror-like lakes, colorful ponds, magnificent waterfalls. We will spend the whole day in the park's beautiful valleys to explore the entirety of this heavenly-like place. The soul of Jiuzhai is water. There may be no other places in the world with such abundant waterscapes, including more than 100 crystal lakes, several waterfalls, and some incredible water shoals. The lakes (Haizi) have a filled with calcium carbonate, and the bottoms of lakes are highly visible even at depth. The lakes change their colors and expressions according to their depths, residues, and surroundings which is simply magical. Jiuzhaigou has a very rich biodiversity. We may encounter many kinds of birds and small animals as we are walking on the winding wooden planks of the park. At the doorstep of the virgin forest in Jiuzhaigou, we can have a glance at its rich genetic pools of plants. After taking in the magnificent view of Jiuzhaigou Valley, we will head to Huanglong.
Overnight: Huanglong (3,200m)
Day 9. Huanglong-Wenchuan. 240km 5h Meals: BLD
Huanglong is famous for its " Four Wonders," including the colorful pools of water, snow-capped mountains, canyons, and forests. We take a cable car to ascend the park. At the top of Huanglong, fantastic viewing platforms are over the Five-Color Ponds, the most highlight of Huanglong. It is easy to see why photographers and tourists are tightly bonded to the unparalleled beauty of this natural formation. After enjoying the picturesque landscape of this park, we will drive back towards Chengdu and rest in Wenchuan tonight.
Overnight: Wenchuan (1,150m)
Day 10. Wenchuan-Chengdu. 120km 2h Meals: BLD
After breakfast, we'll drive to Dujiangyan Panda Valley to see adorable panda bears again. The place not only provides a leisurely panda viewing experience to its guests but also plays a crucial role in the future of the species' preservation. Guests visiting Panda Valley will have ample opportunities to view pandas of all ages and stroll through a walk-through red panda exhibit. After we arrive Chengdu, the rest time is free to wander this lovely city and the experience ends after an authentic Sichuan cuisine.
Overnight: Chengdu (500m)
Day 11. Chengdu Departure. Meals: B
Escort you to the airport or train station in advance according to your departure time. Thank you for choosing AbsolutePanda.


Dates & Prices

1. Dates

Mar. 8 to 18, 2023,2024
Sept.13 to 23, 2023,2024

Email us to tailor-make a tour that can meet your taste, budget, and schedule best.


2. Prices

The AbsolutePanda team works hard to provide the highest-possible quality tour experiences at a fair price. However, after working in the travel industry for more than 20 years, our team knows that no two travelers are alike in terms of their travel styles, personal interests, choice of guides, and preferences in restaurants and hotels. For AbsolutePanda, our client's satisfaction is a top priority. To meet the needs of different clients and ensure you enjoy a trip suited to your preferences, you are welcome to email us with specific requests ranging from trip themes, guides, the grade and brand of vehicles, accommodations, restaurants, etc. We will try our best.

To ensure our guest the best trip, we set our minimum departure number at four travelers and the maximum departure number at ten travelers. That means the trip size is 4 to 10 participants.

The cost for a group of 4 to 10 people:
2590USD/PAX

Single supplement:
360USD/PAX

The cost includes:
1. Vehicles listed on the trip. Fuel, tolls, airport pick-up, and drop-off are included in the price. The size of the vehicle is based on the number of participants for this itinerary;
2. An English-speaking senior guide for the whole trip;
3. Meals listed in the itinerary as BLD;
4. Bottled water and snacks;
5. Entrance charges listed in the itinerary;
6. China Domestic Travel Insurance;
7. Hotels and hostels listed in the itinerary.

The cost excludes:
1. Alcoholic drinks during the meal;
2. Extra charges due to change of itinerary from client-side or factors beyond the control of AbsolutePanda such as natural disaster and governmental policy change;
3. Discretionary tips to the guide and driver;
4. All personal expenses, such as laundry service or for personal shopping;
5. Train tickets or airfare to and out of Chengdu;
6. Any items not listed in the itinerary as included;
7. Entrance fee, car rental, or meals during your free time trip;
8. Single supplement.

Notes:
This trip price is based on two clients sharing one twin-bed room in 4-star standard hotels in big cities and local best guesthouses in a remote area. If you prefer to use a private room or we cannot find a roommate for you, then a single supplement will be added to your trip price.


3. Experienced Nature Guides

• Philip: A local guide born in the Sichuan Tibetan area with fluent English and basic Japanese, Philip is an exceptional photographer and had guided many trips all over China since 2004. As a nature lover himself, Philip also has a deep understanding of the relationship between the local community and nature.

• Bella: Born in Dali of Yunnan Province, from Bai ethnic family, Bella was brought up in a small county famous for ethnic Bai culture, abundant natural resources, and rich tourism resources. Bella is an expert in multiple fields, including birding, photography, food and ethnic culture. Bella is a big fan and great spotter of wildlife, a passionate bird guide, and an in-depth cultural interpreter. She loves sharing news and her pictures or videos of wildlife on social media. Though Bella is still very young, her passion, knowledge in nature and culture, fluent English and guiding expertise will make your trip truly enjoyable.

Notes:
1. Please note that our guides with specialized knowledge are not always available, especially during our busy season from April to October. If you have an on-planning trip, please contact us as early as possible so that we will block the date of our expert guide for you.
2. To our AbsolutePanda team, our clients' overall satisfaction with their trip is the top priority. We can create a different option to make it easier for you to choose a tour that fits your style and budget. If you prefer to travel in a different style than the option we've provided here, please feel free to contact us.
3. For travelers who hope to tailor-make the programs with their specific travel preferences in mind (transportations, hotels, exclusive privileges, and famous local experts), tailor-making a tour is the best way to ensure your desires are met. Please contact us with your specific needs and we will prepare an itinerary based on your expectations. Once you are satisfied, we will work out the cost and send it to you. Please feel free to ask any questions to learn more.

When you put your trust in our team, we are certain to help you enjoy an unforgettable travel experience in China!
Accommodations


AbsolutePanda firmly believes travel is an art. To ensure every trip with us is a great travel art for our clients, the AbsolutePanda team does all we can to consider every possible detail. The choice of hotels is an essential part of making a great trip. After many years of running a travel business, we have built up our network of cooperative hotels at different levels. We understand people are different in the choice of hotels when they travel. If you want to use some specific hotels, please feel free to let us know, we are delighted to book it for you at a competitive price to make the hotel choice better meet your taste, budget and travel style. We can either reserve a hotel with competitive price for you or simply include the hotel into your trip cost if possible. You are welcome to contact us and tell us your requests, we will do our best to create the best travel itinerary for your private use.

If you need help with hotel booking in other big cities of China at different styles and luxury levels (International-brand Hotels, Local Brand Hotels, Economical Hotels), please feel free to email our team at info@absolutepanda.com.


FAQs


1. What are the differences between Bifengxia Giant Panda Base and Chengdu Research Base of Giant Panda Breeding?
Both bases are very good places to see pandas, though each has its own charms. Located to the northeast part of Chengdu City proper with only half-hour drive from the city center, Chengdu Research Center of Giant Panda Breeding (Chengdu Panda Base) is bigger and closer but it is also more crowded. Bifengxia Panda Base is about 2 hours drive from the city center. It has a smaller number of pandas and visitors, but you will get to see pandas in more nature-like habitat than the one in Chengdu. There are also volunteer programs at Bifengxia Giant Panda Base.

2. The summit of Mt. Emei stands at 3,099m above the sea levels, is there any problem of such high altitude?
Based on our experience from past trips, we haven't got any problems with attitude in Emei. Particularly because we have to climb up from mountain side. The climbing gives us enough time for our body to adjust to the elevation change. If you do not have full confidence, you can also consult your personal doctor before the trip.

3. Can you tell me the story behind the name of Jiuzhaigou?
It is officially known as Jiuzhai Valley in English but commonly translated as Jiuzhaigou Valley. Jiuzhaigou literally means "the nine villages' valley." In Chinese, Jiu means nine, Zhai means village, and Gou means valley. The nine Tibetan villages are Heye, Jianpan, Yana, Panya, Guodu, Zechawa, Heijiao, Shuzheng, and Rexi.

4. Can we choose a boat trip to see the Leshan Giant Buddha? How long does the river cruise take to view Leshan Giant Buddha?
Of course. Please inform us before the trip start and we can arrange it for you. It will take about 30 minutes. You may wait for a while on board. From the boat, you can see the full view of the Leshan Giant Buddha.

5. If we arrive Chengdu earlier before the tour, what are the suggested places to visit and activities to do in Chengdu?
Chengdu is full of wonders and vitality. We are more than happy to recommend more to you through further communication.

Here are more recommended places to go or activities to do in Chengdu:

Wuhou Shrine
Wuhou Shrine is located not far from the city center and in memory of the heroes of the Shu Kingdom. Have you read about the stories of Three Kingdoms? It is one of the best places to know about this period of history.
Wenshu Monastery
Wenshu Monastery (Manjushri Monastery) was originally built in the Tang dynasty over 1200 years ago. Unlike many monasteries, it is located in the city downtown. Exquisite architectures and statues allow you to flashback to the day when Buddhism was at its peak in ancient China.
Play Mahjong and drink tea
In Chengdu, Mahjong is a way of life. It is quite an interesting challenge and fun to play. Many citizens in Chengdu are addicted to this old laid-back tea houses. Fast change lifeways are inevitable in China but you still can enjoy a peaceful time in the city with a cup of tea.
Watch Magical Face-changing Show
In Sichuan opera, Face-changing Show is the most important element. Actors use some magical and superb skills to perform a visible stunt and express the characters' invisible mood.

Email us if you have any questions. Read our FAQ


Testimonials
Superb & efficient service, great for custom tours in Sichuan
Me and my partner just returned from one of the best overseas trips we've ever done, thanks to Absolute Panda, and especially Vivian (our guide), Philip and Lily.
Philip and Lily helped us chalk out a custom 8-day Sichuan itinerary, and were unfazed by the number of questions and changes we sent them. If you are clear about your interests and the pace you prefer, you can trust them to plan your perfect trip. Both were very quick to respond on email. They also helped us with the letter for the Chinese visa. Our impression from the emails was of a reliable and honest company that goes the extra mile, and our experience provided ample evidence of the same.
Our guide Vivian and our driver, Mr. Deng, met us as agreed at Jiuzhaigou with a large 7-seater car. We then set off on a 8-day tour that turned out to be an *absolutely* perfect mix of nature, wildlife, culture and food. We can't praise Vivian enough. Her English is very good and she is a natural conversationalist. She is the perfect tour-guide: cheerful, smart, and superbly resourceful. From keeping coffee ready for us at breakfast (she had brought coffee and a French-press along for the trip), to dispensing hand sanitizer and snacks, she seemed to materialise things for us even before we asked. We felt utterly spoilt.
With Vivian, Sichuan really came alive for us. We saw it through the eyes of a well-informed, well-travelled and sensitive young person from the region. She would dart into shops and show us interesting, everyday things (and the locals seemed amiable too). At the crowded Jiuzhaigou park, she found us quiet trails and spaces to sit. We realised just how many cultural references we would have missed without her.
This is our first time travelling with our own tour guide, and we can't imagine doing China again without one--without Vivian, to be precise. :)
We are both vegetarian and were a bit apprehensive about the availability of vegetarian choices, but with Vivian, it was a non-issue. We ate at small, atmospheric local restaurants as was our stated preference, and left it to Vivian to order for us. She made sure we never had the same dish twice during our trip. We would stop and buy things at local markets and then, at our next stop, Vivian would persuade the restaurant to cook it for us. If we discussed a certain vegetable or dish one day, Vivian would make sure we had it on the next. She shared her favourite dishes with us like a good friend would. In general, Absolute Panda are well-attuned to the global traveller (see the bit about coffee above), and seem familiar with food preferences and even allergies. In fact, Vivian brought along some Western snacks and soft drinks, for us but we didn't need them. We were, however, as South Indians and coffee-lovers, very grateful for the coffee.
In summary, I would recommend Absolute Panda to anyone who wants a real experience of China. About halfway into our trip, we realised that their excellent service made our trip seem luxurious in the nicest possible way. We can't wait to travel with them again!
One note about payment options since other reviewers have commented on it. They were flexible about payment options--we paid the advance via Paypal and the rest by credit card at their office in Chengdu. If, like us, you're from a non-tipping culture, I would recommend factoring in tips for the guide and driver into your costs, especially if you're doing a long trip. We checked with Philip about the usual range.
Date of experience: May 2016
Welcome to email us and be our guests to write the feedback for us. Testimonial of AbsolutePanda
Videos & Photos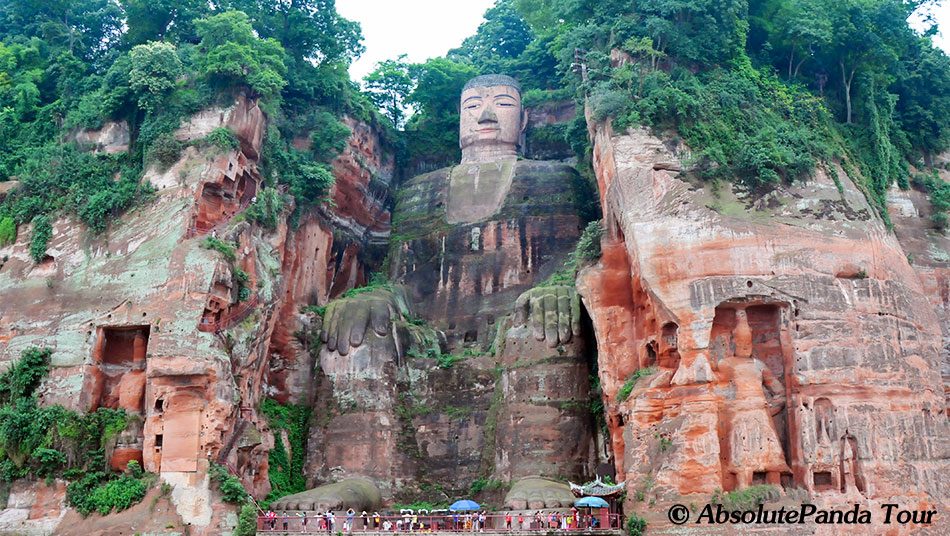 Leshan Giant Buddha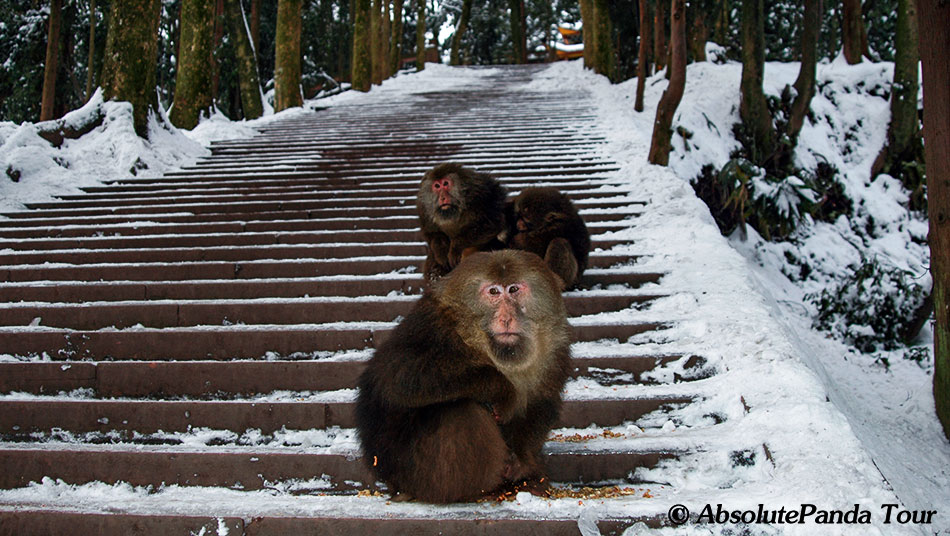 Tibetan Macaques of Mt. Emei.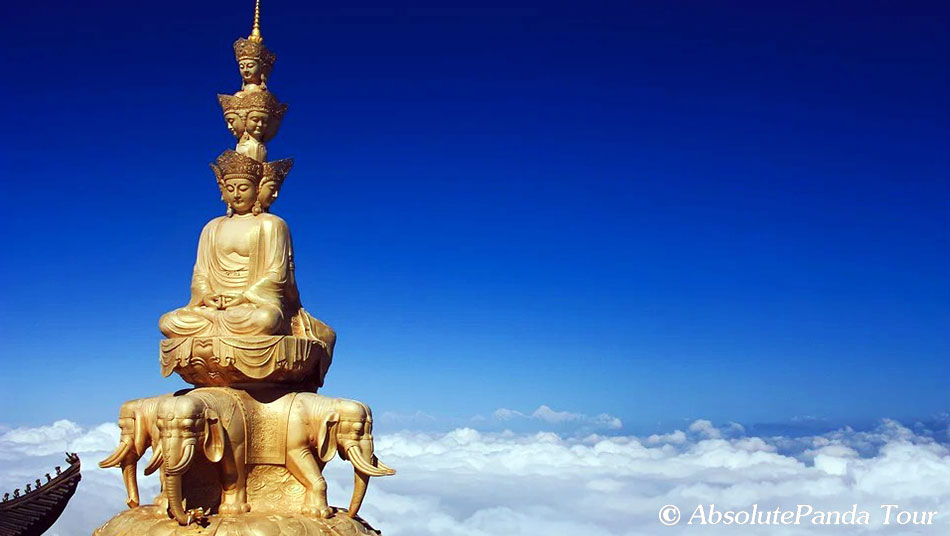 Giant Buddhism statue and sea of clouds at the Golden Summit.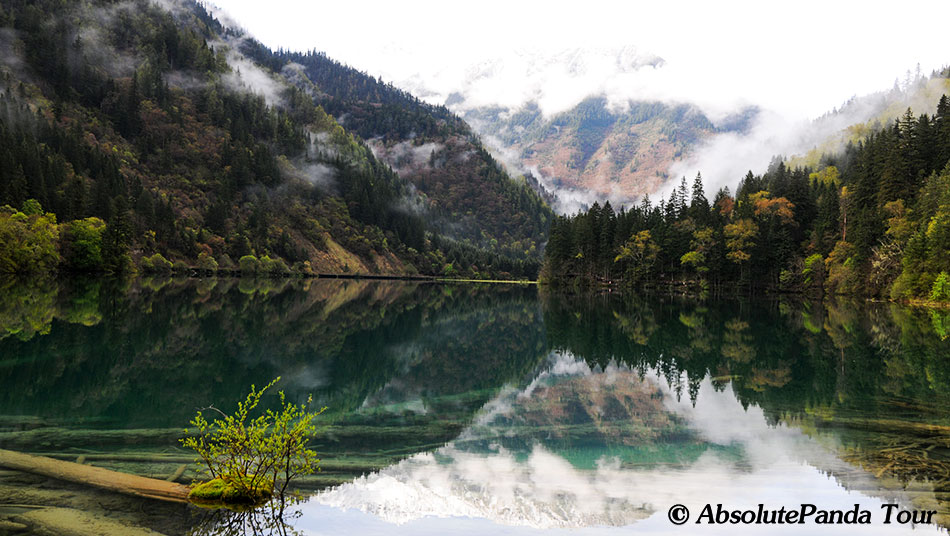 Lakes in Jiuzhaigou are like mirrors.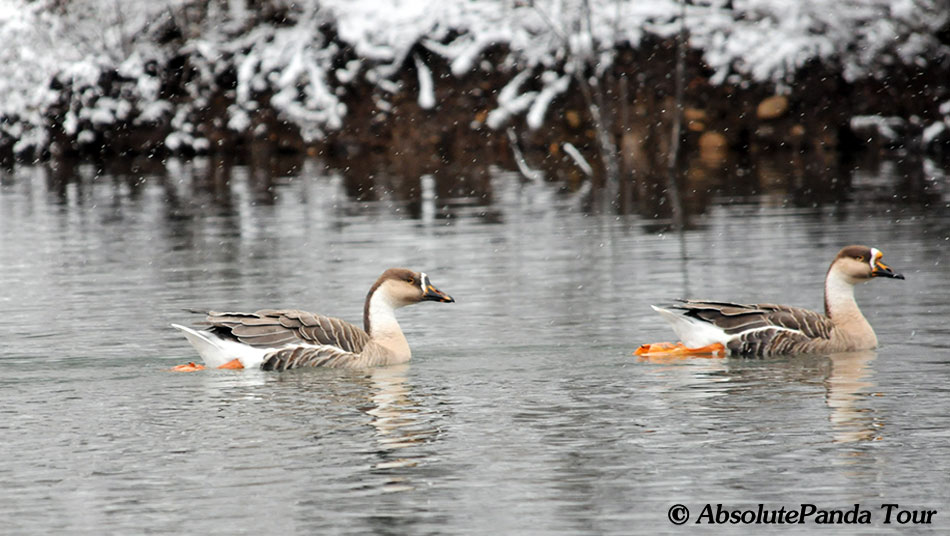 Sichuan is an important sanctuary for migrant birds.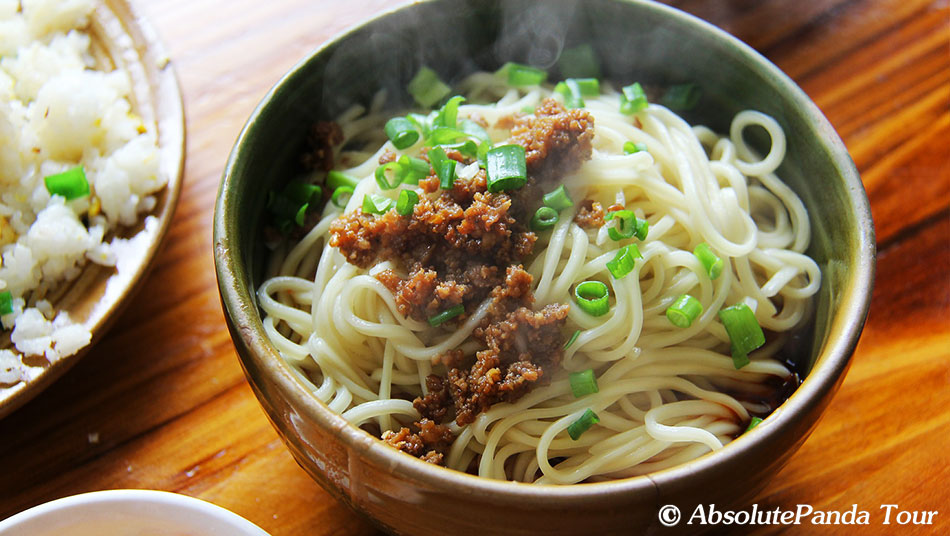 Chengdu's famous Dandan Noodle.
Welcome to email us and share your trip photo with us.
Photo Album of AbsolutePanda