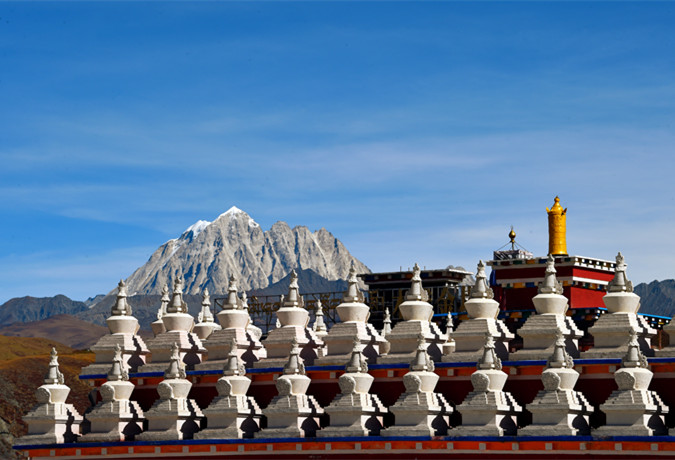 11 Days Journey to Find the Real Shangri-La
Date: Oct. 24 & Nov. 7, 2023, 2024
Price: From 2750USD/PAX
Trip Focus: Nature + Shangri-La
Status: Open to Booking
Route: Chengdu-Maerkang-Danba-Xinduqiao-Litang—Shangri-La Town—Deqen—Shangri-La City—Lijiang.
Trip Code: N004
Overview
After being introduced to the world by the novel Lost Horizon written by the British novelist James Hilton in 1939, Shangri-La has become a synonym for paradise and a dream place to travel for lots of intrepid adventurers. Though Shangri-La is a fictional name from Tibetan mythologies and the reallocation is still controversial, it is based on the adventure stories of Joseph Rock in the east edge of Tibetan Plateau and its charm increases day by day because of the lofty and continuous snowy mountains, endless grasslands, steep and grand gorges, azure lakes, bucolic villages, and solemn Tibetan monasteries existed in the Grand Shangri-La area. The whole Shangri-La area is a paradise for photographers, nature lovers, plant hunters, and culture enthusiasts.

This trip starts from Chengdu, the hometown of Giant Panda, and one of the top cities to travel in China. Then we drive through a unique ethic corridor featuring Qiang, Jiarong Tibetans, and Kangba Tibetans. The driving road is famed as one of the most beautiful driving roads in China. Our trip includes visits to some of the most beautiful Tibetan villages, interaction with local Tibetans, touring some of the most prestigious Tibetan monasteries, and photographing some of the most breathtaking scenery in China.
Highlights:
•
Hike in two of the best nature reserves in China, Daocheng Yading Nature Reserve, and Pudacuo Nature Reserve.
•
Meet some of the most solemn and majestic snow mountains in the world—the Yala Snow Mountains, "Three Holy Mountains" of Yading, Baima Snow Mountain, and Meili Snow Mountain.
•
Visit and accommodate in the Danba Tibetan Village to experience the idyllic life of Tibetans; join and talk with the religious prayers in Songzanlin Monastery, one of the most gorgeous monasteries in Kangba Tibetan Area.
Introduction to Trip's Destination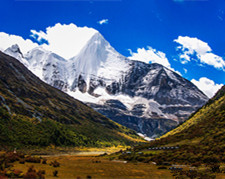 Daocheng Yading Nature Reserve
In July 1931 of National Geographic, more than 60 pages of articles and photographs about Dr. Rock's travels in the Daocheng Yading region were published. The world, for the first time, had known the incredible beauty of Yading. The most eye-catching spots in the park are the Three Holy Mountains—Xiannairi (Chenresig, represent compassion in Tibetan), rising to 6,032 meters, Xianuoduoji (Chana Dorje, power) and Yangmaiyong (Jampelyang, wisdom), which both rise to 5,958 meters. These 3 snow-capped peaks sit in a triangle formation, guarding the colorful forested valleys, crystal-clear rivers, glacier-fed lakes, and abundant wildlife between them. Due to its unique landform and original natural scenery. It is known as "The Soul of Shangri-La" and "the last pure land on the watery blue planet" by international travelers and photography lovers.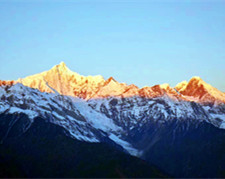 Meili Snow Mountain
Meili Snow Mountain, located in the hinterland of China's Hengduan Mountains, which is the core part of the World Natural Heritage Site "Three Parallel Rivers". The snow mountain is a geological wonder with the spectacular scenery of lofty peaks and deep gorges. It is also a well-known sacred mountain for Tibetan Buddhism. Every year, hundreds of thousands of pilgrims go to the mountains to make pilgrimages. The main peak of Meili, Kawaboge (Kawagambo, 6,740m) has been attracting people from home and abroad to come for hiking, researching, and sightseeing for its endless charm. Though most of the time it hides in the clouds, when it comes out under the sunshine, every minute of waiting is beyond worthy.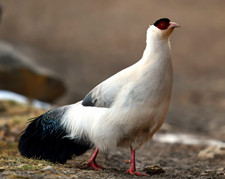 Pudacuo Nature Reserves
Pudacuo Nature Reserves is located in Diqing Tibetan Autonomous Prefecture, Yunnan Province. Known as the first national park in China, Pudacuo boasts unique geological landforms and vast areas with abundant natural resources. The scenery of this park varies from season to season. The bright flowers in spring, the lush grasslands in summer, and the serene lakes in winter are among the best to see in each season. Autumn is the most recommended with color-changing woods forming many layers in the horizon. Pudacuo has been a piece of paradise for a long time thanks to the preservation and protection of the local Tibetans. It resembles the harmony between man and nature, which is the spiritual essence of Shangri-La.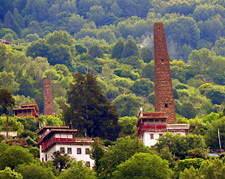 Danba Tibetan Village
Danba Tibetan Village is located in Danba County, Ganzi (Garzê) Autonomous Prefecture. It is one of the most distinctive Tibetan villages in the whole Tibet. The village merges naturally with the landscape with a relative height difference of nearly 1000 meters from the bottom to the top of the hillside. A cluster of Tibetan buildings scatters in green covers, forming a pastoral idyllic life picture scroll. The Danba Tibetan Village was named the first among the "Six Most Beautiful Rural Ancient Towns in China" by China National Geographic.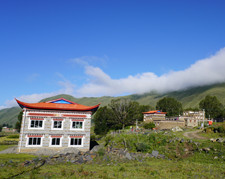 Xinduqiao
Famed as the paradise for photographers, Xinduqiao is a small Tibetan town located on the south of No. 318 National Road, 437km from Chengdu, 80km from Kangding City. The beautiful villages located by both sides of a river winding its way through this area, offering lots of unique chances to photograph beautiful alpine pasture scenery in perfect match with Tibetan houses, rolling mountain ranges and grazing yak herds with nomad tents.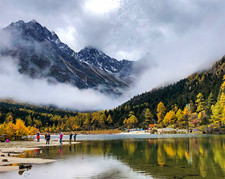 Bipenggou Valley
Located in Lixian County, a 3-hour drive from Chengdu, Bipenggou Valley is pleasant and picturesque scenic spots. The scenery in Bipeng Valley is intoxicating. The murmuring mountain stream, the glittering and translucent carving of the snow-capped peaks, and the reflection of colorful trees in the water together create a series of charming paintings of mother nature.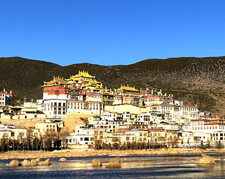 Songzanlin Monastery
Songzanlin Monastery (Ganden Sumtsenling Monastery) is the largest Tibetan monastery in Yunnan Province and has a big influence in the Kham Tibetan area as it is the center of the Yellow Hat (Gelug Sect) in Sichuan and Yunnan. It also plays a pivotal role in the whole Tibetan region and is known as the "Little Potala Palace". The Monastery is built close to the mountain and looks like a splendid castle. It has a priceless collection of Tibetan outstanding artifacts and is also called the "Tibetan Art Museum".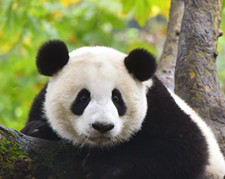 Chengdu
In comparison with the indefinite "Shangri-La", Chengdu has been called "Land of Abundance" for more than 2000 years and recognized as one of the best cities for tourism in China. Famous for outstanding cuisine, long history, distinctive traditional arts, and being the ultimate destination to view giant pandas, Chengdu is among the best destinations of China. Unlike other metropolises with more than 14 million people, Chengdu could still offer travelers a laid-back experience in its panda bases, traditional tea houses, authentic Sichuan restaurants, and Face-changing Shows.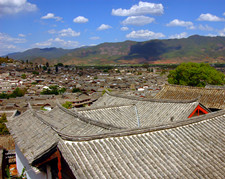 Lijiang
Lijiang is a famous historic and cultural city. The Old Town of Lijiang has no walls but is well linked up by clean stone roads and elegant old bridges. The network of water supply and drainage systems, flowing through the well-arranged traditional civil architectures sitting alongside, is said to be among the best and most scientific in ancient China. As an important transfer stop of the Southern Silk Road and the Ancient Tea Horse Road, Lijiang is the place where many cultures have been colliding and evolving. The centuries-old native Dongba Culture elements co-exist well with the western-style bars, letting people feel a sense of Utopian and romantic atmosphere here.
How Can We Make This Trip Special?
•
Many times of running this itinerary for western nature lovers enables us to ensure your experience to get close to the essence of nature in western China.
•
A team of passionate guides specializing in flowers and birds with rich experiences of guiding and solid knowledge about wildlife and local places.
•
Trips can be customized to better meet your travel style by centering on birding, flora searching, or other interests you like.
•
20-plus years of working in the travel industry and serving travelers from all over the world enable us to know how to make great trips for travelers of different travel styles.




What Makes AbsolutePanda Excellent?
• We are one of the premier travel companies focusing on panda and other wildlife in China.
We use AbsolutePanda as company brand because of our deep love toward panda and our determination to create your absolutely enjoyable panda trips.
Since 2003, our professional tour leaders and wildlife experts have helped thousands of travelers gain an in-depth understanding of Giant Panda and their companion animals, enjoy stunning scenery all over China and explore the authentic local culture.
• Exclusive Quality & Value Guarantee.
We define our quality by well-designed itineraries, stunning destinations, creative interactions, small groups, professional guides, and reasonable prices.
• Explore China in comfort and your style.
We understand each traveler is different. In addition to selected accommodations, meals and vehicles, we would like to show you the real China by an authentic experience with incredible wildlife and lovely locals.
We believe the best way to help wildlife is through love and appreciation. By bringing nature lovers to enjoy the beauty of nature in China, we hope that local people can know the value of wildlife and learn how to love and appreciate those beautiful creatures living near their villages.
Map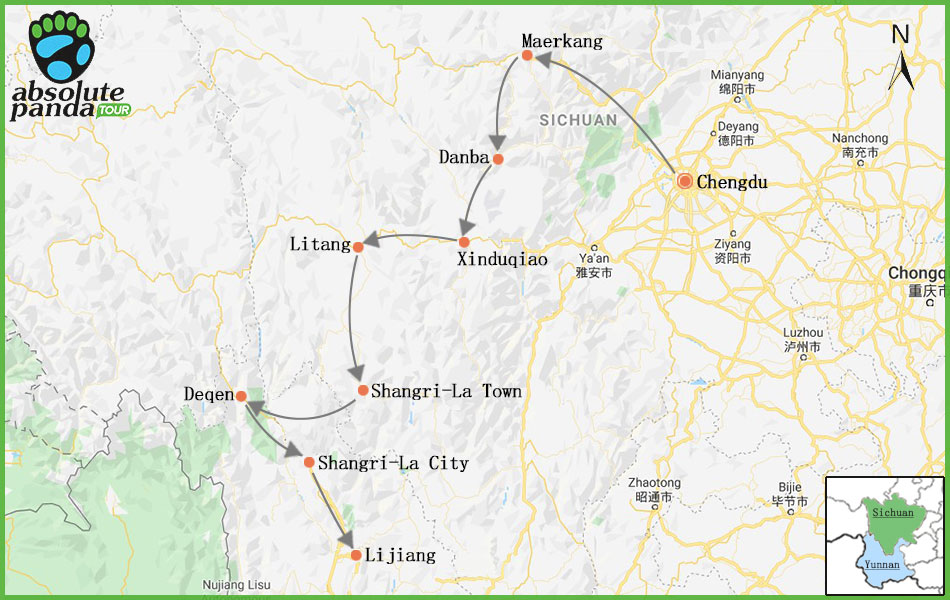 Journey to Find the Real Shangri-La Trip Map
Itinerary
Outline:
Day 1. Arrive Chengdu. (D)
Meet AbsolutePanda and escort you to your hotel. Overnight: Chengdu (500m)
Day 2. Chengdu-Bipenggou-Maerkang. 332km 5.5h (BLD)
Visit Bipenggou Valley and then we drive to Maerkang. Overnight: Maerkang (2,700m)
Day 3. Maerkang-Danba. 207km 6h (BLD)
We head to Danba and rest in Danba Tibetan Village. Overnight: Danba (2,000m)
Day4. Danba-Yajiang. 210km 5h (BLD)
Drive to Yajiang via Tagong Grassland and overlook Yala Snow Mountain. Overnight: Yajiang (2,650m)
Day 5. Yajiang-Litang—Shangri-La Town (Riwa). 350km 7h (BLD)
Depart from Yajiang and have lunch at Litang. Overnight: Shangri-La Town (3,000m)
Day 6. Shangri-La Town. (BLD)
Visit the scenic area in Daocheng Yading Nature Reserve. Overnight: Shangri-La Town (3,000m)
Day 7. Shangri-La Town—Deqen. 319km 8h (BLD)
Drive a long distance from Shangri-La Town to Deqen. Overnight: Deqen (3,200m)
Day 8. Deqen—Shangri-La City (Zhongdian). 170km 3.5h (BLD)
Overlook incredible sunrise at Meili Snow Mountain and drive to Shangri-La City. Overnight: Shangri-La City (3,300m)
Day 9. Shangri-La City. 165km 3.5h (BLD)
Explore Pudacuo National Park. Overnight: Shangri-La City (3,300m)
Day 10. Shangri-La City—Lijiang. 225km 5h (BLD)
Visit Songzanlin Monastery in the morning. Catch the beautiful night view of Lijiang. Overnight: Lijiang (2,200m)
Day 11. Lijiang Departure. (B)
Escort you to the airport timely according to your flight schedule.
Details:
Day 1. Arrive Chengdu. Meals: D
AbsolutePanda Team will pick you up at the airport and escort you to the hotel to have a good rest.
Overnight: Chengdu (500m)
Day 2. Chengdu-Bipenggou-Maerkang. 332km 5.5h Meals: BLD
In the morning, we drive 3-4 hours to Bipenggou Valley. As the "starter" of our trip, Bipenggou Valley has a fine view of crystal lakes and distant genuine snow-covered mountains. Especially in the late autumn, Bipenggou would turn itself into a fairyland with bright colors. Broad leaves become bright red and golden yellow and there is a good chance of seeing snow falling on them. We will be taking shuttle buses to transfer from one scenic site to another and it will be easier for us since it is the first day of climbing the plateau. Then continue for a 2-hour drive to Maerkang (Barkam), which is the provincial capital of Aba Autonomous Prefecture. Maerkang, literally means "place with vigorous fire" in the Tibetan language, has always been showing its liveliness and hospitality. Maerkang is located in the heart of the Jiarong Tibetans' area and influenced by the neighboring Qiang and Han cultures, so it has a long history of ethnic integration, resulting in unique local customs.
Overnight: Maerkang (2,700m)
Day 3. Maerkang-Danba. 207km 6h Meals: BLD
After breakfast, we'll leave Maerkang and head south towards Danba. En route, we will see the many villages of Jiarong Tibetans before we arrive at our destination, the Danba Tibetan Village. It was said one of the most beautiful villages in the whole of China. Seen from a distance, it is a perfect idyllic picture with smoke puffing up occasionally from the houses' chimneys and emerald fields standing in contrast to the white snowy peaks. While approaching the village, we will see ornate houses scattering on the mountain slopes with white walls and distinctive red wooden structures. They are like devout Tibetan Buddhists silently sitting with their legs crossed and praying. We have a lot of chance to photograph this hidden Xunadu as we will be resting here tonight.
Overnight: Danba (2,000m)
Day 4. Danba-Yajiang. 210km 5h Meals: BLD
As we continue to head towards the southwest, the highlights of today will be the beautiful nature and culture by the side of the roads. We will pass through Bamei Town, a peaceful place with extraordinary natural scenery and the amazing charm of Tagong Grassland, which is the most beautiful and famous grassland in this autonomous region. In the deep autumn, Tagong will be turning into yellowish-brown and snow white. The golden-topped stupas in Tibetan monasteries are very well matched with the distant Yala Snow Mountain, reminding us how sacred this land is. Legend said this is a land favored by Bodhisattvas and is protected by the lotus-shaped Yala Snow Mountian. As the scared mountain vanishes, our next stop is Xinduqiao, a place known as "the Paradise of Photographers" and "the Light and Shadow World". Its elegant grasslands, stylish Tibetan houses, herds-covered hills, murmuring streams, and flourishing trees make it a great location for nature and photography lovers. After fully understand the beauty of Xinduqiao, Yajiang is our final stop of this day.
Overnight: Yajiang (2,650m)
Day 5. Yajiang-Litang—Shangri-La Town (Riwa). 350km 7h Meals: BLD
Today we will drive a long distance to the "Shangri-La" (Riwa) on the side of Sichuan Province with rewarding alpine scenery on the way. Depart from Yajiang, the elevation starts to climb up from 2,600m to around 4,000m at Litang. Sitting at an elevation of 4,014m, Litang was among the highest cities on earth. We will have a short stop here and have a glimpse of this special highland city. Before we arrive at Daocheng County, we will visit the Daocheng White Stupa. With 37 meters high, it is among the biggest stupas in the whole Tibetan area. Then we will arrive at Shangri-La Town near the Daocheng Yading Nature Reserve.
Overnight: Shangri-La Town (3,000m)
Day 6. Daocheng Yading Nature Reserve. Meals: BLD
Today we will spend a whole day in this reserve. Described as the "the last pure land of this blue planet". The first highlight of this wonderland is the Three Holy Mountains. Xiannairi (Chianrezig) stands for the Bodhisattva of Mercy. When the weather is good, this beautiful mountain will change to sparkling golden by reflecting sunlight and seems more sacred. Mt. Yangmaiyong (Jampelyang) symbolizes Manjusri Bodhisattva who is regarded as the embodiment of wisdom in Buddhist culture. Deeply touched by its magnificence, Joseph Rock described it as the most beautiful mountain he had ever seen in this world. He also had shown the western people peaceful fairyland scenery of the deep valley, leafy forest, nutritious grassland, streams like what you see today. While enjoying the alpine breathtaking scenery and feel the excitement, we will do a light hike around the Nuorong Pasture (4,180m) that will increase our heartbeats more. For those who want more challenging and rewarding routes, they can continue hiking till the Milky Lake (4,500m) and Five-colored Lake (4,700m).
Overnight: Shangri-La Town (3,000m)
Day 7. Shangri-La Town—Deqen 319km 8h (BLD)
This morning we'll continue to Deqen. We will cross the boundary of Sichuan and Yunnan. It is an off-beaten path and we can enjoy untouristed nature with ease. After passing the famous Baima Snow Mountain, we will arrive at the foot of Meili Snow Mountain to rest. We can spend some night time taking a look around the colorful bazaar and labyrinth of streets that make up the famous 'blue quarter' of this historical city. Dinner tonight will be at a good local restaurant.
Overnight: Deqen (3,200m)
Day 8. Deqen—Shangri-La City. 170km 3.5h (BLD)
Today we will expect the stunning view of sunrise at Meili Snow Mountain. While the golden sunlight slowly appearing on the range of snow-topped mountains, we can view from the hotel balcony or the observation deck where you can enjoy a warm cup of tea. After a spectacular half-hour sunrise show, the snowy mountains will transform into a range of golden peaks. The experience is simply magical if it is a good day when the weather is favorable. After saying goodbye to this sacred mountain, we will pack ourselves and drive to Shangri-La City. En route, we will visit the "First Great Bend of Jinsha River". Jinsha River, which is the name of the upper Yangtze River, comes through huge mountains and valleys, seems to have a rest after running a long distance from the Tibetan Plateau. So it slows down its pace and gracefully draws a U-shaped curve around a pyramid-shaped mountain. Today we will rest in the Shangri-La City (Zhongdian County).
Overnight: Shangri-La City (3,300m)
Day 9. Shangri-La City. Meals: BLD
In the morning, we will drive to Pudacuo National Park, which is the first officially recognized national park in China. Drive 22km east from Shangri-La County, we will arrive at the gate of Pudacuo. Pudacuo covers a large area of 300 km² and its opening area is mainly consists of three scenic sites, Shudu Lake, Bita Lake, and Militang Meadow. We tour around the park with eco-friendly shuttle buses. In an early morning by the side of Shudu Lake, we may find a picture of surreal white fog concealing the herds of cattle and sheep casually feeding around the lake. The nearby pasture sheds, clouds, mountains, meadows, the soaring eagles, and the dancing cranes together depict a pure and harmonious world as if it is realizing the tale of Shangri-La. While the Bita Lake is a very important wetland and housing many kinds of plants, migrant birds. Taking a short walk on the wooden planks around the lake, enjoying the fresh air, and beautiful scenery around this idyllic land, Pudacuo gives us a chance to rest and refresh our minds. After visiting Pudacuo, we will go back to Shangri-La city to explore the local life there.
Overnight: Shangri-La City (3,300m)
Day 10. Shangri-La City—Lijiang 225km 5h Meals: BLD
Today we will be joining Yellow-Hat Buddhist monks at prayer at the Songzanlin Monastery (Ganden Sumtsenling Monastery), the largest Tibetan monastery in Yunnan Province. Known as the "Little Potala Palace", the splendid structures and mysterious Buddhism articles, combined with the chanting voice and Tibetan incense bring the "Shangri-La" as described by James Hilton's Lost Horizon to life. As our trip continues, we will be going back to the real world by hearing the water roars of Tiger Leaping Gorge. Tiger Leaping Gorge, one of the world's deepest gorges with 3,790m maximum vertical elevation difference, has its massive cliff sides plummeting downwards onto the upper Yangtze River. The scenic is nothing short of stunning. As we keep heading south, Lijiang will be our last destination of this trip. It is a city with no walls but has great ancient architecture and living infrastructures. Narrow cobblestone streets are lined by running canals of crystal clear water that is freshly melted from snow, and decorative arched bridges link alleys of a thousand years old. Lijiang is a perfect last stop to conclude the story of the journey to Shangri-La.
Overnight: Lijiang (2,200m)
Day 11. Lijiang Departure. Meals: B
Send to airport timely according to your flight schedules and AbsolutePanda service ends.

Notes:
1. If you need help in arranging a flight to Chengdu from other major cities of China such as Beijing, Shanghai, Xian, or a departure flight from Lijiang, please feel free to contact us, we are more than happy to provide any support we can to facilitate your trip planning.
2. This trip ventures into an area that features high altitude. Follow the advice from your doctor on altitude sickness before deciding to join this trip. In some events, high elevation can cause severe health complications for those with cardiovascular diseases or other poor cardiopulmonary function.
3. The overnight altitudes and driving hours listed in the itinerary are just for your rough reference.



Dates & Prices


1. Dates

Oct. 24 to Nov. 3, 2023, 2024
Nov. 7 to 17, 2023,2024
Email us to tailor-make a tour that can meet your taste, budget, and schedule best.


2. Prices

The AbsolutePanda team works hard to provide the highest-possible quality tour experiences at a fair price. However, after working in the travel industry for more than 20 years, our team knows that no two travelers are alike in terms of their travel styles, personal interests, choice of guides, and preferences in restaurants and hotels. For AbsolutePanda, our client's satisfaction is a top priority. To meet the needs of different clients and ensure you enjoy a trip suited to your preferences, you are welcome to email us with specific requests ranging from trip themes, guides, the grade and brand of vehicles, accommodations, restaurants, etc. We will try our best.

To ensure our guest the best trip, we set our minimum departure number at four travelers and the maximum departure number at eight travelers. That means the trip size is 4 to 8 participants.

The cost for a group of 4 to 8 people:
2750USD/PAX

Single supplement:
330USD/PAX

The cost includes:
1. Vehicles listed on the trip. Fuel, tolls, airport pick-up, and drop-off are included in the price. The size of the vehicle is based on the number of participants for this itinerary;
2. An English-speaking trekking guide for the whole trip;
3. Meals listed in the itinerary as BLD;
4. Bottled water and snacks;
5. Entrance charges listed in the itinerary;
6. China Domestic Travel Insurance;
7. Hotels and hostels listed in the itinerary.

The cost excludes:
1. Alcoholic drinks during the meal;
2. Extra charges due to change of itinerary from client-side or factors beyond the control of AbsolutePanda such as natural disaster and governmental policy change;
3. Discretionary tips to the guide and driver;
4. All personal expenses, such as laundry service or for personal shopping;
5. Train ticket or airfare to Chengdu and out of Lijiang;
6. Any items not listed in the itinerary as included;
7. Entrance fee, car rental, or meals during your free time trip;
8. Single supplement.

Notes:
This trip price is based on two clients sharing one twin-bed room in 3-star standard hotels in big cities and local best guesthouses in a remote area. If you prefer to use a private room or we cannot find a roommate for you, then a single supplement will be added to your trip price.


3. Experienced Nature Guides

• Philip: A local guide born in the Sichuan Tibetan area with fluent English and basic Japanese, Philip is an exceptional photographer and had guided many trips all over China since 2004. As a nature lover himself, Philip also has a deep understanding of the relationship between local community and nature.

• Bella: Born in Dali of Yunnan Province, from Bai ethnic family, Bella was brought up in a small county famous for ethnic Bai culture, abundant natural resources, and rich tourism resources. Bella is an expert in multiple fields, including birding, photography, food and ethnic culture. Bella is a big fan and great spotter of wildlife, a passionate bird guide, and an in-depth cultural interpreter. She loves sharing news and her pictures or videos of wildlife on social media. Though Bella is still very young, her passion, knowledge in nature and culture, fluent English and guiding expertise will make your trip truly enjoyable.

Notes:
1. Please note that our guides with specialized knowledge are not always available, especially during our busy season from April to October. If you have an on-planning trip, please contact us as early as possible so that we will block the date of our expert guide for you.
2. To our AbsolutePanda team, our clients' overall satisfaction with their trip is the top priority. We can create a different option to make it easier for you to choose a tour that fits your style and budget. If you prefer to travel in a different style than the option we've provided here, please feel free to contact us.
3. For travelers who hope to tailor-make the programs with their specific travel preferences in mind (transportations, hotels, exclusive privileges, and famous local experts), tailor-making a tour is the best way to ensure your desires are met. Please contact us with your specific needs and we will prepare an itinerary based on your expectations. Once you are satisfied, we will work out the cost and send it to you. Please feel free to ask any questions to learn more.
When you put your trust in our team, we are certain to help you enjoy an unforgettable travel experience in China!


Accommodations
AbsolutePanda firmly believes travel is an art. To ensure every trip with us is a great travel art for our clients, the AbsolutePanda team does all we can to consider every possible detail. The choice of hotels is an essential part of making a great trip. After many years of running a travel business, we have built up our network of cooperative hotels at different levels. We understand people are different in the choice of hotels when they travel. If you want to use some specific hotels, please feel free to let us know, we are delighted to book it for you at a competitive price to make the hotel choice better meet your taste, budget and travel style. We can either reserve a hotel with competitive price for you or simply include the hotel into your trip cost if possible. You are welcome to contact us and tell us your requests, we will do our best to create the best travel itinerary for your private use.
If you need help with hotel booking in other big cities of China at different styles and luxury levels (International-brand Hotels, Local Brand Hotels, Economical Hotels), please feel free to email our team at info@absolutepanda.com.
FAQs


1. I am a bit sensitive to the altitude. What are the altitudes of the destinations?
This trip will venture into the highlands of Sichuan and Yunnan. We will first slowly climbing the plateau and get some buffer zone for you to adapt to the altitude. During the trip, we will get through some places and mountain passes that are above 4,000m but we will not overnight at places above 3,500m. Our guide has rich experience in taking care of our clients for the trekking trip on the highland. Surely, we also will suggest you seek advice from your doctor on altitude sickness and bring necessary medications before you decide to join this trip. In some events, high elevation can cause severe health complications for those with cardiovascular diseases or other poor cardiopulmonary function diseases.

2. Can we add some days on this tour to see pandas?
Sure. It is very easy. You can simply arrive one day earlier and we can tailor-make a suitable tour for you. Or you can join an extension panda tour in Chengdu before or after the tour. AbsolutePanda team are professionals in making panda tours and share panda knowledge and stories. We are happy to add or make any panda-related tours for you.

3. How should I prepare my wearings?
The designated time for this tour is in late October and November, the most beautiful season there. It could be very cold on the plateau. So please prepare enough warm clothes, boots and gloves. Sunglasses and sunproof measures also highly recommended on the plateau.

4. How are the road conditions of this tour?
As the Chinese government has been making a great effort to improve the infrastructures of the remotes. Most roads on this tour are in very good condition with beautiful scenery alongside. A little part of the roads may be a little bumpy and sometimes road construction may cause some trouble. The drivers of AbsolutePanda are very experienced and with good safety awareness. They will take clients' safety as the priority and guarantee your travel experience in the best way.

5. The best season to do this trip?
The reason We choose to do this trip in late October and December is to avoid the flooding season on the plateau and autumn is perfect to see the colorful nature and snowy peaks.

Email us if you have some questions. Read our FAQ


Testimonials
Absolute Panda-great service and knowledge leads to great trips.
I have taken two trips with Absolute Panda. Philip He and his guides are excellent, and Philip will work with you to tailor a trip to meet your needs and desires. For both trips, one in the Sichuan Tibetan Plateau, and the other in Yunnan Province, we hired a driver, and had a guide who knew both the area and the people.We went places and saw things that most tourists never see, and had the flexibility to change directions when the opportunities presented themselves. Philip lead our second trip, and as photographers, it was great to have another photographer with us since we planned our travels around getting great pictures, whether landscape or people. We are planning on going back to China again and will be working with Philip to put together another great itinerary.
--Steve Z
Date of experience: April 2011
Videos & Photos


Welcome to email us and share your trip video with us. Video Album of AbsolutePanda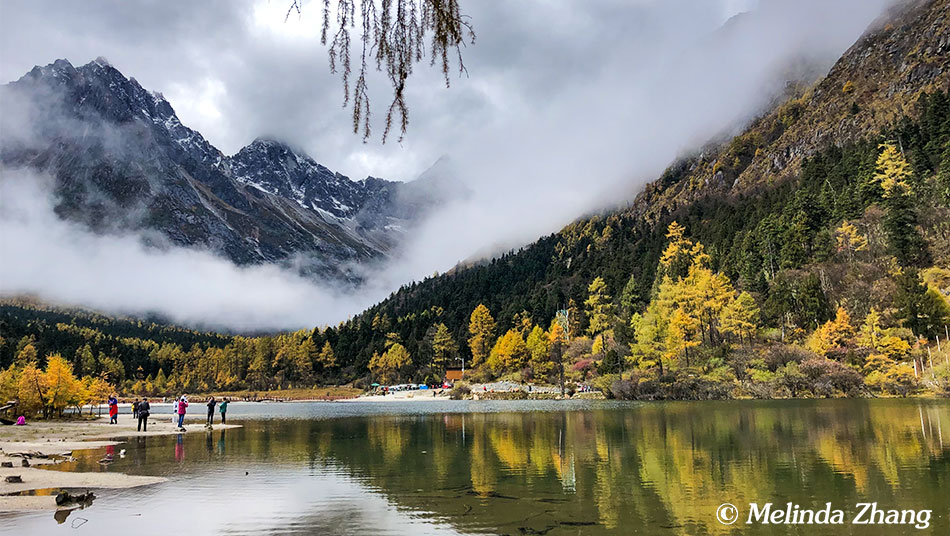 Bipenggou Valley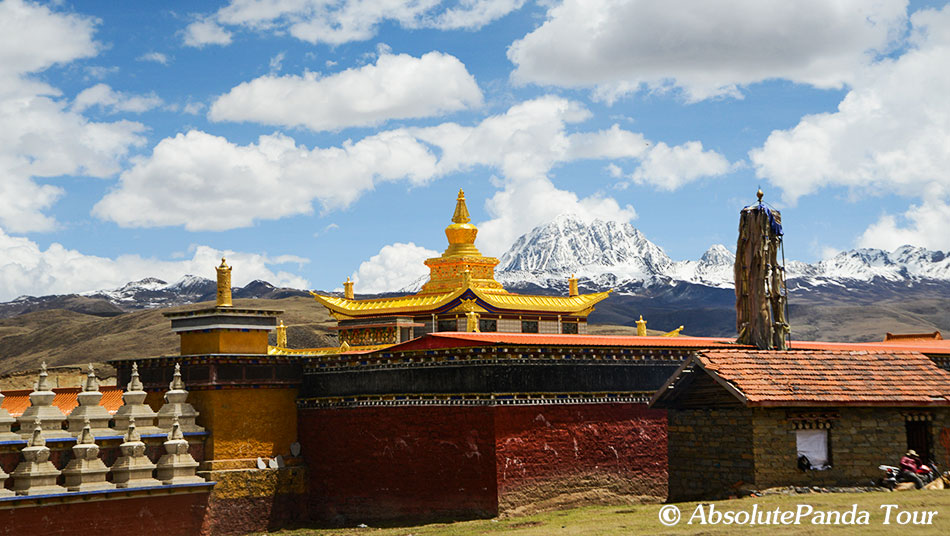 Yala snow mountain, monastery, and Tibetans in Tagong.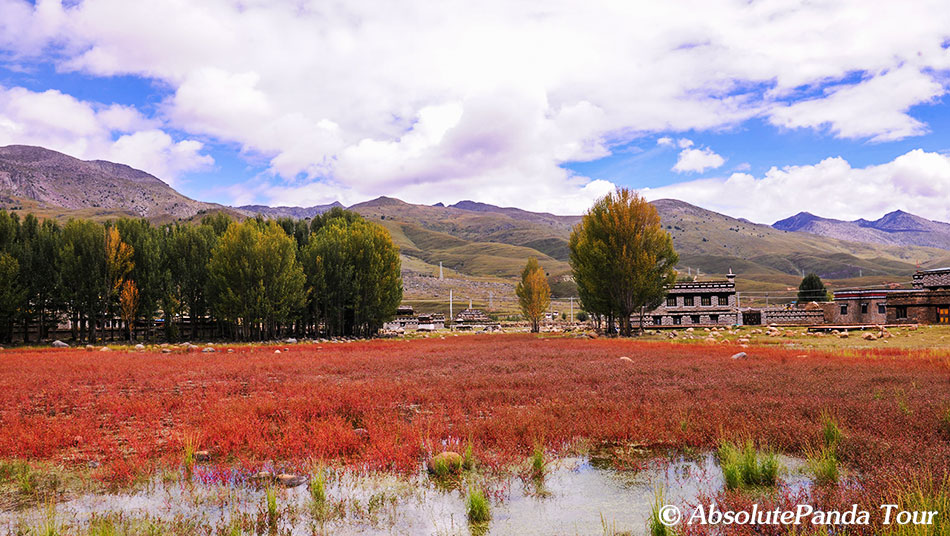 Xinduqiao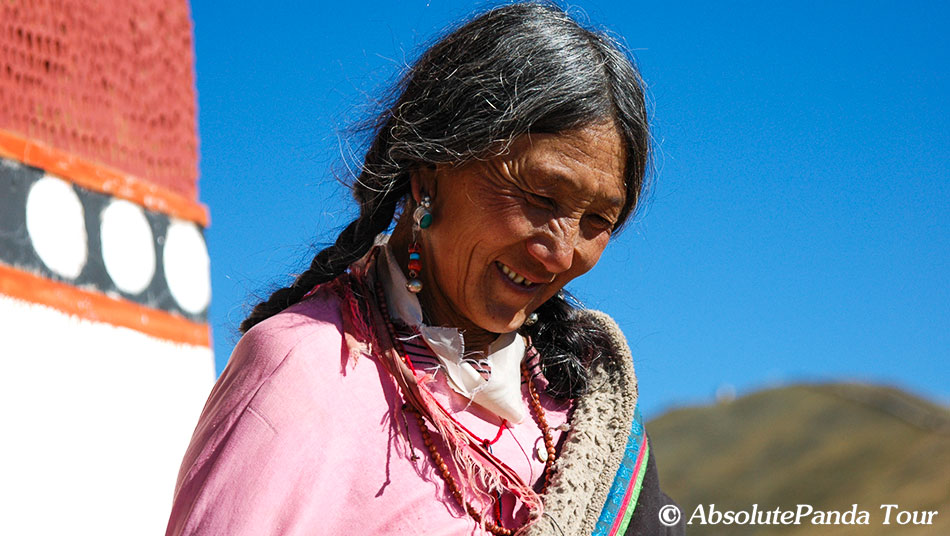 A Tibetan elder we met in a Tibetan village.




Mt. Xialuoduoji (ChanaDorje) in Yading.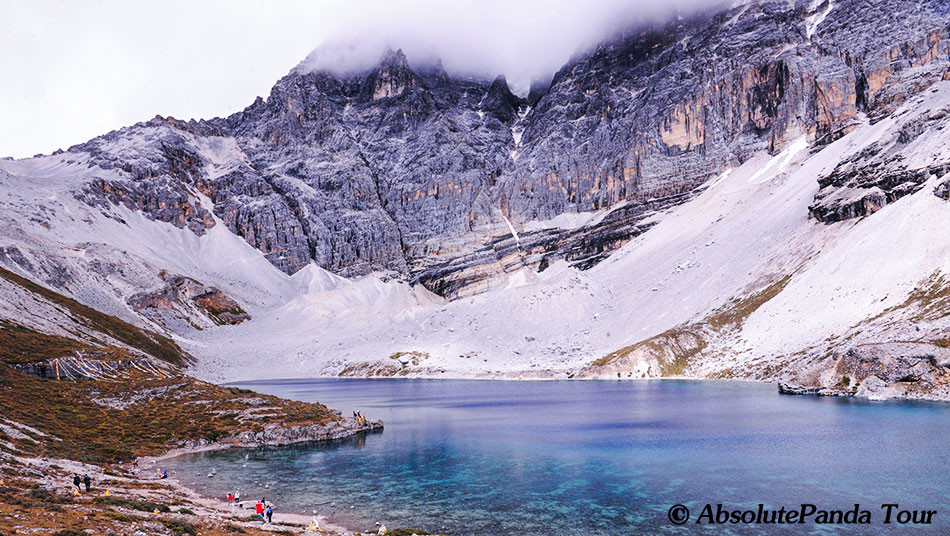 Wuse Lake of Daocheng Yading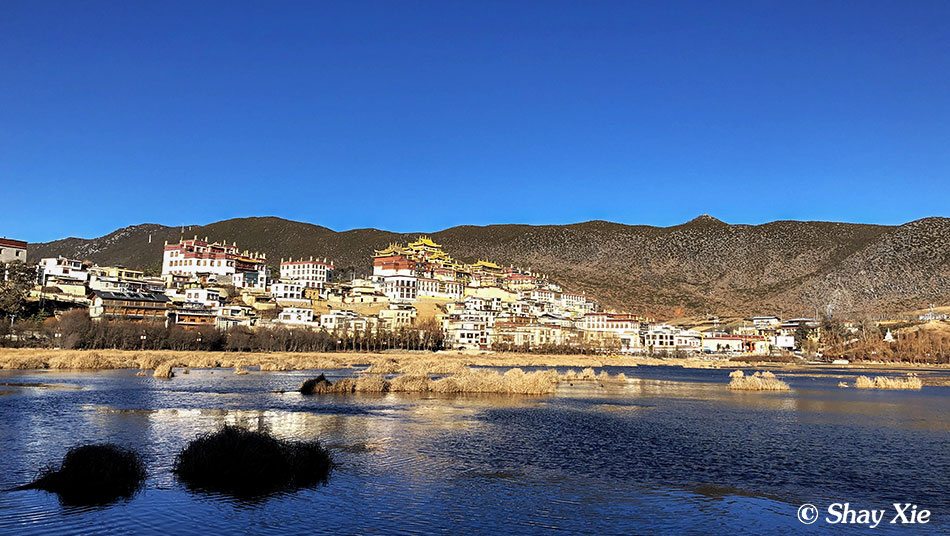 Songzanlin Monastery (Ganden Sumtsenling Monastery)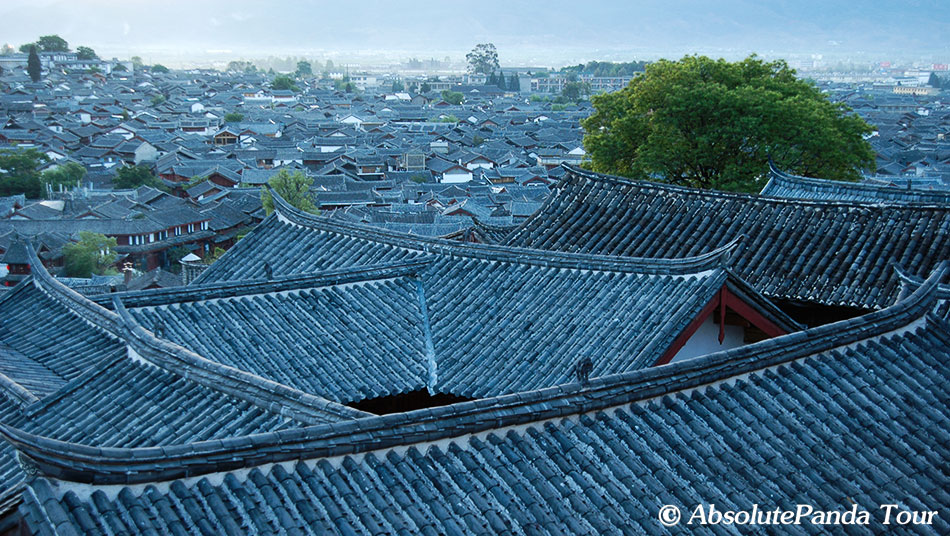 Lijiang Ancient City

Welcome to email us and share your trip photo with us. Photo Album of AbsolutePanda