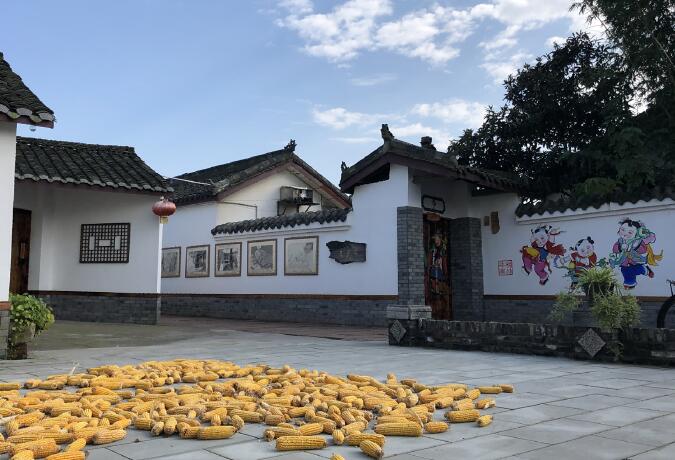 12 Day Chinese New Year Culture Experience
Date: Jan to Feb
Price: Upon Request
Trip Focus: Culture+Chinese year
Status: Open to Booking
Route: Chengdu-Langzhong-Mianzhu-Chengdu-Leshan-Zigong-Dazu-Anyue-Chengdu
Trip Code: C002
Overview
Overview
Few Chinese holidays hold as much importance as the Lunar New Year. Known also as the Spring Festival, this celebration occurs at the turn of the Chinese calendar. Starting on the Chinese New Year's Eve and spanning to the Lantern Festival on the 15th day of the first month; it is the longest holiday on the Chinese calendar. Traditionally, the festival was a time to honor deities as well as ancestors.
Often, the evening preceding Chinese New Year's Day is an occasion for Chinese families to gather for an annual reunion dinner. Windows and doors will be decorated with red color paper-cuts and couplets with popular themes of "good fortune" or "happiness", "wealth", and "longevity." Other activities include lighting firecrackers and giving money in red paper envelopes.
Highlights:
Travel with our experience guides on the most momentous of all Chinese holidays, the Spring festival. You will visit the birthplace of the Spring festival, an ancient town called Langzhong. This holistic tour experience is specially designed to obtain a better understanding of the history of Chinese New Year.

Mianzhu Chinese New Year Painting village

Lantern Festival, we will visit Zigong which is the originator of the Chinese Lantern Festival. It has been copied in Beijing, Hong Kong, and Shanghai. As one of the Historical and Cultural Cities of China, Zigong is called "Lantern Town in the South Kingdom".

Zigong Lantan Festival

Celebrated Food, we will guide you to local market to visit and obtain a better understanding about the cooking ingredients, vegetables and meat we use in our cooking. Then we will give a lecture on the history of special cuisine of the festival.
Stone Carvings, Anyue Buddha stone carvings (around 521 AD), flourished in the Tang and Five Dynasties and the Song. Dating back over 1,300 years. The recent survey of cultural artifacts, the county has Cliff Figures in 105, about 100,000 statues, hundreds of high respects of more than 3 meters, 5 meters above the 40 statue, 15 meters above the two. And has well-preserved heritage value of a certain size and there are 45 stone.

Dazu Stone caving
Leshan Giant Buddha
The Leshan Giant Buddha is a 71-metre (233 ft) tall stone statue, built during the Tang Dynasty. It is carved out of a cliff face that lies at the confluence of the Minjiang, Dadu and Qingyi rivers in the southern part of Sichuan province in China, near the city of Leshan. The stone sculpture faces Mount Emei, with the rivers flowing below his feet. It is the largest stone Buddha in the world, and it is by far the world's tallest pre-modern statue.
Giant Pandas
The Chengdu panda breeding base is a non-profit research and breeding facility for giant pandas and other endemic Sichuanese animals. We will visit different sections of the center to get a full overview of a panda's development, from a baby panda to a full-grown adult.
Dates and Prices
Upon Request

The cost of the tour is inclusive of the following amenities:
a. A safe vehicle with an experienced driver throughout the whole trip
b. Clean and comfortable local accommodation, or equivalent 4 star hotel
c An English-speaking guide for the whole trip.
d. All meals at local popular restaurants.
e. Bottled water and snacks.
f. Logistic support from our team, including the invitation letter for visa application.
g. Entrance fees for the entire trip.
h. China Domestic Travel Insurance

The cost doesn't include the following:
a. Drinks during the meal.
b. Extra charges due to change of itinerary from client side or factors beyond the control of Absolute Panda such as natural disasters or changes in government policy.
c. Discretionary tips to the guide and driver.
d. All personal expense such as laundry service.
e. Airfare to and out of Chengdu.
f. Any program not listed in the itinerary.

Quote and Itinerary
The Absolute Panda team makes every effort to provide accurate information on our itinerary, however, changes to our trips can and do occur. This may be due to our effort to adjust the itinerary of the trip to adapt to unpredictable circumstances such as changes in train/flight schedules or government policies. Under such cases, Absolute Panda will do all we can to keep you informed of any changes, however, we are not legally responsible for any changes made to the confirmed itineraries due to unforeseen circumstances. Absolute Panda reserves the right to adjust the trip price based on the exchange rate before the final confirmation without prior notice.

Itinerary
Day1 Arrive Chengdu
Day2 Drive to Langzhong
Day3 Langzhong to Mianzhu
Day4 Mianzhu to Chengdu
Day5 Chengdu Market
Day6 New Year Celebration
Day7 Chengdu Panda Base to Leshan
Day8 Leshan Giant Buddha to Zigong
Day9 Zigong to Dazu
Day10 Dazu-Anyue
Day11 Anyue to Chengdu
Day12 Chengdu Departure
Map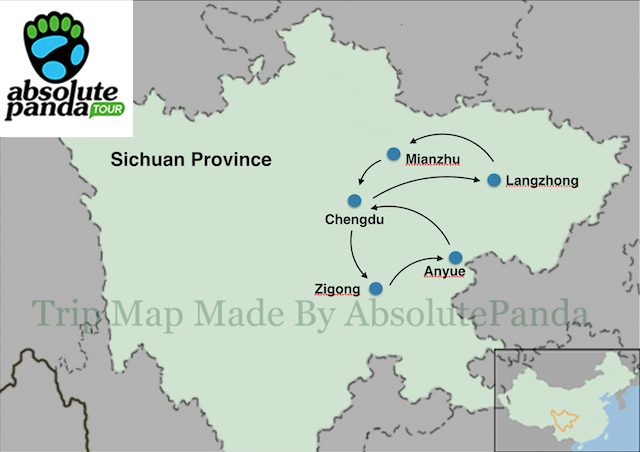 Accommodations
Chengdu
Langzhong
Mianzhu
Chengdu
Leshan
Zigong
Dazu
Anyue
Chengdu
FAQs
Any Culture differences?
Chinese New Year is the biggest celebration in China. The atmosphere of this event is a perfect setting to experience Chinese culture. There are a variety of exciting events including lantern presentations and fireworks shows. However, it should be noted that this celebration is an ongoing event running late into the night. As a result, there will be noise on the street and crowds in certain destinations.

Road conditions:
We may encounter construction along the way to various destinations, especially when traversing mountainous areas. It is impossible for us to predict the road conditions in February, so we may need to change our schedule in certain areas due to road work/closures. We travel in a private, air-conditioned van with a supply of water at all times. If you would like to stop to take a picture or stretch your legs, please tell the guide. We do our best to select experienced drivers who are accustomed to local routes.
There might be some checks by local authorities in different places for a variety of reasons, we have very little choice but cooperate.

Comfort Level:
Accommodations are comfortable and clean. The rating is equivalent to 4 star hotel.

Food and drink:
All food is included, as stated in the itinerary. We strive to dine in places that highlight authentic local cuisine.
We provide bottled water, snacks and fruits throughout the trip. It is usually safe to drink bottled mineral water but tap water in cities or towns (even in 5-star hotels) is not safe for drinking.

What is the weather like?
Trying to predict the weather is always difficult. It is always convenient that you pack several layers of clothing that allows you to adjust to changing climates. In the case of rain, Absolute Panda will provide a light rain poncho, but you may want to bring along your own waterproof jacket.

What do I need to bring?
Since this tour takes place in winter, the temperature during this trip is around 5 degrees.

There will be very little access to buy batteries, chargers, memory cards and related gear in the remote places we are going to visit. We suggest that you make sure you are sufficiently prepared.

A variety of layered clothing is recommended: warm jacket, cotton shirts, lightweight cotton pants/shorts, and some light rain-gear, as well as a sun-hat and a scarf or facemask to ward off dust. Strong but lightweight and waterproof walking shoes/boots are useful. A lightweight fleece for cooler evenings is convenient.

Recommended clothing
· Cotton undershirts
· T-shirts
· Khakis or lightweight trekking pants (preferably those that can be unzipped to become shorts)
· Waterproof jacket
· Warm fleece
· Sufficient changes of underwear
· Cotton socks/sun hat
· Good walking shoes or hiking boots (make sure they are well-broken in)
· Warm jacket

Recommended toiletries
· Wet-ones/hand-wipes (we will provide a supply aswell)
· Hand sanitizing gel (we will also provide these)
· Lip-salve such as Blistex or Carmex
· Sunscreen/mosquito lotion
· Personal toiletries and a small towel
· Common drugs (we carry specialized first-aid kits on all of our tours)

Other recommended items
· Camera
· Sunglasses
· Books, journals
· Snack foods
· Binoculars
· Umbrella or rain poncho

How should I pack?

International airlines have varying luggage weight allowances. For domestic flights within China, you are limited to a combined total of 44 pounds (1 or 2 bags) of check-in baggage. Excess baggage may require an additional cost.
In accordance with China's civil aviation regulations, passengers are not allowed to carry liquids of any kind on board domestic flights, with the following exceptions:

1.Cosmetics of less than 100 ml in volume are allowed but must be kept in a separate clear plastic bag for inspection.

2.Passengers carrying liquid medications can give flight staff their medication to hold during security inspection. Medications will be returned to passengers once the inspection process is complete.

3. Passengers traveling with infants are required to apply in advance with their airline to receive baby formula. The formula will be supplied free of charge by the airline to the passenger.

4. Passengers are allowed to keep liquids in their checked luggage to be stored in the hold.
Email us if you have some questions.
Testimonials
"The Only Choice for Travel in China" by Justin Gibson
Reviewed May 16, 2015
I must confess, I write this review because it's ultra personal to me. I've only known about AbsolutePanda for a couple of months but have worked with them very closely with our tour company from the U.S.
AbsolutPanda represents China, like Americans would want a tour company in the U.S. to represent America- with professionalism, pride and respect while their actions speak in a way to that oozes with historical consciousness, both culturally and ecologically.
They take care of their clients and bend over backwards to make sure they are given the trip they paid good money for.
Whether you hire AbsolutPanda for a cultural, sightseeing tour or to see the Tibetan Plateau where you will feel like the only tourist for a hundred miles, you'll leave knowing more about China than you started with, that's for sure. But it's more than that. You will understand what China was and what it wants to become now... and it's a lot more optimistic for the world than people might think.
Visited April 2015
Welcome to email us and be our guests to write the feedback for us.
Trip Photos
Welcome to email us and share your trip photo with us.
Videos
Welcome to email us and share your trip video with us.