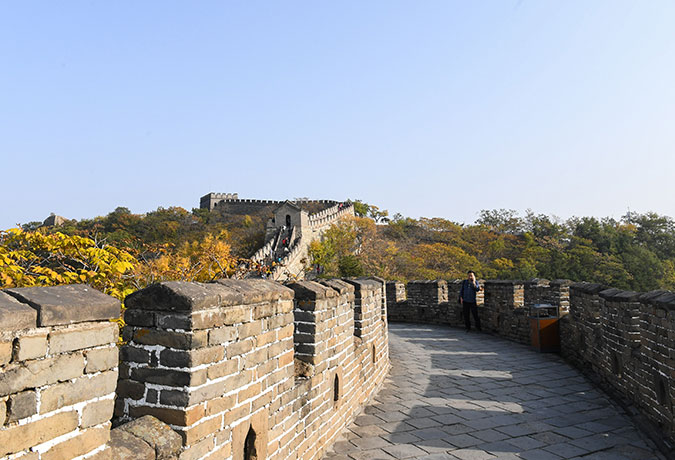 15 Days China Culture Panorama
Date: Mar. 8 & Sept. 6, 2024, 2025
Price: From 4150USD/PAX
Trip Focus: Culture + Classic China
Status: Open to Booking
Route: Beijing-Pingyao-Xi'an-Chengdu-Huangshan-Hangzhou-Suzhou-Shanghai
Trip Code: C001
Overview
Chinese civilization has been continuing for thousands of years and has created a splendid culture and many world-class cultural heritages. These heritages, tangible and intangible, such as the Great Wall and Taoism, have significant meaning and define the characteristics of the Chinese. To gain an in-depth understanding of the Chinese culture, we need to read lots of culture books or visit some of the best cultural sites in China such as the Forbidden City, Terracotta Warriors, Qingcheng Taoist Mountain, Classical Gardens in Suzhou, just to name a few. This itinerary is crafted by the AbsolutePanda team to help visitors to understand China culture in a comprehensive way.
With a population of over 1.4 billion people, China has one of the most complex geographical features in the world and many types of flourishing culture. In this tour, we start from Beijing, the capital of China, to see the heritages of the last feudal dynasty. Then we go to Pingyao Ancient Town which is one of the most distinctive ancient towns in China before we head to Xi'an, where the first unified feudal dynasty was created in 221 BC. After we marvel at the Terracotta Army, our journey will move on to Sichuan Basin to meet the iconic giant pandas, enjoy famous Sichuan food and experience Taoism and Buddism culture. After that we fly to Huangshan Mountain known as one of the most beautiful mountains in China, we will wonder in one of the most iconic rural villages. We end our trip in the Yangtze River Delta, an abundant area with rich history and culture, a mirror of futuristic China.
This trip will be guided by a knowledgeable national guide along with local guides who excel in the local culture. We will do our utmost to show you the real side of China and the essence of its culture by visiting sites representing different aspects.

Highlights:

• Explore Chinese culture from different perspectives: north and south, old and new, royal palace to country villages, Buddhism to Taoism, roasted ducks to spicy hotpot.

• Meet the most iconic Chinese cultural symbols: the Forbidden City, Great Wall, Terra-cotta Warriors, Pingyao Ancient City, Leshan Giant Buddha, Huangshan Mountain, Suzhou Classical Gardens and West Lake, etc.

• Experience classic intangible cultural heritages: Shadow Puppetry Play, Sichuan Variety Show, Chinese tea culture, etc.


Introduction to Trip's destinations: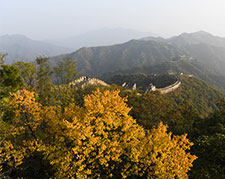 Beijing
Though Beijing is an international metropolis today, it is also a historic book of China. As one of the seven ancient capitals of China, Beijing is full of cultural relics and historic sites. Beijing's history is not the longest in China, but it has the most vivid stories that happened in the recent 400 years, which can be obtained by visiting the Forbidden City, the Great Wall, the Summer Palace. Meantime, Beijing Hutongs can offer you a glimpse of old Beijing life plus authentic Peking Duck and delicious street food.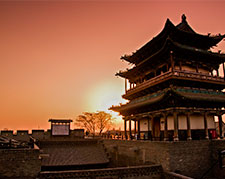 Ancient City of Pingyao
Situated in Shanxi Province, 719km from Beijing, Pingyao has one of China's most classic and best-preserved walled towns. The city is famed for its importance in economic status in Chinese history and its well-preserved mansions built in Ming and Qing dynasties. It was listed as a UNESCO World Cultural Heritage in 1997 and among the best cultural destinations in China with a history dating back to 2700 years ago.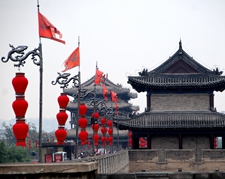 Xi'an
As the capital of China for the first dynasty in unified China, Xi'an is most famous for the Terracotta Army buried underground to protect the first emperor of China. As the starting point of the Northern Silk Road, Xi'an has a special neighborhood dominated by the descendants of different ancestors coming from various countries along the Northern Silk Road. It is called the Muslim Quarter which is the best place to taste local food and experience exotic culture in its bustling street in the evening.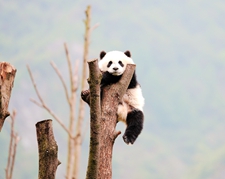 Chengdu
Few cities in the world can enjoy such unique resources as Chengdu. Chengdu is famed for being the "Panda City" and hosts the largest captive panda population in its panda bases. What's more, It is a city blended with different cultures. As the birthplace of Taoism, Chengdu has been strongly influenced by its philosophy. People in this city are famous for their laid-back lifestyle, optimistic attitude towards life and avid pursuit of delicacies. Chengdu is described by some travelers as a city to which people hate to say goodbye in China. You will feel at home when you travel to this city.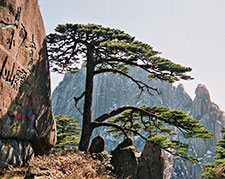 Huangshan Mountain (Yellow Mountain)
Huangshan Mountain is one of the most famous and beautiful mountains in China and has been listed as a UNESCO World Heritage Site since 1990. Its classic attractions are known as its "Four Natural Wonders": the strangely-shaped pines, oddly-shaped rocks, seas of cloud, and hot springs. Huangshan Mountain has been a timeless appeal for scholars, tourists, poets, painters, and photographers because its natural scenery matches with the essence of Chinese paintings.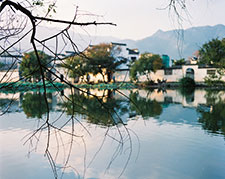 Hongcun Village
Hongcun Village, located in the northeast of Yixian County, Huangshan City, Anhui Province, is an ancient town hidden at the foot of Huangshan Mountain. It is an ancient village with a large number of historical buildings from the Ming and Qing dynasties. The village has also built a perfect water system and characteristic "cattle" shaped layout. In 2000, ancient villages in southern Anhui, including Hongcun Village, were listed as a World Cultural Heritage by the World Heritage Committee.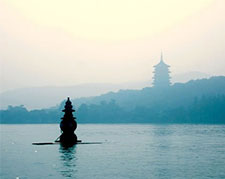 Hangzhou
Marco Polo once described it as "the finest and noblest in the world". Hangzhou is listed as one of the "seven ancient capitals" in China with a history of over 2200 years. Being called "an earthly paradise" since ancient times, this city is decorated with mountains, springs, lakes, bridges, towers, and temples. Its West Lake, arguably the most famous lake in China, is full of romantic legends and landscapes. Meanwhile, Hangzhou is a center of tea commerce and culture for centuries.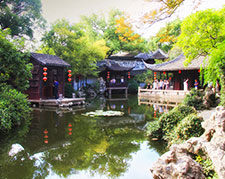 Classical Gardens of Suzhou
The classical gardens of Suzhou are a highlight for travelers coming to Suzhou of Jiangsu Province because it is the best place to understand the gardening culture in south China. Spanning a period of nearly one thousand years, from the Northern Song to the late Qing Dynasty (11th—19th century), these gardens were constructed by Chinese scholar-officials and standardized many of the key features of classical Chinese garden designs such as constructed landscapes that mimic natural scenery of rocks, hills, and rivers with strategically located pavilions and corridors.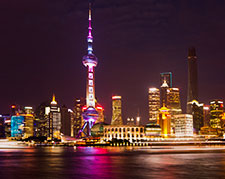 Shanghai
Shanghai's unmistakable cityscape combines state-of-the-art skyscrapers with cozy traditional architecture to create a profound blend of old and new. These older parts of Shanghai showcase the elements of China that attract guests from around the world—mouthwatering food in Chenghuang Temple (City God Temple), elegant craftsmanship in the market of Yu Garden, interesting local life in its Nongtangs, and the image of an old and new China along the alleyways of the Bund.




What Makes AbsolutePanda Excellent?

• We are one of the premier travel companies focusing on panda and other wildlife in China.
We use AbsolutePanda as company brand because of our deep love toward panda and our determination to create your absolutely enjoyable panda trips.
Since 2003, our professional tour leaders and wildlife experts have helped thousands of travelers gain an in-depth understanding of Giant Panda and their companion animals, enjoy stunning scenery all over China and explore the authentic local culture.
• Exclusive Quality & Value Guarantee.
We define our quality by well-designed itineraries, stunning destinations, creative interactions, small groups, professional guides, and reasonable prices.
• Explore China in comfort and your style.
We understand each traveler is different. In addition to selected accommodations, meals and vehicles, we would like to show you the real China by an authentic experience with incredible wildlife and lovely locals.
We believe the best way to help wildlife is through love and appreciation. By bringing nature lovers to enjoy the beauty of nature in China, we hope that local people can know the value of wildlife and learn how to love and appreciate those beautiful creatures living near their villages.
Map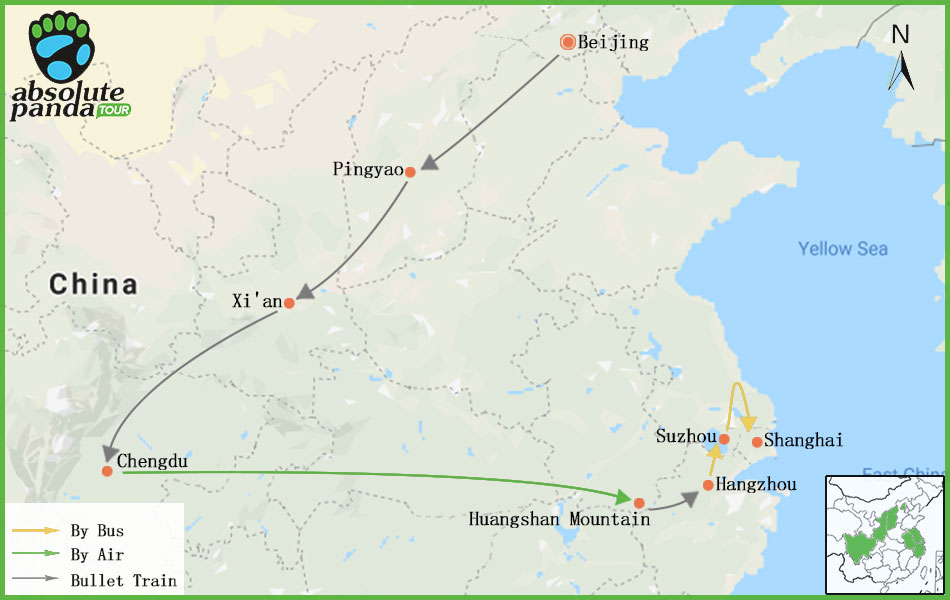 15 Days China Culture Panorama


Itinerary
Outline:

Day 1. Beijing Arrival. (D)
Arrive at the capital of China and free city exploration. Overnight: Beijing

Day 2. Beijing City. (BLD)
Visit Tian'anmen Square and Forbidden City in the morning and tour Hutongs in the afternoon and dinner at a Peking Duck Restaurant. Overnight: Beijing

Day 3. Beijing City. (BLD)
Visit Mutianyu Great Wall and take a glimpse of the Beijing Olympics Park on the way back. Overnight: Beijing

Day 4. Beijing-Pingyao (By Bullet Train). (BLD)
Board the bullet train from Beijing to Pingyao and explore this ancient city after arrival. Overnight: Pingyao

Day 5. Pingyao-Xi'an (By Bullet Train). (BLD)
Take the train to Xi'an and explore Xi'an city for the rest of the day. Overnight: Xi'an

Day 6. Xi'an-Chengdu (By Bullet Train). (BLD)
Spend the morning visiting Terracotta Warriors and watch Sichuan Variety Show at night. Overnight: Chengdu

Day 7. Chengdu. (BLD)
Meet the panda in Dujiangyan Panada Base, climb Qingcheng Mountain, and visit a Shadow Puppetry Play experience center. Overnight: Chengdu

Day 8. Chengdu-Leshan. 120km 2h (BLD)
Visit Leshan Giant Buddha in the morning and Huanglongxi Ancient Town on the way back. Enjoy a hotpot dinner. Overnight: Chengdu

Day 9. Chengdu-Huangshan (By Air). (BLD)
Today we will fly to Huangshan Mountain (Yellow Mountain) and rest at the foot of Huangshan Mountain. Overnight: Huangshan

Day 10. Huangshan Mountain. (BLD)
Tour Huangshan and accommodate in one of the best scenic zones of Huangshan. Overnight: Huangshan

Day 11. Huangshan Mountain-Hongcun Village-Hangzhou (By Bullet Train). (BLD)
Watch the sunrise of Huangshan and drive to visit Hongcun before taking the train to Hangzhou. Overnight: Hangzhou

Day 12. Hangzhou City. (BLD)
Visit the famous West Lake and Lingyin Temple. Experience the Chinese tea culture by visiting a prestigious tea plantation. Overnight: Hangzhou

Day 13. Hangzhou-Suzhou-Shanghai. 270km 3.5h (BLD)
Today we drive Suzhou for seeing its classical gardens. Afterward, we head to Shanghai. Overnight: Shanghai

Day 14. Shanghai. (BLD)
Shanghai City highlights—Chenghuang Temple (City God Temple), the Bund and Shanghai Acrobatics Show. Overnight: Shanghai

Day 15. Shanghai Departure. (B)
Escort to the airport or train station. Thank you for choosing AbsolutePanda.


Details:

Day 1. Beijing Arrival. Meals: D
Upon your arrival, you will be escorted to the hotel near downtown. It is free to rest to adjust the jet lag or take a walk to see this great city.
Overnight: Beijing
Day 2. Beijing City. Meals: BLD
Today we will visit Forbidden City (the Palace Museum), which is among the best palaces ever built in human history. It serves as the home to emperors of China for more than 500 hundred years. It symbolizes the royal supremacy and power with its solemn layout and exquisite design. By reaching Tian'anmen Square in the early morning, we could beat the crowds. Led by our local expert guide, we will have a fancy morning of seeing the biggest and best cluster of buildings in China and listening to the history and culture behind them. After lunch, we will explore old Beijing Hutongs later. Hutong is a type of narrow street or alley commonly associated with northern Chinese cities, especially Beijing. Though today many Hutongs have been transferred to modern buildings, a fair amount of them have been left and treasured. Riding a sharing bike is a fashionable and eco-friendly way to explore these old Beijing blocks. Take a rest for a cup of tea and chat with a long-time Hutong resident to know the authentic sense of living in Hutongs and the stories behind. Tonight we will taste the Peking Roasted Duck in a popular local restaurant for dinner.
Overnight: Beijing
Day 3. Beijing City. Meals: BLD
This morning, we visit another landmark of Beijing which is one of the country's most iconic structures. We will drive to the Mutianyu Great Wall Section. It is no wonder that the Great Wall is the most-famous signature that Chinese civilization has written on this planet. Built to protect the southern agricultural civilization from northern tribes, the Chinese Great Wall has more than 2000-year history and thousands of kilometers long in total. Among those remained, the Mutianyu Great Wall Section is one of the best with easy traffic reaching, good preservation, and magnificent scenery surrounding it. We can choose whether to take a cable car or climb to the peak depending on our energies left. We will wander on the wall while listening to our guide's talk about the military functions of each part and legendary stories related to the Great Wall. On the way back, we will take a look at Beijing Olympic Park represented by the National Stadium (Bird's Nest) and Aquatics Center (Water Cube). After the 2008 Beijing Olympic, the park was transformed into a comprehensive multi-functional center for the public.
Overnight: Beijing
Day 4. Beijing-Pingyao (By Bullet Train). Meals: BLD
Today we board the bullet train to Pingyao. The Ancient City of Pingyao is among "Four Ancient Cities in China" and is the only one in northern China with a history of 2700 years. Pingyao has a well-preserved city wall of about 6.4 kilometers. We will climb on the ancient wall and have a different view from the wall to see the beautiful layout of the whole old city. Then we will visit some iconic buildings. The old government building retains the pattern of the Qing Dynasty, which can be regarded as the best-preserved among its kind in China. From there, we can know how county-level administrations function and be familiar with the ancient official system. After minutes' walk, we will be at the doorstep of Rishengchang, the first private bank in Chinese history which is located in the bustling area on West Street. After years of development since it was founded, it became the biggest private bank of China at that time due to its incredible management that combines Chinese wisdom with the Western system. Our guide will also more than glad to tell you the interesting stories that once happened in the business battles of Rishengchang. Then we will spend the rest of the time visiting places like the Confucian Temple, City God's Temple, etc. Tonight we will find a local authentic restaurant to eat our dinner. Pingyao's local cuisine is featuring northern characters with various wheaten flour-made food and beef cubes.
Overnight: Pingyao
Day 5. Pingyao-Xi'an (By Bullet Train). Meals: BLD
We catch the train to Xi'an this morning. After settling in our hotel in Xi'an, we will visit the Ancient City Wall of Xi'an, the largest and best-preserved ancient city wall in China. After dinner, it's optional to stroll in the Muslim Quarter, where we can find a different lifestyle that derives from the ancient cultures of Central Asia brought by the silk road. Since the Tang Dynasty (618-907 AD), Muslims have been an integral part of the colorful daily life of Xi'an.
Overnight: Xi'an
Day 6. Xi'an-Chengdu (By Bullet Train). Meals: BLD
After waking up in the morning, we will visit the Terracotta Warriors that are created to guard the massive mausoleum of Qin Shi Huang, the first emperor who united China from warring states, and also began massive construction of the Great Wall and set common standards for many aspects like measurements, language characters that had a huge influence on Chinese history. He built an army of over 8,000 clay warriors, 100 chariots, and 600 horses and none of them are the same. After leaving the mausoleum, we continue our journey to head south and reach Chengdu by train. After passing through the tunnels of great Qingling Mountains, we will set our feet onto "the Land of Abundance". Chengdu is the capital of Sichuan Province and a center of Chinese culinary culture. We will eat at a popular authentic Sichuan restaurant to taste the various flavors brought by Sichuan cuisine. In the evening, we will see the Sichuan Variety Show and watch Sichuan Opera and its iconic face-changing magic.
Overnight: Chengdu
Day 7. Chengdu. Meals: BLD
With 1.5 hours drive, we will meet pandas in Dujiangyan Panada Base (Dujiangyan Panda Ark). The base has several pandas rescued from the wild and some others are returned from overseas, such as the famous panda—Taishan. The base is very close to a UNESCO cultural heritage site, Qingcheng Mountain, which our next destination of today. It is one of the best places to gain a deeper perspective on the Chinese indigenous religion, Taoism. With a history spanning hundreds of years, Qingcheng is a host to a variety of temples showcasing the elegant architectures of Taoist traditions. We navigate a series of staircases winding up through peaceful forests in search of practitioners and temples dedicated to notable Taoist deities and figures. Afterward, we will head to a cultural center where we can learn how to make and play shadow puppetry. In the past, an abundance of professional shadow play troupes and numerous small shadow playgroups founded by families or individuals had prevailed in streets and theaters because it is very interesting to watch and play. In this experience, you will make your own puppetry and set the play. So get prepared under the master's instructions to have close contact with this treasure handed down from generation to generation.
Overnight: Chengdu
Day 8. Chengdu-Leshan. 120km 2h Meals: BLD
Today we continue our tour around Chengdu by visiting the Leshan Giant Buddha. It is one of the world's largest sitting Buddhas and oldest pre-modern structures and has become one of China's most iconic world heritage sites. Located in the nearby city of Leshan, this cultural marvel is easily accessible by climbing the stairs to the small mountain where it is located. The height of the Buddha Statue is up to 71m and makes you wonder about how it can be built almost 1300 years ago. It reveals the profound influence brought by Buddhism in ancient China. On the way back, we will make a short stop at Huanglongxi Ancient Town where we can see and experience local cultural activities and taste local snacks. Today's dinner will be an authentic Sichuan hotpot. The essence of Sichuan hotpot is to freely choose what you like to eat. You're in control of what kind of soup you want to order, spicy or not spicy and what kind of meat and vegetables you want to eat, and what you want your sauce to taste like.
Overnight: Chengdu
Day 9. Chengdu-Huangshan (By Air). Meals: BLD
Today we will fly from Chengdu to Huangshan Mountain (Yellow Mountain). Huangshan Mountain has been a timeless appeal for scholars, tourists, poets, painters, and photographers. As a World Cultural and Natural Heritage Site, its natural scenery is very compatible with the essence of Chinese culture and has been frequently appeared in the great Chinese paintings.
Overnight: Huangshan
Day 10. Huangshan. Meals: BLD
In the morning, we will ascend in a beautiful and easy route. After hours hike, we will have a picnic lunch en route while enjoying the pleasant breeze and scenery. Then we reach a cable station that will bring us to a passage of steep stone stairways. After hiking this path through the scenery of pine and bamboo forests, we will reach the summit. The high vantage on the mountainside will provide especially scenic views of Huangshan. Its strange-shaped pine tree forests, odd rocks, the sea of clouds and hot springs are the things we try to explore. Tonight we will stay at a famous hotel surrounded by beautiful peaks.
Overnight: Huangshan
Day 11. Huangshan-Hongcun Village-Huangshanbei Station-Hangzhou (By Bullet Train). Meals: BLD
We wake up early to catch the beautiful sunrise of Huangshan. Then we will descend the mountain and go to visit Hongcun Village. Hongcun is an epitome of ancient China. We will stroll along the cobblestone paved lanes that wind around Hongcun's angular whitewashed buildings with pointed black-tiled roofs. They are regarded as the best examples of typical Anhui-style architecture. Croplands, ponds, and rivers scattered among the village's scope, presenting a great picture of peaceful rural China. We continue to visit some buildings that once belong to the big and wealthy families, searching for the trace of the ancient ancestors' gift and people's lives there. We can find wooden beams and wall panels are decorated with intricate carvings of nature, Chinese mythology or scenes from Qing dynasty life. The profound cultural background can be told day and night and here we just catch a piece of its charm and treasure in our memory. After lunch in Hongcun, we will catch the train to Hangzhou, another ancient capital of China.
Overnight: Hangzhou
Day 12. Hangzhou City. Meals: BLD
Today we will visit West Lake first. As the most famous destination in Hangzhou, West Lake may be also the most famous lake in China with its natural beauty, delicate causeways, and romantic legends. There is a saying that West Lake gets " Ten Scenes". One is "Spring Dawn at Sudi". We will walk along Sudi (Su Causeway) and wander in the small parks with fish water ponds covered with lotus, which is another "Ten Scene"—"Viewing Fish at Flower Harbor". Afterward, we will cross the "Broken Bridge" which may be one of the busiest pedestrian bridges in China. It is the bridge where Baisuzhen met Xu Xian and started a romantic legend popular nationwide. Then we will visit Lingyin Temple, an ancient temple with a history of more than one thousand years. The trees of Lingyin Temple have been lush enough to shield the big roofs. Buildings in Lingyin Temple are tall and spectacular. The sculptures in it are very impressive in design. In the afternoon, we will go to a tea plantation to have an experience of harvesting, drying and tasting tea. The tea experts there will explain to us the rich tea culture in China and the meaning behind every procedure of traditional tea art.
Overnight: Hangzhou
Day 13. Hangzhou-Suzhou-Shanghai. 270km 3.5h Meals: BLD
This morning, we will drive to Suzhou, a city with a 2500-year history that is renowned for its culture and wealth. The beautiful gardens in Suzhou are said to be the best in China. Among these gardens, the Humble Administrator's Garden and Lingering Garden are the most famous. The former is the most extensive garden and the Lingering Garden is the most exquisite one. In the afternoon, we head to an international metropolis and the modern window of China, Shanghai.
Overnight: Shanghai
Day 14. Shanghai City. Meals: BLD
In today's morning, we visit Shanghai's renowned Chenghuang Temple (City God Temple), for its various snacks and folk culture there. This place is perfect for finding local Shanghai-style snacks and for experiencing traditional celebrations during festivals. In the afternoon we'll go to Pudong, one of the fastest-growing parts of China. We will ascend the Oriental Pearl Tower to look at the city's stunning skyline. The Bund is on the other side of the river. You can view the most scenic parts of the old and new Shanghai. After dinner, we take a night stroll on the Bund. It is here that the legend of this whole modern city began. When the night falls, we will go to see the famous Shanghai Acrobatics Show to set a perfect end to our journey.
Overnight: Shanghai
Day 15. Shanghai Departure. Meals: B
AbsolutePanda team will escort you to the airport or train station. If you want an extension to continue your trip to China, we are more than happy to help. Thank you for choosing AbsolutePanda.


Dates & Prices


1. Dates

Mar. 8 to Mar. 22, 2024,2025
Sept 6. to Sept 20, 2024,2025

Email us to tailor-make a tour that can meet your taste, budget, and schedule best.


2. Prices

The AbsolutePanda team works hard to provide the highest-possible quality tour experiences at a fair price. However, after working in the travel industry for more than 20 years, our team knows that no two travelers are alike in terms of their travel styles, personal interests, choice of guides, and preferences in restaurants and hotels. For AbsolutePanda, our client's satisfaction is a top priority. To meet the needs of different clients and ensure you enjoy a trip suited to your preferences, you are welcome to email us with specific requests ranging from trip themes, guides, the grade and brand of vehicles, accommodations, restaurants, etc. We will try our best.

To ensure our guest the best trip, we set our minimum departure number as four travelers and the maximum departure number as twelve travelers. That means the trip size is 4 to 12 participants.

The cost for a group of 4 to 12 people:
4150USD/PAX

Single supplement:
700USD/PAX

The cost includes:
1. Comfortable vehicles during the whole trip. Fuel, tolls, airport pick-up, and drop-off are included in the price. The size of the vehicle is based on the number of participants for this itinerary;
2. Airfare from Chengdu to Huangshan;
3. Tickets of bullet trains listed in the itinerary;
4. English-speaking guides team who are familiar with local culture;
5. Meals listed in the itinerary as BLD;
6. A hotpot dinner served at Chengdu;
7. Bottled water and snacks;
8. Entrance charges listed in the itinerary;
9. China Domestic Travel Insurance;
10. Hotels and hostels listed in the itinerary.

The cost excludes:
1. Alcoholic drinks during the meal;
2. Extra charges due to change of itinerary from client-side or factors beyond the control of AbsolutePanda such as natural disaster and governmental policy change;
3. Discretionary tips to the guide and driver;
4. All personal expenses, such as laundry service or for personal shopping;
5. Train tickets or airfare to Beijing and out of Shanghai;
6. Any items not listed in the itinerary as included;
7. Entrance fee, car rental, or meals during your free time trip;
8. Single supplement.

Notes:
This trip price is based on two clients sharing one twin-bed room in at least 3-star standard hotels in cities and local best guesthouses in the tourist sites we visit. If you prefer to use a private room or we cannot find a roommate for you, then a single supplement will be added to your trip price.


3. Experienced Culture Guides

• Philip: A local guide born in the Sichuan Tibetan area with fluent English and basic Japanese, Philip is an exceptional photographer and had guided many trips all over China since 2004. Philip also has a deep knowledge of Buddhism and Taoism and other cultural activities.

• Bella: Born in Dali of Yunnan Province, from Bai ethnic family, Bella was brought up in a small county famous for ethnic Bai culture, abundant natural resources, and rich tourism resources. Bella is an expert in multiple fields, including birding, photography, food and ethnic culture.

Notes:
1. Please note that our guides with specialized knowledge are not always available, especially during our busy season from April to October. If you have an on-planning trip, please contact us as early as possible so that we will block the date of our expert guide for you.
2. To our AbsolutePanda team, our clients' overall satisfaction with their trip is the top priority. We can create a different option to make it easier for you to choose a tour that fits your style and budget. If you prefer to travel in a different style than the option we've provided here, please feel free to contact us.
3. For travelers who hope to tailor-make the programs with their specific travel preferences in mind (transportation ways, hotels, exclusive privileges, and famous local experts), tailor-making a tour is the best way to ensure your desires are met. Please contact us with your specific needs and we will prepare an itinerary based on your expectations. Once you are satisfied, we will work out the cost and send it to you. Please feel free to ask any questions to learn more.

When you put your trust in our team, we are certain to help you enjoy an unforgettable travel experience in China!
Accommodations
AbsolutePanda firmly believes travel is an art. To ensure every trip with us is a great travel art for our clients, the AbsolutePanda team does all we can to consider every possible detail. The choice of hotels is an essential part of making a great trip. After many years of running a travel business, we have built up our network of cooperative hotels at different levels. We understand people are different in the choice of hotels when they travel. If you want to use some specific hotels, please feel free to let us know, we are delighted to book it for you at a competitive price to make the hotel choice better meet your taste, budget and travel style. We can either reserve a hotel with competitive price for you or simply include the hotel into your trip cost if possible. You are welcome to contact us and tell us your requests, we will do our best to create the best travel itinerary for your private use.
If you need help with hotel booking in other big cities of China at different styles and luxury levels (International-brand Hotels, Local Brand Hotels, Economical Hotels), please feel free to email our team at info@absolutepanda.com.
FAQs


1. How is the weather be like in China during this tour?
In March, it is a little bit cold in northern parts of China (Beijing, Pingyao, Xi'an in this tour). The temperature may sometimes go below zero with occasional snow. So it would be very useful if you could prepare some warm coating with you. In September when summer has not left away, usually the temperature is good and comfortable in the north and a bit hot in the south.

2. How is the food of this tour?
AbsolutePanda takes every meal as an important part of the travel experience. So we carefully choose restaurants. Whenever it is possible we always dine at a nice local popular restaurant. In this way, our travelers enjoy the authentic local gourmet and try as many different varieties as possible. For western travelers, we also prepare some simple western breakfast though you are always welcome to try local Chinese style as we will taste various famous cuisines in allover China on this tour. AbsolutePanda is also very experienced in taking care of Clients of vegetarians, food allergies, and taboos.

3. What are the advantages of traveling by bullet trains in China?
Firstly, it is fast. It runs at speeds of about 250~350km/h. The newest trains' speed can reach to 400km/h. We can travel to Beijing from Shanghai (over 1,200km) within 5 hours.
Secondly, it is punctual & reliable: bullet trains are usually on time because less affected by variations in climate and traffic. Seldom a bullet train will have a failure that causes severe accidents.
It is comfortable. The seats on the high-speed train are usually much better than airplanes and buses.
What's more, you can view the beautiful landscape alongside the track with good services and facilities on the train.

4. What are the special activities AbsolutePanda will arrange in this tour related to Chinese culture?
AbsolutePanda will organize special activities like making Shadow Puppetry, watching Sichuan Opera, learning Chinese traditional architecture design, experiencing a tea culture lesson and more during the tour to help you gain deep cultural immersions.

5. How are the accommodations will we stay?
As all destinations we visit are quite developed with the hospitality industry, the hotels we choose for this tour are no less than a three-star hotel, with special cultural decoration and good facilities and services.


Testimonials


"Highlight of my 2-month stay in China - I know whom to thank!"
I was on a business trip in Chengdu and wanted to explore the surrounding areas a bit. I was so lucky to find Philip and Absolute Panda! Philip is responsive, knowledgeable and super helpful. I told him a few places I'd really love to see (panda bears + the Dujiangyan irrigation project) and he arranged a great one day trip for me. In the morning we visited the Panda Breeding Center and I still treasure every moment of it. He made sure we arrived early so we got to see the pandas at their most active and playful (before it gets too hot for them). Philip also helped me secure a spot at the Panda Interaction Center to ensure I was one of the lucky few on that day to be able to hold a baby panda bear. The "donation" cost a bit more than $200 but I think it's totally worth it. Without Philip it would have been very difficult for me to navigate through the center, and I absolutely couldn't have been able to find the Interaction Center (not very well marked as another reviewer mentioned) myself! In the afternoon we visited the Dujiangyan irrigation project, which is very impressive as well. It's amazing that it was designed and built more than two thousand years ago and is still functioning well. It is not as famous as the Great Wall, but its impact certainly far outweighed that of the Wall. Philip is also an accomplished photographer and brought along his professional grade camera. He took many pictures that day and kindly offered to have all pictures downloaded to my PC...
It was a fantastic day. I would recommend AbsolutePanda to everyone!!!
--mattyang
Date of experience: July 2012

"Absolute Panda and Philip are the Best!!"
After reading trip advisor and getting a recommendation from a colleague, I booked a trip with Philip and Absolute Panda. It is the best trip and experience I have ever had with a tour group. Philip really personalizes your trip and provides great suggestions per your requests. His expertise and knowledge about the pandas was exceptional. We were one of the first people in the park as he had bought the tickets ahead of time. I was also able to be the first to sign up to spend several minutes petting a panda (well worth the additional 2000 RMB). It was definitely a highlight. They also only allow 20 people a day to handle the pandas so getting their early is a must and Philip knew exactly where to go to ensure I was able to book a spot with the panda for later in the morning.
After the Pandas, we took a trip to the ancient town of Luodai and ate at a local eatery. It was nice to experience some of the favorite foods in Sichuan and not be at a typical tourist restaurant. The shopping was great and very affordable and it appeared that I was the only tourist there. We also visited Jinli market which is a replica of a Han Dynasty (2000 years ago). It was beautifully decorated for the upcoming Chinese New Year or Spring Festival. The day was topped off by the Sichuan Opera which offered many skits including the famous face changing, folk music, opera singing, dancing and marionettes.
Philip is also an excellent photographer and shared all his photos he took during our tour. In addition, because his camera was so much better than mine we used his camera for the Panda Research staff to take photos of me and the panda Shuang Xin (age 1 year 4 months).
Please take advantage of visiting Chengdu when you are either in Beijing or Shanghai as it is a short flight from either city. Philip and Absolute Panda are highly recommended and I plan to fly back and book his tour company to visit Jiuzhaigou as well as the other panda base. Philip's knowledge and pricing for what you get in an experience can not be beat. Thank you AbsolutePanda!!
--Sushi G
Date of experience: May 2016

Welcome to email us and be our guests to write the feedback for us. Testimonial of AbsolutePanda


Videos & Photos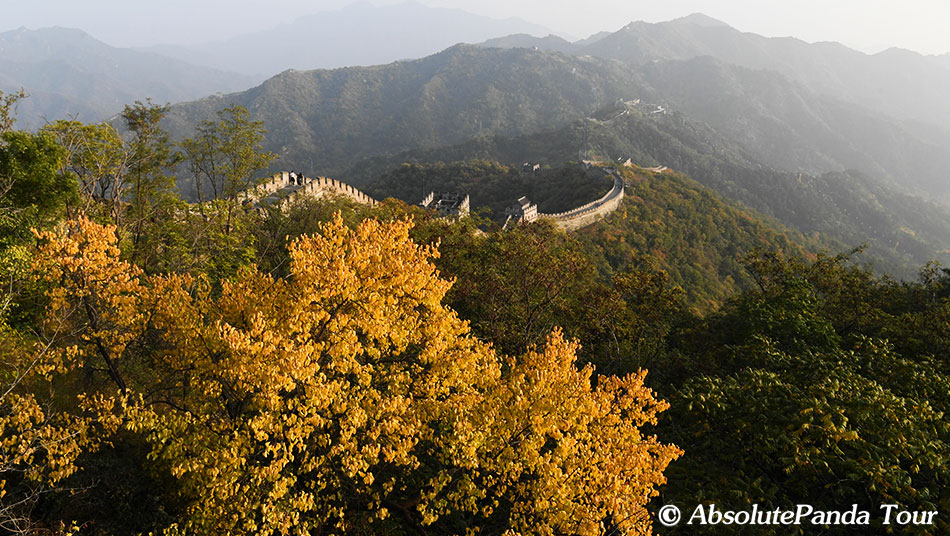 Mutianyu Great Wall Section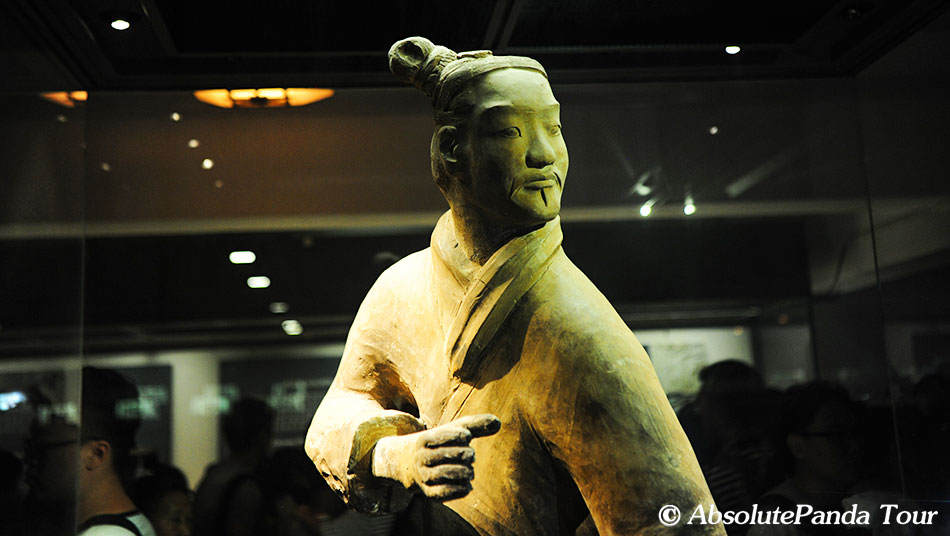 A soldier of Terracotta Army.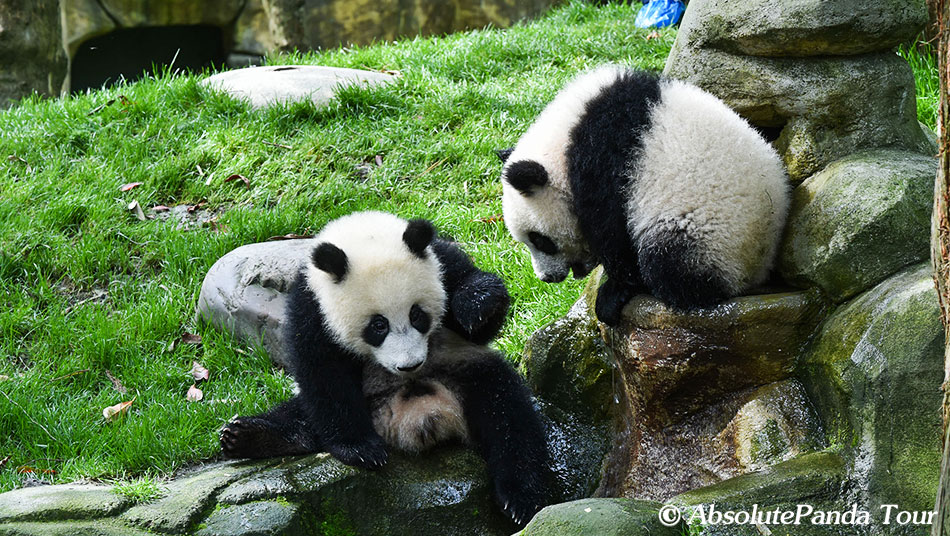 Meet pandas in Chengdu.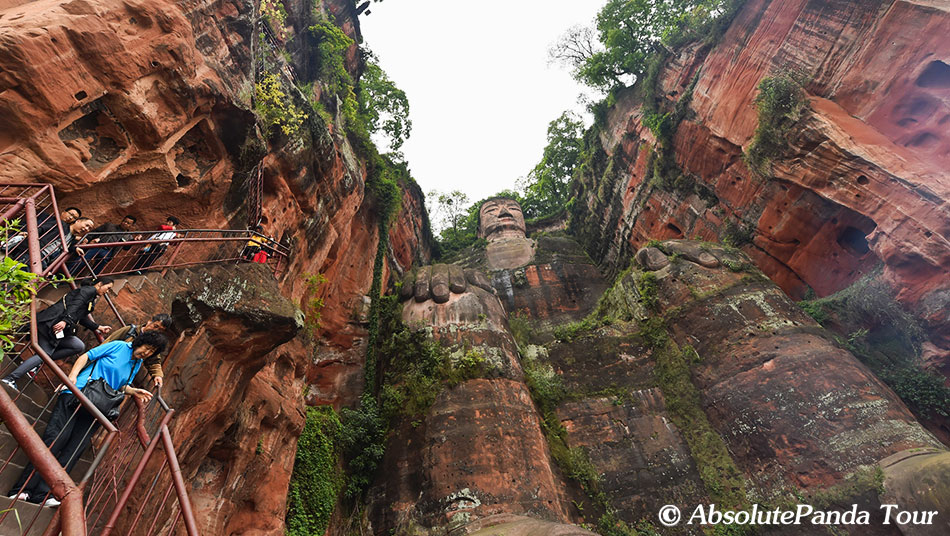 Leshan Giant Buddha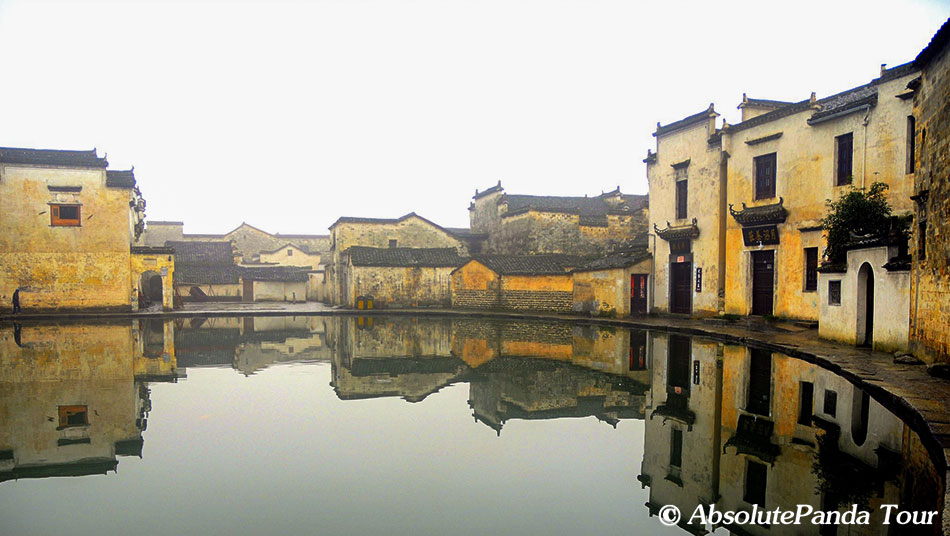 Hongcun Village


Welcome to email us and share your trip photo with us. Photo Album of AbsolutePanda