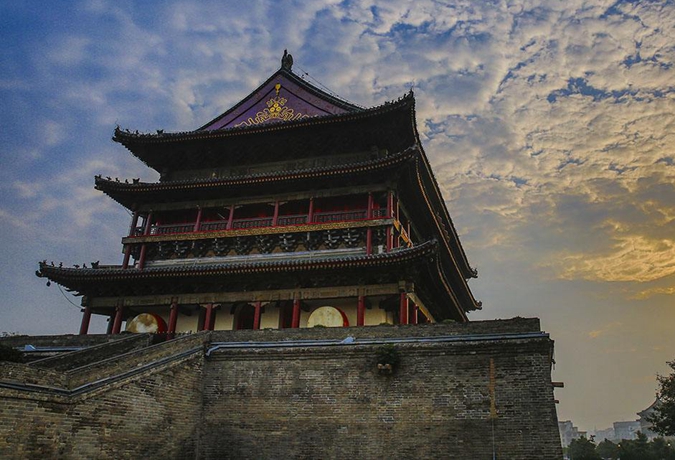 Xi'an Day Tour Package
Date: All Year Round
Price: From USD
Trip Focus: City+ Xian
Status: Open to Booking
Route: Xian City: Terra-Cotta Warriors, History Museum of Shaanxi Province, Huaqing Palace, Wild Goose Pagoda, Tang Paradise, Muslim Quarter, Local food street.
Trip Code: CT002
Overview


From 200 BC to 1000 AD, Xi'an ( named Chang'an at ancient time) was the capital and the most important city of China. The first unified dynasty in China, the great Qin Dynasty, buried its Terra-Cotta soldiers underground Xi'an; while many exquisite relics from Han Dynasty are unearthed in the same area; and the city is like a flashback of Tang Dynasty, which reaches the peak of imperial China. Xi'an is the best choice, even better than Beijing, to experience the ancient beauty of China.

Besides, Xi'an folk culture and food is a wonderful plus to your travel experience. Xi'an is the starting point of the Silk Road. In Tang period, this city has the most diversified ethnics from various countries at that time.The Muslim Quarter, located in downtown Xi'an, is a heritage and one of the best place to taste local food.

AbsolutePanda Xi'an Day Tour Package collects the most attractive parts of Xi'an and combined them to meet your interest and give your an unforgettable day in Xi'an.





Map
Xi'an City Hotspots Map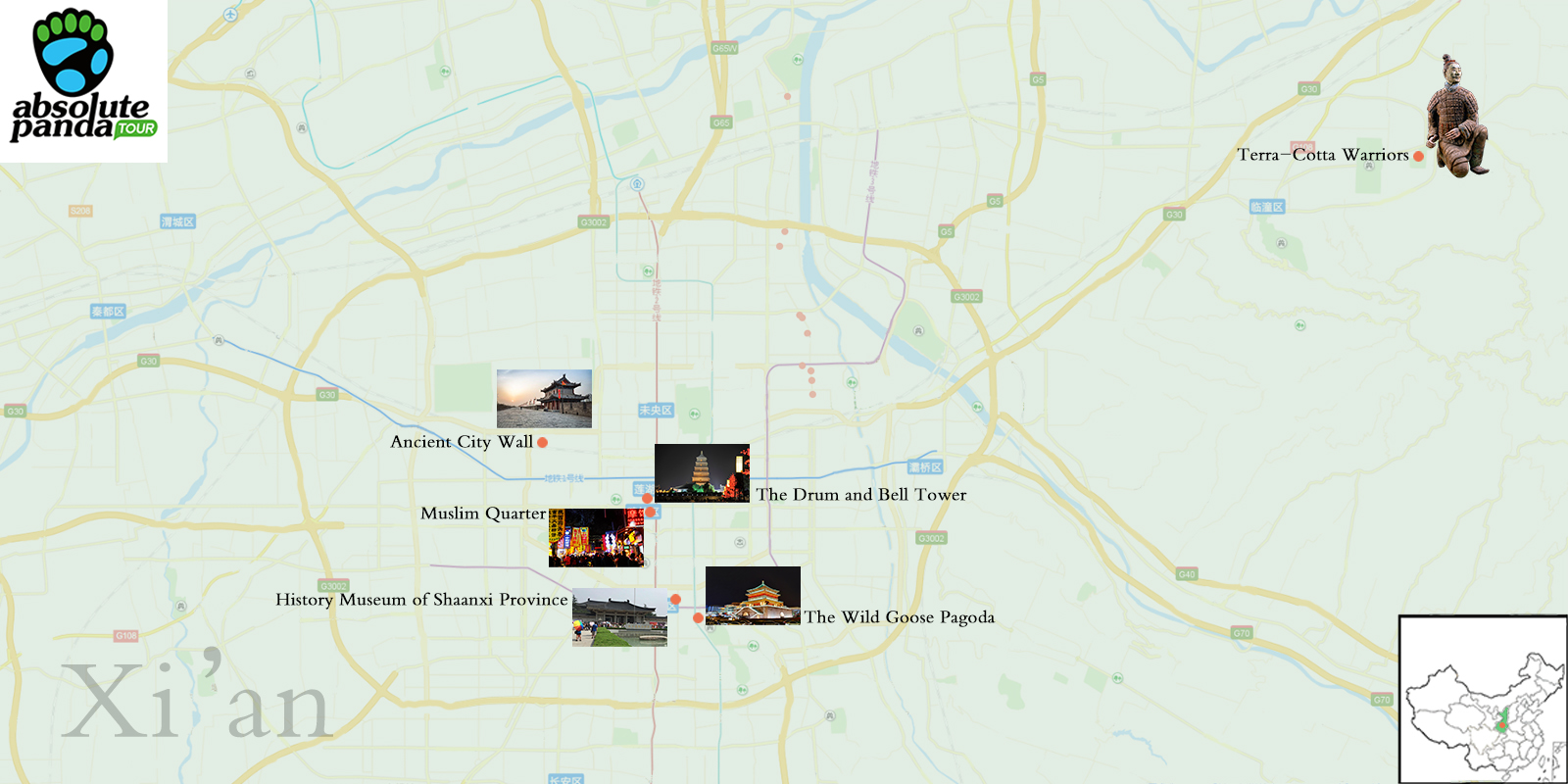 Itinerary
Option I : Terra-Cotta Warriors + History Museum of Shaanxi Province
Morning →
Terra-Cotta Warriors Museum
Terra-Cotta Warriors Museum
, built by the first emperor of China Qin Shihuang to protect him in his afterlife. Over 8,000 life-size warriors, horses and chariots, buried in 3 pits for more than 2,000 years until uncovered by a local farmer in 1974, form an ancient military army with complete battle units of infantry, cavalry, etc. Standing in front of these figures, one can't help being amazed not only by the ambition of Emperor Qin Shihuang but also by the fabulous artistic skills of ancient Chinese artisans.
Afternoon
→
History Museum of Shaanxi Province
History Museum of Shaanxi Province ,
where you can ramble in the modern exhibition halls to appreciate historic relics such as porcelains, paintings, and currencies dating from the Zhou to the Tang dynastic periods (1100 BC to 907 AD). (Note: Shaanxi History Museum may be replaced with other activity or attraction because of crowding tourists during July ~ early September and China's National Day during Oct.1-Oct.7. You may check details with your travel consultant.)
Option II : Terra-Cotta Warriors + Huaqing Palace

Morning →Terra-Cotta Warriors Museum

Afternoon → Huaqing Palace

Huaqing Palace is located 30 kilometers away from the east of Xi'an city. e emperors of Zhou Dynasty, Qin Dynasty, Han Dynasty, Sui Dynasty, Tang Dynasty all once established temporary palace or villas in this place. It is well-known by its permanent resource of hot spring, the historical stories of Tricking the Marquess with Beacon Fires, the love story between beauty Lady Yang and Emperor Minghuang, the spot of Xi'an Incident and it has become an iconic scenic spot of Tang Palace Culture Tourism in China.
Option III: Xi'an Old City Wall + Wild Goose Pagoda+ Tang Paradise

Morning→ Xi'an Old City Wall

Xi'an Old City Wall is the largest and best-preserved ancient city wall in China. Enjoy panoramic views of modern Xian while you leisurely examine this well-maintained city wall which is 12 meters high and 18 meters wide with a total circuit of nearly 14 kilometers.


Afternoon→ Wild Goose Pagoda

Wild Goose Pagoda is the most famous building in the temple. The pagoda, rising to a height of 64.5 meters, was built by the famous Buddhist master Xuanzang to preserve classic scriptures he bought back from India during the early Tang Dynasty. Xuanzang was the prototype character for Tang Seng in the famous Chinese novel "Journey to the West".

Option IV: Xi'an Old City Wall+ Muslim Quarter+Local Food Street

Morning→ Xi'an Old City Wall

Afternoon→ Muslim Quarter + Local Food Street


Muslim Quarter + Local Food Street (Yongxing Fang)

Muslim Quarter is one of the biggest Muslim community block where you can try different local snacks and explore Muslim culture.

Yongxing Fang is the best place to try the most authentic Xi'an food.

Dates & Prices
Upon Request.



Accommodations
According to your request.