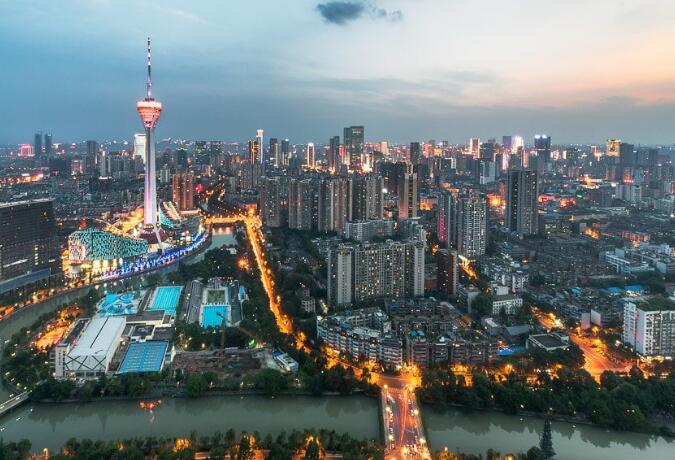 Chengdu Day Tour Package
Date: All Year Round
Price: Upon request
Trip Focus: Highlight+Chengdu City
Status: Open to Booking
Route: Highlight of Chengdu city;Top Recommend for a visit of Chengdu.Discover more about Chengdu.
Trip Code: CT001
Overview

Chengdu is entitled "the Land of Abundance" is without no reasons. It is enriched with abundant history relics;rich wildlife resources represented by the most popular elves- Giant Panda; diversified gourmets; trademark leisure style local life and beautiful small old towns with special characters; world heritages show the ancient wisdom and philosophy of Chinese and modern skyscrapers tell a new Chengdu. Our Chengdu city tour will select the most essence of Chengdu and immerse you into Chengdu's charm. You can also give your own preference to AbsolutePanda and we are more than happy to tailor-make an unforgettable trip for you.

History
Chengdu is not only the hometown to Giant Panda, but also a famous ancient capital of more than 3000 thousand years without change of its name.It is gifted with both incredible natural resources and historical relics. Our tour will cover the most mysterious relic site in China, a shrine that memorize the most heroic period in Chinese history and a mountain enlightened with wisdom of Taoism.






Wildlife

Not a few big cities can compare its wildlife resources to Chengdu. You can not miss Panda if you pay a visit to China. Besides, Chengdu has more wildlife than you think.





Gourmet

In February 2010, the United Nations educational, scientific and cultural organization (UNESCO) awarded Chengdu the title of "gourmet capital" and officially approved Chengdu to join the UNESCO creative cities network, which marked Chengdu becoming the first gourmet capital in Asia.





Lifestyle

Though the pace of Chengdu is becoming faster and faster, still life in Chengdu is quite different from the eastern coastal city. Sitting in a bamboo chair to enjoy a couple of tea time and learning to play the most popular entertainment in this city--Majong will give you an authentic taste of the local laid-back lifestyle. Visit an old town full of locals will give you a insight into the old and modern Chinese life.






World Heritage

Chengdu plain is located in the transitional region between the Tibetan Plateau and the Sichuan basin.It has a very special geological structure and vegetation cover.At the same time, the agriculture abundance of this land made civilization, culture, Buddhism highly developed in ancient time. There are many world heritage sites in and around Chengdu, which is the also one of the most abundant areas of cultural and natural Heritages in the world.






New Chengdu

As one of fastest metropolises in China, Chengdu has many up-to-state modern facilities and architectures. In the shed of skyscrapers, you will find antique buildings like the ones 300 years ago. It is also the new Chengdu, a more inclusive hotpot that you do not want to leave.







AbsolutePanda Tour carefully selects the best authentic parts of Chengdu and recompose to make Chengdu Classic Day Tour Package, Chengdu In-depth Tour Package and Chengdu Specialized Tour Package.

When it is your first time visiting Chengdu and only have limited time, our suggestion is to choose day tours from Chengdu Classic Day Tour Package which shows the full image of Chengdu as panda hometown, a historical capital with abundant nature and culture.

For those experienced travelers who want to taste the most authentic parts of the city, we suggest Chengdu In-depth Tour Package to you. Tours in this package allows them to immerse in Chengdu's way of life,gourmet and hidden treasures etc..

Chengdu Specialized Tour Package is designed for those travelers with special targets like birding, flora watching, trekking, school study trips and so on.

The real charm of Chengdu is only can be explored by yourself. Join AbsolutePanda to experience the real Chengdu!
Itinerary

Chengdu Classic Day Tour Package


1.Chengdu Panda Base Day Tour




Morning→ We will be visiting Chengdu Research Base of Giant Panda Breeding to have an close encounter with the cutest animal on earth.
Afternoon→To admire Wenshu Monastery, the city most famous Buddhism sanctuary.

Chengdu Research Base of Giant Panda Breeding
As the world's largest single panda base, Chengdu Research Base of Giant Panda Breeding has largest number of captive pandas and is only about 15km from Chengdu city proper. Here you can see both giant pandas and red pandas in different age groups. The base has big variety of gardening plants and well-maintained beautiful environments. It is also a great place for birds.

Wenshu Monastery
Wenshu Monastery is one of the oldest and most famous monastery in Chengdu city Initially built in the Tang Dynasty (618-907). Wenshu Monastery was once called Xinxiang Monastery. In 1681, during the reign of Emperor Kangxi of the Qing Dynasty (1644-1911), Cidu, an accomplished Buddhist monk, came to the temple. He built a simple hut between two trees and for several years lived an ascetic life there. Legend has it when Cidu was being cremated; the statue of Wensu (Bodhisattva Manjusri in Sanskrit) appeared in the flames, staying for a long time. So people regarded Cidu as the reincarnation of the Bodhisattva Manjusri. Thereafter, Xinxiang Temple became Wenshu Monastery.



2.Dujiangyan Panda volunteer Day Tour





Morning→ We drive from Chengdu hotel to Dujiangyan Panda Base. A whole morning volunteer work will give your the most valuable panda experience in the world.
Afternoon→After an unforgettable morning, we drive back to the city to visit Kuanzhai Alley&People's Park.

Dujiangyan Panda Base
Being about 60km from Chengdu City Proper, Dujiangyan Panda Base (also known as "the Panda Ark") is a facility focusing on panda disease study. The base is under China Conservation and Research Center for the Giant Panda (CCRCGP in short) and built by Hong Kong Special Administrative Region. There are about 30 pandas living in the base.

Kuan Zhai Alley
It literally means broad and narrow streets, is a well-preserved neighborhood originally built for Manchu officials in Qing Dynasty (1636—1912 A.D.),featuring a combination of northern architecture style and southern architecture style in China. Now these artistic streets have become the best place for travelers to experience unique local culture and shop for some unique local souvenirs.

People's Park
Almost every Chinese city has its People's Park, Chengdu is not an exception. Several tea houses are scattered in this park.Locals can have a cup of tea from early morning to the dusk, watching people playing Taichi, listening to neigh's casual talks and forgetting it is in the truly downtown of Chengdu. A matchmaking corner is located in this park where elders bring the son and daughter's resumes to see if they can help unmarried children to find the suitable ones.


3. Dujiangyan Irrigation&Mt.Qingcheng Day Tour




Morning→Head to Dujiangyan and meet the 2000-year Dujiangyan Irrigation System which is still having its function today.
Afternoon→Visit the Qingcheng Mountain nearby, a thick-green-forest-covered mountain with splendid Taoist temples and relics.

Dujiangyan Irrigation System
With a history of about 2300 years, Dujiangyan Irrigation System is the only ancient irrigation project of its kind in the world survived the long history and is still at work now. This project has nurtured the vast fertile lands on Chengdu Plain and turned it into a breadbasket of China known as 'land of abundance'. It became a world Cultural Heritage Site by UNESCO in 2000.

Qingcheng Mount
As the place where Taoism first got flourished, Qingcheng Mountain is one of most important Taoist holy mountains in China. The mountain boasts of many Taoist monasteries and is known for its beautiful natural scenery and tranquil environment. It became a world Cultural Heritage Site by UNESCO in 2000. It is a great place to hike and learn about Taoism ideas.

4.Leshan Giant Buddha Tour




Leshan Giant Buddha & Huanglongxi Ancient Town

Morning→Depart for Leshan. The Leshan Giant Buddha is a will certainly impress you with its history and volumes.
Afternoon→ On our way back Chengdu, we will spend a leisure time in Huanglongxi ancient town, one of the Chengdu natives' favourites.

Leshan Giant Buddha
Leshan Giant Buddha is the world-largest stone Buddha, a World Cultural and Natural Heritage site since 1996 by UNESCO. The 70-meter high Giant Buddha was carved out of rock from a hill called Linyun Mountain located at the junction of the Minjiang River, Dadu and Qingyi Rivers. The immense project was initiated by a monk called Haitong in 713 A.D during Tang Dynasty with intention to calm the turbulent river. The whole project lasted 90 years.

Huanglongxi Ancient Town
With an history of over 1,700 years, Huanglongxi Town is a well-preserved town where you can enjoy its rustic charm, with ancient cobbled streets, temples, and wharves and houses along its curving alleys. The town is about 50km from Chengdu city. The majority of the buildings in Huanglongxi date back from the Qing Dynasty. The numerous temples, traditional architectures, time-honored streets and old trees make it a popular place for film-film makers to shoot exterior scenes of period movies in this town.



Chengdu In-depth Tour Package

1.Old and New Chengdu Day Tour




Jinsha Museum & Down Town Chunxi Road

Morning→After our breakfast, we will visit the Jinsha Site Museum to explore the mystery of ancient Shu civilization.
Afternoon→ We will visit the core business part of Chengdu. Feel the heartbeat of this city in the most famous walk street of Chengdu.

Jinsha Site Museum
A well designed museum showing the ancient history of Chengdu and built on the original location of Jinsha Site that is found in 2001 and listed as the first important archaeological discovery found in early 21 century in China. The great number of gold, jade, bronze, stone and ivory items found here show the extraordinary civilization created by Shu people living here 2900-3200 years ago. Along with Sanxingdui Museum, Jinsha Site Museum become the essential part of Yangzi River Civilization which is in parallel with Yellow River civilization in China.

Chunxi Road
Chunxi Road is the biggest shopping place in Chengdu and famous nationwide. Located in Jinjiang District, this road in a broad sense covers an area of about 200,000 square meters (2,150,000 square feet). It stretches to the east of Beixin Street, the west of Hongxing Road, the south of Zongfu Road, and the north of East Street. The street was originally built in 1924 to connect two commercial centers, the East Street and Mercantile Corporation. After nearly 100 years of evolution, it is now not only the center of fashion in Chengdu, but also a place that brings together delicious snacks from all over the country.

2. Chengdu City Gourmet Tour



Sichuan Cuisine Museum&Jinli street

Morning→Participate in the AbsolutePanda Mom's Kitchen Program. We will buy food material in local market.Then follow our founder's mom to learn how to cook the most authentic family cuisine in Sichuan.
Afternoon→Visit the famous Jinli street and Wuhou Shrine, known for old style atmosphere and all kinds of local snacks. After we will need you to the hidden allies to find some small restaurants with the real flavor of Chengdu.

Sichuan Cuisine Museum
Chengdu is not only the hometown of giant panda, but also the City of Gastronomy designated by UNESCO. To experience comprehensive Sichuan cuisine culture, you should definitely visit Sichuan Cuisine Museum, the first museum to display a regional cooking culture in the world.
Jinli street
It is recorded that as early as the Qin Dynasty (221 BC - 206 BC), Jinli Street was the most famous place for baldachin - a rich, ornate cloth. And it was one of the busiest commercial areas during the Shu Kingdom (221-263). Hence, it is known as 'First Street of the Shu Kingdom'.

3.Chengdu Old Town Day Tour



Pingle Ancient Town & Anren Old Town

Morning→We head to Pingle Ancient Town first to experience the slow-paced life & beautiful "Chuanxi style" old architectures.
Afternoon→Anren Old Town has many special small museums and old landlord residence.

Pingle town
It is located 93 kilometers southwest of Chengdu and 18 kilometers southwest of Qionglai city.With a history of more than 2000 years, Pingle town is a start point on the southern silk road and a famous historical and cultural town in China. Pingle is an also important dock in southwest sichuan.
Anren town
Between here and Chengdu is about 41 kilometers or so, there are 27 ancient house which were built in the republic of China period. In addition, traditional craft workshops,theaters and snack shops are still doing business.It is not known to all, but it has always been a place of outstanding talents and treasures, attracting travelers who love the old time with its profound historical deposits and elegant life a century ago.


4. Old Chengdu Roaming by Metro Day Tour



Today we will use one of fastest growing city Metro system to experience the old streets areas.
Each area bear a history of Chengdu and our local folk culture expert will give interesting lectures and stories along this journey.

Old City Blocks
We selected 5 old blocks or city old residence area for you to explore which are "Shaocheng area", "Shuijingfang area","Huaxiba area","Wenshu Monastery Blocks", "Old Post Office Blocks","Xiaoguanmiao Area". These are essence parts which still preserved in the fast-changing Chengdu city. We will focus on the culture, historical stories of celebrities that once lived there, old temples, city walls and do some good city photography.


Chengdu Specialized Tour Package

1.Chengdu City Bird Watching Day Tour



Qinglong Lake& Sichuan University
Morning→We set to Qinglong Lake, one of the best bird watching spot in Chengdu City area.
Afternoon→Visit Sichuan university, a place not only for many young scholars, but also for precious birds.

Qinglong Lake
One of the best birding places in Chengdu City. It is a fantastic place to find some migratory birds, like the critically endangered Aythya baeri.

Sichuan University
Sichuan University is not only a place for scholars, but also an important sanctuary for many gorgeous birds.

2. Chengdu City Museum Day Tour



Sanxingdui Site Museum+Chengdu City Museum
Morning→Take an hour drive to our destination --Sanxingdui. You can hardly find something to compare what has been found there.
Afternoon→Go back to the city to visit Chengdu City Museum, the biggest museum in Southwestern China.

Sanxingdui Museum
Located in Guangyuan city about 50km from Chengdu City Proper, the Sanxingdui Museum features a civilization created by Shu people during the Neolithic, Shang and Zhou periods. The museum was built on the basis of objects found from two Shang-period sacrificial pits opened by accident in 1986. The wealth of its contents, and the rarity and precious nature of its excavated objects here and in Jinsha prove the existence of Yangzi River civilization in China in parallel with Yellow River civilization in China. Great number of other objects have been unearthed here including ceramics, jades, gold objects, bronzes and bronze masks.

Chengdu City Museum
Chengdu City Museum is in Daci Monastery area and is a stylish architecture. From the very beginning of Chengdu history and evolution to the various culture and customs, incredible and delicate artifacts and relics will impress you and let you know why Chengdu is called the "land of abundance"

3. Chengdu Culture Educational Day Tour



Kungfu lesson&Shadow Puppetry Classroon
Morning→A local Kungfu master will teach students a lesson about Kungfu and its philosophy.
Afternoon→ Join in AbsolutePanda shadow puppetry Classroom to know how to make a shadow puppet show yourself.

Kungfu lesson
A special experience for you to understand the most popular game in Sichuan Province. The class lasts about 2~3 hours. Our guide will take you to a local open-ground teahouse in a park and start the Majong lessons there. It is more of an experience to know the basic rules and way of playing this games than a serious class.

Shadow Puppetry Classroom
Shadow puppetry is a folk art which has a long history and enjoys great popularity in China. Shadow puppetry is also called "Shadow Play" or "Lamp Shadow Play". It is a folk drama in which figures are silhouetted in animal skins or cardboard to act out stories. Most of the working process is the same, usually consisting of eight working procedures, such as leather selection, leather making, painting, engraving, coloring, sweating, ironing, binding, etc., and carving more than 3000 times by hand. It's a complicated and wonderful process. In 2011, Chinese shadow puppetry was included in the representative list of intangible cultural heritage of mankind.Welcome to experience this unique art with us in Chengdu.
Dates & Prices
Our Chengdu Day Tour Packages are open for booking all year round.


Accommodations

AbsolutePanda can personalize your accommodation during the tour based on your requests of ranking, style, facilities. Welcome to email us by info@absolutepanda.com


FAQs
Chengdu City Trip FAQ

Best time to visit Chengdu?
The best time to visit Chengdu is from Spring(April) and Autumn(September) since the temperature is cool and many natural wonders around Chengdu is at its best time. (AbsolutePanda suggest our client not to choose the first week of May and October since it will be crowded because the national holidays.)
Month

Jan

Feb

Mar

Apr

May

Jun

Jul

Aug

Sep

Oct

Nov

Dec

Average Low(℃)

10

12

17

22

26

28

30

30

26

21

16

11

Average Low
(℃)

3

5

8

13

17

20

20

20

19

15

9

5

Transportation of Chengdu

By Air
Chengdu has the biggest aviation hub in western China which has international flights to big cities like London, Paris, Vancouver, San Francisco, Frankfurter and Capitals of most Asian countries and regions. Chengdu also connects with most Chinese big cities like Beijing, Shanghai,Guangzhou, Shenzhen etc..

By High-speed train
As one of the most important train stations in China, Chengdu connects most main cities in China with high-speed trains.

Public Transport
Public transport in Chengdu is very convenient now. The city metro and public buses can send you to every corner of this city. Also you can find shared bikes easily to start your exploration environmentally and economically.

Email us if you have some questions.
Testimonials
We booked with Absolute Panda for two and half days of panda time around Chengdu. Our guide, Philip helped us build the perfect experience. We volunteered for two days at Dujiangyan and spent the following morning at Chengdu Research Base. Knowing the staff at the Dujiangyan panda base, Philip made sure we were given lots of panda time. We fed panda bears which was amazing. They looked at us with their soulful eyes - it was priceless!
In the evenings, Philip arranged for us to try the ultimate Sichuan dining experiences as well as a Sichuan opera. Sharing a home-cooked meal that we learned to cook from Philip's Mom was an extra special treat for us. Philip taught us to play Mahjong and shared his wealth of knowledge on Chinese culture and history.
If you desire a special, customized tour of China with experienced guides that cater to your needs, book with Absolute Panda!
"Wonderful panda experience with kids!"
We recently visited Chengdu to experience the pandas. I was traveling alone with my two daughters, ages 6 and 11. Lily was very easy to work with in planning the trip, and Philip was a fantastic guide. He even requested our favorite snacks ahead of time and had them available in the car. Philip's English is excellent, he has traveled in the US and can relate to Americans, is great with kids and full of interesting knowledge about the area and pandas. Philip also really knows his way around the Chendu Panda base and was able to get us in early and up close to the babies and young pandas - this was awesome! He also arranged for a delicious meal in Chengdu at a local (and non-crowded) restaurant. Always full of interesting conversation and stories. The next day, we participated in a panda volunteer program at the new Dujiangyan Panda Base - truly, an experience of a lifetime! We traveled in a new SUV which was very nice and clean, but not as comfortable for riding in the back seat as the larger vans we have used in other cities. Our driver, while safe, seemed a little less experienced than we are used to. Other than that, it was a perfect panda experience! Thank you!
The Panda volunteering day was a most wonderful experience. Our guide Bella provided us with water and snacks as we drove out to the Panda Base with her driver in a lovely, comfy late model car. Bella 'knew her stuff' and we chatted all the way, about a two hour drive from our hotel. The volunteering jobs such as cleaning out panda cages and making panda cakes were more like fun than hard work. The pandas were all beautiful especially the one we got up very close to for the photo shot! The lunch was delicious. In all a fantastic day that I will be recommending to others! Thankyou all especially Bella and the booking staff.
Wonderful private tour guide!
We chose Absolute Panda for a 4-day private tour of Chengdu because they offered the most innovative and varied set of activities. Lily and Philip, a husband-wife team, own the business and did everything possible to create a wonderful memory of our trip.
Lily runs the office, and was very responsive to our emails. Philip was our guide/driver, and is clever, knowledgeable, speaks English well, and wanted to tailor his talks to our need for detail (NO, don't tell me about Dynasties!) or specific topics, such as current affairs and politics. The car was very comfortable, and Philip made us feel at home, with plenty of water and a backpack of snacks. He brought along Bela, a sweet young assistant, to care for us when he was parking the car. Both were very sensitive to our needs, and communicated well about the agenda and choices we might make.

The highlight of the trip was our day volunteering at the Dujiangyan panda base. It was about a 1.5 hr drive from Chengdu. We were briefed, changed into a one-piece blue uniform (they have a good size range), were given heavy gloves, and off we went to clean out a panda cage, while the panda was in the next cage - don't get too near, don't turn your back! Pandas are cute, but prone to lash out with huge claws after they reach maturity. It was easy work - poop is mostly fiber so no bad smells. We then moved outside to clean the panda'splay area, as she watched, anxious to get out.

Then we were allowed to roam and view pandas in enclosures. There were 2 eighteen month old pandas that were one constant tumbling team! We then got to hand feed pandabiscuits to a well-trained 2 year old, who would hook her clawed paw on a special tray in order to get something in her mouth. Wow! Up close and personal!

We had lunch with the employees in the canteen - delicious! Then a one-hour documentary on the efforts to breed pandas in captivity and to return them to the wild. Then back to clean the outdoor area and hand feed the panda again. Finally, we make some panda biscuits, checked out the souvenir shop and headed back to Chengdu.

The Chengdu Research Base of Giant Panda Breeding was a half-day visit, and well worth the time. We went super early to avoid the crowds - Philip was great about leaving at 7am when we wanted to beat the rush and 9:30 when we had a little lighter day. There were two rooms of young pandas. We were lucky to catch them in their tumbling act before fell asleep...right where they had landed a minute earlier from tumbling. Too cute! There were also lovely outside enclosures with pandas of various ages and some red pandas too.

Philip even took us home to have his Mom do some cooking for us. Boy, can she chop things quickly! We mostly watched as she created some great dishes, but Philip would have put us to work if we wanted. Beware, one dish was too hot for my palate, but my husband liked it. It is hard to get anyone to make a "mild" dish for me! We also visited the fresh market next door. We have been to many cooking schools, which tend to be better organized that this event, but I learned several new tricks for cooking Asian food in general from Mom and enjoyed the glimpse into their home.

Philip also took us to very interesting Chinese and Tibetan shopping areas, explaining the culture along the way. We visited parks where seniors danced or practiced Tai-Chi or martial arts. The Bamboo park, where we sat and drank tea and learned to play Mahjong, was particularly peaceful on a clear day. We knew how from Chinese friends 30 years ago, and ended up winning most of the hands. Was that luck, skill, or "customer mahjong" with Philip and Bela letting us win??? In any case, we regretted saying goodbye to both of our new friends.