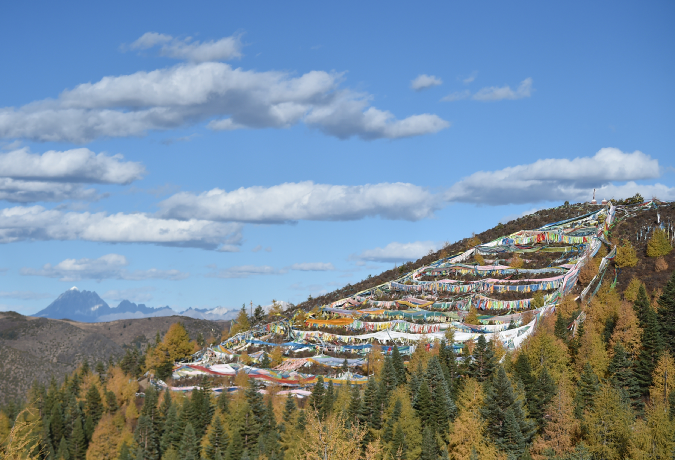 16 Day Explore Shangri-La of Wild China
Date: June to early July
Price: Upon Request
Trip Focus: Shangri-la + Adventure
Status: Open to Booking
Route: Sichuan-Yunnan
Trip Code: A002
Overview
China Adventure Tour: Explore the Untouched Shangri-La Region
Absolute Snow Mountain Adventure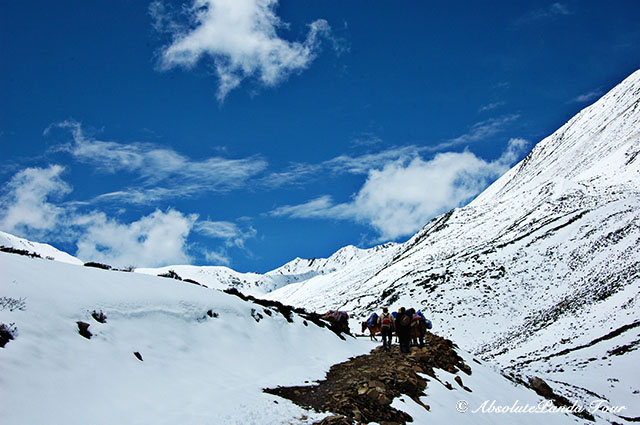 Shangri-La is a fictional place that first appeared in British novelist James Hilton's Lost Horizon in the 1939. It has become synonymous with any earthy paradise since then. Shangri-La is a vast piece of land hidden in the fame. There are numerous magnificent snow mountains and deep valleys with breath-taking scenery lying inside. No one knows where exactly it is the real Shangri-La. So many counties in that area boasted themselves as the "last Shangri-La" or "the soul of Shangri-La" to connect with this arcane legend.

In this epic adventure into Shangri-La, we are going to cross the whole grand Shangri-La area, which covers 4 major snow mountain peaks in Sichuan and Yunnan, to find out the Shangri-La in your dream. With lofty and continuous snowy mountains, endless grasslands, steep and grand gorges, azure lakes and the bucolic villages, we will take you to the untamed Shangri-La off the beaten track to immerse into the purest, wildest, and most beautiful nature scenery. So, what are you waiting for? Book China Adventure Tours from us, and explore this wonderful place.


Highlight

•Worship four glorious holly snow mountain. We start with exploring the "King of the Mountains in Sichuan Province" -Gongga Mountain and its famous low-latitude modern marine glaciers in Hailuogou. We gradually approach to the real untamed paradise - Mt.Genie in Litang. After visiting "the last pure land on earth" in Yading, we will challenge the highest peak of Mt. Meili. Each of the snow mountains has its strong identity and you will experience a wide range of snow mountain scenery which will always take your breath away.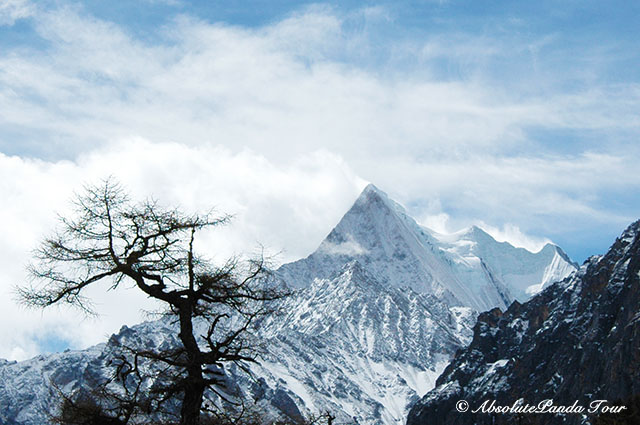 Mt.Yangmaiyong in Yading

•Discover untouched pure nature land off the beaten track. The beautiful China is hidden in some unknown places waiting for people to unveil. You will hike in some very remote area which are not well developed as a tourist destination. Mt. Genie is absolutely the virgin land forgotten by the world making it a perfect adventure destination.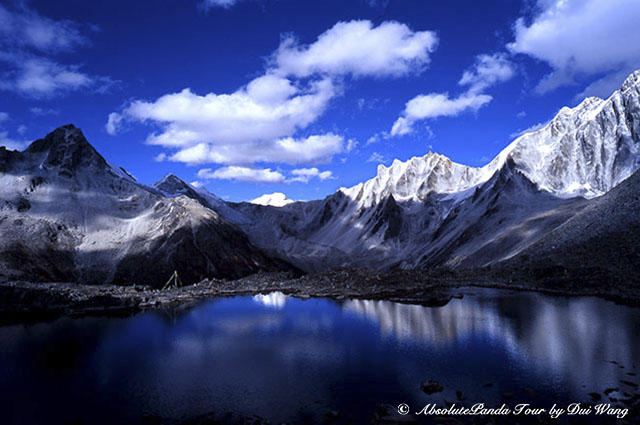 Mt. Genie

•Explore throughout the grand Shangri-La. We are crossing the expend Shangri-La area from east to the west where inhabited by various minority ethnic groups, from Han to Yi, Hui, GuiQiong Tibet and Kangba Tibet. In this ethnic corridor, you will not only feel the tremendous change of nature scenery, switching from plain to highland, but also feel the change of the colorful minority culture. We have many chance to interact with locals, visiting nomadic tents or chanting in the temple with lama and monks could be an unique experience.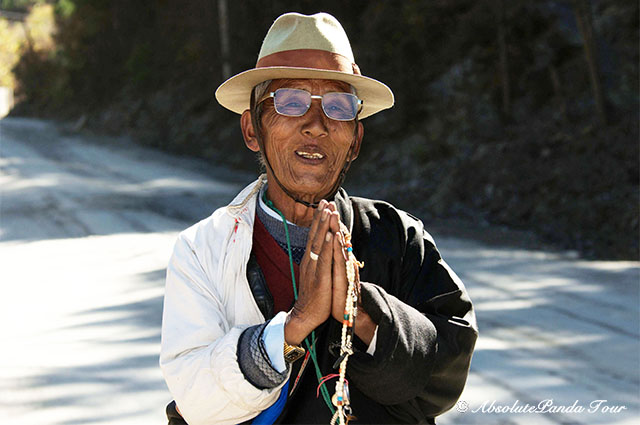 Tibetan old man

•Diverse landscape scenes and Tibetan nomadic lifestyle. The holly mountains in Shangri-La are always surrounded by grassland, pasture, glaciers, hot springs, alpine lakes, primeval forests, temples, and Tibet-style villages. On the vast grassland lives the Tibetan nomadic families who love singing and riding horses. During summer time, we have chance to join the biggest horse racing festive in the Tibetan world up on the highest city --- Litang.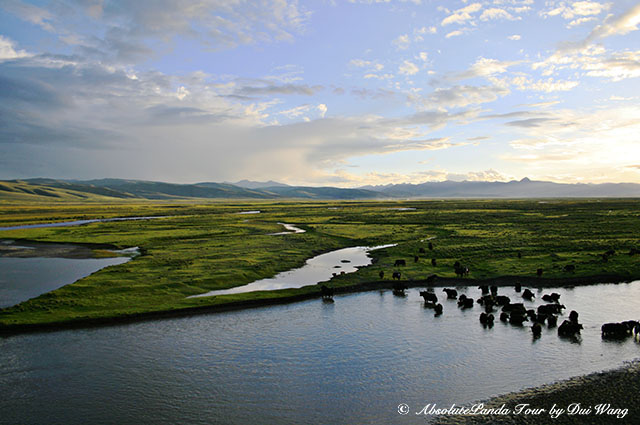 Genie
Dates and Prices
Date:

Trip I ( start from Chengdu): June 22- July 07
Trip II (start from Shangri-La): July09 - 24June


Date & Price notes

1. Prices are per person based on double occupancy and are given in US Dollars. Fees may be different due to different seasons.
2. The hotel and vehicle could be customized.
3. Dates may change and could also be customized.
4. The price for Trip I and Trip II is the same.
Itinerary

Trip I: Start from Chengdu

Day 1 Chengdu

Upon your arrival in Chengdu, our local guide will meet you at the airport and help you with hotel check-in. If you arrive before 2 pm, we will show you some historical places of Chengdu. There are so many options of the sightseeing in Chengdu. We could visit the historical streets and sites of Chengdu-the capital of Ancient Shu for thousands of years. Sichuan cuisine is among the top four Chinese cuisines, so a food tour will be definitely a highlight. Sichuan opera and the face changing show is also a must see that you don't want to miss. The itinerary of the city tour will be arranged according to your arriving time and interest. In the evening, we will prepare a welcoming dinner in the local popular typical Sichuan restaurant.
Overnight: Chengdu

Day 2 Chengdu panda base

We are visiting the Chengdu Panda base early in the morning which is the best time to see panda when they are very active. Chengdu panda base is the breeding center that has the most giant pandas of different ages in the world. Our tour guide will tell you many stories of panda you may not know. You will definitely have an absolute panda experience! Followed by an early lunch, we will head to Hailuogou Glacier and Forest National Park via "rain city" Ya'an.
Overnight: Hailuogou Mingzhu Garden Hotel or same grade.

Day 3 Hailuogou glacier

Depart from Moxi town, today we will hike in the east slope of the great Gongga Mountain and explore the Hailuogou Glacier. We will walk through ancient forests of thousand years, pass by azure lakes by the foot of snow mountains and step on the glacier of lowest-latitude in the world. Cable cars and buses will be used to transfer to different camp sites. In the evening we will drive to Kangding-the hometown of love song for overnight.

Destination highlights:

Located at the eastern edge of the Tibetan Plateau, Mount Gongga is the highest mountain in Sichuan, with the highest peak of 7,556 meters (about 24,790 feet) above sea level, enjoying the fame as 'King of the Mountains in Sichuan Province'. Along with Mount Everest and other six mountains,Mount Gongga is a famous place opened to climber and explorers around the world.

Mount Gongga is best well-known for its 159 glaciers which cover more than 390 square kilometers (about 151 square miles). The largest is Hailuogou Glacier No.1 at 6 kilometers (about 4 miles) long and 0.4 to 0.7 kilometers (0.25 to 0.43 miles) wide, which is believed to have formed 1,600 years ago. Glaciers in Hailuogou are typical modern marine glaciers, which are rarely found either in low-latitude places or at high-altitude.

In the scenic area, there are more than ten plateau lakes some of which are at the foot of glaciers and some are surrounded by forests and all keep their original natural features. Covered by thick forest, it supports 4,880 species of plants and over 400 species of plateau and forest animals, most of which are under special state protection. It is also a wonderful place for wildlife safari.
Overnight: Kangding

Day 4 Driving to Litang via Xinduqiao

Destination highlights:

Kangding had been historical border between Tibet and China, from Kangding to the west lies Tibetan civilization where as to the east Chinese cultural centre. Kangding was for many centuries an important trading city along the Tea-Horse road where Chinese brick tea, slat and silk were carried by porters from Chengdu and other centers to trade for Tibetan horses, medicine and wool.] Along the ancient Tea-Horse road, we continue heading west to Litang, en route we will visit Xinduqiao, the paradise of photography. This picturesque small town is famous for plateau pastoral scenery, with spectacular snow-capped mountains, vivid green grassland, tall and straight poplars, crystal streams and dotted Tibetan houses.

Crossing three huge snow-capped mountains above 4500 meters, we arrive Litang (over 4000m), the highest town in the world. Situated high on a grassy plateau, Litang has the feel of a rough and tumble 'Wild West' town. Known as "the Buddhist Shrine in South Kham", Litang Temple is the oldest and largest monastery of the Gelukpa sect (yellow sect) of Tibetan Buddhists in Kham Area.
Overnight: Litang

Day 5 -7 Mt. Genie

Departing from Litang, we are going for a three-day adventure in the Genie Mountain range. We will hike on the grassland by the alpine lakes by the foot of snow-capped mountain and discover endemic flora and fauna in the forests under guidance of local guides.

Destination highlights:

Genie Moutain lies in the southwest of Litang county of Ganzi Prefecture in Sichuan with an altitude of 6204 meters at latitude 29.8°N and longitude 99.8°E. Genie Mountain is covered with snow all the year around. The knife-like ridges, steep and towering, make it varied topographically. Luxuriant alpine forests on the slope of Genie Mountain are followed by grassland, bushes, winding rivers and grassy marshland at the valley and alpine pasture at the farther end. Genie Mountain, a sacred place in nature, a fantastic place for adventure.
Overnight: Genie and Litang

Day 8 Daocheng

Leaving Genie Mountain, we are heading south to Yading passing by Daocheng. Daocheng, is a Kham county blessed with a varied and beautiful landscape. From the northern glacial-erosion highland where thousands of lakes and ponds are scattered and crowds of wild animals are inhabited.
Overnight: Yading

Da 9 Yading

Today we will explore the core of the Grand Shangri-La zone-Yading. We will hike in the valley of the snow mountain, walking around the holy lakes and grassland. There are some nomadic tents in the valley where we have chance to meet up with some local nomads.

Destination highlights:

Crystal sapphire-like lakes, beautiful snow mountains and high grasslands, swaying trees and fabulous hot springs — Yading is known for being one of the best-preserved and most primitive natural scenic spots in China. With its pure and amazing plateau scenery, it is called "the last pure land on earth", "the last Shangri-La", "Western China adventure hub" and "the holy land in the sun".

As the core of Shangri-La Ecological Tourist Zone, Yading is a breath-taking place which owns one of the most beautiful snow mountains in the world at an elevation of 3,700 meters above sea level. The gorgeous snow mountains and lakes dotted in between are great companion along the twisted rocky hiking trails. You will feel totally immersed in the pure highland nature while challenging your physical limitation.
Overnight: Yading

Day 10 Toward Mt.Meili via Xiangcheng

On the way to Xiangcheng, we will spot the beautiful villages scattered amongst wheat-field-paddies in the valley ground. The large, cubicle houses look like little castles and with their white-chalked exterior walls they give the whole valley a very exotic air.

Destination highlights:
Xiangcheng belongs to the ancient Tibetan province of Kham. Being a necessary overnight-stop on the 'Backdoor'-route to Yunnan, the town is a pleasant place to linger or to serve as starting point for excursions into the surrounding mountain areas. After the overnight in Xiangcheng, we continue venturing south to Yunnan Province.
Overnight: Xiangcheng
Day11 Xiangcheng/Deqin

We are heading Deqin to meet Meili. It will be a long driving day with twisty mountain roads and mount climbing up and down. Our local guides will schedule many terrific stories and explanations to any of the question came up to you to provide you a better understanding of China.
Overnight: Deqin

Day 12-13 Mt.Meili

After the long day on the road, the Mount Meili will definitely treat you grandly with her indescribable grace.
[Destination highlights: Known for the grandest view in Yunnan Province, Meili Snow Mountain boasts numerous snow-clad ridges and peaks, thirteen of which exceed 6,000 meters (19.685 feet) above the sea level. The most splendid view is of the Kawagebo Peak, the highest in Yunnan Province rising about 6,740 meters (22,112.86 feet). It is still a 'virgin peak' for no one has ever reached the top. Visitors are treated to spectacular view from all vantage points. The continuous mountain ridges feature snowy peaks and the sun throws golden lights on the low-floating clouds which form various extraordinary shapes, affording yet another splendid view!

Owing to its high altitude, the mountain owns several climatic zones with a diversity of plants, vast expanse of grassland and rich fungi species that are vertically distributed. The types of vegetation here range from the Torrid Zone to Frigid Zone vertically. From the altitude of 2,000 meters (6562 feet) to 4,000 (13123 feet) meters, forests flourish with varieties of spruce. The depth of the forest is an exotic world of rare birds and animals. The meadows surrounding the forests are embellished by countless flowers which add more vitality and charm.]
Overnight: Deqin

Day 14 Deqin to Zhongdian

Today we are driving all the day south to our last destination with a name of the theme of this adventure-Shangri-La county in Zhongdian, Yunnan Province. The town is famous for its beautiful snow mountain and grassland nature scenery, and the featured Tibetan folk house and the Giant prayer wheel and the temples. After the long day driving, we deserve a peaceful night in the old town. We will visit a national park at a very high elevation the next day.
Overnight: Shangri-La

Day 15 Pudacuo national park- Shangri-La

As the first national park in China, Pudacuo qualifies as a natural wonderland according to any standard. It contains endemic species of fish found no where else in the world, rare and beautiful orchids, black-necked cranes, and taxus yunnanensis, a yew whose extracts are indispensable to the creation of many cancer-treating drugs. Nestled in the mountains of Southwest China, the park is an integral part of the Three Parallel Rivers Scenic Area, a UNESCO World Heritage Site. We are going for hiking in this beautiful highland park and track some wildlife at the same time.
Overnight: Shangri-La

Day 16 Flying back home via Shangri-La county


Trip II: Same trip start from Shangri-La!


We love travel and our mother earth! To make the most use of energy and be environmentally friendly, we organize a trip traveling the same route back to Chengdu starting from Shangri-La!

We can customize this trip so as to better meet your timing, budget and interests or arrange a private extension to explore China as you wish. Please contact us for more information.

Map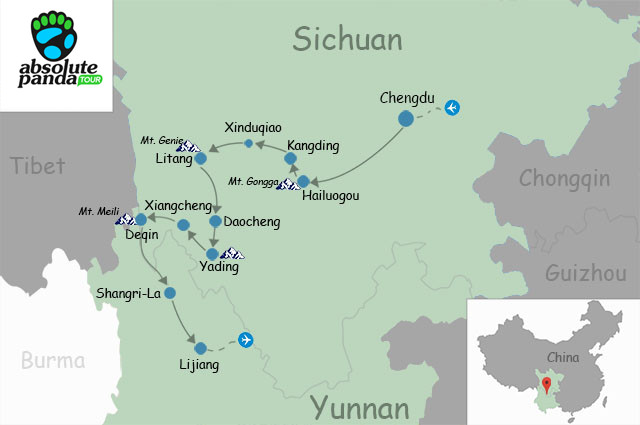 Accommodations


sichuan
yunnan

FAQs

1. How is the weather in Sichuan and Yunnan in summer?

Chengdu: it is quite hot and humid in summer, the temperature is between 25-32℃
Mt.Gongga: the elevation of Hailuogou glacier is around 2850m. It is very cool inside, the temperature difference of day and night is bit high, so please bring some layers with you, as well as sunscreen and rain jacket.
Genie: the elevation of Litang and Genie is about 4014 to 6204m. It is quiet cool in summer but the sun could be very strong. Temperature is between 5-20℃.
Yading: the elevation is from 3000 to 4500m. the climate is also typical highland climate as above.
Mt. Meili: the elevation of Deqin county is from 3000 to 4500m. The climate is also typical highland climate as above.
Shangri-La county: elevation is 3200m. Temperature is between 15-26℃ during the sunny days, while it is around 10-18℃ when it rains.

2. What kind of vehicle will be used?

Group size 3-5 people ---7 seats business van
Group size 5-8 people --- 17 seats bus
Group size 9-12 people --- 19-23 seats coaster

3. What kind of food will be provided?

One of the principle of AbsolutePanda is dine at local and stay with local. We want to share the benefit with local people and enjoy the authentic local gourmet. We will choose popular local restaurant and try as much as different flavor as you want. We will prepare western breakfast for you or you can certainly choose to try the Chinese style. All we desire is that you can enjoy the food along the trip.

4. What kind of lodging will we stay at?

We will choose featured local guest houses or four-star hotels run by local people. It is a great chance to experience local hospitality and their culture by staying with the lovely people.


Testimonials

"PanTastic!"

I had 24 hrs between meetings in Shanghai and Kunming, so I decided to stop in Chengdu for a panda experience. I lucked out by finding Absolute Panda, and from the moment their representative met me at the airport, things just kept getting better. It was Father's Day, and when my broadly smiling guide stuck out his hand and said "hi, I'm Leo, I had to laugh out loud. That was my Dad's name. Leo turned out to be the best part of the trip, so knowledgable and warm and engaging, and a veritable treasure chest of information about everything from politics to wildlife, and of course, the pandas. The panda experience was also, a once-in-a-lifetime joy fest,,,,,which including joining other travelers from all over the world in cleaning the panda habitat,,,feeding the pandas, and then of course, the piece de resistance,,,,,sitting on a bench, and "shooting the breeze" with a fluffy, cuddly panda. And on my departing trip to Kunming the next day, even though I assured Leo that I was an expereinced solo traveler, he insisted on having Lily, his girlfriend and also an Absolute Panda guide, accompanying me and making sure I got checked in. I travel, all over the world, all the time,,,and I can assure you, this agency, Absolute Panda, is absolutely perfect.
---Bruce from US


"Amazing local company- the best and most reliable"

I have worked in china as international tour escort for ten years and with a multitude of companies and these guys are in a league by themselves. They have long track record of success for 7 years, have the best connections and the best guides. I can't say enough about them. They can also organize the best local guides for anywhere in china, and are logistical wizards all around.
---Brad J from US

Read more comments on TripAdvisor
Trip Photos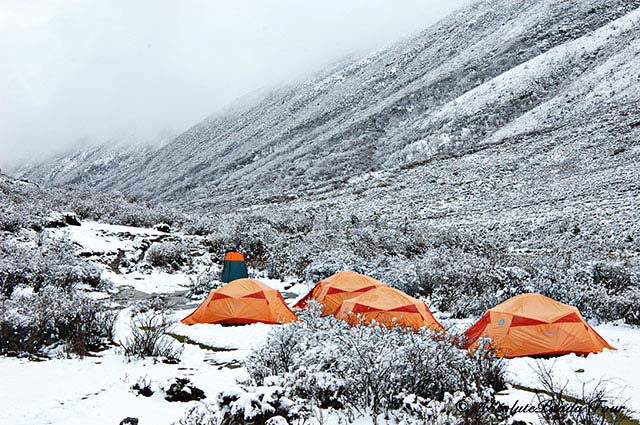 Camping in Mt.Gongga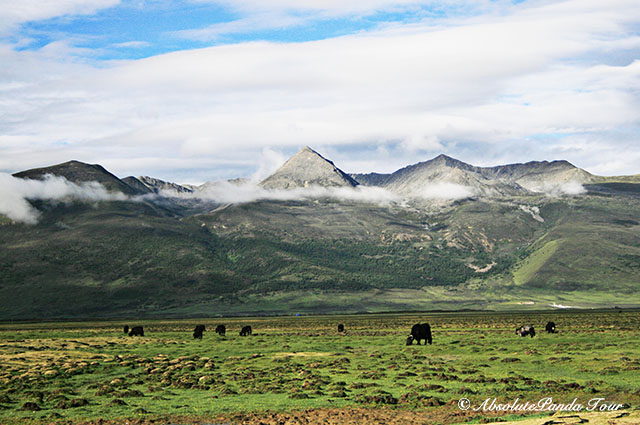 Discover the virgine outdoor destination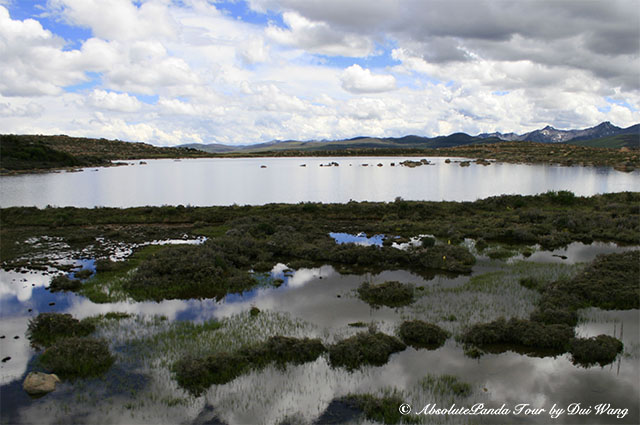 Highland scenery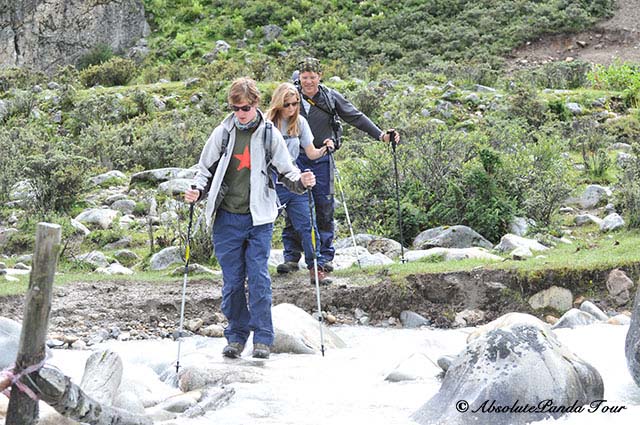 Hiking in Gongga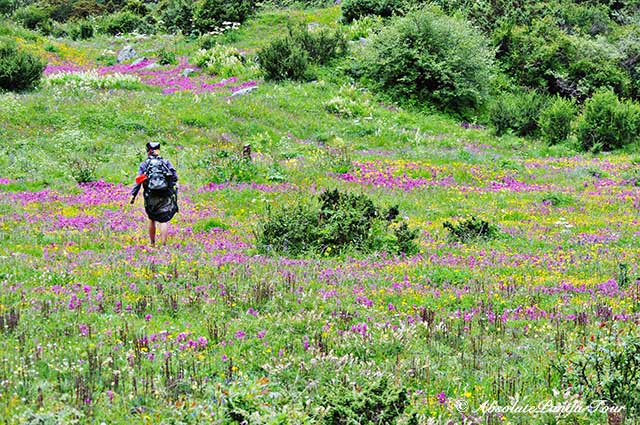 Gongga mountain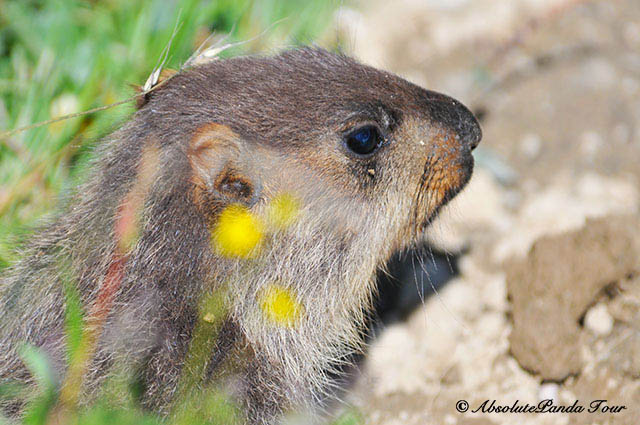 Marmot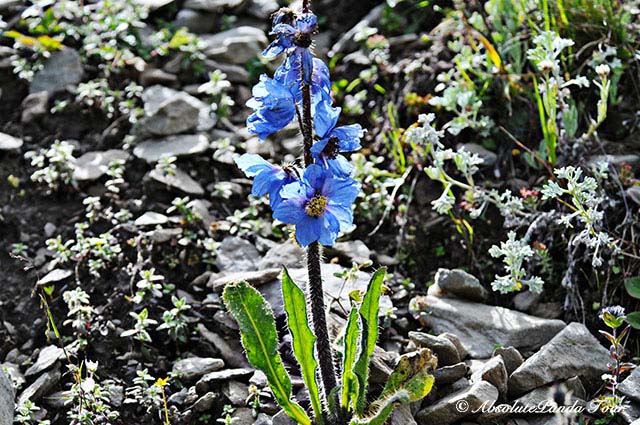 Flower in Mt. Gongga



Tibetan girl in Litang