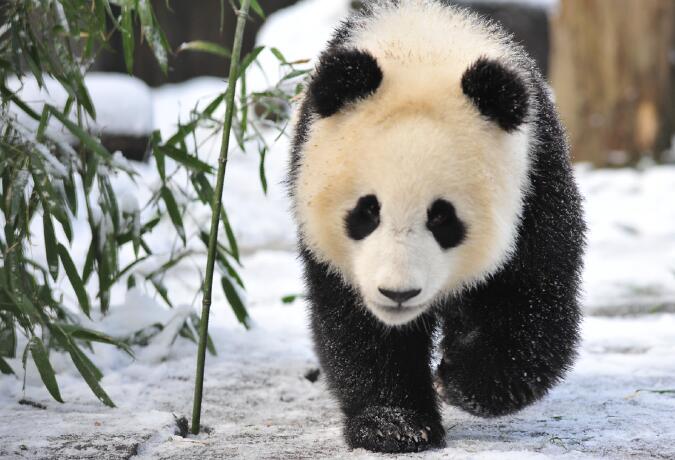 8 Day Panda Tracking Adventure in Panda Habitat
Date: Nov to April.
Price: Upon Request
Trip Focus: Adventure+Wild Panda
Status: Open to Booking
Route: Chengdu-Wild Panda Nature Reserve-Chengdu
Trip Code: A001
Overview
Panda Tracking Adventure in Panda Habitat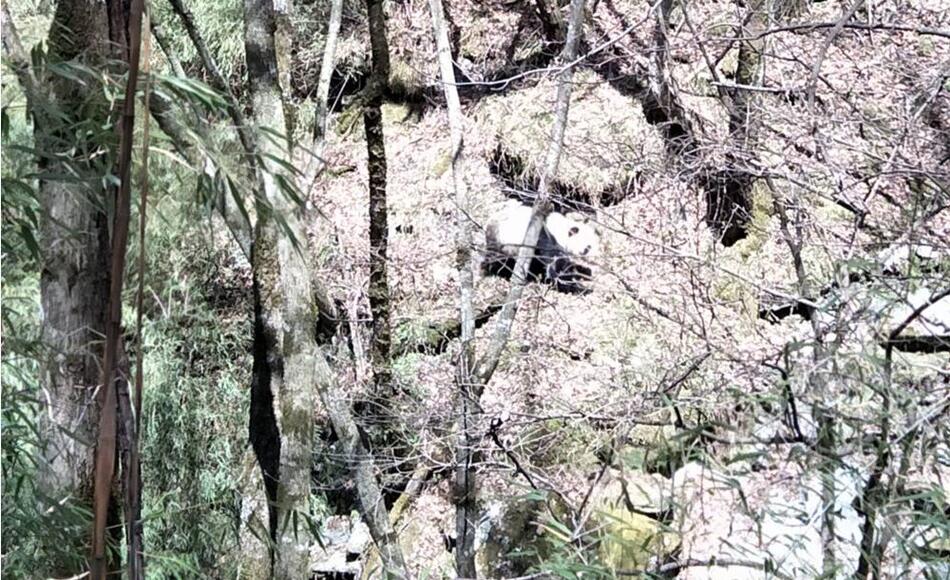 Giant panda came down for water in nature , photo by tourist in the panda habitat on April ,2019

Giant pandas are solitary animals. It is extremely hard to see them in the wild. So for most tourists, giant pandas in the wild almost exist as a myth. Lots of people are always curious about pandas and their companion animals lives in the wild. To help people move a few more steps close to this mysterious wildlife, AbsolutePanda provides an adventure tour for tracking wild panda and its companion animals in their habitat.

The giant panda lives in a few mountain ranges in western China, mainly in Sichuan province(80%), but also in neighbouring provinces of Shaanxi and Gansu. Panda habitats own abundant biodiversity. There are beautiful mountains with breathtaking nature scenery, pretty birds singing in the valleys with lavish forests surrounded.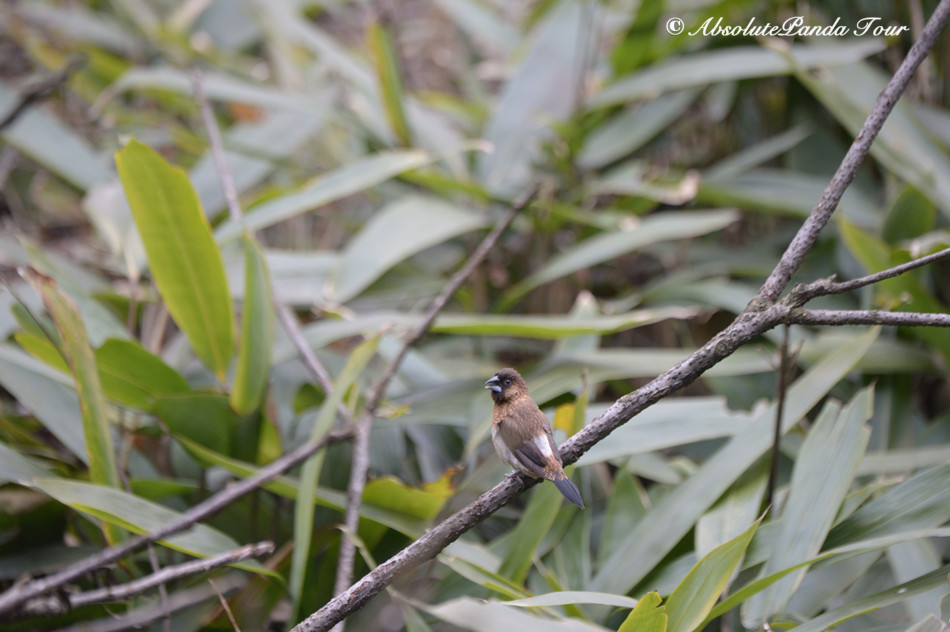 Wild Panda Nature Reserve is another import panda habitat. It is known for its bio-diversity. There are 430 kinds of vertebrates, 2422 identified vegetation species and 260 types of birds which accounts for 41% of the total in Sichuan province. 60 giant pandas, more than 1000 golden snub-nosed monkeys and over 1200 takins live here. WWF classified Wild Panda Nature Reserve as the "Class-A" nature reserve. It is also a worldwide research base for wildlife.

In this program, we choose some special routes where giant pandas frequently appear and track along with a reserve ranger in some sites in the panda habitat. During the tracking, you will get a comprehensive knowledge about the lives of giant pandas in the wild including their favorite bamboos, shape of their excrement, marks they leave to attract mates and more. Our local expert will teach you how to identify those plants and animal traces. There is high possibility to spot some endangered and endemic companion animals of giant panda, such as Sichuan Takin, Golden snub-nosed monkey, yellow-throated marten as well as some endangered birds. The ranger and our experienced guide, who know about panda and their habitat so well, add great chances for you to see pandas in distance.

Due to the strict control from the government, the core zone of the reserve sometimes is closed to the public. Please check the update the information with our office staff while booking.


Highlights

• Learn about giant panda with experts in their habitat

By searching for giant pandas' traces in their habitat, you will learn a lot about giant panda from our experts especially about the life of wild pandas. The rangers will share their adventurous stories of their encounter with giant pandas.


Giant panda traces with its mark on the branch(Left)
Wild Giant panda spotted in May 2015,Photo from news(Middle)
Wild Giant panda spotted in April 2017, photo by Ma Wenhu(Right)
• Meet up with giant panda's companion animals in the wild

Have you might red panda on a small wooden trail in the wild? There are many fantastic wildlife like Asian black bear, Sichuan Takin, golden-snub-nosed monkey, Tufted deer living with pandas. It will be thrilling to see those lovely neighbors of panda in their original habitat.

• Enjoy the hikes in the breathtaking nature scenery

A trip in the mountain will never bore you. You will see many endemic wild flowers along the way and our flora expert will introduce you many interesting species with many stories behind. Panda habitats are also perfect destination for bird watching. You will see many kinds of alpine birds especially pheasants in the gorgeous mountain valleys.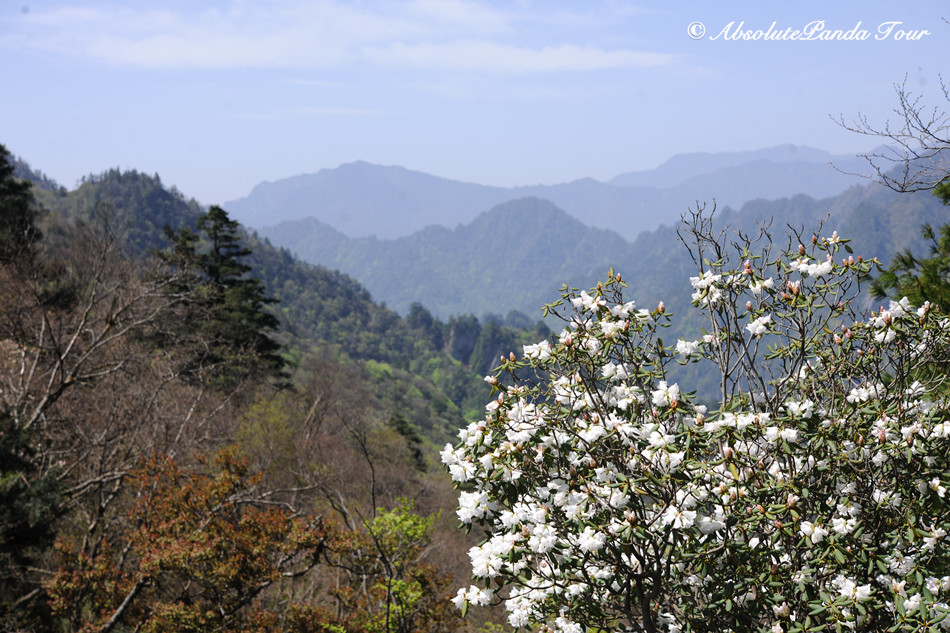 Physical Rating: high
The climate in the mountains in winter will be very cold. And most of the programs in this trip will be hiking which requires a high physical ability.
Dates and Prices
Price : Upon request
Best season: November to May
The land cost includes the following items:
1. A nice van throughout the whole trip.
2. An English-speaking guide for the whole trip.
3. All meals at local popular Restaurants. We will prepare western breakfast for you.
4. Bottled water and snacks.
5. Service of all logistic support, including the invitation letter for visa application.
6. Entrance charges and shuttle bus for the whole trip.
7. China Domestic Travel Insurance.
8. Twin room at the hotel near the reserve.

The land cost doesn't include the following.
a. Drinks during the meal.
b. Extra charges due to change of itinerary from client side or factors beyond the control of AbsolutePanda such as natural disaster and governmental policy change.
c. Discretionary tips to the guide and driver.
d. All personal expense such as laundry service.
e. Airfare to and out Chengdu.
Itinerary
Day 1 Chengdu / Wild Panda Nature Reserve Meal: LD

We depart early in the morning from Chengdu. It will be a 5 hours' drive to Wild Panda Nature Reserve. We will spend some time on the vehicle having an introduction about this panda tracking adventure. Our panda expert will give you a lecture about giant panda and its habitat, and introduce Wild Panda Nature Reserve for more details. So you will have a better understanding about this beautiful creature and their companion animals in their habitat of the upcoming adventure. The ride is fairly comfortable with 2/3 on the high way and 1/3 on a state road with good conditions.

The panda tracking adventure starts with a hike along the eco loop near our hotel in the nature reserve. We will start by searching mammals such as Reeve's Montjac's Deer, wild boar, snakes, otter and flying squirrels (Pteromyini) etc.

Overnight:Hotel near the reserve

Day 2- 7 Wild Panda Nature Reserve Meal: BLD

We will spend around a week exploring in the reserve and track panda and other wildlife. We will hike whole day in search of mammals, birds and fish. Giant panda, Sichuan takin, golden snub-nosed monkey, Asiatic black bear, Tibetan macaque, golden pheasant, Salamander, and the animals we search the day before, will be on our list of visiting. We will also track the wildlife on a shuttle bus in the nature reserve. We will stay in a wooden hut on the mountain top for few nights. It is a humble hut built originally for the reserve rangers to stay.The condition is very basic. Sleeping bed is required. Though the accommodation here is not good, it is a great spot to search for wildlife.

Overnight: Hotel and Hostel near the reserve

Day 8 Wild Panda Nature Reserve / Chengdu

This morning venture south returning to Chengdu.
According to the policy in the nature reserves and trace of giant panda, we might change the destination to other panda habitat sites.

We can customize this trip so as to better meet your timing, budget and interests or arrange a private extension to explore China as you wish. Please contact us for more information.

Other adventure tour in China you may enjoy.
Map

Accommodations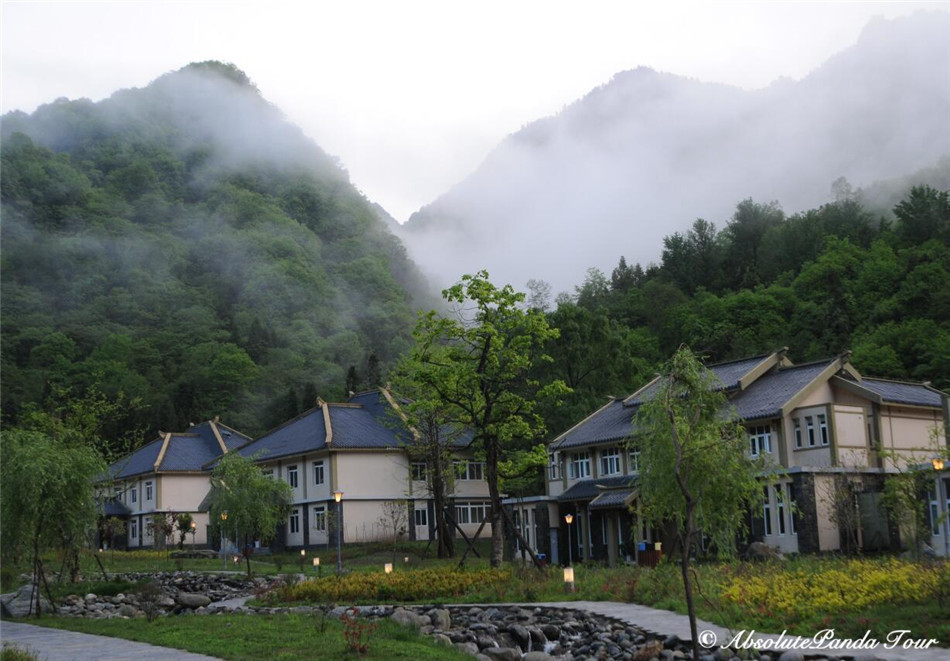 Hotel near the reserve


Hostel near the reserve
FAQs

What is the chance to spot wild panda?
There are around 60 wild pandas living in this park, the chance to see them is relatively low to compare with other animals like takins or macaques. We can usually spot their signs(faeces), and we will try our best to help you.

Why is the tour start in winter?
Pandas will move to lower elevation to seek for food during winter, and many trees lose their leaves, so we have better chance to spot them.

Can I visit the park by myself?
No, there are restrictions for foreigner visit the park.
What kind of services can AbsolutePanda provide in the wild?
AbsolutePanda guides have years of field experiences, they are experts of Mammals, Ornithology, Eco-Environment Protection and Forestry. We care about your satisfaction and want you to enjoy the trip. We also provide high-end equipments, like Swarovski binoculars, spotting scopes to ensure the quality of the trip.
Testimonials
"Absolute Panda-great service and knowledge leads to great trips"

I have taken two trips with Absolute Panda. Philip He and his guides are excellent, and Philip will work with you to tailor a trip to meet your needs and desires. For both trips, one in the Sichuan Tibetan Plateau, and the other in Yunnan Province, we hired a driver, and had a guide who knew both the area and the people.We went places and saw things that most tourists never see, and had the flexibility to change directions when the opportunities presented themselves. Philip lead our second trip, and as photographers, it was great to have another photographer with us since we planned our travels around getting great pictures, whether landscape or people. We are planning on going back to China again and will be working with Philip to put together another great itinerary.
---Steve Z from US

"The best of a very long list"

We are a couple in late 50s who have traveled extensively. This guide company made it to the top of our very long list, with the professional and truly caring assistance of the boss Philip He. Collection from the airport was timely and courteous, the most valuable information flowed at a very digestible rate. His general and specific knowledge as well as his spoken English were of a very high standard. A case in point was our visit to the Chengdu Panda Breeding centre; his arrival at our hotel was prompt at 7.30, drive to centre and we were the 1st in a queue of 3, me my wife and Philip our guide. The centre did not open for another 10 mins, but as soon as it did, with his encouragement, we walked briskly to the far end of the centre. Where we were the only people to view and photograph the youngest pandas. We saw them in their crib, and being carried outside to wake up and play. Philip, sent us on a specific route around the centre while he, with almost 2 hours to spare took up his position, at an unmarked door to be first in the queue to cuddle a panda. What was all the fuss about, we are the only ones here? But, his knowledge was worth his weight in gold. The tour busses arrived, and we were then amidst, groups of 30 and 40 most who had similar intentions to our own. He stood firm, and defended his position against all suggestions from guides and tourists that they might go in front of him. At 10am the unmarked door opened an accepted RMB 1000 donation for each person. He had previously bought these tickets, others paid cash and received an official receipt. My wife, was 1st in, only by his diligence, and 5 people later they shut the door, leaving countless disappointed. Only one person per donation, the staff take your camera, and Philip offered his also, which he had preset to multiple shots per shutter button depression, another good move. The five were taken to a separate room and a juvenile panda, who knew the ropes was lead in and sat on tree looking bench. My wife sat next to him and encouraged by the staff, cuddled up while Panda munched on his apples. Photo shoot over in a very few minutes, off with the protective poncho and back out in to the real world. It was explained to us that they only use one panda at a time and if he or she gets fed up, all bets are off. Those who have had the picture and cuddle great, those who had not, basically tough, they are animals and not machines. The staff, quite rightly, care more about their few precious bears, than all the tourists put together.
Lessons learned: get the best Chinese speaking guide, and do exactly as they say to get the very best from your trip. He also gave us the photos on his camera at no cost and a lot more. This was only our first day, the trip just got better and better under his caring and watchful eye. He is truly devoted to his clients, I can not recommend his company enough.
In writing this I have used part of a previous report, merely to save re inventing the wheel.
---Acorn K from UK
Read more comments on TripAdvisor
Trip Photos

The Bamboo in the panda habitat



The bamboo trail the panda may just walk pass



And we found the evidence

Yes,this is the Panda poo



We are very close to the wild panda



Lovely water pool onside the panda habitat


There are more to search besides wild panda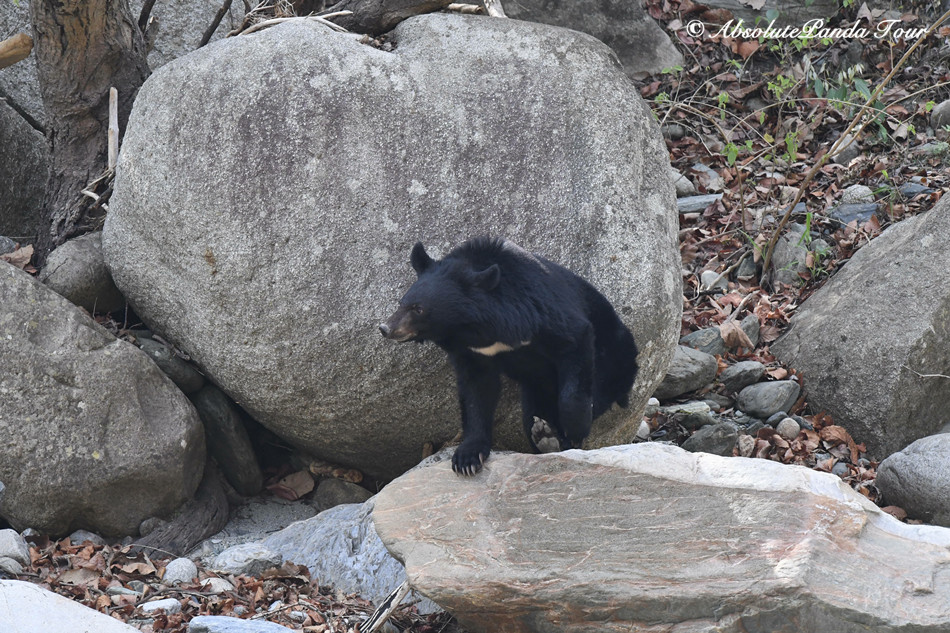 Wild Asian black bear spotted in April 2019, photo by Philip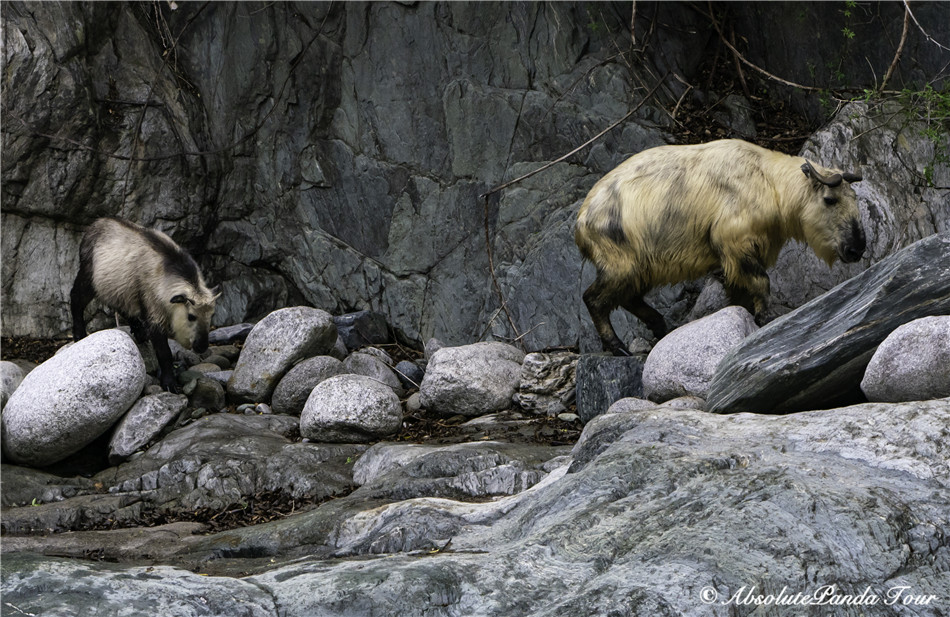 Sichuan Takin in Wild Panda Nature Reserve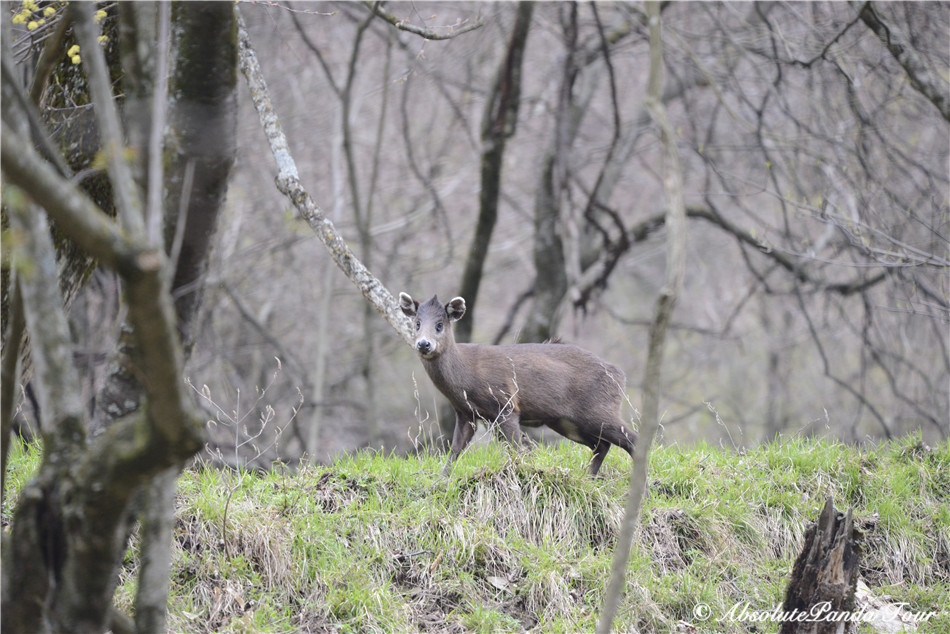 Tufted deer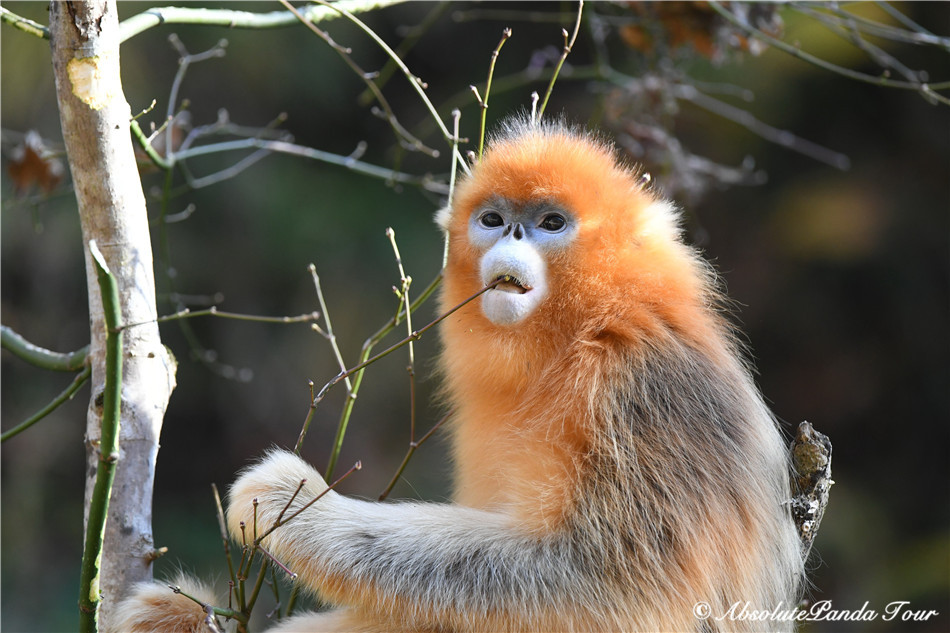 Golden snub-nosed monkey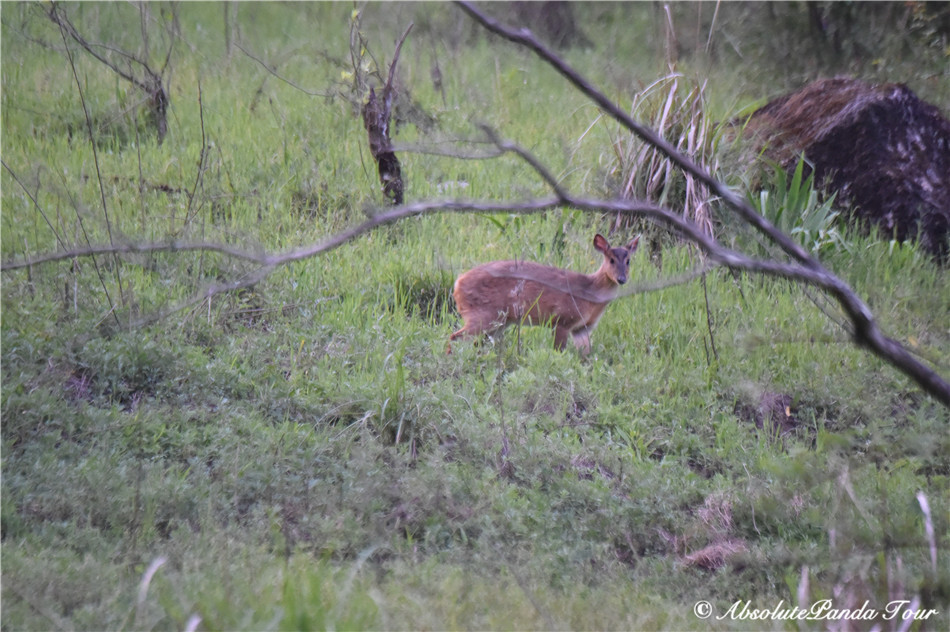 Chinese Mutijac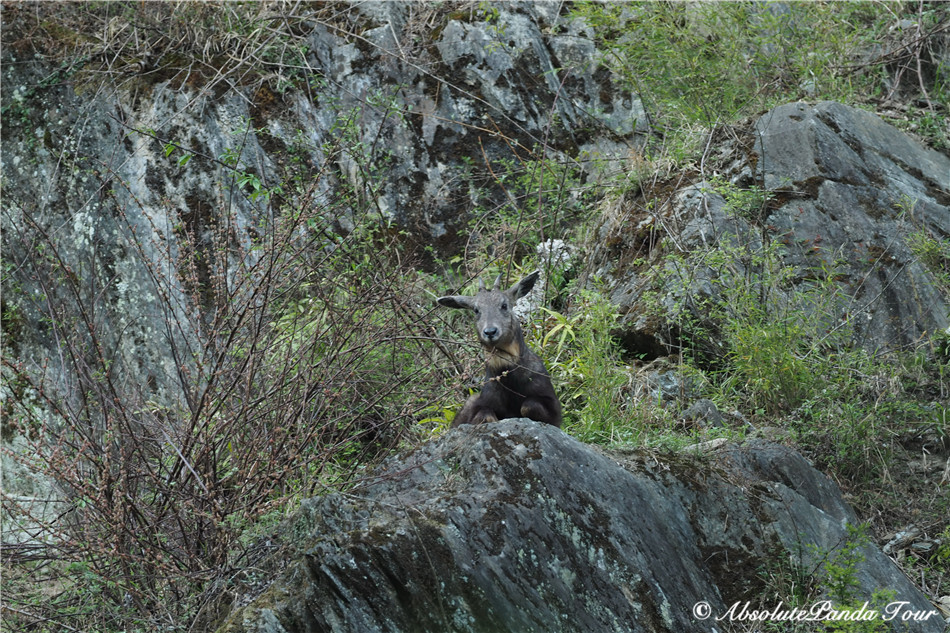 Chinese Goral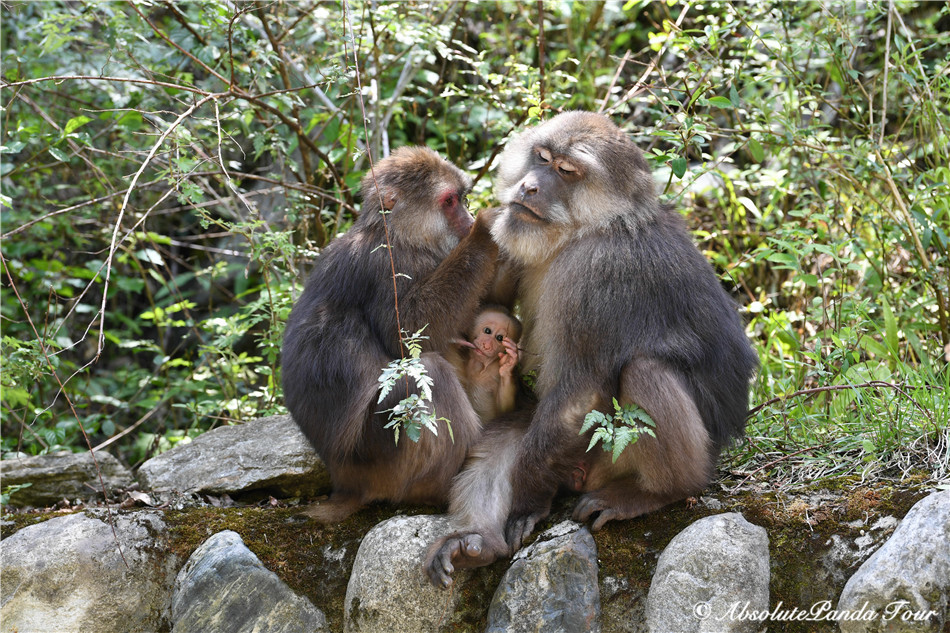 Tibetan macaque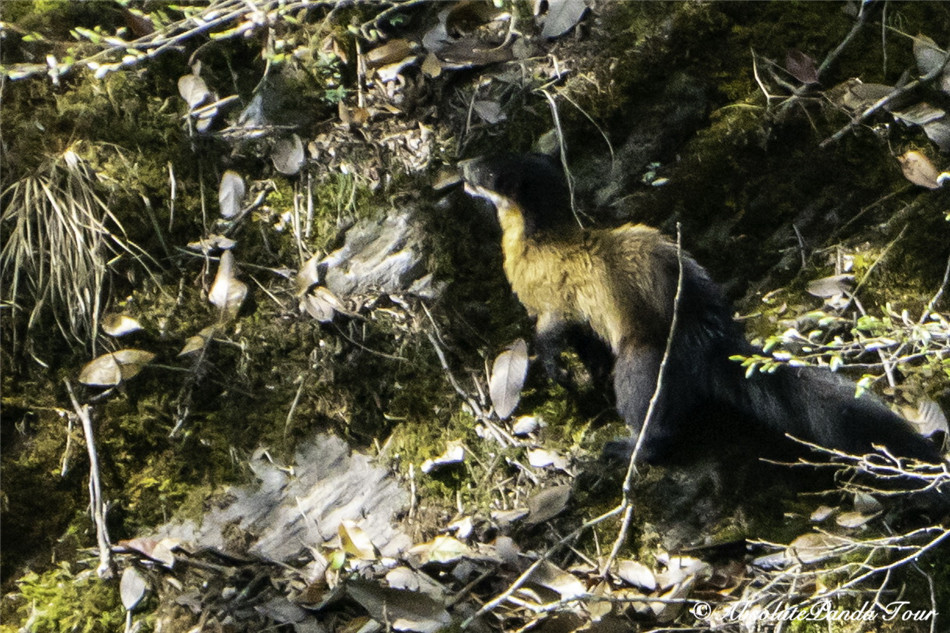 Yellow-throated marten
Videos
Enjoy the Video of Panda's Habitat tracking, Made by Our Friend, Brad Joseph.