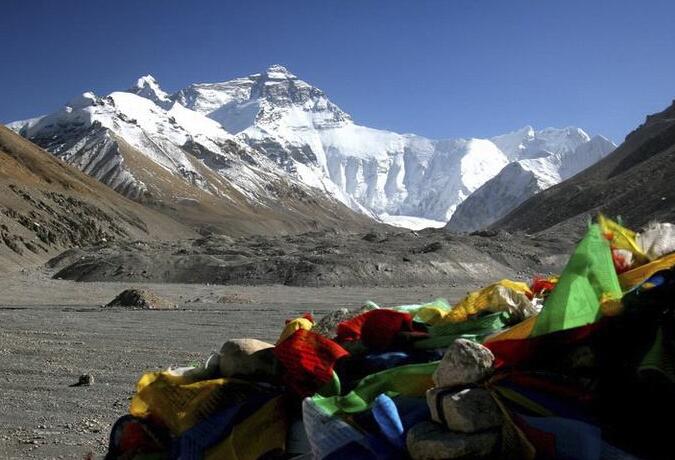 15 Day Tibet Mt Everest Rongbusi Trekking
Date: May to Oct
Price: Upon Request
Trip Focus: Hiking + Adventure
Status: Open to Booking
Route: Chengdu-Lhasa-Mt Everest Rongbusi Temple-Chengdu
Trip Code: A006
Overview


From Panda home town to the highland.
Chengdu-Lhasa-Mt Everest Rongbusi Trekking Tour
Dates and Prices
15Day Chengdu-Lhasa-Mt Everest Rongbusi Trekking Tour
Itinerary
Day 1. Arrive Chengdu
.Meals
:
//
Welcome to Chengdu, land of aboundance and panda hometown. Airport pick up and check in your hotel.
Free time on your own.You can pay a visit to
People's park
and experience local leisure life in a 100year old tea house ,
Jingli
old street for Three Kingdom's period culture,
Kuang and Zhai Alley
for Qing Dynasty architecture,
Wenshu Monastery
and its old street and so on.
Overnight in Chengdu


Day 2:
Chengdu – Dujiangyan Panda Base (70 KM
,
1.5h) –Mt Qingcheng- Chengdu (B/L/D)
07:00-08:30 Meet your guide and driver at your hotel, drive directly to
Dujiangyan Panda Base
.
08:30-09:00 Make preparation for
volunteer work
.
09:00-10:00 Cleaning the enclosure and preparing bamboo.
10:00-11:00 Free time to visit other giant pandas and red panda at different ages.
11:00-11:30 Prepare bamboo shoot, apple, panda cake and feed panda
11:30-13:00 Free time. If you like, you can have lunch with staff at their canteen.
13:00-13:10 Drive to Mt Qingcheng.
13:10-16:10 Enjoy the hiking inside
Mt Qingcheng
.
16:10-17:40 Drive back to Chengdu Qingtai road, a famous cultural street.
17:40-19:30 Enjoy
hotpot dinner
near Qingtai road.
(Optional)
19:30-21:20 Enjoy the
Face-changing show
(80min) inside the culture park.
(Optional)
21:20-21:40 Back to your hotel
Overnight in Chengdu


Day 3: Chengdu – Leshan (160 KM ,2h) –Huanglongxi Old Town- Chengdu (B/L/D)
After early breakfast, we drive to Leshan (2h), visit
Giant Buddha
, if you like hiking, we strongly recommend you to visit Leshan Giant Buddha by hiking, by which you will not only see the Buddha but also attractions such as Mahao Cave Tomb, Fishing village, very quiet Wuyou Monastery. On the way back to Chengdu we can either enjoy a light hike in the tea plantations or drive to
Huanglongxi Ancient Town
.
For the convenience of pick up and early departure the next morning, we would suggest you stay in a hotel not so far away from airport.
Overnight in Chengdu


Day 4: Chengdu - Lhasa (B) (Flights: CA4401:06:45-09:10)
Chengdu airport see off (Chengdu part Day 4). We take an early morning flight to Lhasa. Upon arrival, pick up by our guide in Lhasa and we will head to Lhasa city while enjoy the
Yarlung Tsangpo River/ Bhamaputra river
(the Longest and largest river in Tibet) and
Lhasa river
on their way. Check in and have a good rest in your hotel .Slow down to get used to high altitude. Free time on your own. In the afternoon, if you feel good you can pay a visit to Potala Square and around by yourself.
Overnight in Lhasa


Day 5: Lhasa (B/L/D)
After breakfast we will visit
Potala Palace
. Potala Palace, regarded as landmark and the symbol of Tibet, is a great giant palace consisting of many houses, towers, chapels, etc. According to the Guinness Book of World Records, Potala Palace is the highest place in the world. Because of its spectacular architecture style, it is honored as one of the most beautiful architectural building in the world. As the historic ensemble of Lhasa, Potala Palace, together with the exceptional Jokhang Temple and Norbulingka is the UNESCO World Heritage Site.
In the aftern we will visit
Monastery Jokhang
and
Bakuo Street
. Jokhang Temple is the spiritual center of Tibet. Built in 647 by Songtsen Gampo, it has a history of more than 1,300 years. The temple is the fine product of Han, Tibetan and Nepalese architecture techniques. Visitors will be treated to the sight of various exotic and sacred sculptures. Jokhang Temple also houses many invaluable cultural relics. Every year, the Great Prayer Festival is held here. Barkhor Street is the oldest street in Lhasa and runs through the center of the old city, having been preserved to keep its century-old traditions. It's a must-see for visitors wanting to learn about Tibetan culture, economy, religion, and arts.
Overnight in Lhasa


Day 6: Lhasa–Gyantse-Shigatse (B/L/D)
We will drive pass Yamdrok(4441m altitude).
Yamdrok Yumtso Lake
lies to the south of Yarlong Tsangpo River . It is one of three holy lakes in Tibet. As the largest freshwater lake at the south foot of the Himalayas with an area of about 638 square kilometers (about 246 square miles), it is in a length of 130 kilometers (about 81 miles) and a width of 70 kilometers (about 43 miles). Its surface is about 4,441 meters (about 14,570 feet) above the sea level. It is quite deep as the average depth is about 20-40 meters (about 11-22 fathoms) and the deepest point is almost 60 meters (about 33 fathoms) below the surface.
Then we will pass Karola (4200m), and view
Kharola Glacier
, one of Tibet's three major continental glaciers, is located on the boundary of Langkatse and Gyantse counties. Lying in the northern section of the Himalayas, Karola Glacier, covers an area of 9.4 sq km. This imposing glacier is visible from the highway which links Lhasa and Shigatse.
Then we will visit
Monastery Palcho
(Pelkhor Monastery).Palcho Monastery enjoys a high status in Tibet Buddhism history because it houses three sects - Sakyapa, Kadampa and Gelugpa together. Those three sects get along well with each other though they once quarreled and fought. The Bodhi Dagoba, the Main Assembly Hall, murals and Zhacang (hall for the monks) in the monastery are the most renowned. Then we drive to Shigatse (3850m).
Overnight in Shigatse


Day 7: Shigatse–Shegar-Rongbuk Temple(B/L/D)
We will drive to
Rongbuk Temple
via Shegar(350km). Rongbuk Monastery(5100m)gained its fame as the highest religious building in the world as well as one of the highest-elevation settlements and overall structures ever built, making it a site with perfect landscape especially for the Himalayas. The monastery once housed about 500 monks and nuns but now there are only dozens of monks and nuns.Tonight we will check in at the Rongbuk Guesthouse.Have a good rest and prepare for the trekking trip.
Overnight in Rongbuk Guesthouse


Day 8: Rongbuk Temple- Nam-la (B/L/D)
Trekk:Rongbuk- Nam-la, camping 22km,9h
Camping
Day 9: Nam la-Lungchang (B/L/D)
Trekk:Base of Nam la to Lungchang, camping 21km,7h
Camping
Day 10: Lungchang-Old Dingri (B/L/D)
Trekk:Lungchang to Old Tingri 12km,5h,live at Tingri.
Overnight in Old Dingri
Day 11: Old Dingri - Shegar –Shigatse (B/L/D)
We will drive to Shigatse via Shegar today.
Overnight in Shigatse
Day 12: Shigatse to Lhasa (B/L/D)
Today we will visit
Tashilhunpo Monastery
. Tashilhunpo Monastery is one of the Six Big Monasteries of Gelugpa (or Yellow Hat Sect) in Tibet. Also called the Heap of Glory, it is located at the foot of Drolmari (Tara's Mountain), Shigatse. Founded by the First Dailai Lama in 1447, the monastery's structure was expanded by the Fourth and successive Panchen Lamas. Then we head back (280km ,5h)to Lhasa by China-Nepal road.
Overnight in Lhasa


Day 13: Lhasa-Namtso-Lhasa (B/L/D)
We will drive to visit
Namtso
(round trip with 445km;8-9h). Namtso Lake is located in Nagqu Prefecture, about 260km from Lhasa and 60km from Damxung County. Namtso Lake means 'the holy lake' in the Tibetan language. With over 30km from north to south and over 70km from east to west, Namtso Lake covers a total area of more than 1,900 square kilometers, being the second largest salt lake in China. At an elevation of 4,718 meters, it is also the highest altitude salt lake in the world, the furthest depth being more than 33m.
Overnight in Lhasa


Day 14 : Lhasa (B/L/D)
Norbulingka
(the Summer Palace), literally "Garden of Treasure" in Tibetan, was originally built since 1740s (era of the Seventh DaLai Lama). Every summer Dala Lamas moved from the Potala Palace to Norbulingka to handle official business, hence it is also seen as "the Summer Palace of Lhasa".
In the afternoon,visit
Zhayeba Temple
. Zhayeba temple is the ningma school (red) temple, one of the four Tibet recluse places.It was first built in the 7th century and has a history of 1500 years.
Overnight in Lhasa


Day 15: Depart Lhasa (B)
Depart Lhasa; Airport see off.
Flight:Lhasa to Beijing : CA4126;09 :20-13 :15;TV9815 ;10 :00-13 :35;
Flight:Lhasa to Chengdu : CA4402;10:35-12:35;3U8698 ;10 :25-12 :35;
Accommodations
15Day Chengdu-Lhasa-Mt Everest Rongbusi Trekking Tour
FAQs
15Day Chengdu-Lhasa-Mt Everest Rongbusi Trekking Tour
Testimonials
15Day Chengdu-Lhasa-Mt Everest Rongbusi Trekking Tour