Snow Leopard Injured Fighting For a Blue Sheep
On November 26, Puma village, Zhenda town, Shiqu County, staged another touching scene of villagers' rescue of snow leopards. This is the third rescue of injured snow leopards , following the rescue of injured snow leopards in Zhenda town in November 2015 and the discovery of three snow leopard cubs in Zhenda township, Shiqu county, in September 2017.According rangers a tower is introduced: they found two snow leopard fighting for competing for a single blue sheep, one of the snow leopard is relatively "old" was bitten hard by the rival.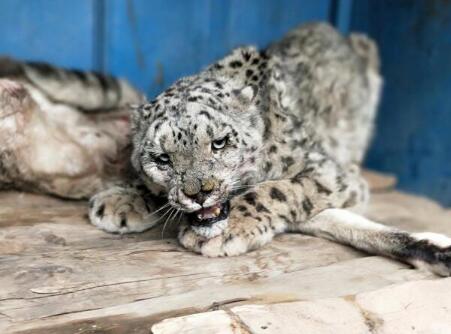 After a brief discussion, they decided to do an on-site examination of the injury. Through the examination they found that the snow leopard left forelimb and left hind limb were bitten. The left forelimb get a penetrating bite and the injury is very serious, resulting in its inability to walk.The rangers decided to take the snow leopard back for treatment.

Snow leopard will be released into the mountains after recovery.

Shiqu county, located at the junction of Sichuan, Qinghai and Tibet provinces, is an important nature habitat for wildlife in the upper reaches of the Yangtze river.

Chinese Source
http://www.aihami.com/a/dangjian/zugong/426567_2.html